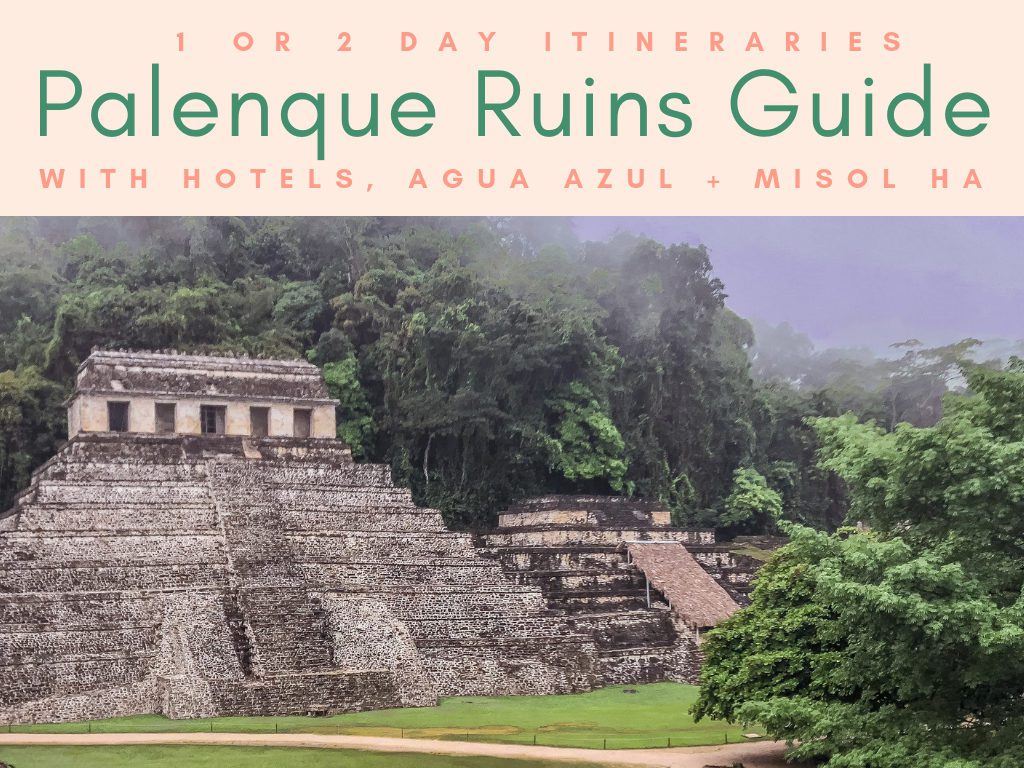 Planning my Palenque tours from San Cristobal was probably the most difficult part of my Chiapas travel planning. The Palenque ruins are quite far from San Cristobal, and there is mixed information online about the safest way to get there. So after lots of research and actually doing the trip, I want to write about my 2 day side trip to Palenque, the transportation, the Agua Azul and Misol Ha waterfalls, and some Palenque hotel suggestions to hopefully make your planning easier!
San Cristobal to Palenque Transportation: Palenque Ruins, Misol Ha, Agua Azul Guide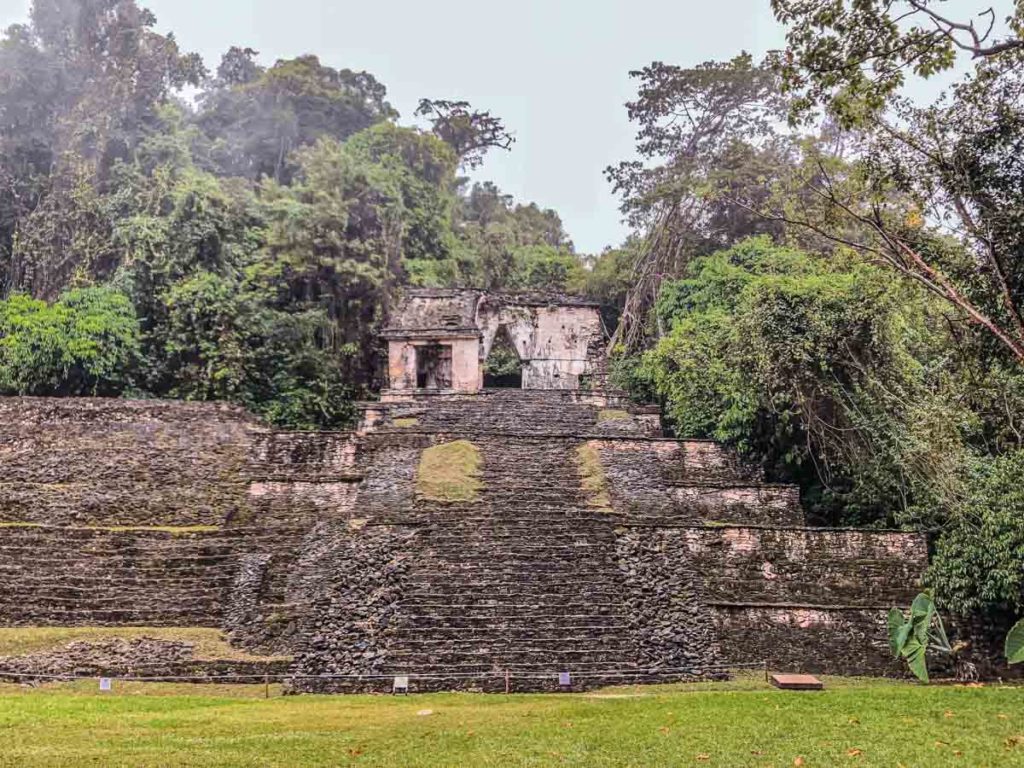 This was the most confusing portion of my Palenque travel planning. There are two main routes from San Cristobal to Palenque – the shorter route via Ocosingo and the longer route via Villahermosa.
I had read many things online about the route via Ocosingo being dangerous due to bus/van robberies, but couldn't tell if it was still recommended to avoid this route. From what I could tell, it was still better to take the longer route, so we planned to take the ADO bus via Villahermosa that takes 9 hours. This was in April of 2019.
A few ways you can find out what the current situation is: email your hotel to ask, check ADO's route to Palenque (ADO is a reputable first class bus line in Mexico, if they don't feel the shorter route is safe, they will route through Villahermosa), or check online travel forums like Tripadvisor or Lonely Planet. The forums to me are the least reliable, as they often are sensationalized accounts or out of date, so just keep that in mind.
The ADO bus offers an overnight option, which is what we did, to try to save time with the long 9 hour trip. We took overnight buses each way – leaving San Cristobal at 10:30pm and arriving in Palenque at 7:30am. And then on the return trip, leaving Palenque at 11pm and arriving in San Cristobal at 8am. Check the ADO website for current schedules, prices and routes.
We did find out that there are still tour companies that take the shorter route through Ocosingo to do the Palenque tours that stop at Misol Ha and Agua Azul on the way. I didn't feel comfortable with this option since it doesn't make sense to me that the buses find the route unsafe but tourist shuttles do. But you can ask around and make your own decision about what you feel is best for you.
How to Visit the Palenque Ruins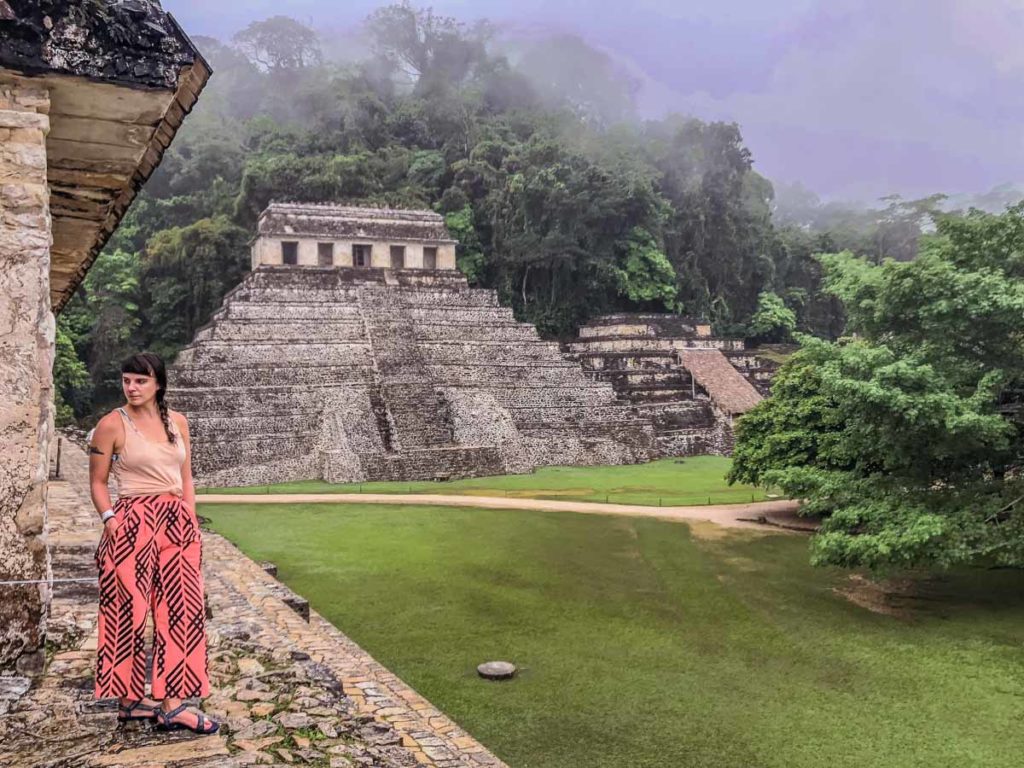 The Palenque ruins are incredible easy to visit. We had looked at some Palenque tours to the ruins, thinking this would help us save time to pack a lot in. We didn't end up by taking a tour, and found the ruins so easy to get to and explore on our own.
To visit the Palenque ruins, you can take any colectivo van that goes from the Palenque town and down the road to the ruins. We stayed at a hotel outside of town on the road to the Palenque ruins, and found it extremely easy to catch one of these colectivos to the ruins at any time of day.
The colectivo will drop you off right at the entrance. You buy your ticket here and enter the Palenque ruins site. It's a large site with lots of pyramids and areas to explore. We were on a time crunch so we powered through climbing lots of pyramids, and walking the grounds within a couple of hours. However, you could spend a full morning or even full day here if you wanted to explore slowly and thoroughly. You can also hire a guide at the entrance if you'd like to learn more about the Palenque ruins history.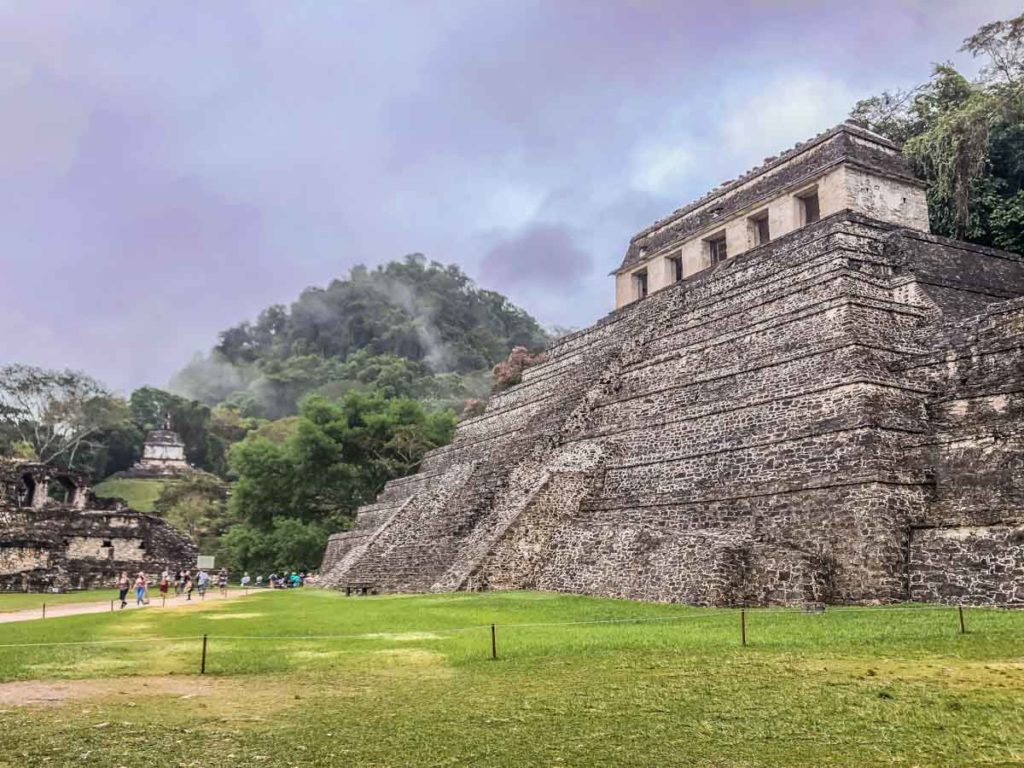 We went fairly early in the morning and I really loved the weather at that time of day. We had an overcast and misty morning, which was the perfect dreamy backdrop to the ruins. It also kept the tropical weather more comfortable and less hot.
Misol Ha + Agua Azul Palenque Tours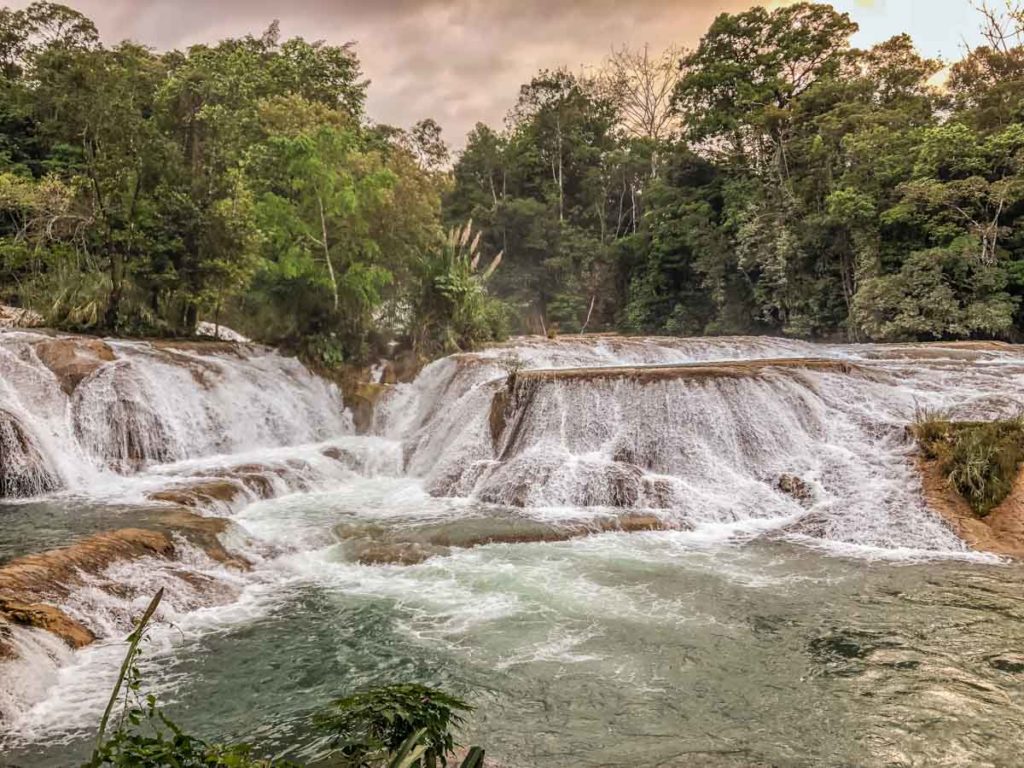 Since we were short on time, we scheduled one of the half day Palenque tours to the waterfalls of Misol Ha and Agua Azul for same day that we visited the Palenque ruins. We arrived from the night bus in the early in the morning, visited the Palenque ruins during the morning, then grabbed the tour to the waterfalls at Noon from our hotel. It didn't feel as crazy or rushed as I expected – this is definitely doable and comfortable if you only have one day, or are short on time.
The Palenque tours to the Misol Ha and Agua Azul waterfalls are comfortable and pleasant. You do spend a pretty good amount of time in the van – the waterfalls are not very close together and are a decent distance from the Palenque town. But our tour van was comfortable enough, had a/c, and was a pretty comfortable ride.
The Palenque tours visit the Misol Ha waterfall first and spend about a half hour there. Misol Ha is a narrow but tall and impressive waterfall. You can get in for a short swim here, or just sit and enjoy the epic waterfall.
Then you travel the distance to the Agua Azul waterfall and spend a couple of hours here. Agua Azul is a large waterfall with lots of pools and mini falls that cascade down the hill. The water is usually clear and blue, though I have heard it can become more obscure and darker during rainy season.
Agua Azul is a beautiful spot for swimming, and has lots restaurants and tourist shops. We didn't realize it until the end of our time there, but you can keep climbing up and up to admire the falls from above. And there is even a hiking path at the top to wind through the jungle. I would have loved to explore that if I had known about it when we first arrived.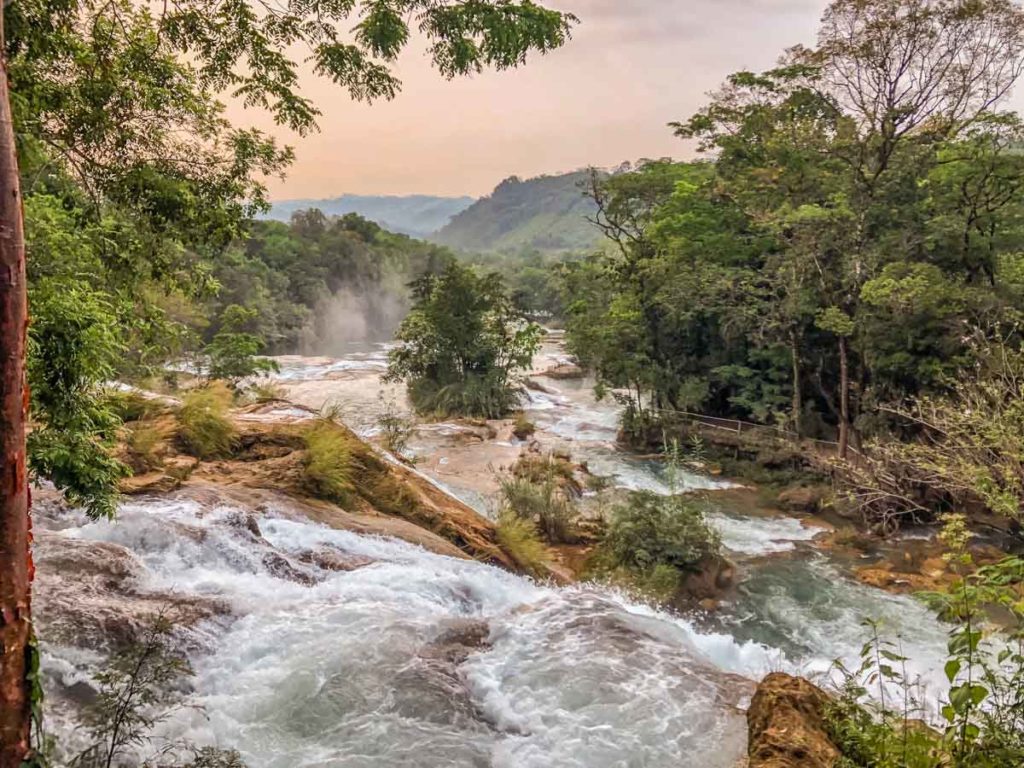 Both waterfalls are impressive and beautiful and worth taking one of the Palenque tours if you have the time.
To book Palenque tours, you can arrange anything through your hotel or local agencies when you arrive. But if you are short on time and want to have a tour arranged for as soon as you arrive (like we did), I'd recommend arranging through your hotel by email ahead of time.
Palenque Hotels: Palenque Tours + Ruins Guide
I'll give 3 different suggestions for Palenque hotels based on where I stayed, another hostel complex I visited, and a final couple options in town. The main things you want to consider are – if you want to stay in town, or in a more natural/jungle setting, what your budget is, and how social you want to be.
Quiet and Peaceful Mid-Range Hotel: Casa Lakyum – Palenque Hotels
Casa Lakyum is the Palenque hotel that I stayed in with my friend. We had a very large double room with two beds. The beds were comfy, the space was ample, the bathroom had everything we needed + plenty of hot water, and we had a large patio out front.
The grounds are very lush and full of tropical palms and plants. There is an onsite restaurant where you can order breakfast or small lunch items/snacks. The food wasn't the best I've ever had, but seemed to be on par with what is available in Palenque. The staff was helpful and available, and helped us a lot to arrange tours ahead of time, and answer any questions.
We were also able to see some amazing wildlife in and around our hotel – monkeys, lots of parrots, lizards, and more.
It is a very quiet hotel, so if you are looking for more social opportunities, check below.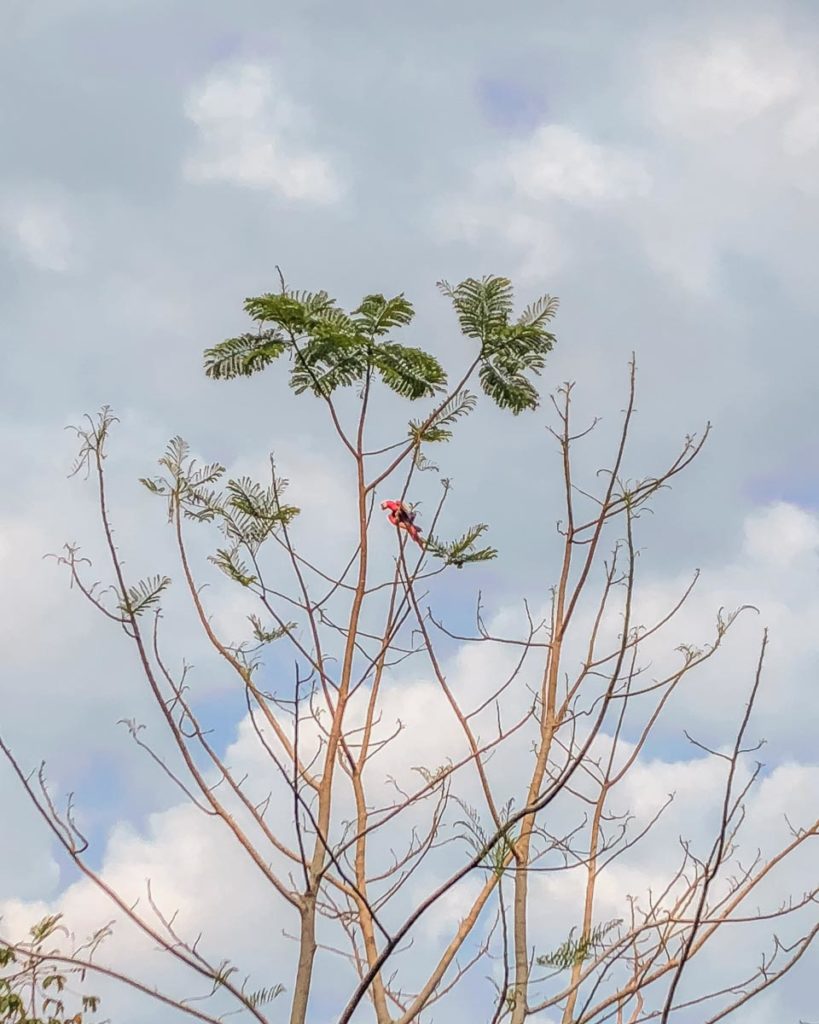 Budget Jungle Hostels with Social Vibe: El Pachan Palenque Hotels
If you want a more social vibe, I'd recommend checking out the hostels at El Pachan. This little compound that feels like a mini village. There are a couple of onsite restaurants (that we visited) with good food and a good vibe. They often have live music, so this is a fun place to hang out and socialize. It's a laidback, hippie vibe that I found welcoming.
There are several different options to stay ranging from camping to private rooms. Most options are pretty basic and this is in the middle of the jungle, but would be a good budget option, or good option for those that want to meet people and have a good time.
Most options in this complex are not available for online booking, though I was able to find one online: Chatos Cabanas. The most popular seems to be Margarita. Or you can ask around when you arrive. Check Tripadvisor for current reviews and info.
I didn't stay at either of these Palenque hotels, but communicated with them several times before my trip. They both were very helpful and communicative with info about Palenque tours and Palenque hotels. They both have very good reviews, are in convenient locations in town, and are well priced.
Click through the links to read reviews or find out pricing: Casa 5 B&B or Casssa Vlanca.
Or check the below map for more Palenque hotels:
Other Palenque Tours: Cascada de Roberto Barrios, Bonampak Ruins, and Yaxchilan
Another beautiful waterfall in Palenque is the Roberto Barrios waterfall. We didn't have a chance to visit this one, but you can take one of the Palenque tours here, either on its own, or in combination with the Palenque ruins. Or if you are comfortable with public transportation, you can take a colectivo from town. This waterfall is visited less frequently by tourists and looks gorgeous.
Bonampak & Yaxchilan ruins are two smaller ruins tucked in the remote jungle in the Montes Azules/Lacandon jungle on the Mexico/Guatemala border. We had planned to do a long day tour to this beautiful area on our second day, but my friend wasn't feeling well so we decided to play it safe. I really really want to visit these sites though, so it is at the top of my list for next visit.
These two ruins take quite a long time to get to from Palenque, so they could be their own side trip, staying in nearby cabins. But you can take a long day tour Palenque if you are short on time.
Our 2 Day Itinerary: Palenque Ruins + Palenque Tours, Misol Ha + Agua Azul from San Cristobal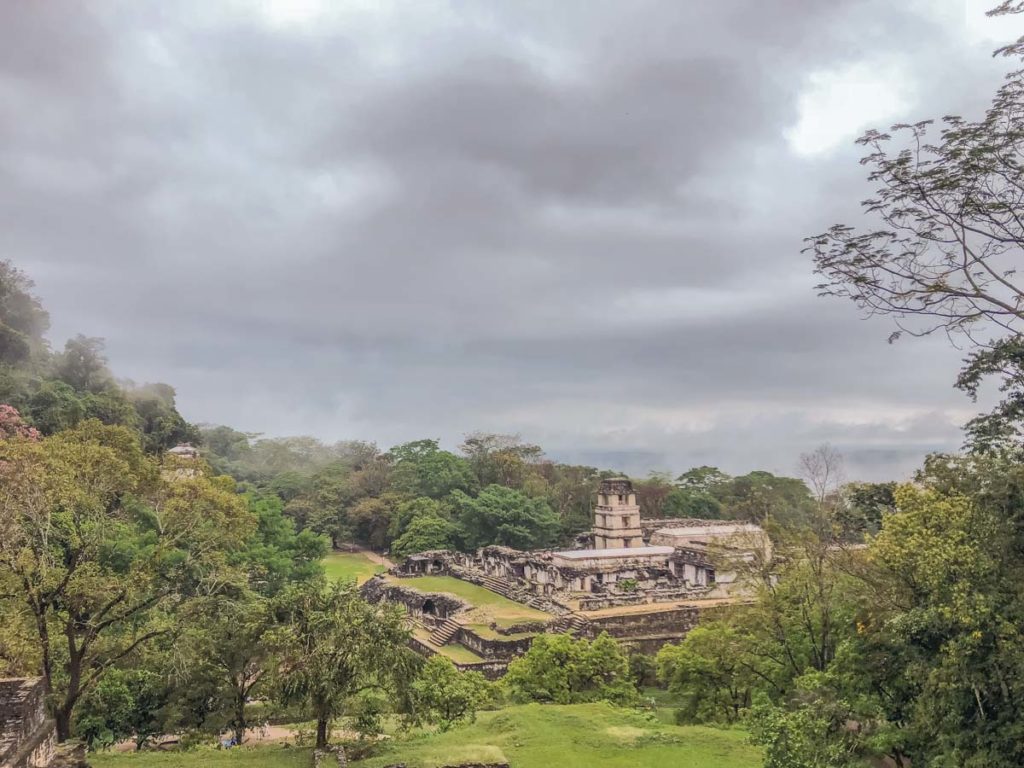 Day 1 – Night Bus from San Cristobal, arriving at 7am.
Taxi to hotel, check in.
8am – Breakfast
9-11:30am – Palenque ruins
12-6pm – Misol Ha, Agua Azul Palenque Tour
Day 2 – We had planned to do a full day tour of Bonampak & Yaxchilan ruins but had to cancel due to sickness. Otherwise we would have been on the tour from 5:30am-8pm
Instead we had a more leisurely day, having breakfast at the hotel, then went for a hike in the nearby Sendero Motiepa. This simple trail is near the Palenque ruins, and is an easy loop with lots of nature to enjoy. Not a necessity if you are short on time, but a nice way to spend an afternoon.
Later we had dinner at El Pachan
Then headed to our night bus that left at 11pm.
I found the night buses very comfortable and was able to get a good amount of sleep (not always easy for me on transportation). If you are really short on time you could pack Palenque ruins and waterfalls into one day and take the night bus on either end. Or if you have two days you can spread out the activities, or pack in a long day trip to the Bonampak and Yaxchilan ruins.
There are also tourist vans that do very long full day tours to the Palenque ruins and Agua Azul/Misol Ha from San Cristobal. To me, I'd prefer to do the night bus option, because the tour vans would not be comfortable for sleeping – so I think the day would feel a lot more exhausting.
Palenque is a really special part of Chiapas and completely different from the mountainous highlands of San Cristobal. If you can make the time, you'll find this beautiful and lush jungle a very interesting stop on your Chiapas itinerary.
Check out my other posts about what to do in San Cristobal and Chiapas. Or find all my many Mexico posts here.
Pin it for Later! Palenque Hotels, Ruins, Tours, Misol Ha + Agua Azul