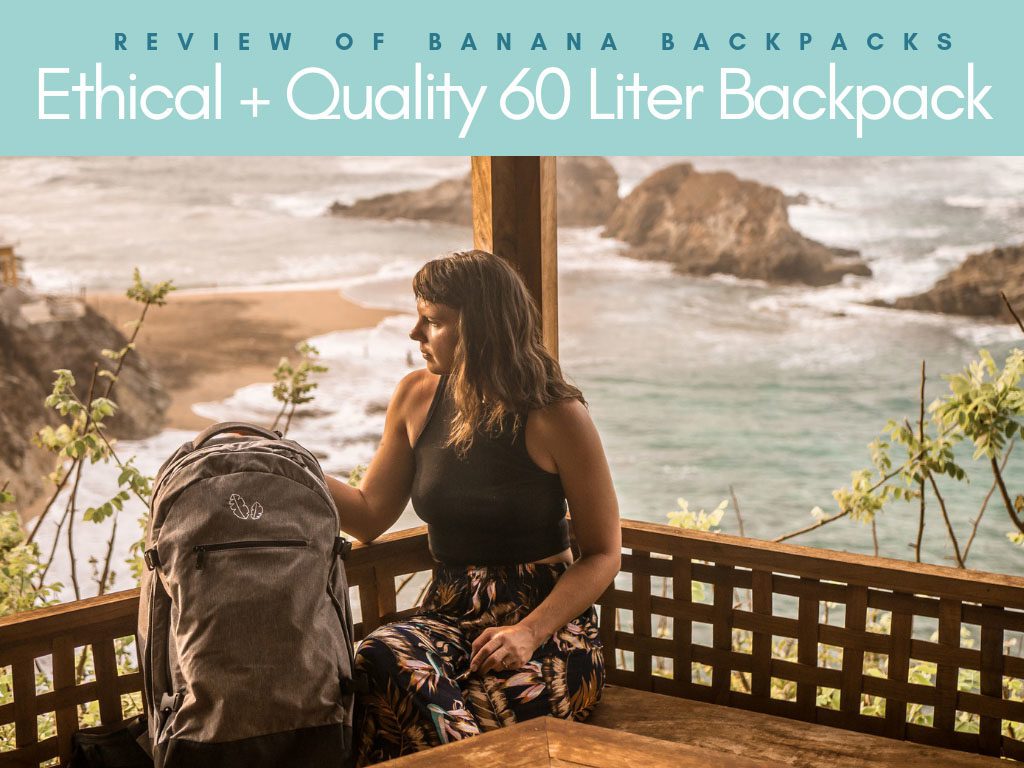 Finding the perfect travel luggage has felt like a never ending search for me. But it's become clear that I prefer and find a quality backpack so much more convenient than rolling options. I recently came across Banana Backpacks, and loved the company's social mission. So I tried out my new 60 liter backpack on my recent trip to the beach and can tell you all about my experience plus all the features of this ethical backpack.
DISCOUNT CODE: Banana Backpacks is offering 10% off for BT readers. Just add code at checkout: brooklyntropicali
Disclosure: This post was written in partnership with Banana Backpacks. As always, all opinions and thoughts are my own!
Stylish Yet Understated: Quality Backpack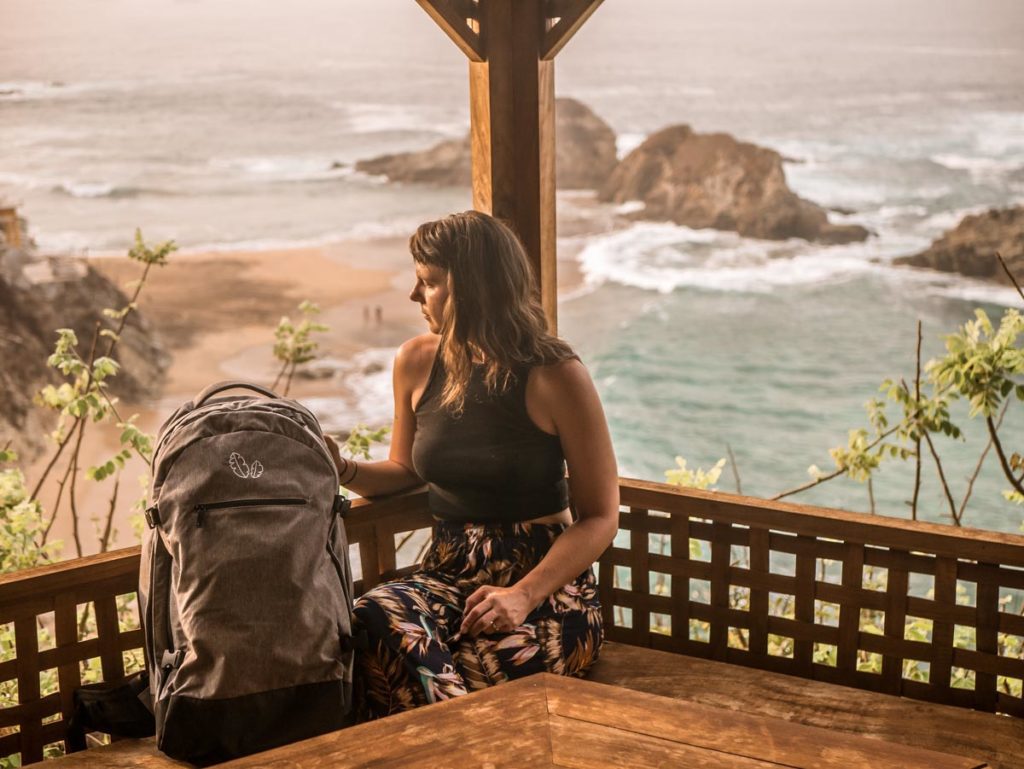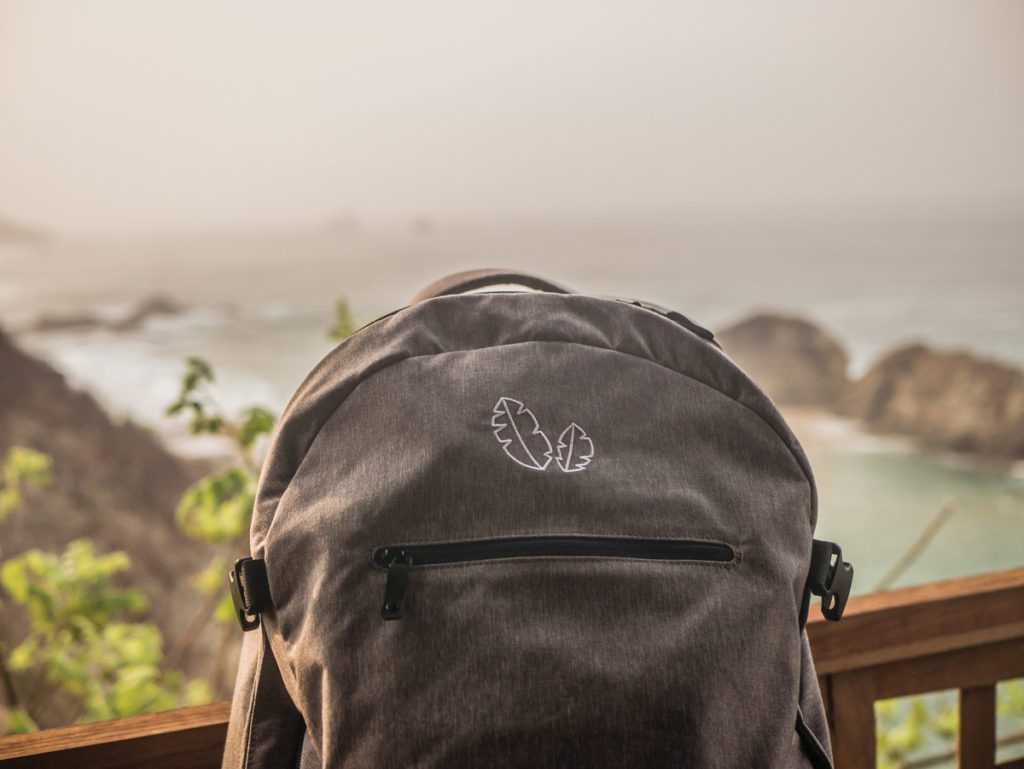 The first thing that struck me about this quality backpack, is how good it looks, without be showy or flashy. The heather grey material is really stylish, but doesn't draw attention, which is important to me when taking public transit, walking around in new places, etc..
The black zippers, straps, and bottom make a nice contrast. The whole presentation is classy. And the Banana Backpacks leaf embroidery on the front is understated but cute.
Comfortable + Easy to Wear: 60 Liter Backpack
Probably the thing that struck me the most about this ethical backpack is how comfortable and easy it is to carry. It's made me realize I've had other backpacks that weren't ergonomical in their design. This backpack spreads out the weight well.
The Banana Backpacks straps are very cushiony and wide. There is a chest strap and a wide belt strap to further help distribute the weight. And there are compression straps on either side of the backpack to keep everything inside in place.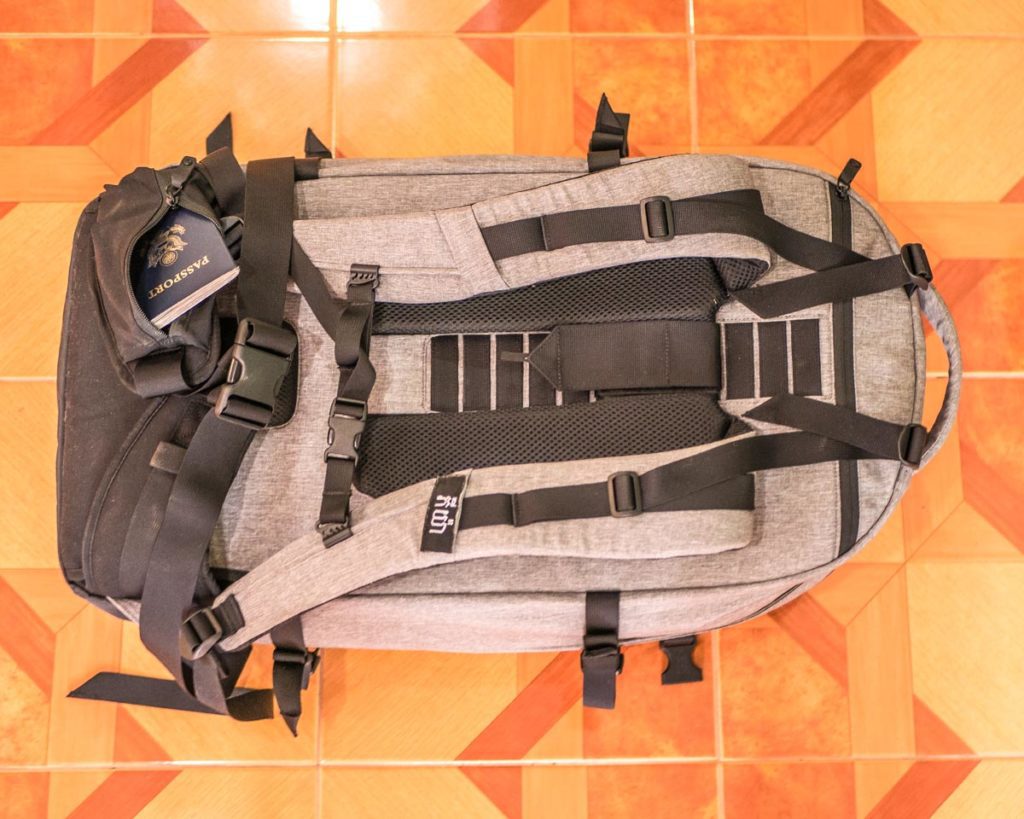 The top handle is also well padded and is easy and comfy to grab if you need to move your pack a short distance.
Carrying this backpack around on the street, up steps, and around the airport was a breeze. It's definitely the most comfortable quality backpack I've ever worn.
Our Airbnb during this trip was 121 steps up from the beach. Carrying this backpack up all that way in the heat was much easier than I anticipated. 🙂
Weatherproof Banana Backpacks: Ethical Backpack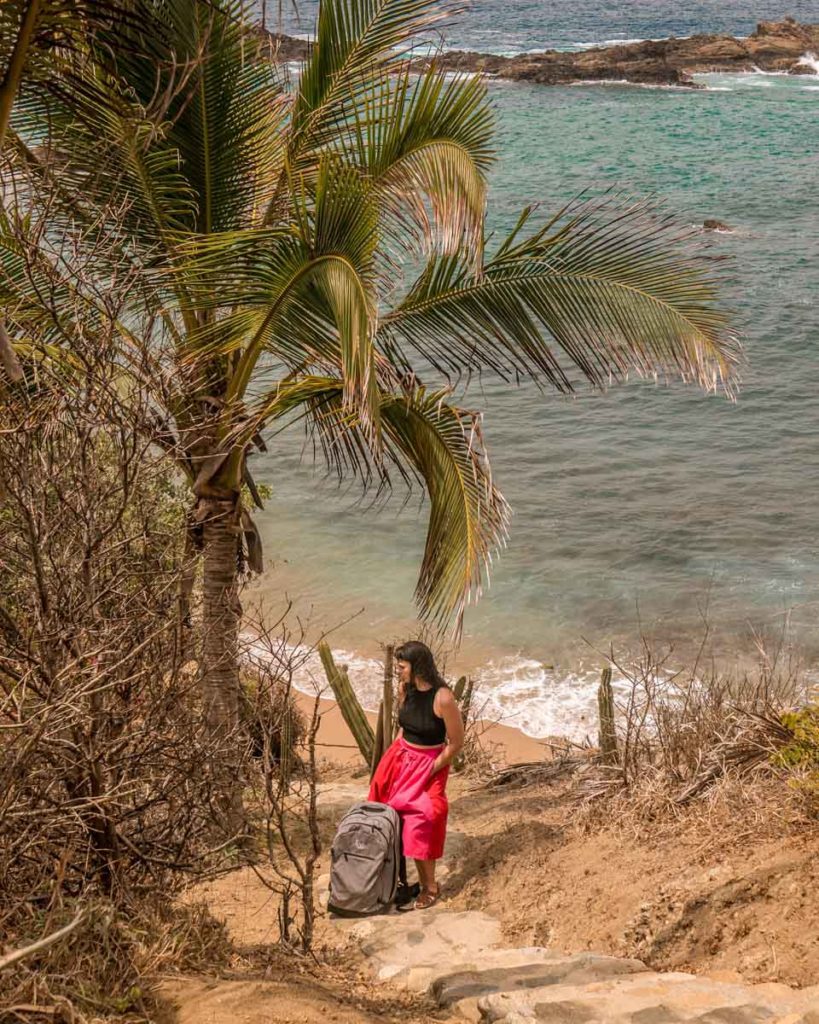 This 60 liter backpack has a weatherproof nylon exterior that will keep your belongings dry. The bottom is also a thick slippery nylon that is easy to wipe clean after sitting on some questionable bathroom floors or on a sandy beach.
Well Made Construction + Materials: Quality Backpack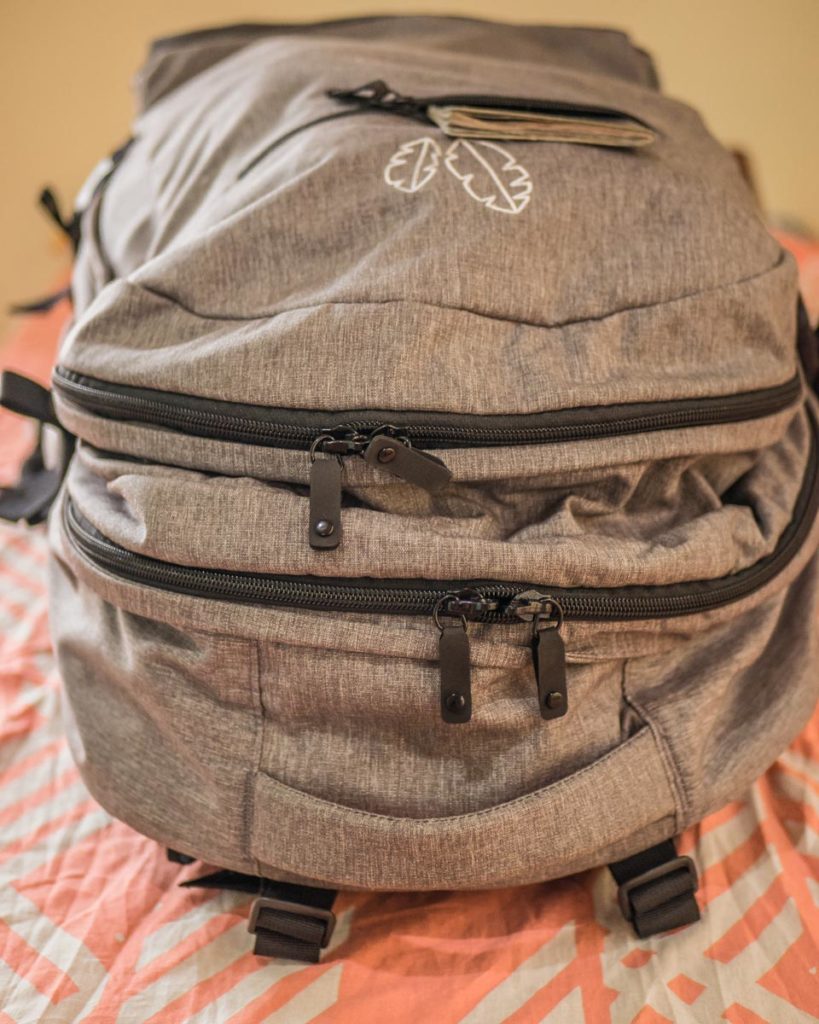 Every part of this quality backpack feels durable and indestructable. The zippers are quality and strong, the fabrics are all sturdy and thick. The straps feel like they will hold up to lots of wear and tear.
Large & Roomy: 60 Liter Backpack
Obviously this Banana Backpack is 60 liters, but it can be hard to picture exactly how much it holds and how big it is.
Halfway through my years of full-time travel I switched from a small carry-on (1 step below full carry-on size) to a 75L suitcase. I just didn't feel like I had enough space to carry around all of my belongings in a small pack.
Space in liters is important, but also the design and shape of the compartments makes a big difference in how much you can carry. I feel like I could have carried all my belongings at that time in this 60 liter backpack. The two main pockets are deep and a large rounded shape so you can fit a lot in. There are many pockets (see below), but they are also all smart sizes that seem to allow you to fit convenient things inside to save space in other areas.
Lots of Compartments for Organization: Ethical Backpack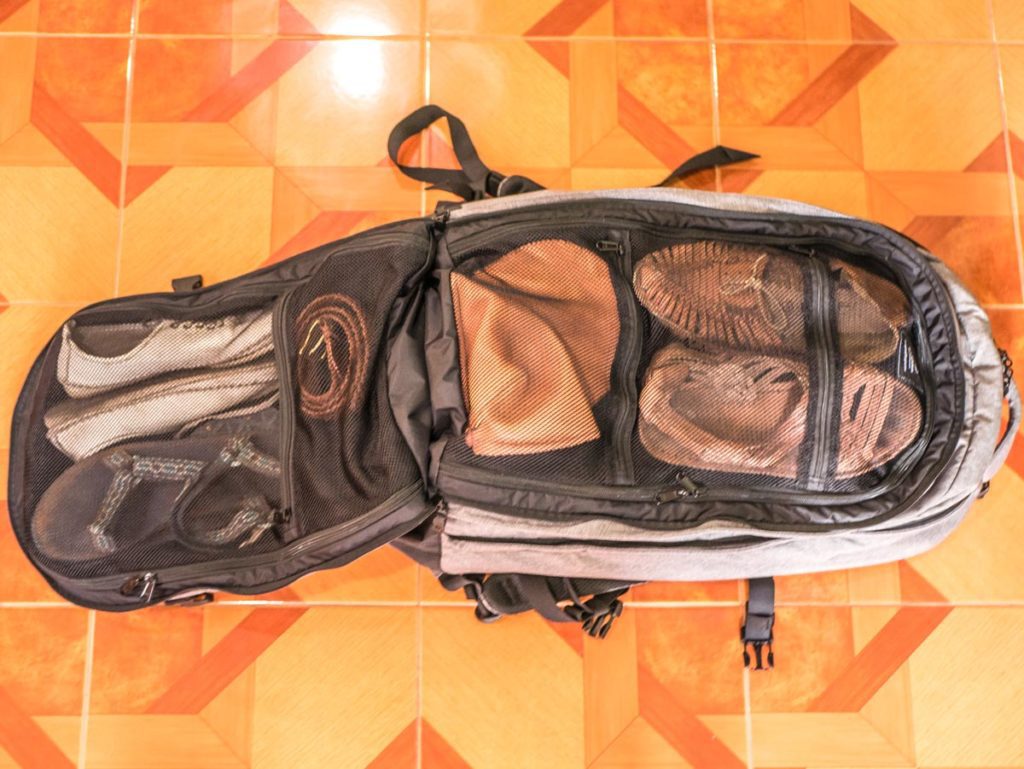 This is one of my favorite things about this ethical backpack – the number and thoughtfulness behind all the compartments.
The Khmer Explorer Banana Backpacks have two large main compartments. In each one there are several mesh zip compartments that seem to be the perfect size for shoes, belts, hats, etc.. There is a small hidden inside pocket for valuables like money/credit cards.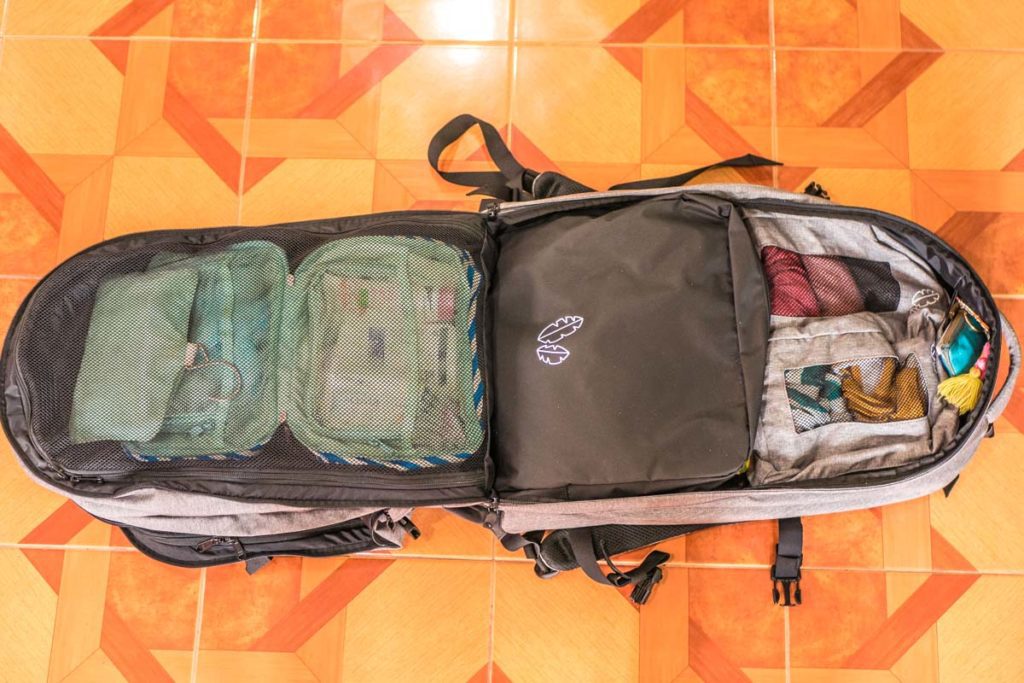 There is a front zip pocket for things you need to have quick access to while traveling, and a hidden waist belt zip pocket for valuables you want to be extra careful with.
This quality backpack also comes with 3 packing cubes that fit perfectly in the bottom/main large compartment. The large one could be used for clothing or dirty laundry if you want to keep it separate from your clean clothes. The other two smaller ones feel perfect for underwear, swimsuits, socks, etc.. They also have a curved side that means that they fit in perfectly at the top of the rounded part of the backpack.
Easy to Pack + Unpack: Quality Backpack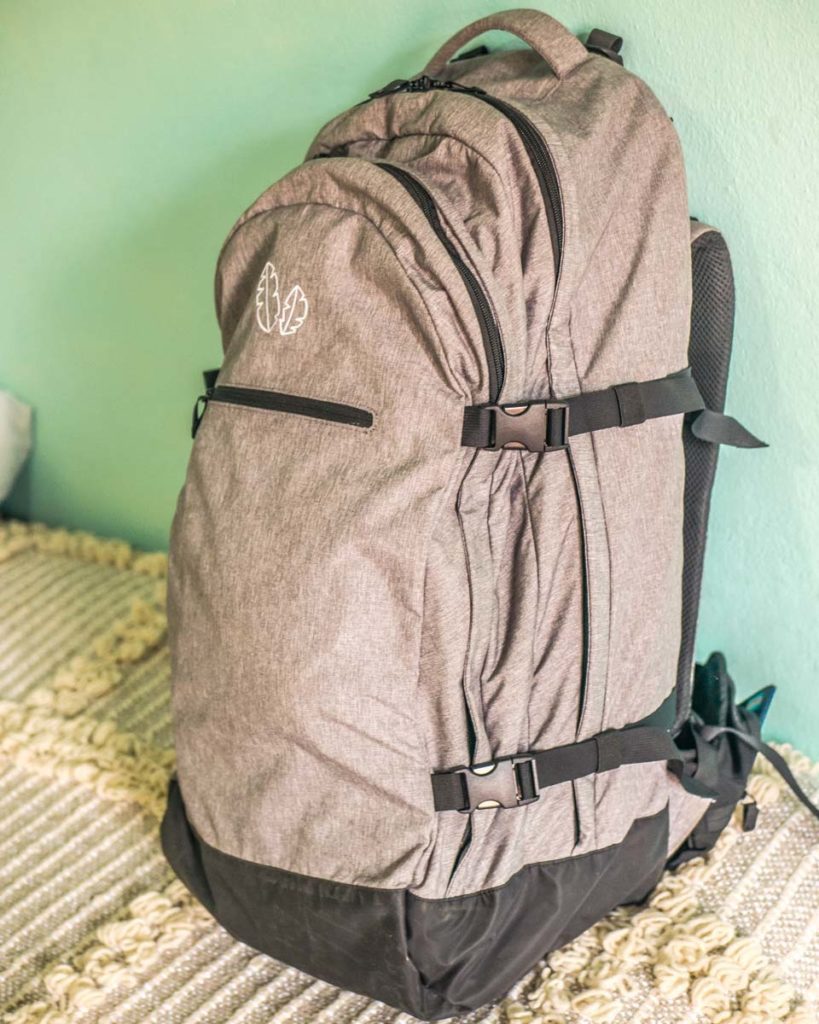 I have no patience for top loading backpacks. Things get tossed around and a mess. You can never find what you want, when you want it. I only like backpacks that open fully, like a suitcase.
This quality backpack opens completely on all sides except the bottom and lies flat. When I was traveling, I could open it completely, and keep all my clothing and items organized in and around the packing cubes. You can easily see where everything is and reduce the mess.
Ethical Backpacks: A Quality Backpack with a Social Mission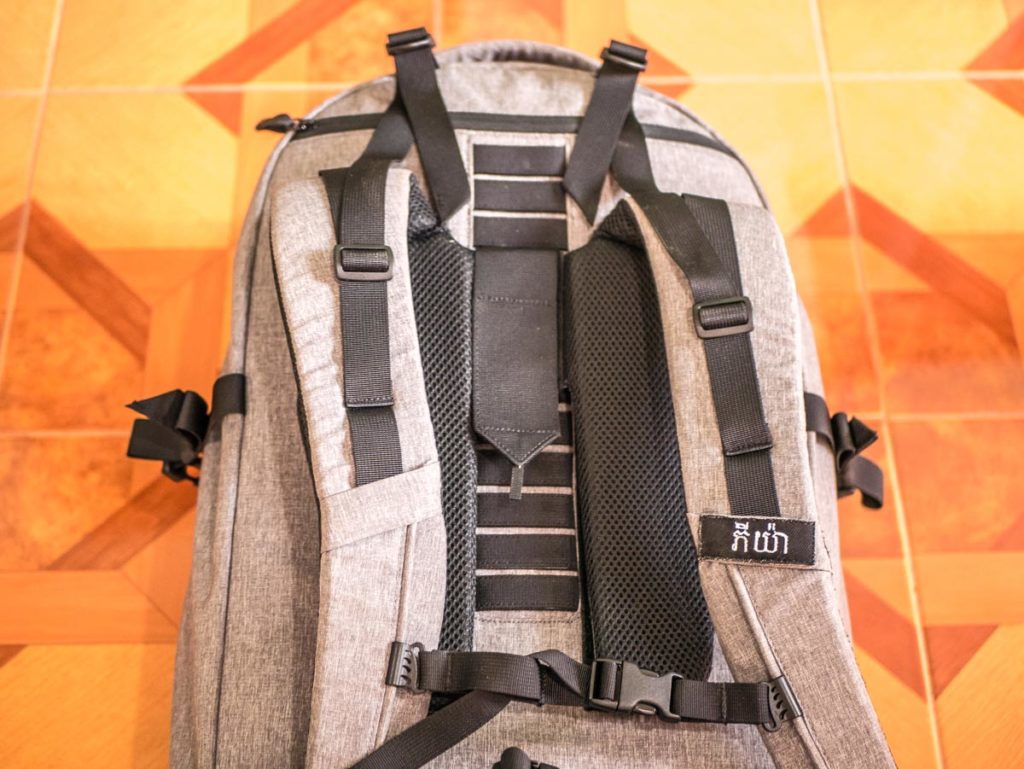 Banana Backpacks social mission is the biggest thing that attracted me to this ethical backpack.
They partner with Caring for Cambodia to support children's education. Specifically each purchased Khmer Explorer provides 2 meals a day for a year at school for one child. The company spends a minimum of 10% of their sales on projects like this per year.
Why meals? In many parts of Cambodia agriculture is the main form of employment. Many children are forced to stay home from school to help their parents provide food for the family. When schools provide meals that the children need, the family is more likely to allow their children to attend school. Further education consistently shows a higher awareness of environmental issues, lower birth rates, and increased women's rights.
Each ethical backpack arrives with the name of the child that the purchaser has supported on the strap, a reminder that thoughtful purchases can be positive, if we choose to be conscientious.
If you want to purchase a quality backpack for your adventures, it just makes sense to support companies making ethical choices.
Banana Backpacks Final Thoughts: 60 Liter Backpack for Versatile Travels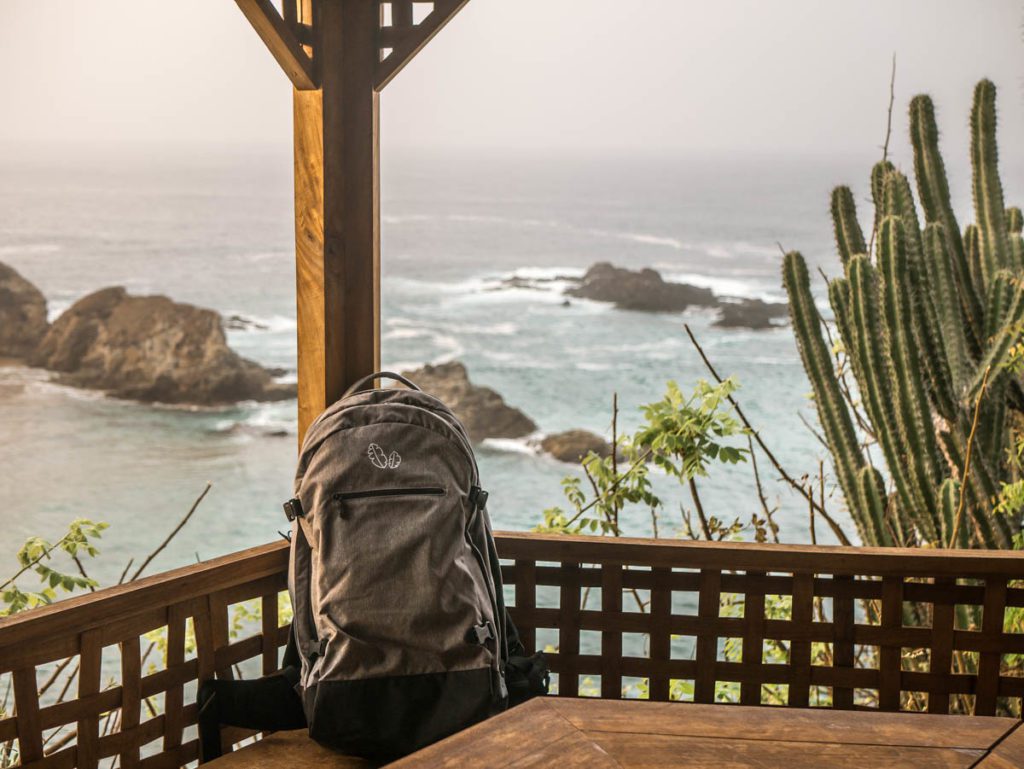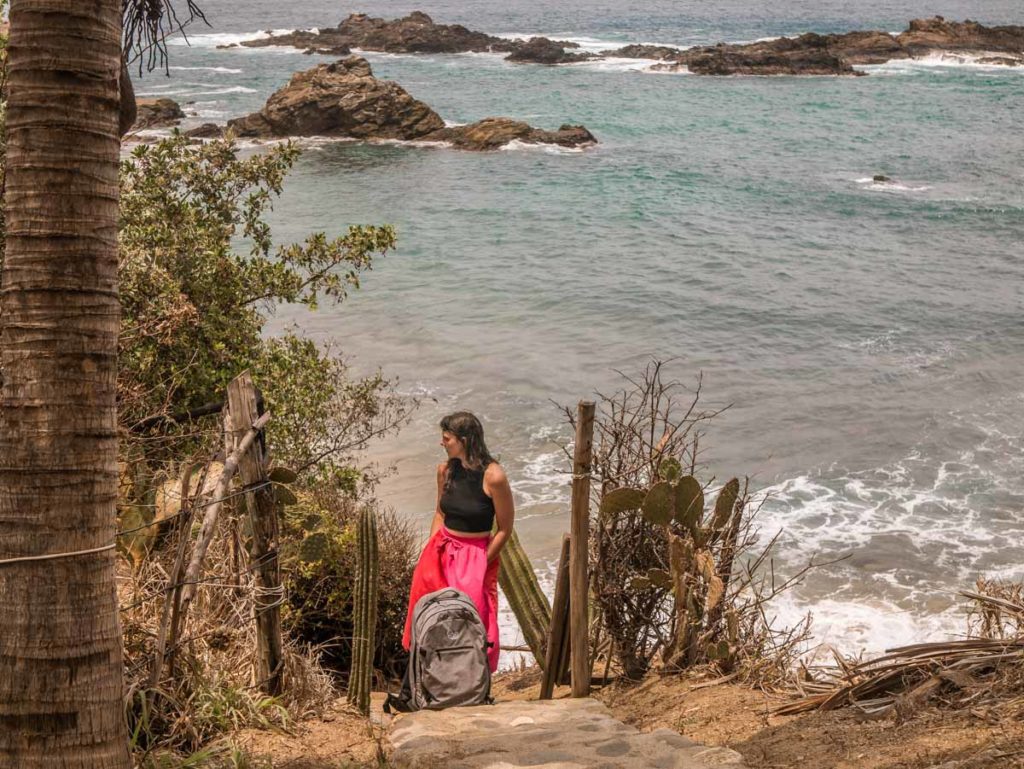 I have felt for awhile that my 2 other pieces of luggage were suited for different types of travel, so I would switch between them for various trips. However, I think that this ethical backpack would do well in so many situations. If you were on a rustic, down-and-dirty backpacking trip, this quality backpack would hold up and wouldn't draw unnecessary attention. Or if you were traveling in nicer hotels, this backpack is sleek and subtly stylish, a step up from the sporty typical backpacks.
It's so comfortable, easy to use, and convenient to pack and unpack. And the ethical social mission really resonates with me. I can imagine I will be using this backpack for many years to come in lots of situations. And the quality feels like it will hold up for a lifetime.
DISCOUNT CODE: Banana Backpacks is offering 10% off for BT readers. Just add code at checkout: brooklyntropicali
Check here for all my other packing tips for easier, more convenient and more ethical travels.
Pin it for Later! Banana Backpacks Ethical Backpack