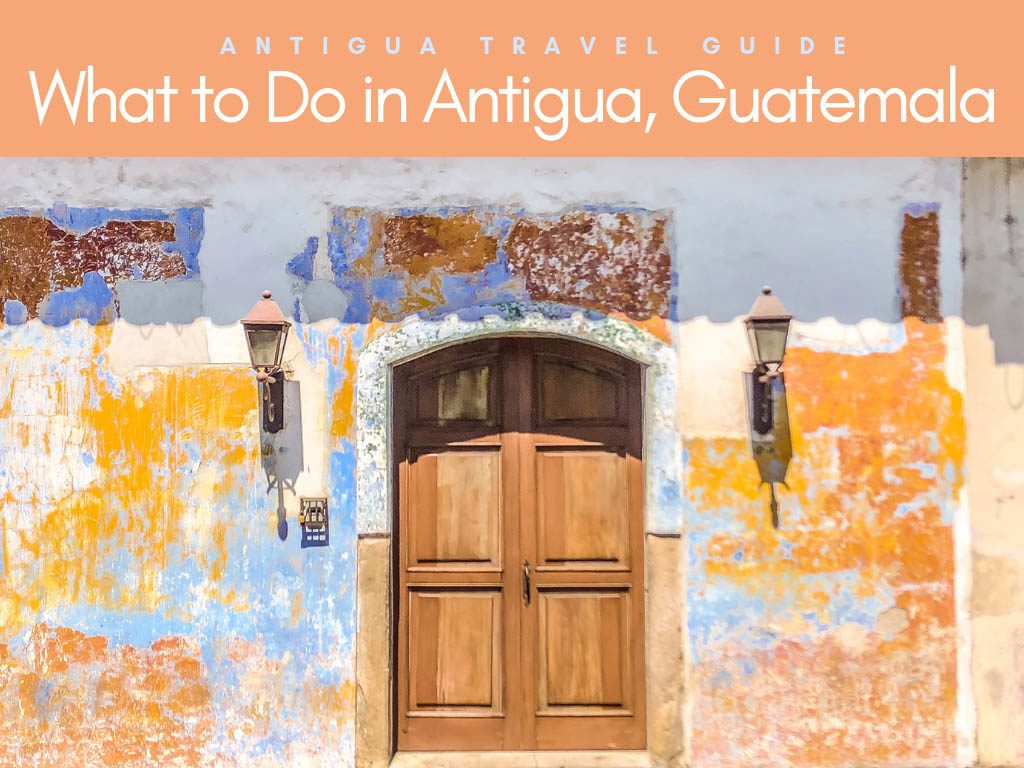 After making 3 separate trips to Antigua Guatemala, I finally decided to put together an Antigua travel guide. This beautiful and lovely little city is one of my favorites in Central America, it's full of gorgeous historic homes and churches, colorful walls, leafy greens, incredible textiles, and mountains + volcanoes on all sides. So here is a list of what to do in Antigua, where to eat + drink, as well as some of my best ideas about where to stay.
Walk the Beautiful Centro + Check Out the Pretty Churches & Historic Sites
My number one suggestion for what to do in Antigua is simply wander around the beautiful centro and take in the architecture, colors and sites.
Antigua used to be the capital of Guatemala, but was largely destroyed by an earthquake in the 1700s. It's now a UNESCO world heritage site and the important monuments and buildings have been beautifully preserved.
La Merced

Arco de Santa Catalina
El Carmen

Tanque La Union
Wander aimlessly, zig zag the streets, or do a loop around the centro. Try to pass by Iglesia La Merced, El Arco de Santa Catalina, El Carmen, Tanque la Union, Iglesia San Pedro Apóstol, Santuario San Francisco, Antiguo Colegio de la Compania de Jesus, and Iglesia San Agustin.
Tanque La Union

Tanque La Union
Iglesia San Pedro Apóstol

Santuario San Francisco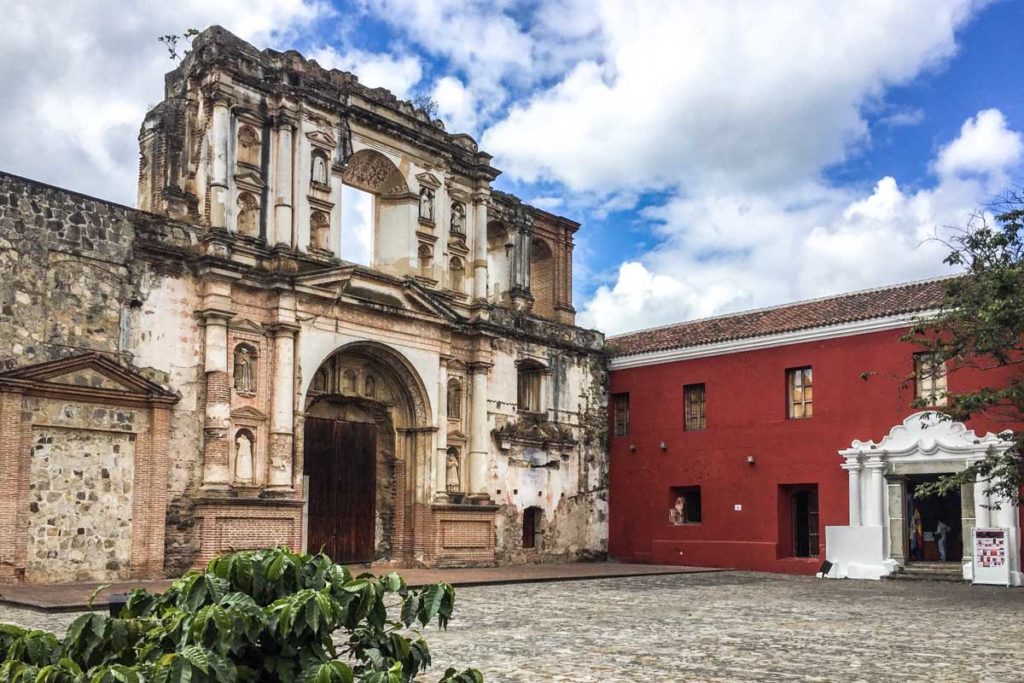 Take some time to walk around Parque Central and the Templo de San Jose Catedral. Sit in the park for awhile and people watch, there is always lots of action here.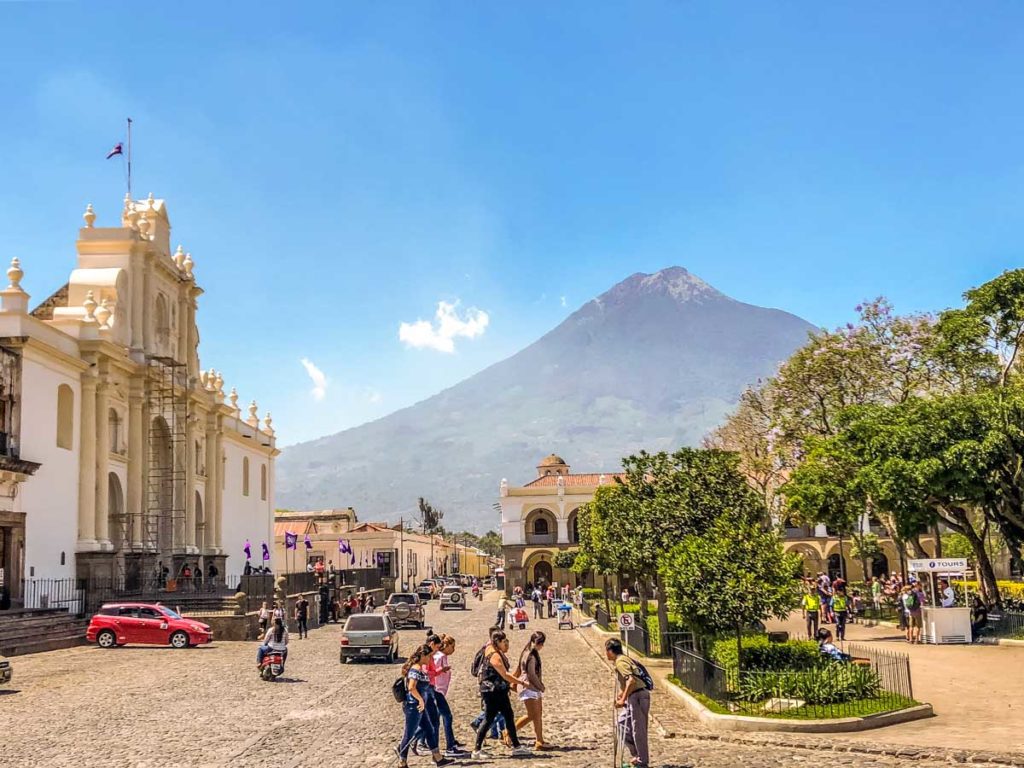 One of the most special things about Antigua travel is just soaking in the beauty and magic that this little city emanates.
Visit 2 Beautiful Convents: What to Do in Antigua, Guatemala
There are two ex-convents in Antigua that you can visit, and they are both absolutely worth a spot on your what to do in Antigua list.
The first is Convento Capuchinas. This ex-convent in the northeast side of the centro was finished being built in 1736. It's a beautiful site with interesting architecture, grand archways, courtyards, greenery and pretty flowers.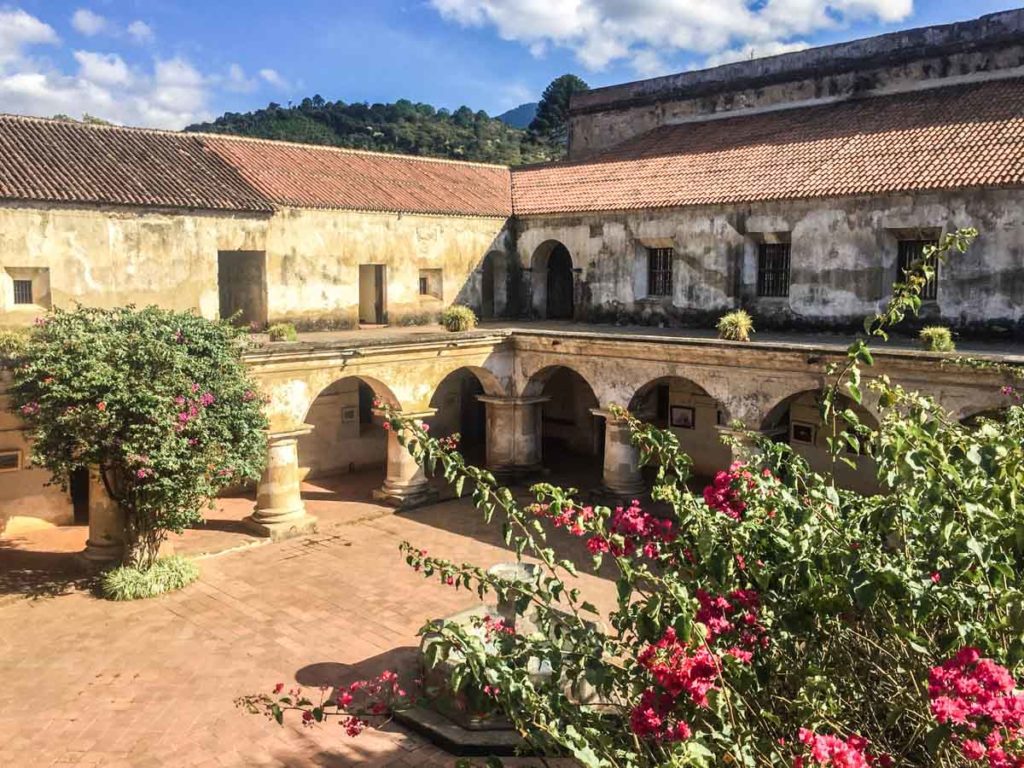 The second is Convento Santa Clara. This site is quite large, full of indoor and outdoor rooms and courtyards to explore. I've always seen people relaxing here on the grass and thought that was such a great idea. So you might consider giving yourself some time to sit and hang out for awhile.
If you can time either or both of these visits with golden hour, the light is just incredible in these historic structures. If you love architecture or photography, this is a must do during your Antigua travel.
Climb Cerro de la Cruz for a Beautiful Viewpoint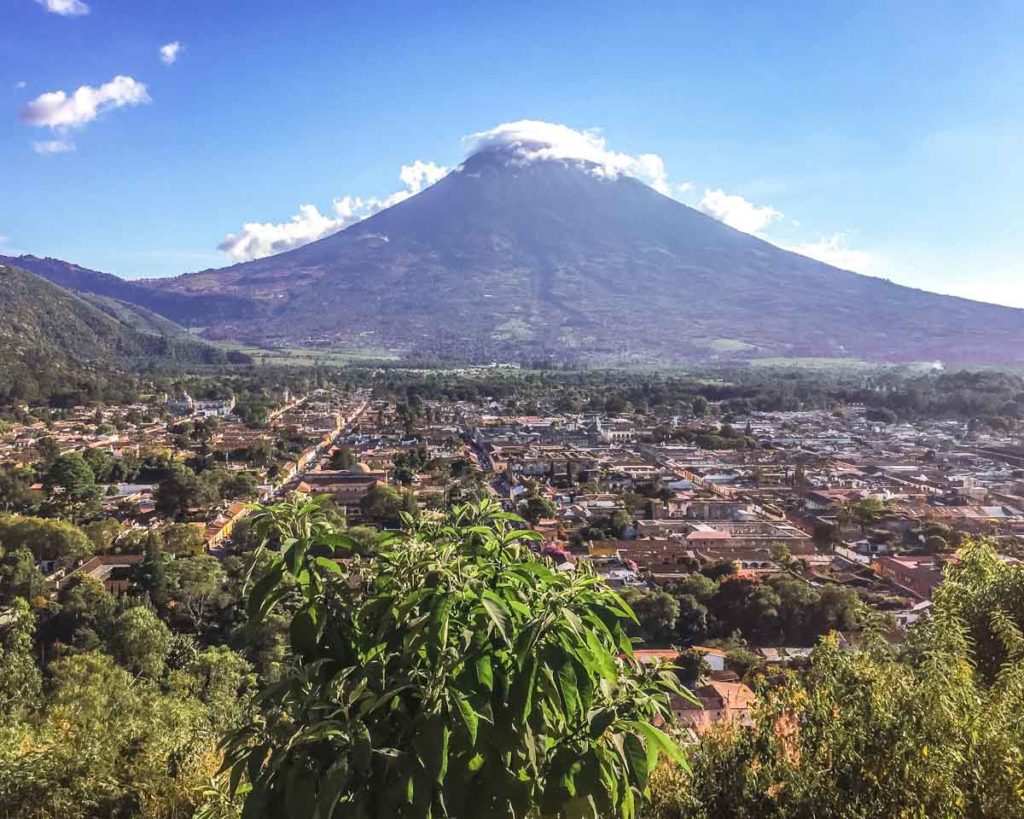 This little mini hike brings you up to the best view point over Antigua, Guatemala. It's a high on the north side of the centro. You climb up some stairs and end up on a green hill with a large cross that has a perfect view of the city below and Volcan de Agua behind.
I have heard a few safety warnings before about the walk up the hill, but have never encountered anything unsafe during my two walks up and down. Still, it would be a good idea to minimize valuables you are carrying with you, be aware of your surroundings, and potentially walk up in a pair or group. I also don't think it would be a good idea to walk down after dark.
Visit the Local Market: What to Do in Antigua, Guatemala
Visiting and shopping at traditional markets is always one of my favorite activities when I travel. If you want to learn about local culture, the main market should be on your what to do in Antigua list.
The main market, located on 4a Poniente is full of fresh fruits, veggies, food items, some artisan goods, and more. If you can time your visit with the main market days on Monday, Thursday or Saturday, you will see an even more bustling market with villagers from outside the city coming to sell additional items.
Shop for Traditional or Modern Textiles
One of the most amazing things about Antigua travel, and Guatemala in general, are the gorgeous traditional textiles that you can find.
Even though I like searching the best markets in the country (like Chichicastenango near Lake Atitlan), I still consistently find special and unique things in Antigua.
My favorite big market is Nim Pot. This big, warehouse space is filled with every kind of artisan product – huipils, textiles, ceramics, glass, masks, and much more. The most fun part (to me) is to dig in their used bins full of vintage huipiles and textiles. I have found some really great things here and at amazing prices.
A few of my other favorite stores are Nativo, Uxibal, Colibri, Algodones Mayas and Casa de los Gigantes. I highly recommend checking out Luna Zorro's Antigua guide – she is the textile expert (several of the shops I mentioned were her recommendations) and also has lots of great suggestions for where to eat, drink, etc.. Speaking of, Luna Zorro has some of my favorite textiles, you can visit her showroom by appointment.
Nativo

Uxibal
Colibri

Algodones Mayas
Watch Sunset from a Rooftop: What to Do in Antigua, Guatemala
The view from above is beautiful in Antigua, so be sure to plan for at least one rooftop sunset on your what to do in Antigua list.
A couple places with the best rooftop view – Cafe Sky, and Antigua Brewing Company.
Cafe Sky

Antigua Brewing Company
Other Ideas: Take a Coffee Tour, Hike Pacaya Volcano
I haven't done either of these tours, but have heard great things about them from multiple people.
You can visit some of the coffee farms near Antigua Guatemala that make the famous and delicious Guatemalan coffee. I've heard good things about De La Gente Coffee Tours
If you want to get moving and are looking for adventure, you can climb Pacaya Volcano and see lava flowing up close.
You can arrange either of these tours with any agency in the city or with your hotel/hostel.
Where to Eat + Drink in Antigua Guatemala: Antigua Travel Guide
Here are a few favorite restaurants and bars that I would definitely recommend during your Antigua travel.
Restaurants: Antigua Travel Guide
Y La Pina Tambien – super cute breakfast spot
Caoba Farms – delicious farm to table food, just outside of the centro. You can also walk around their beautiful farm.
Cactus Grill – good Mexican food and fun atmosphere
Por Que No? – divey restaurant bar with great food
Saul L'Osteria – I haven't tried the food here but the atmosphere is amazing and the drinks are great. I'm sure the food is tasty too.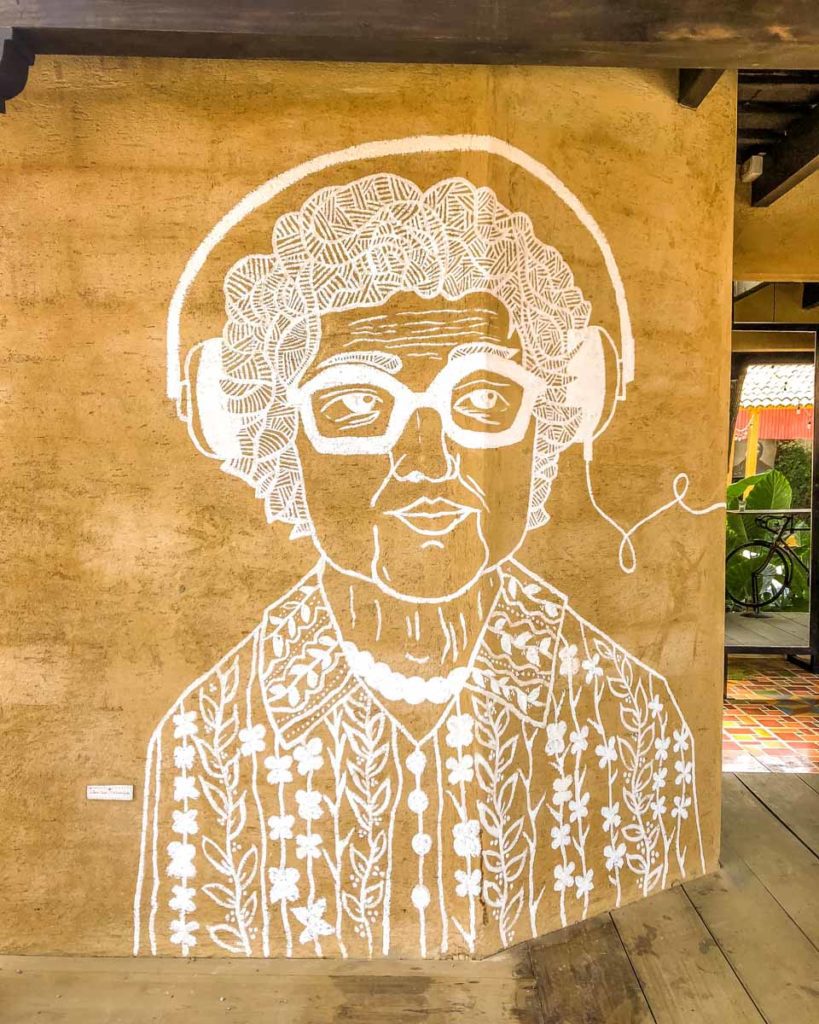 Coffee: Antigua Travel Guide
Fat Cat Coffee – delicious coffee shop
Roots Juice Bar + Cafe – good juices and coffee
Bars: Antigua Travel Guide
Cafe No Se – the best bar in town, mezcal, live music
Cafe Sky – great view for happy hour
Antigua Brewing Company – tasty craft beers and a great rooftop
Where to Stay in Antigua: Antigua Travel Guide
All 3 of my Antigua travel visits, I have stayed in the same hostel. That's not very normal for me, I usually like to try new places, but there is something about the hostel that I've stayed at that is just so comfortable and convenient that I keep returning!
Best Antigua Hostel: The Yellow House/Casa Amarilla: Where to Stay in Antigua
Yellow House is the hostel I have stayed at all 3 trips to Antigua. It's an excellent value, a great location right in the centro, and has a wonderful helpful staff.
There are dorm rooms and private rooms available. All rooms have shared bathrooms, but the staff does an amazing job keeping these shared bathrooms clean. I swear, every time I've walked into one, it smells and looks like it was just scrubbed down. There is plenty of hot water, and the facilities are good.
Another amazing thing about Yellow House is the daily free breakfast. It's not some skimpy breakfast, but a full, healthy, tasty, fresh breakfast. There is fruit, eggs (often a made-to-order omelette station), pancakes, potatoes, tomatoes, beans, bread, etc.. There is also coffee and tea.
The common areas upstairs are also comfy and colorful, and there is a nice view over the city. The rooms are pretty simple, but still decorated nicely with local textiles and are really comfortable.
Other Options: Where to Stay in Antigua
A couple of other good Budget to Mid-Range options:
Or for a beautiful hotel with a social mission: The Good Hotel.
Or check out the map below for more options for where to stay in Antigua:
Antigua is a beautiful and convenient place to base yourself as you explore Guatemala. Spend a couple of days in this charming colonial city, soaking in the color, historic architecture, local markets, traditional artisan work, and surrounding nature.
Check out my other Guatemala posts, or if you are heading north or south, you can find lots of Mexico posts or Central America posts.
Pin it for Later! Antigua Travel Guide