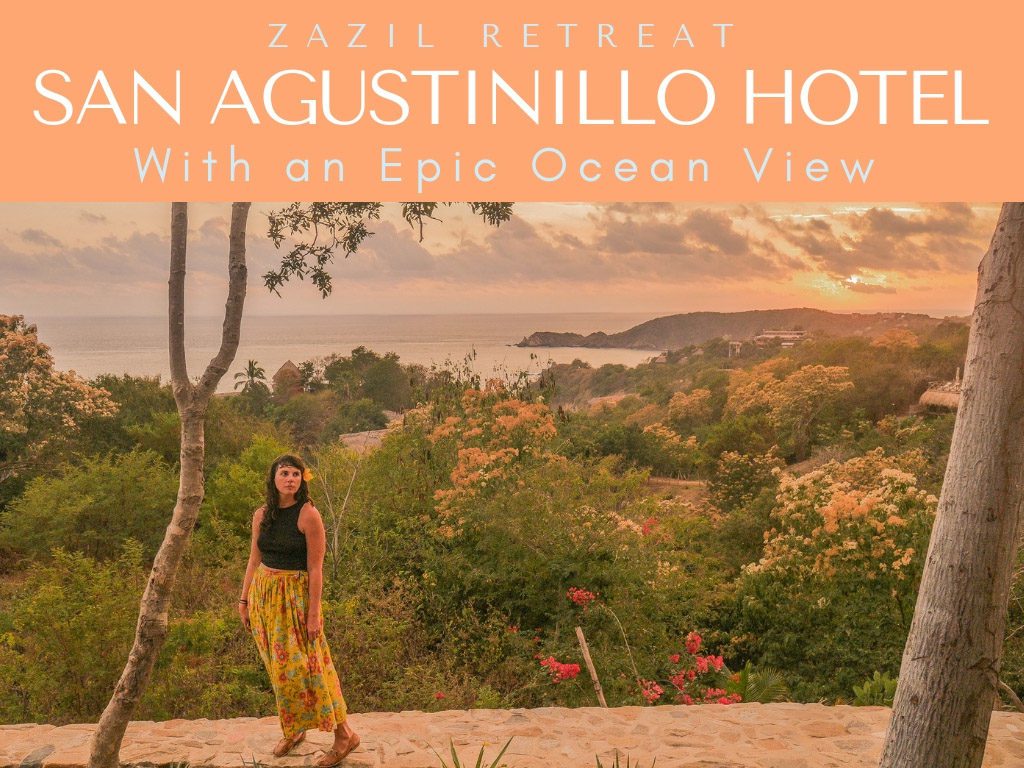 I've been on a spree of writing blogs about the Oaxaca coast because it's such a gorgeous area that few people know about. My new favorite part of the coast is the tiny, relaxing, off-the-beaten path town of San Agustinillo. Last trip we settled ourselves into Zazil Retreat, a beautiful San Agustinillo hotel that was the perfect place to decompress, spend time in nature, and enjoy our vacation.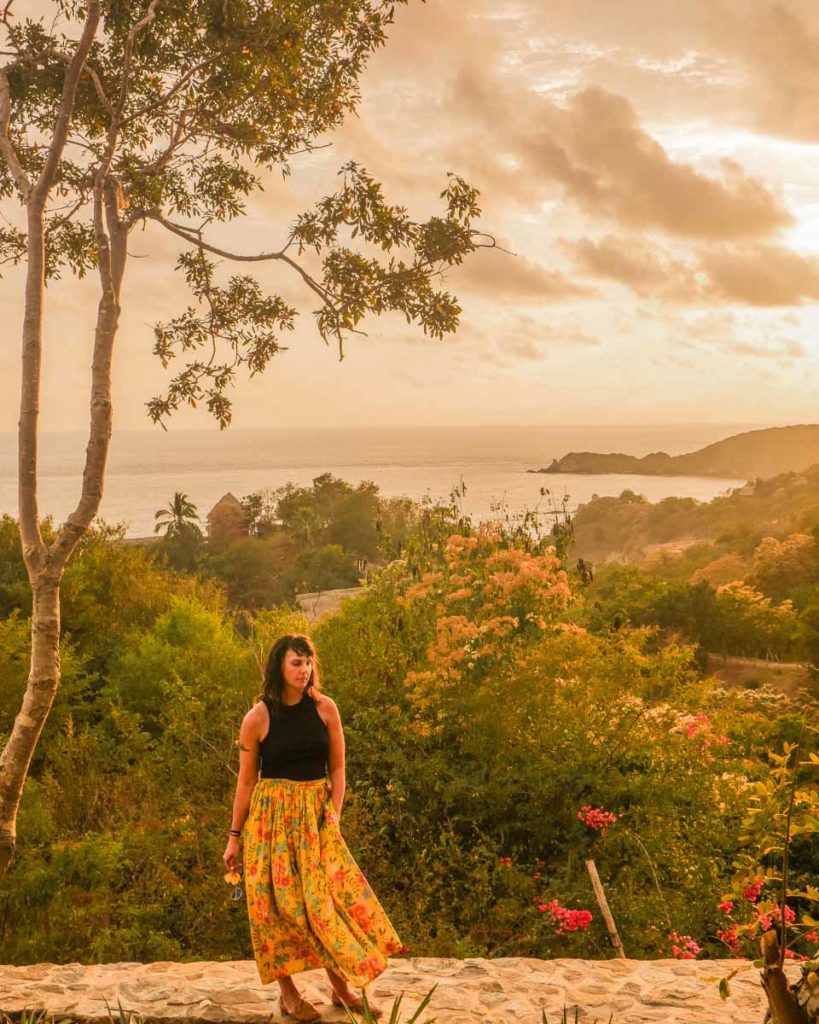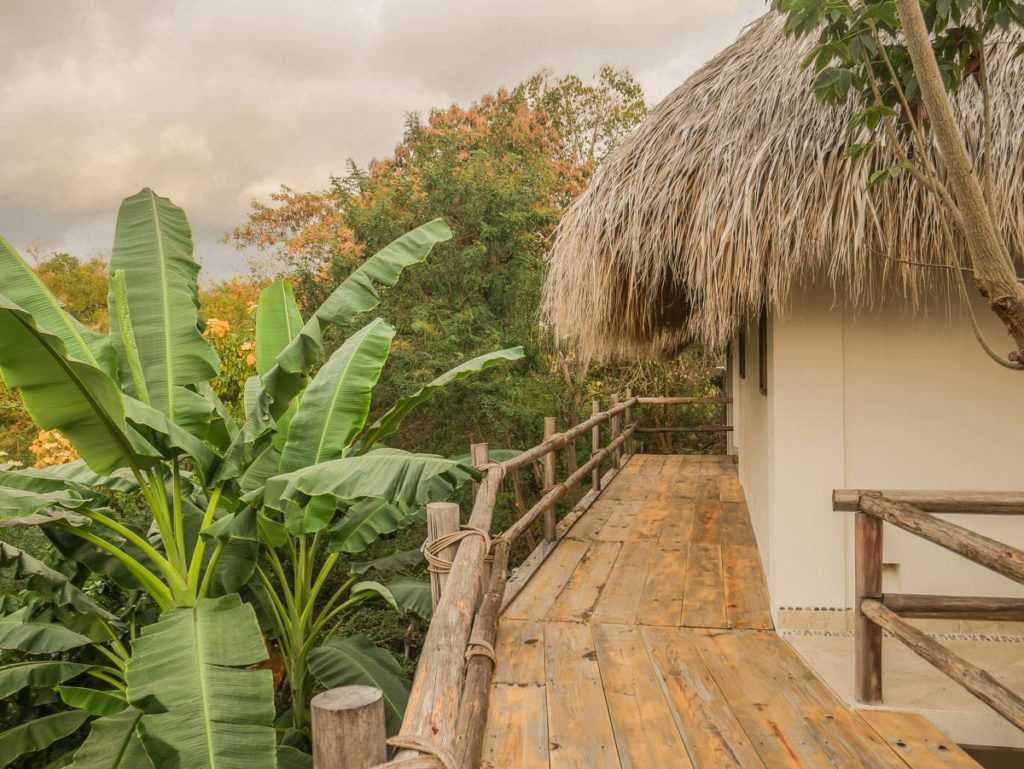 Zazil Retreat Features: San Agustinillo Hotel Review
Stunning View: San Agustinillo Hotel Review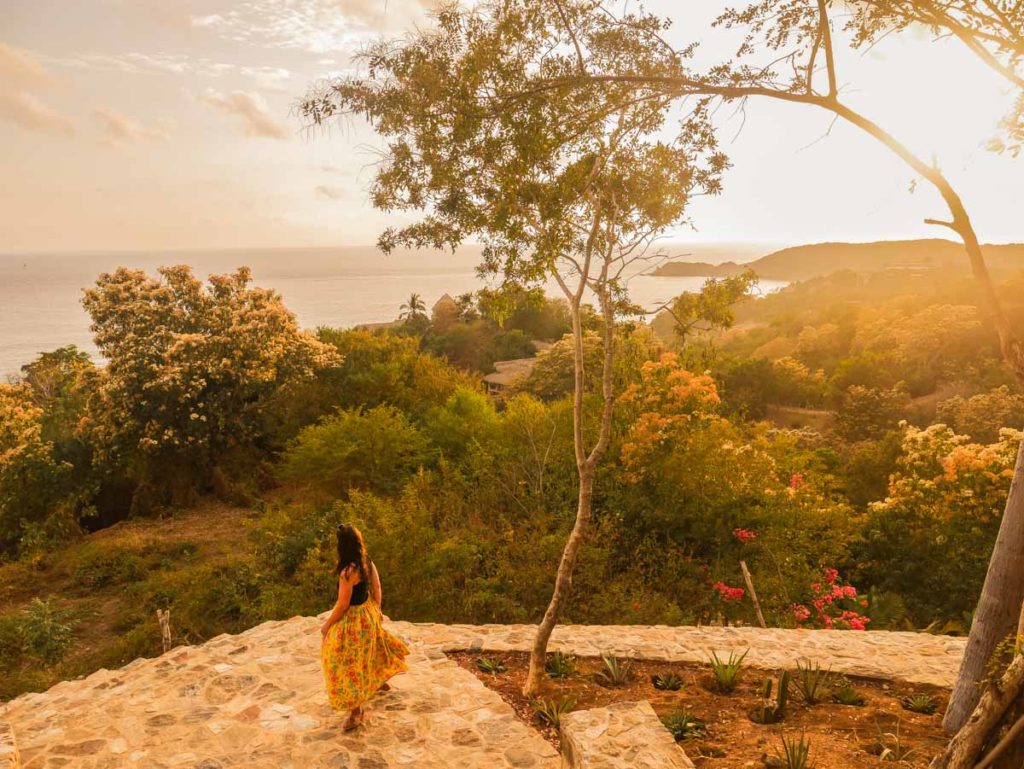 The number one most amazing thing about this San Agustinillo hotel is the stunning panoramic view from the grounds and the suites.

San Agustinillo is a tiny town that really just consists of a road with some buildings and amenities on either side. The beach lies on one side of the road, and the other has a couple of small unpaved roads that wind up the mountain.
Zazil Retreat is perched at the end of one of these roads. It sits really high up above the beach, yet is only about a 10 minute walk up the hill.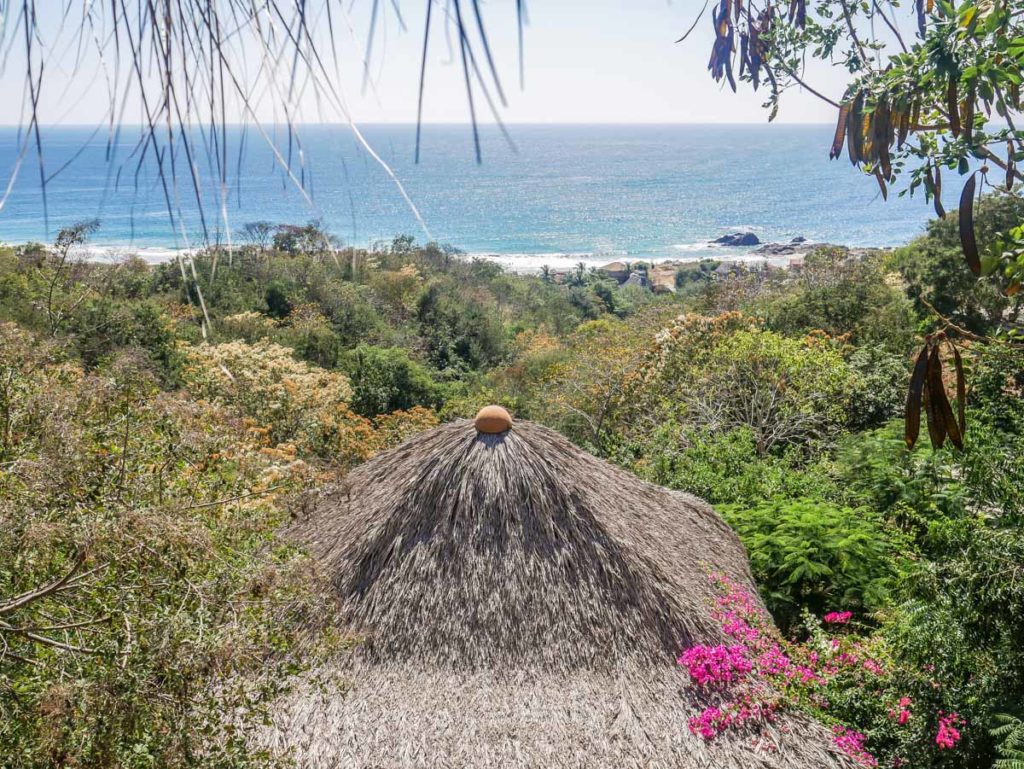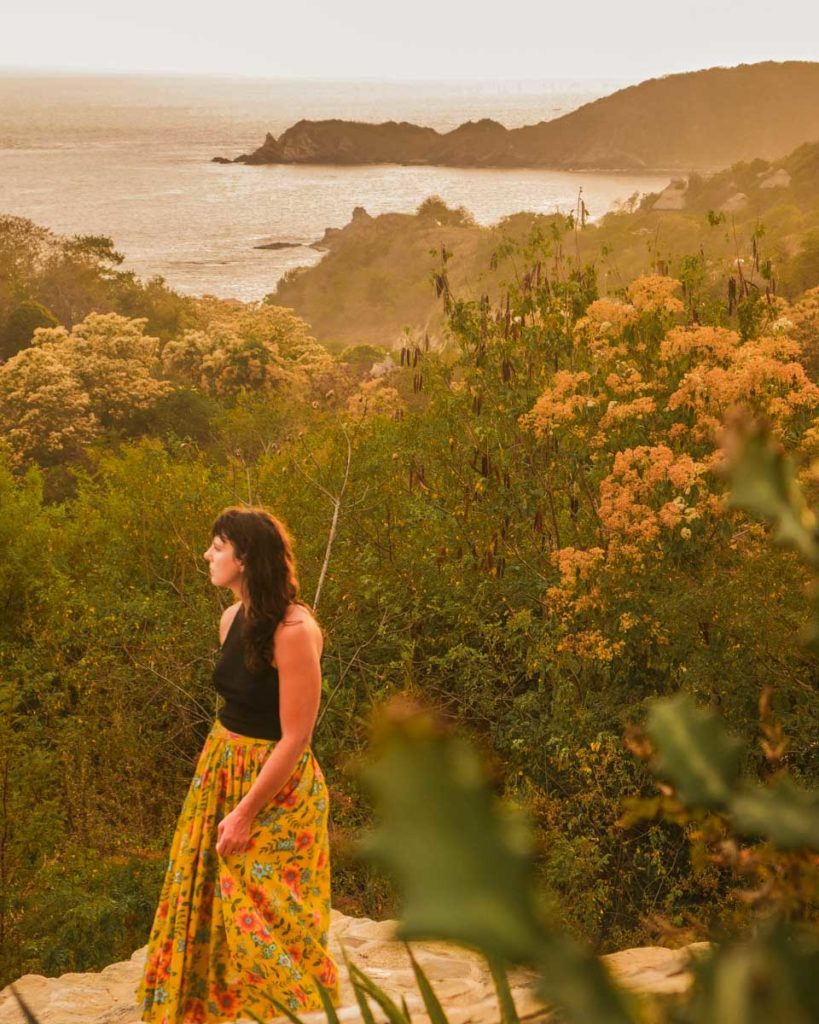 As with any amazing view, you have to get up there to enjoy it. 🙂 If you are walking, there is a hill with a couple of steep portions to walk to get between the hotel and beach. We didn't mind this as it allowed us to get some daily exercise on our vacation. If you are driving, it's an easy quick drive up the hill, or you can hire a taxi if you are feeling tired.
The view from this San Agustinillo hotel is a large panorama – you can see miles in either direction. During whale season (in the winter), you can even potentially see whales from the comfort of your balcony. We met some other guests who had the chance to admire some whales in the sea before their breakfast.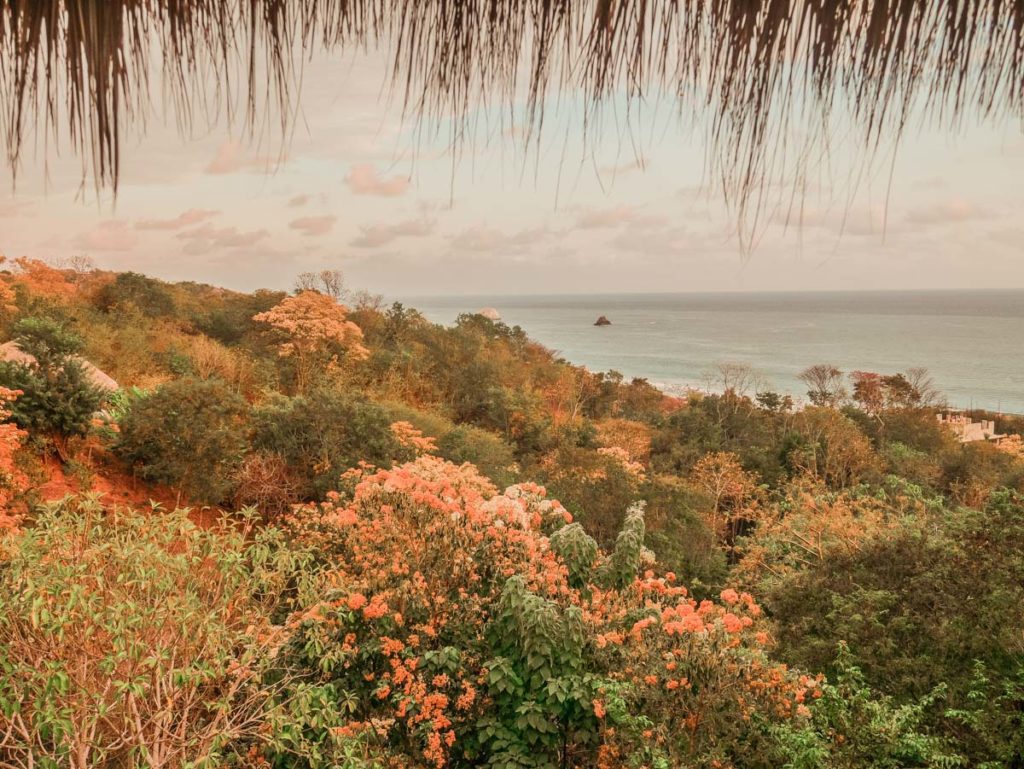 Beautiful Suites: San Agustinillo Hotel Review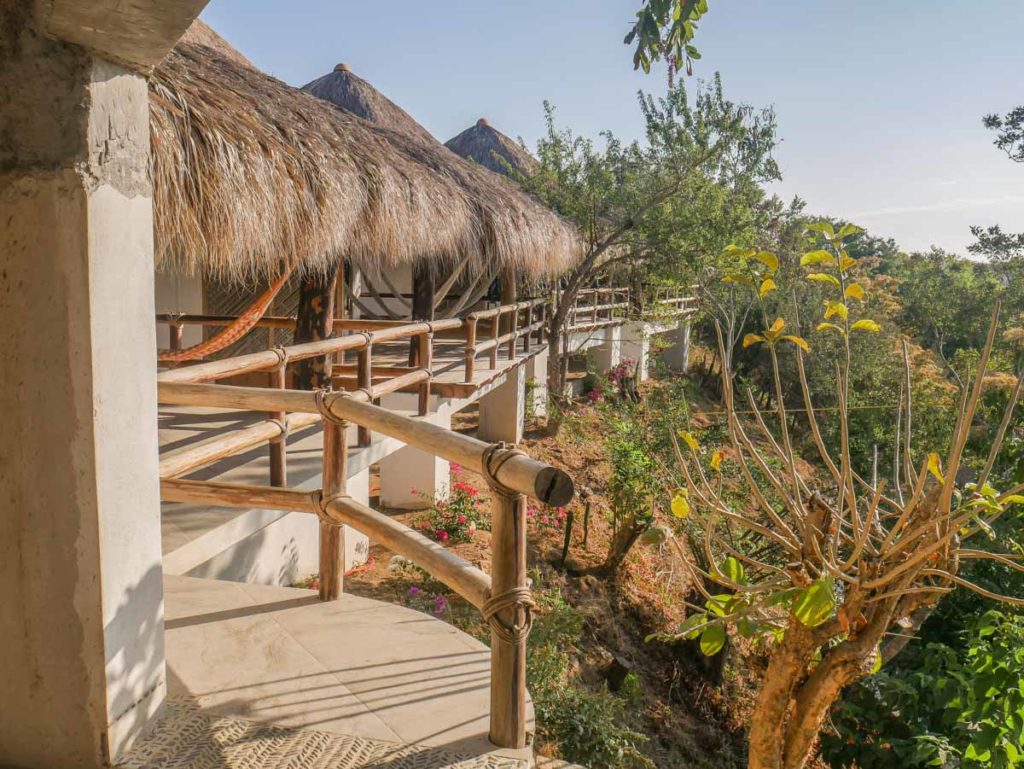 The suites at Zazil Retreat are beautifully done. They are individual cabanas made in the traditional way with high thatched roofs, with high quality materials and construction.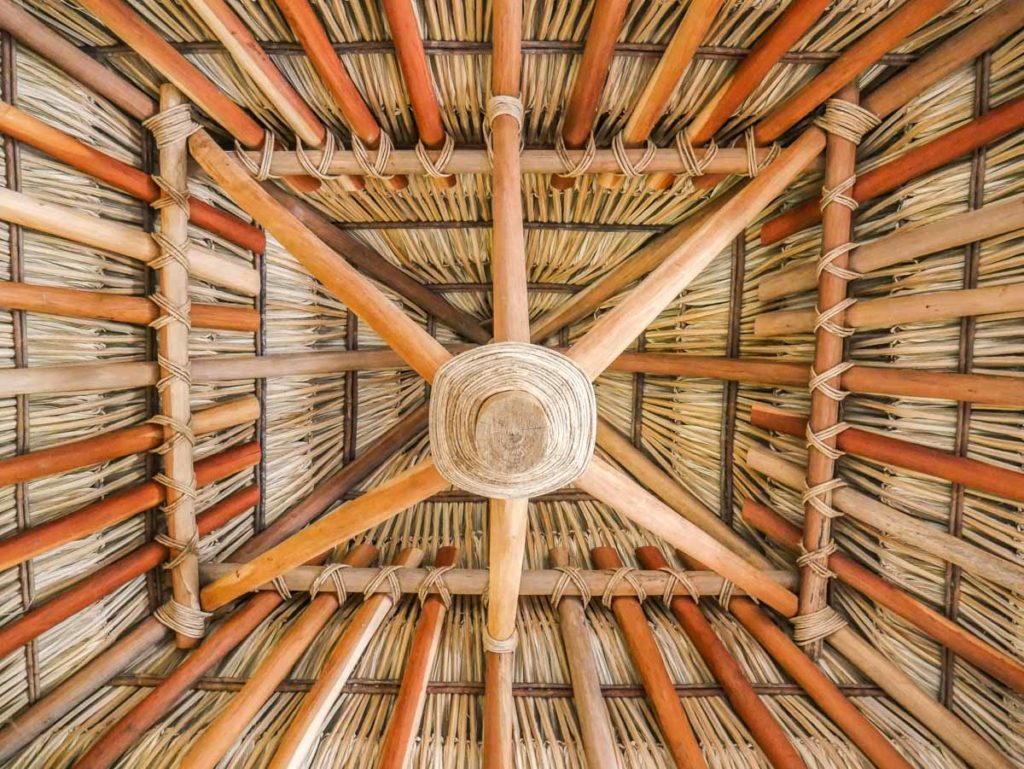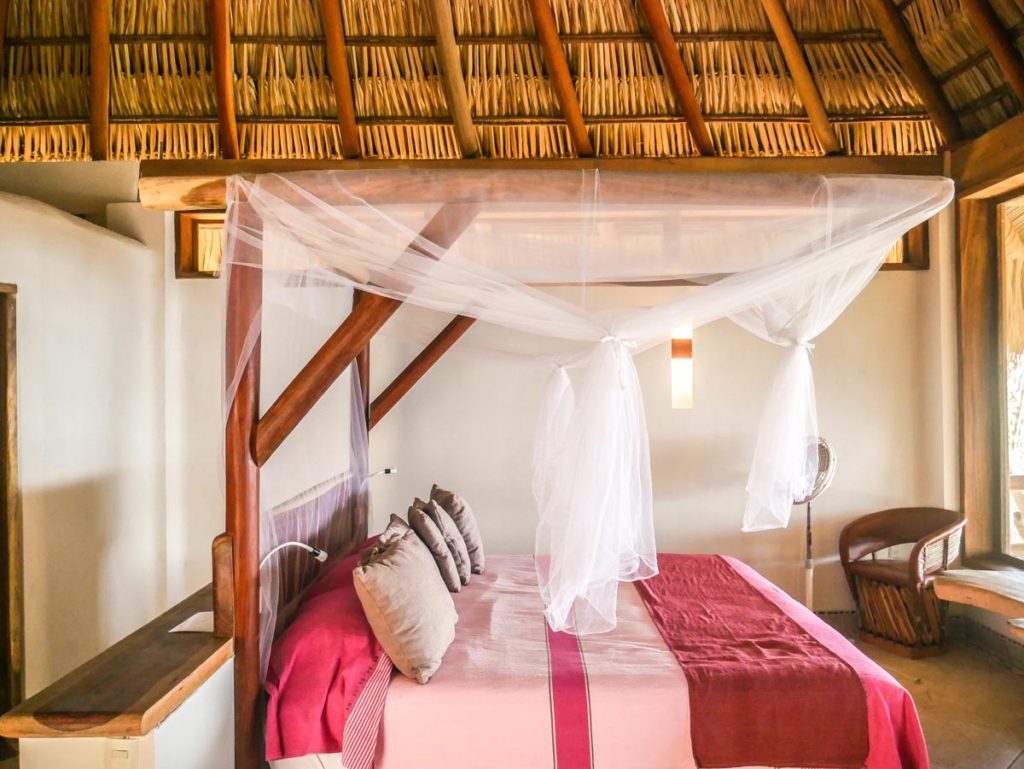 The suites are large – there is plenty of open space to spread out. And each suite has its own private large balcony to enjoy the most important amenity – the nature.
The wall that faces out to the balcony is also almost entirely made of a screen. I absolutely loved this interaction with nature – being able to hear the ocean and smell the fresh air. The screen kept out all bugs and creatures, but allowed us to fully enjoy our surroundings. And the private location of the suites up on the hill avoids any need for curtains, as you only face out into nature.
Another lovely thing is the attention to lighting. There is lots of recessed lighting on the grounds and in the room that makes for a beautiful, romantic ambiance.
Large Private Balcony: San Agustinillo Hotel Review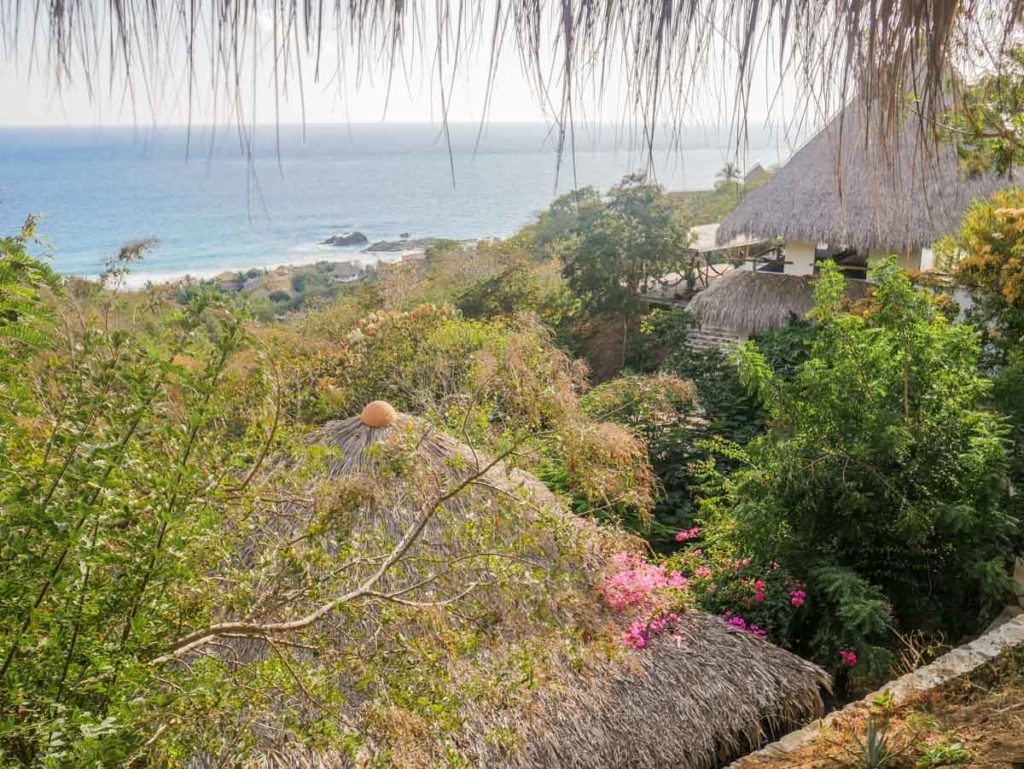 The private balcony in this San Agustinillo hotel is one of my favorite features. I tried to take advantage of every free moment I had to sit out and enjoy the view.
The balcony has a couple of quality hammocks to sit in, and a beautiful wooden desk. I spent each morning here meditating and then staring out at the sea. It would also be a great place to do yoga (which I attempted one morning but my broken toe wasn't cooperating).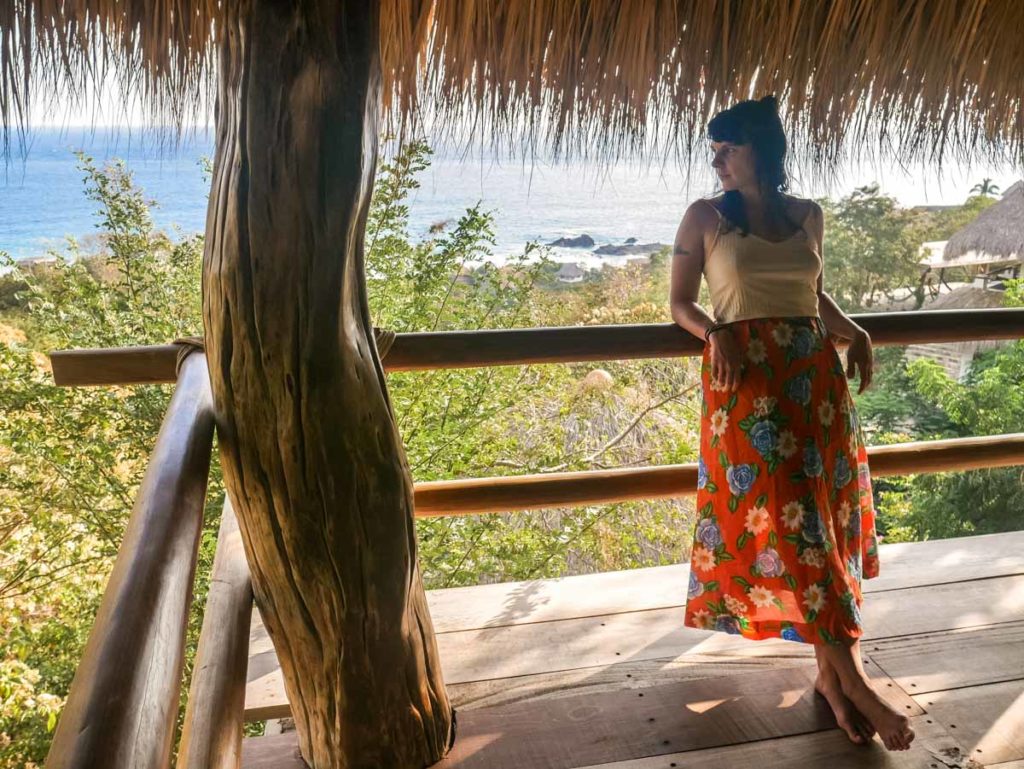 Modern Comforts: San Agustinillo Hotel Review
Each suite in this San Agustinillo hotel is filled with modern comforts and amenities. The king size bed (you can choose a room with either a king bed or two double beds) is huge and super comfortable. The linens and pillows were very high quality – giving me a great night's sleep each night.
Little details like the plush huge towels in the shower, and the flexible reading lights on either side of the bed made the experience feel luxurious. There was also plenty of shelf space and hanging closet space for your suitcase and clothing (which a lot of hotels don't pay attention to). They also provide separate beach towels, which is so convenient.
The Beautiful Shower: San Agustinillo Hotel Review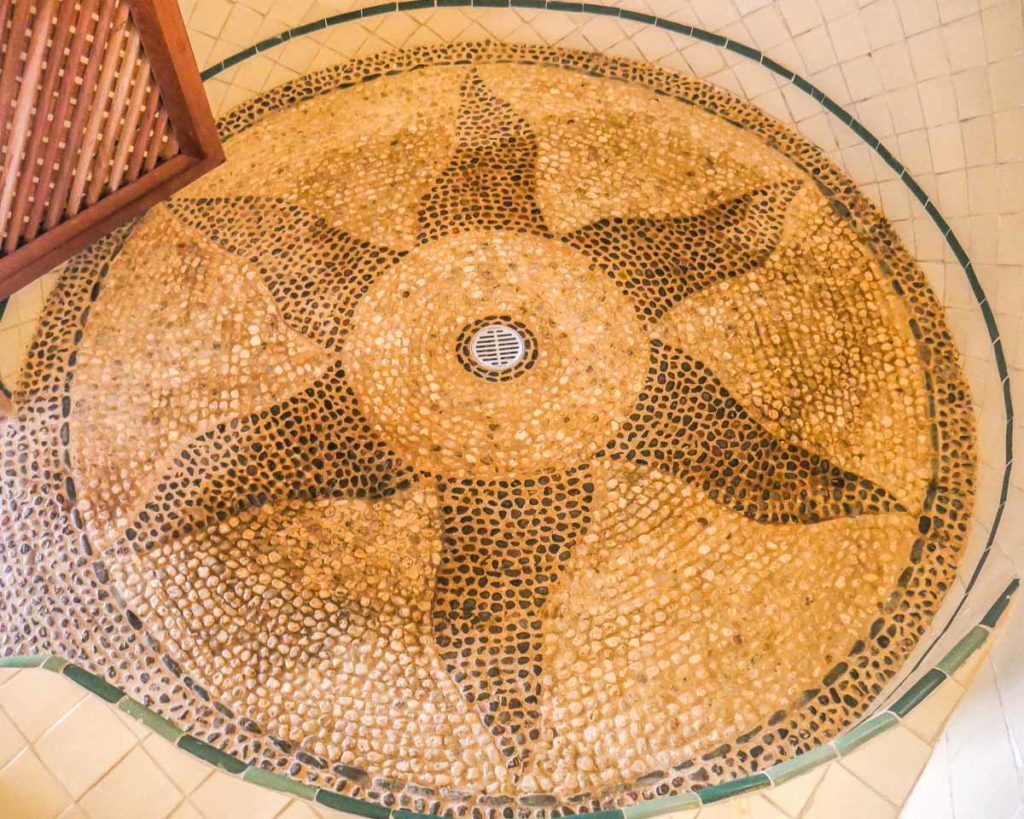 The shower is in it's own circular room with a tile mosaic on the floor, a natural wooden shower head, and a tiled sitting bench. It's a beautiful space to refresh yourself after a hot day.
Supporting the Local Community: San Agustinillo Hotel Review
The toiletries that the hotel uses are bought from the local artisan women in neighboring Mazunte who make shampoos, conditioners and soap from local ingredients like coconut and avocado. I love that this San Agustinillo hotel supports their local community in this way.
Cool + Comfy Climate: San Agustinillo Hotel Review
There is actually a huge difference in the way the climate feels from down at the beach versus up on the hill of Zazil Retreat. Even if it's hot and humid on the beach, once you climb up the hill, you will find cool and comfortable ocean breezes. We never even needed a fan to sleep at night (for reference, our stay was in January).
Warm + Wonderful Hosts and Staff: San Agustinillo Hotel Review
The owners of this San Agustinillo hotel are some of the warmest hosts I have ever had in my life. They made us feel at home and taken care of from the moment they got here. Christa and her husband are also super interesting people who we enjoyed making conversation with whenever we crossed paths. We couldn't have asked for better hosts.
The rest of the staff was wonderful as well – they all made us feel right at home.
Side note: if you are looking for some great artisan products to take home, Silvia, one of the staff members makes these beautiful handwoven bags. Ask her for her current designs! (I bought the green one).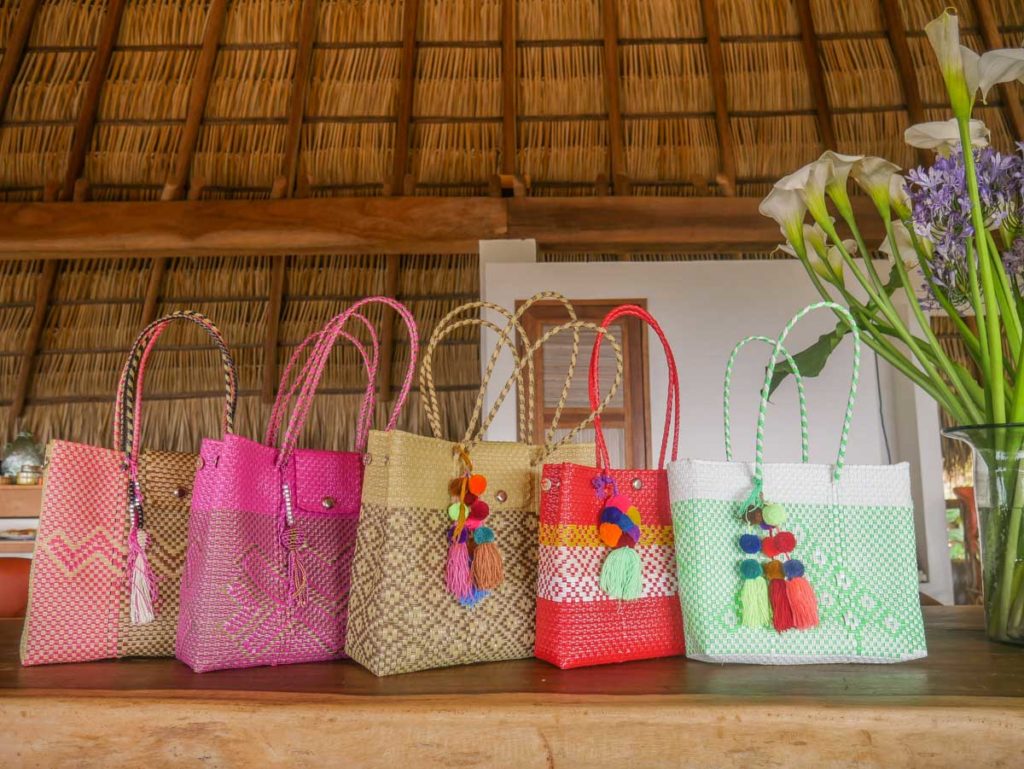 Delicious Included Breakfast + Meals on Demand: San Agustinillo Hotel Review
The food at Zazil retreat is fresh and delicious. There is an included breakfast each morning that is a treat. It's full of fresh tropical fruit, freshly squeezed juice, yogurt, butter, local honey, freshly made jams and bread that Christa picks up every morning fresh from the bakery.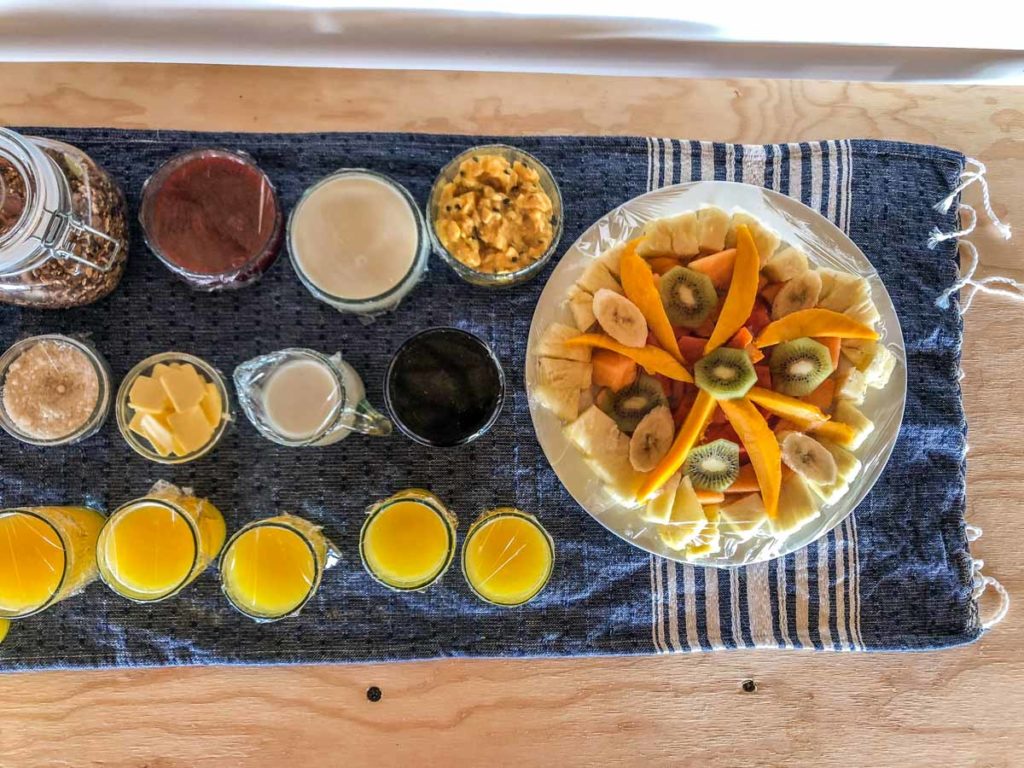 You can also choose to add on eggs, chilaquiles, or something more if you'd like, for additional fee.
Another option is to request a lunch or dinner on premises. We had the extreme pleasure of having a delicious multi-course dinner compliments of our hosts. The chef who was with them over the holidays was incredible – the food was complex, flavorful, and beautifully plated. If you'd like to enjoy a special dinner during your stay at Zazil Retreat, I highly recommend a meal in their beautiful dining room.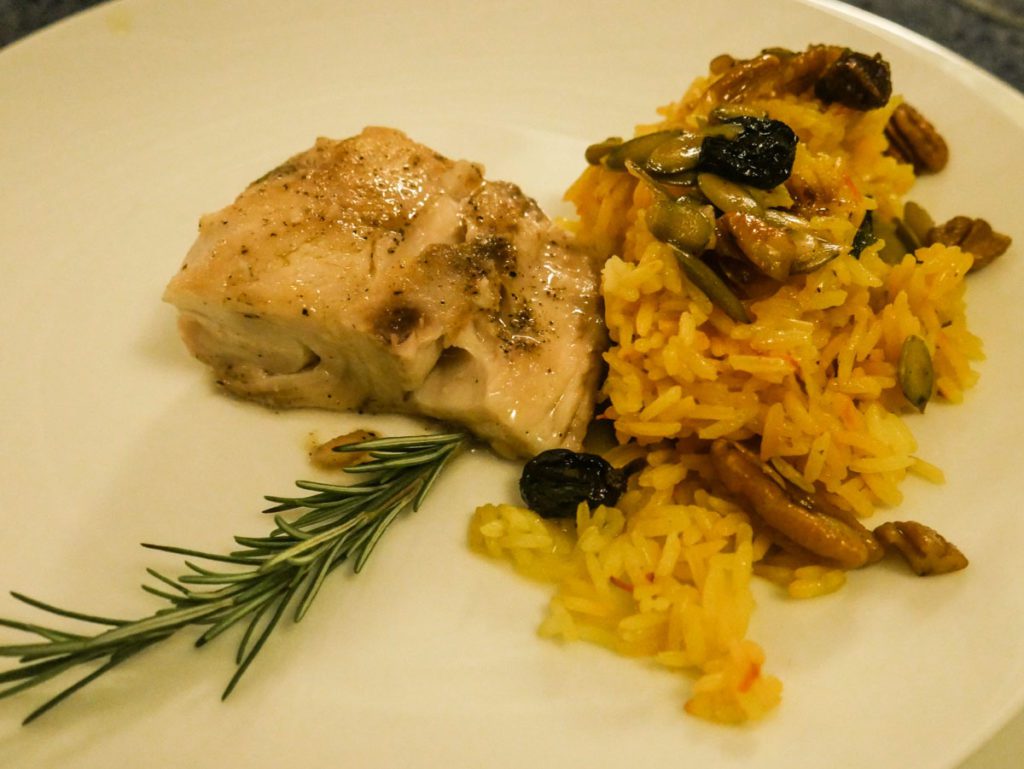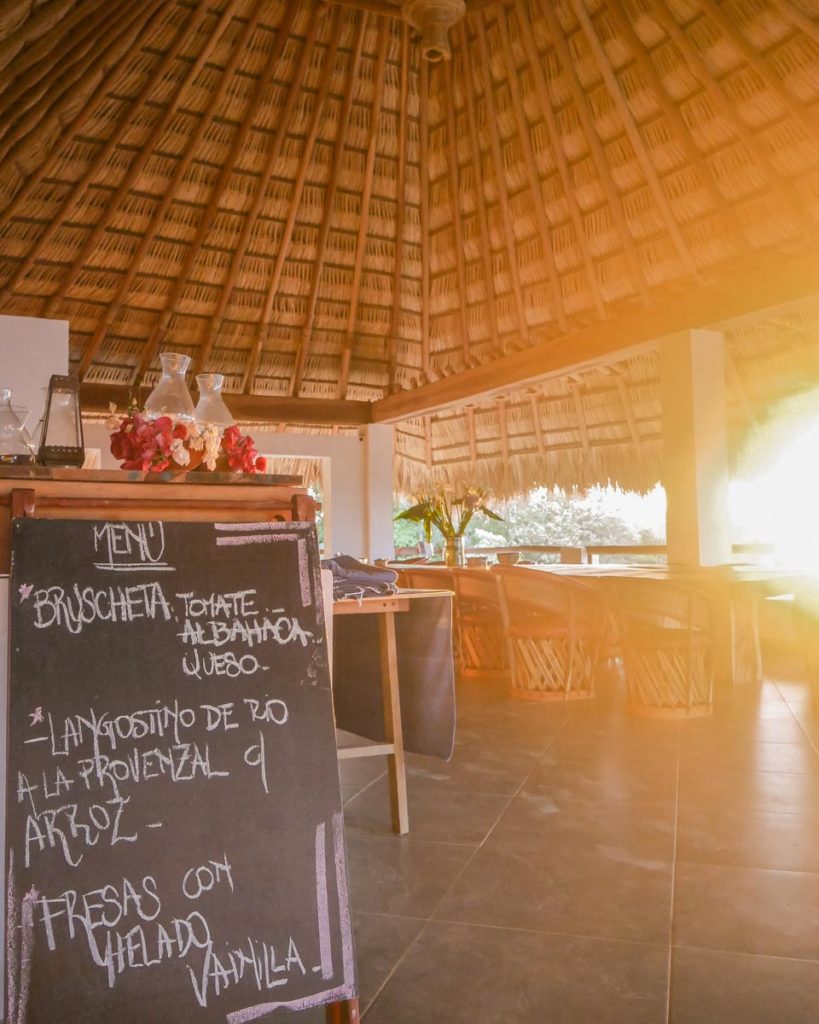 Quiet + Peaceful Location: San Agustinillo Hotel Review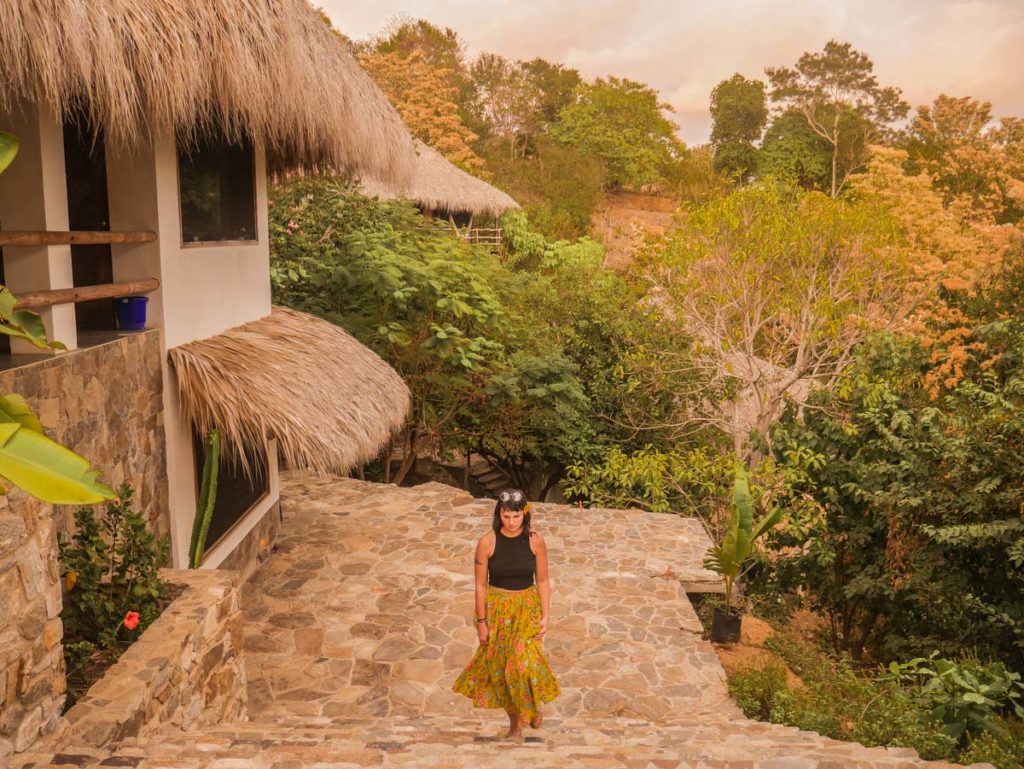 If you love nature, or want your vacation to be in a peaceful setting, the location of this San Agustinillo hotel can't be beat. It's surrounded by jungle, mountains, and ocean. You will hear birds chirping, the sounds of waves crashing far below, and not much else.
And this peaceful retreat is just a 10 minute walk from the town below (a shorter drive), or a 20-30 minute walk to Mazunte – a town with even more amenities.
Communal Space for Relaxing/Enjoying the View: San Agustinillo Hotel Review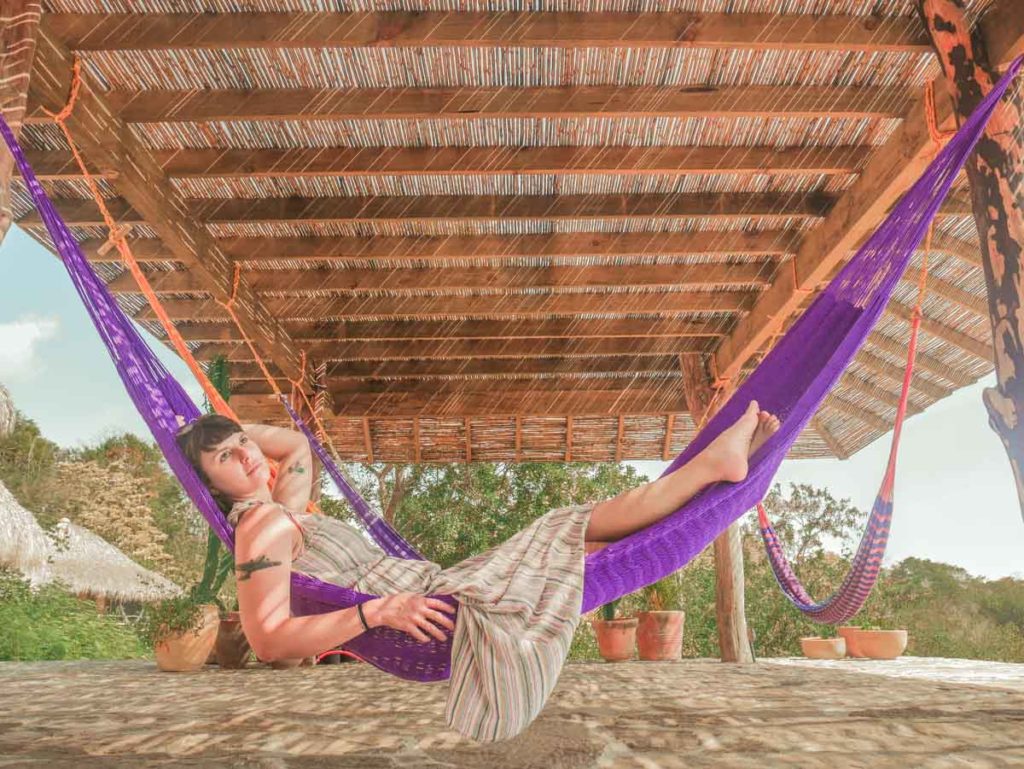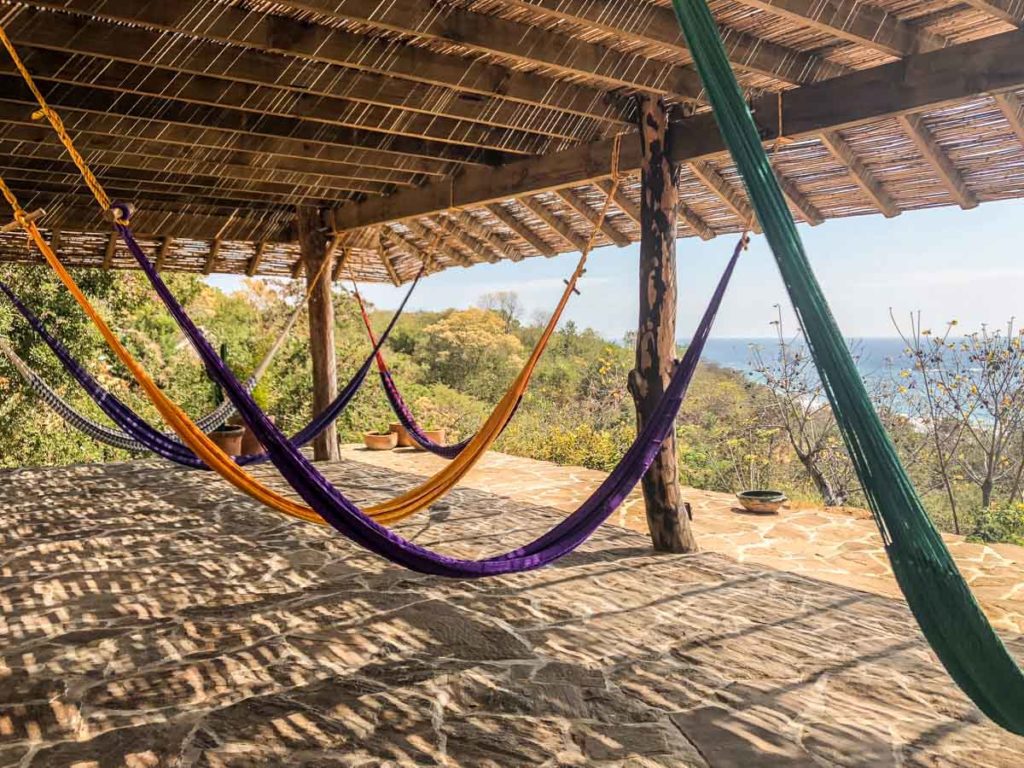 There is a large stone terrace at the base of Zazil Retreat that has a beautiful natural roof and lots of colorful hammocks for swinging and relaxing. This is the best place to take in the sunrise or sunset at Zazil.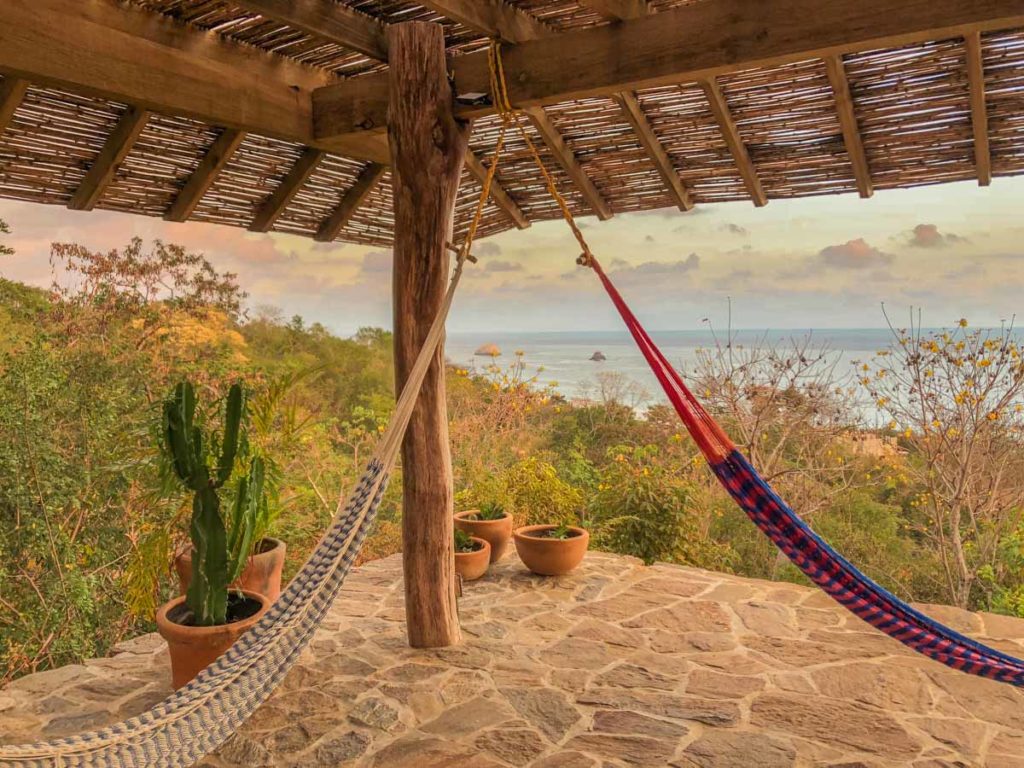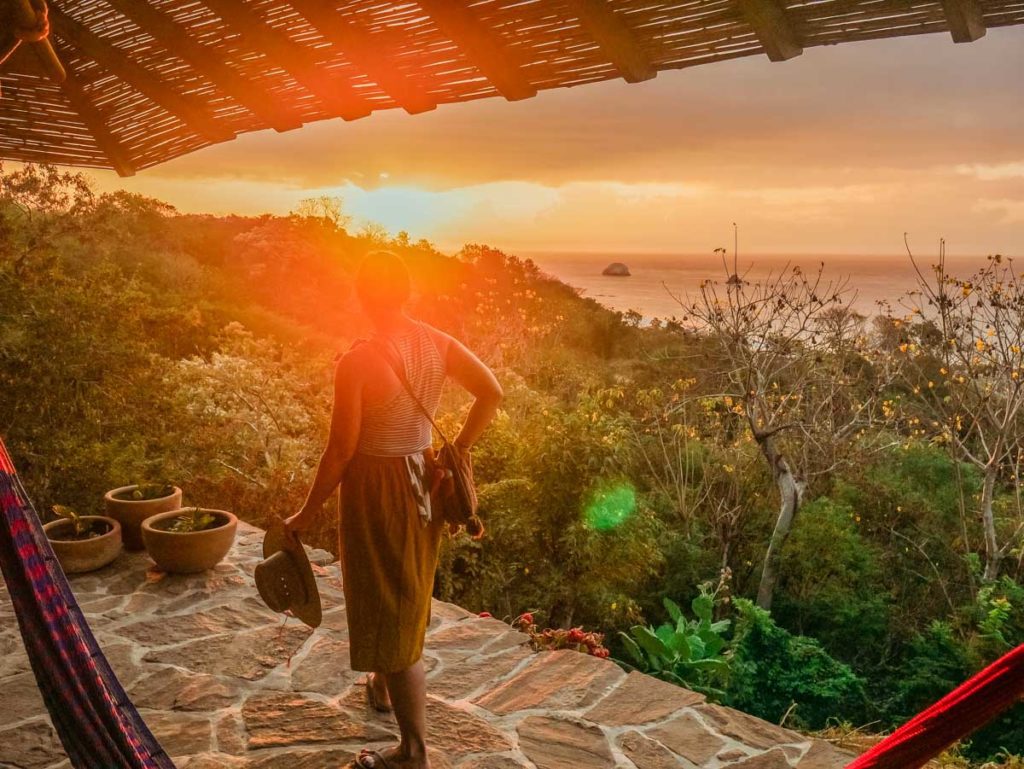 Interesting Guests/Creative Atmosphere: San Agustinillo Hotel Review
I don't think it was just luck that we happened to meet so many really interesting and cool guests during our 5 day stay. It seems that the town of San Agustinillo and this hotel in particular attracted like-minded creative people from all over the world. We met no less than 3 couples that we would have been friends with in a second. They all had interesting stories about what they do for work, their hobbies, and their travels.
The large beautiful communal table in the dining area was also a great way to encourage conversation between guests during breakfast. The table was large enough that you could choose privacy if you preferred, but we really enjoyed meeting so many great people and sharing tips on what to do and where to eat in the area.
Things to Consider: San Agustinillo Hotel Review
Location – A Steep Climb: San Agustinillo Hotel Review
As I mentioned before, you'll just want to keep in mind that this San Agustinillo hotel is perched high on the hill. If you are walking, it's a 10 minute hike up that is pretty steep in two places. You will need to be somewhat fit and enjoy this kind of activity.
Other options are to drive up (if you are renting a car) or order taxis up when you are tired.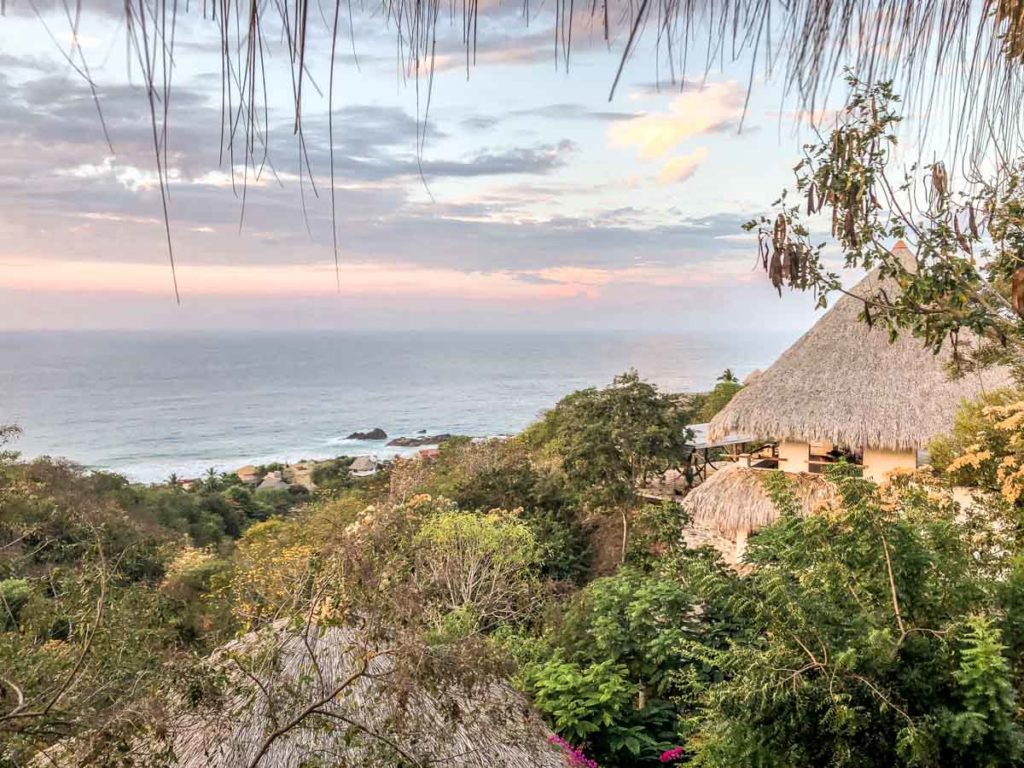 Final Thoughts: San Agustinillo Hotel Review, Zazil Retreat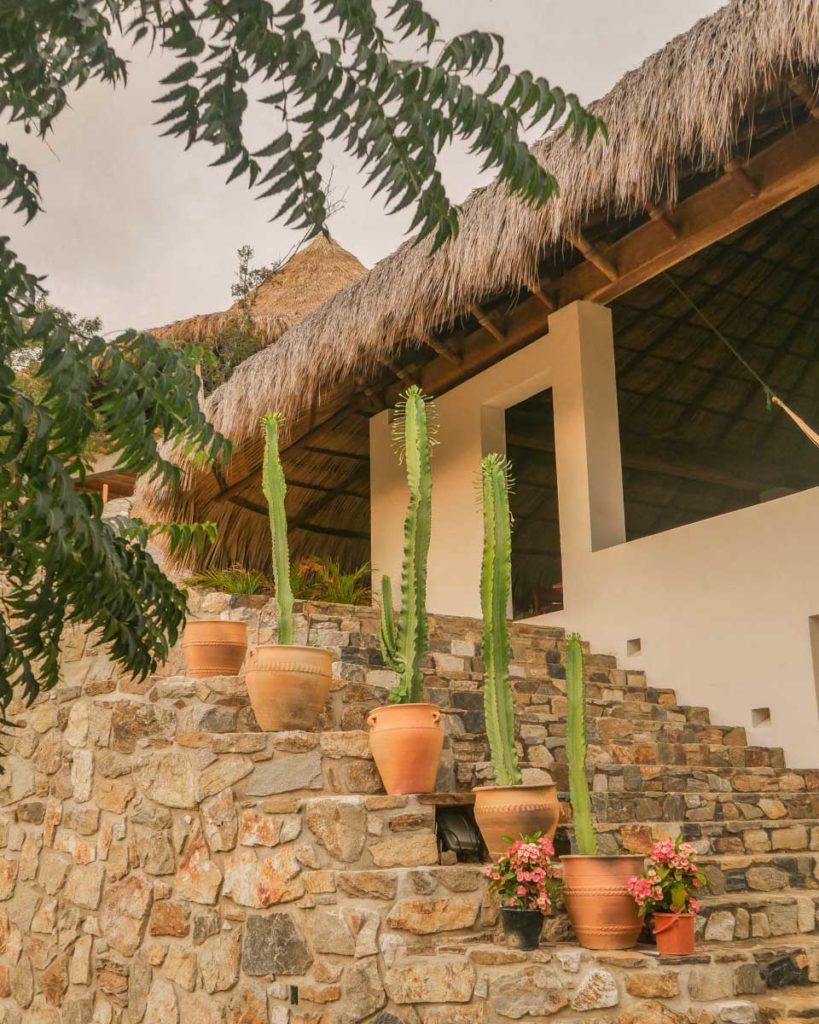 Zazil Retreat is a beautiful San Agustinillo hotel that I hope to return to very soon! I spent a beautiful, relaxing, and comfortable 5 days in this peaceful place. The suite was so comfy that we passed a couple of long mornings just lounging because we didn't want to leave, and we enjoyed the balcony and gorgeous view every chance we got.
Zazil Retreat is still a newer hotel (3 years old at time of post), and they are adding new exciting amenities. They are almost finished with a gorgeous huge yoga studio that has amazing panoramic views. They plan to host yoga retreats here in the near future. They also have plans to add a pool.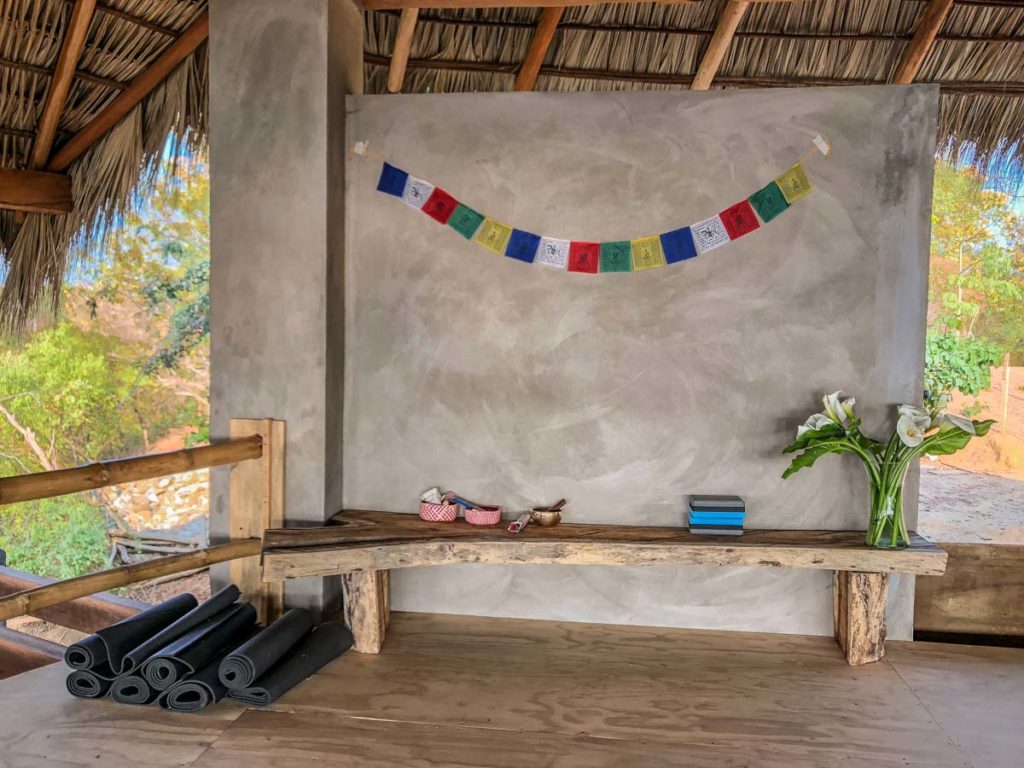 I'd definitely recommend this San Agustinillo hotel for anyone who wants a special experience in a beautiful and tranquil natural place.
---
Hotel: Zazil Retreat
Social Media: Facebook, Instagram
Best For: Nature lovers and people who want a peaceful vacation.
Price: approx $1380 MXN/ around $72 USD/night based on the room, number of guests, and season. Check booking link below for current rates.
Includes: Wifi, drinking water, fresh continental breakfast, toiletries.
Location: San Agustinillo, Oaxaca, Mexico
Book Here: Reservations
---
If you are planning to visit San Agustinillo or neighboring Mazunte, check out my guide for what to do and where to eat in these two towns.
Or if you are thinking of checking out Puerto Escondido, I have an in-depth guide for Puerto too.
Finally, check my Oaxaca tag for lots of posts about what to eat, drink and do in Oaxaca city and state.
Disclosure: this post is written in partnership with Zazil Retreat. All views and opinions are my own, and I wouldn't recommend anything I don't love!
Pin it for Later!