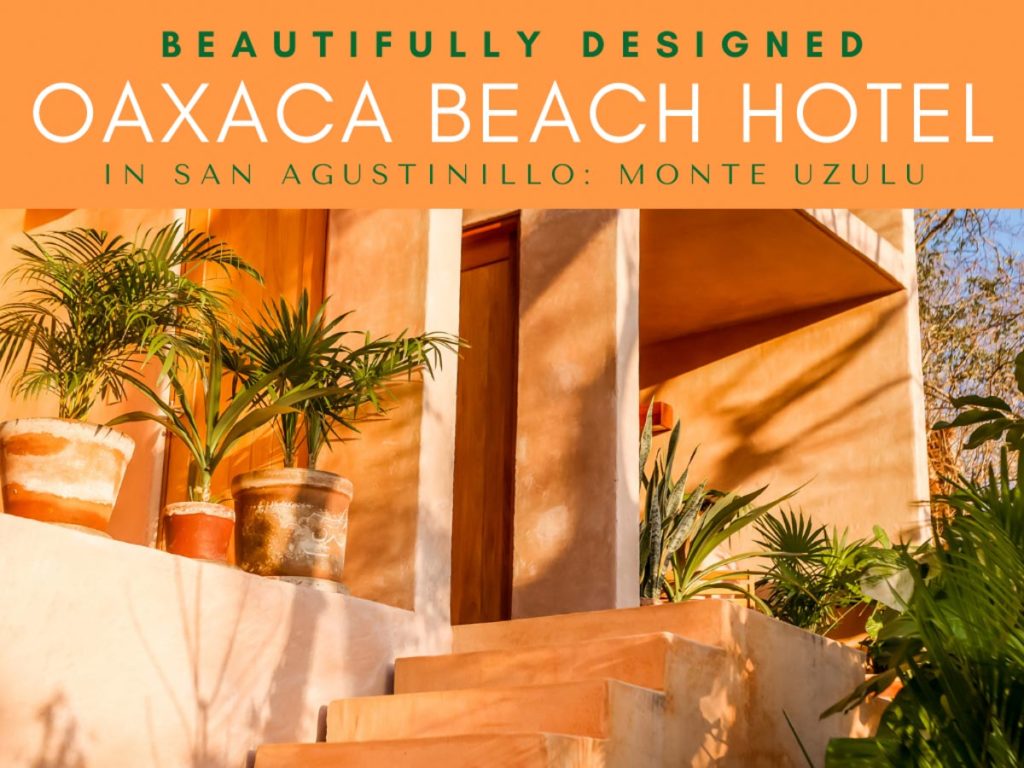 I've stayed in many hotels and lots of towns on the Oaxaca coast, but one of my favorite places to stay is the gorgeous Monte Uzulu hotel in San Agustinillo. This impeccably designed Oaxaca beach hotel is perched on a hill overlooking the San Agustinillo beaches. The lush leafy greens, artistic shadow and light play, chic open design rooms, and peaceful location steps from the main street in San Agustinillo make this one of the best places to stay on the Oaxaca coast.
Disclosure: This post was written in partnership with Monte Uzulu. As always, every thought, opinion, and experience is my own.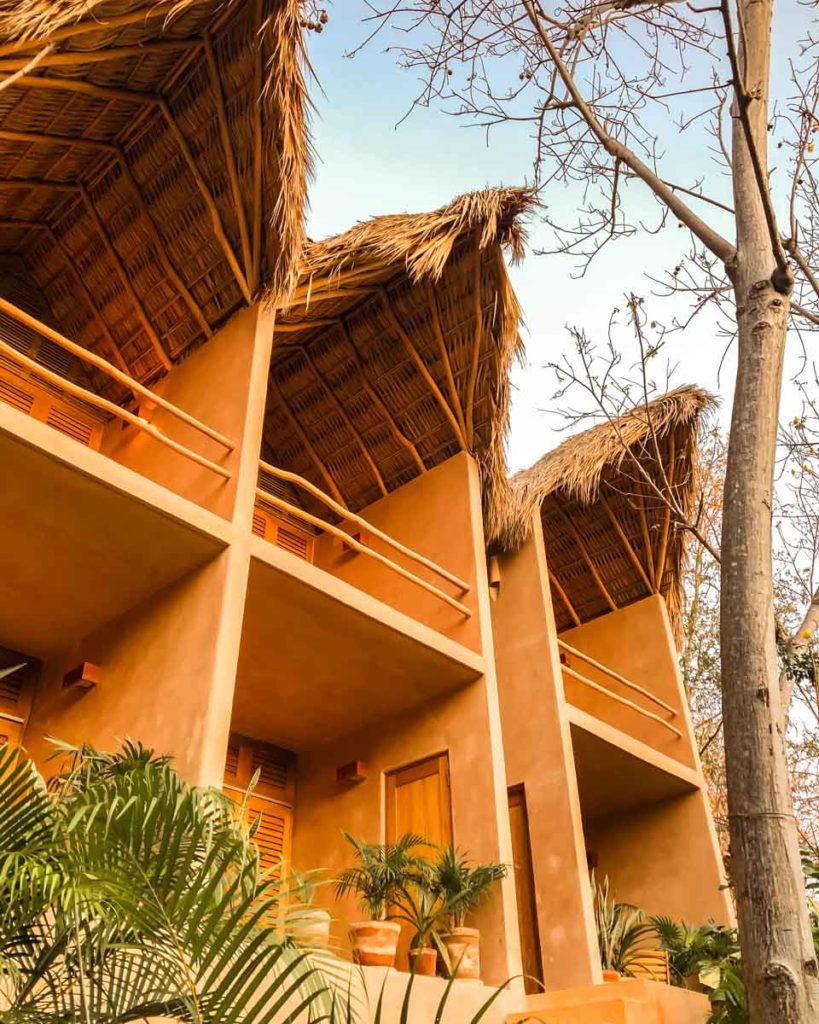 Read my full Mazunte and San Agustinillo travel guide here or my full Oaxaca Beach Guide.
Or find all my Oaxaca coast blogs here. And tons of Oaxaca city/valley posts here.
Luxury Suite: Monte Uzulu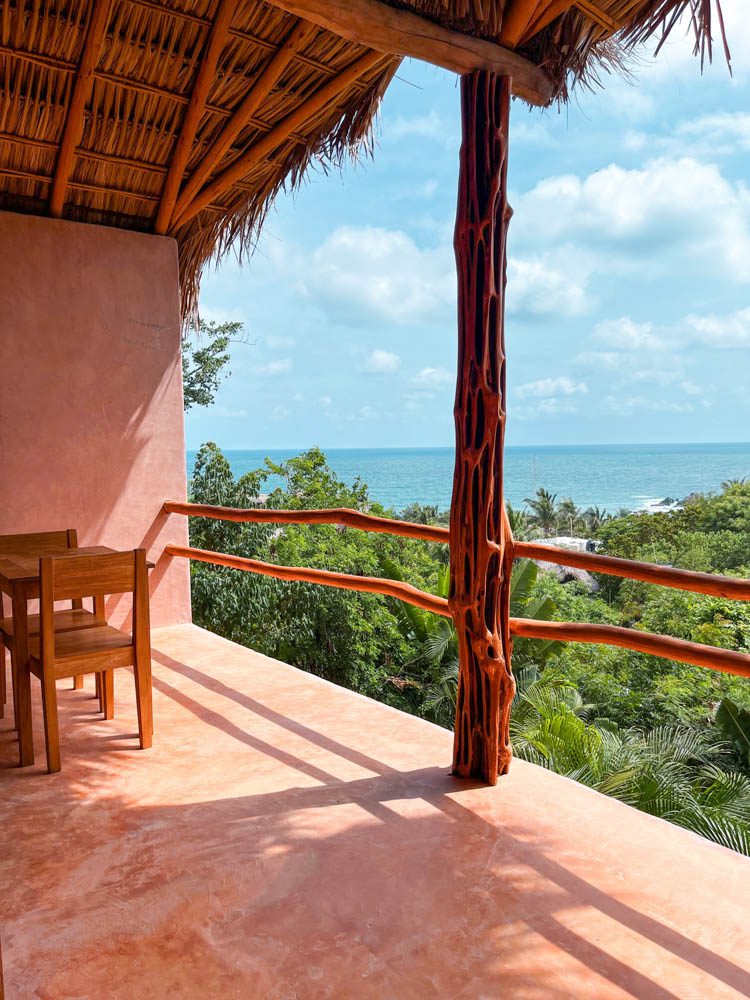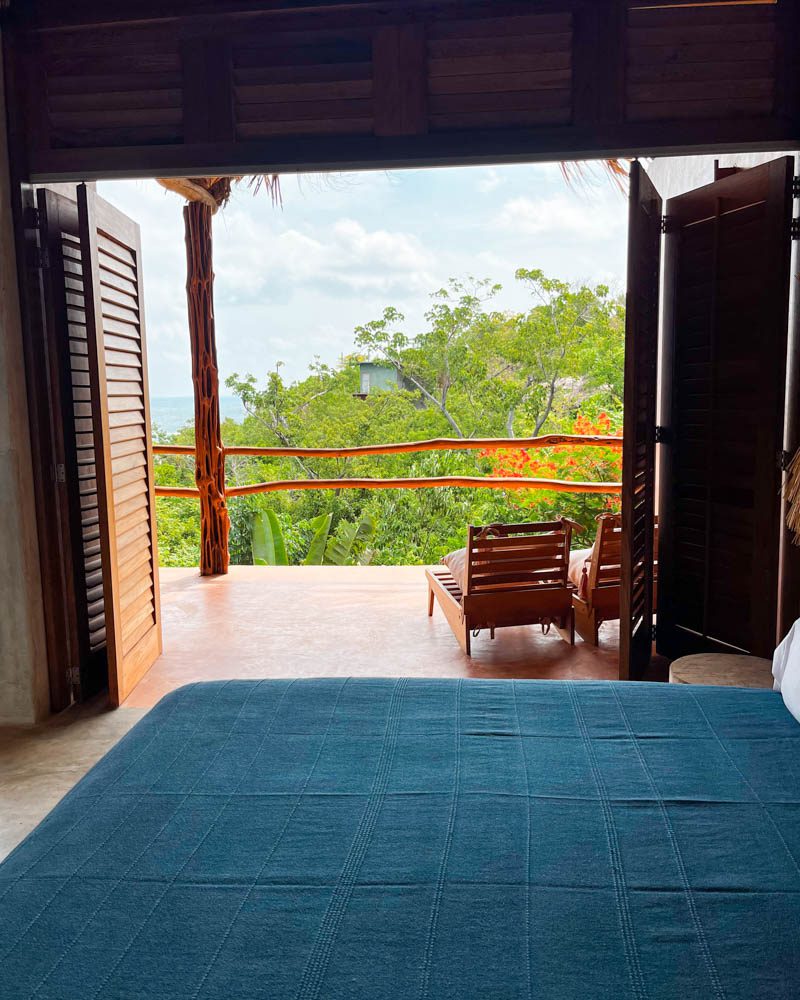 Update: This year I had the chance to stay in the luxury suite and it was just stunning. This large space is on the top floor so features sweeping jungle and ocean views. The bedroom is roomy, the bathroom is extra large and facing the front/outdoor area so the bathtub enjoys amazing views as well. The balcony is extra long and includes a table and chairs, as well as lounge chairs.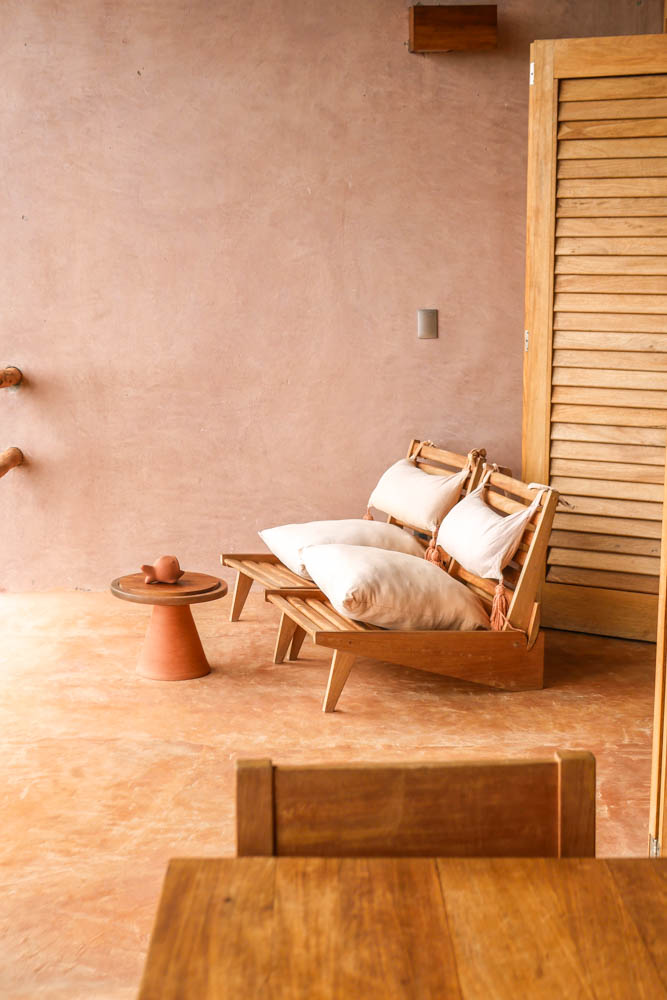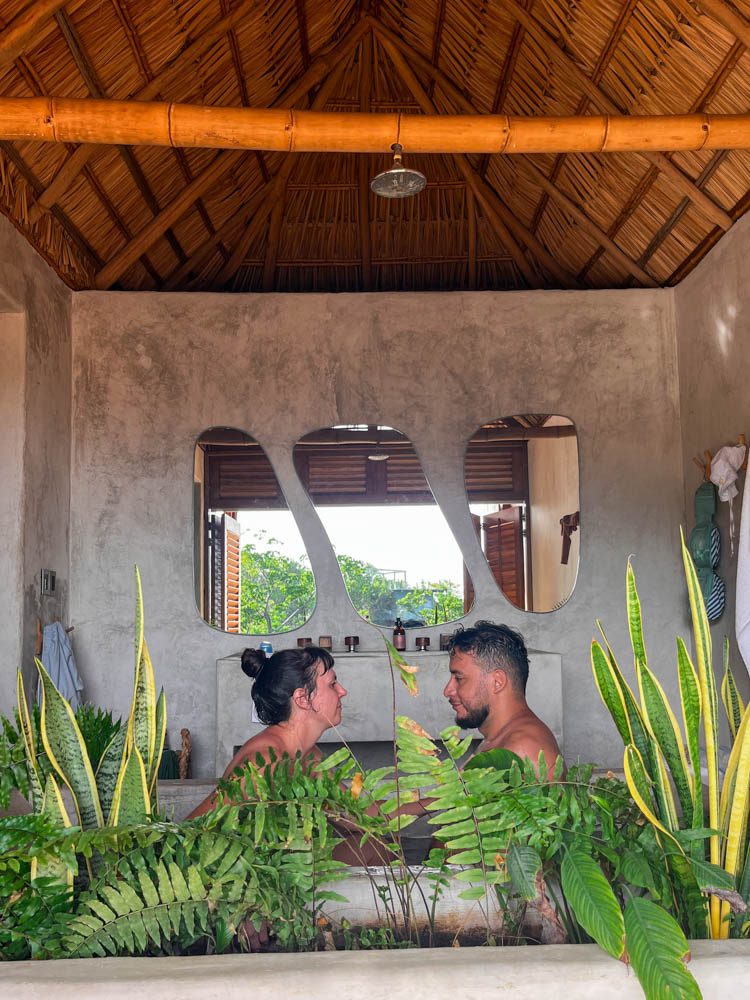 We felt absolutely spoiled here. We used the tub every day and enjoyed the stunning views as we lounged. Waking up and opening the wooden doors to let in the nature was my favorite part of the day.
Our first stay was in one of the ground floor suites and that was also lovely and comfortable if you're on more of a budget. The ground floor rooms enjoy jungle views and are just a bit smaller, but still beautiful.
Well Thought Out Design: Oaxaca Beach Hotel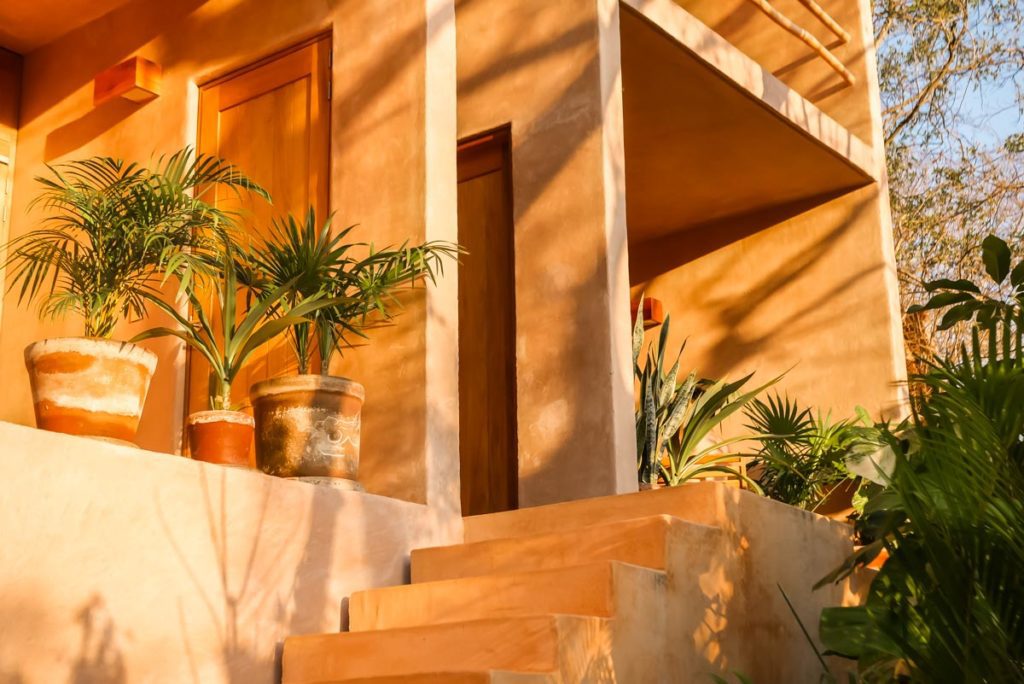 The most special thing about Monte Uzulu hotel in San Agustinillo is the perfectly curated design. The space was designed by architecture studio, At-te and design studio Taller Lu'um, and every detail and inch is beautiful. Each suite is an open design concept, there are open sitting areas facing the jungle and sea, and then slotted wooden doors open the bedroom up to the outdoors. You can choose to keep these closed or completely open to interact with the lush nature. Then there are open design bathrooms with a large tub, shower, sink and toilet.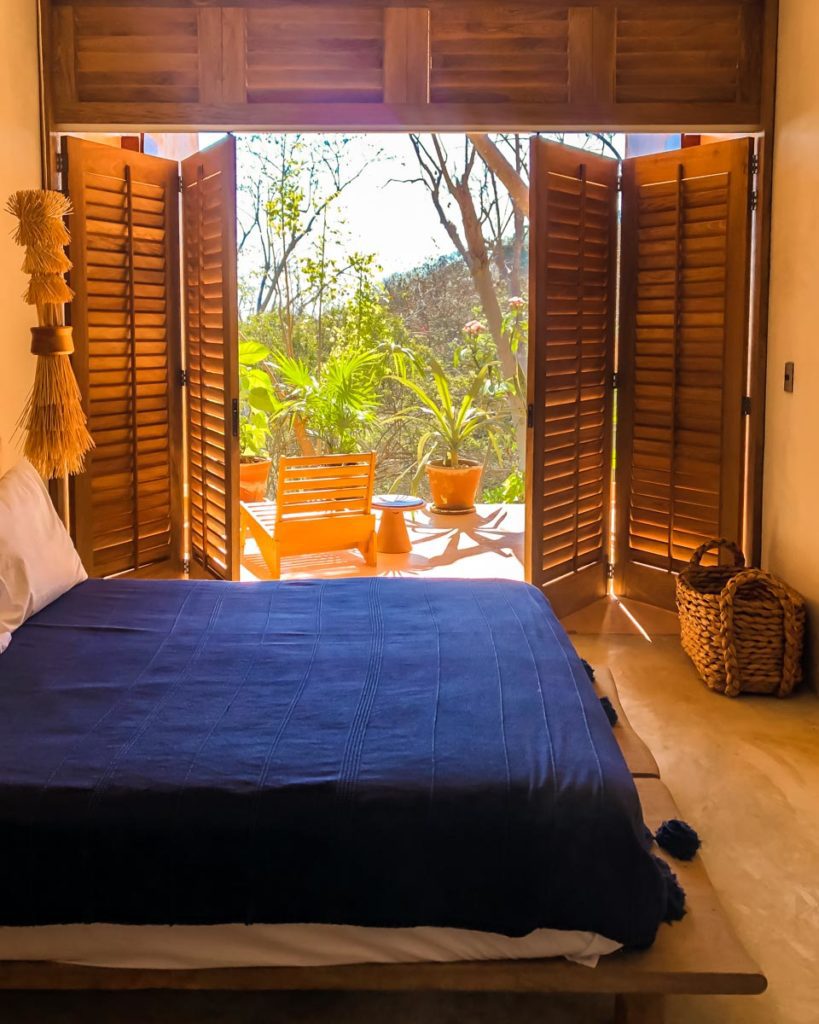 During the day, the shadows from the tropical banana and palm leaves dance on the floors and walls. It's hard to describe how beautifully planned out each wall and detail is with the light. Skylights, recessed lighting, and open plan spaces make the light part of the charm of this hotel in San Agustinillo.
For me, Monte Uzulu strikes a perfect balance between minimalist modern architecture and decor and natural details like wood, light, and greens. The buildings and rooms are concrete, with warm peach colored floors and walls in the front, and cooler grey colors in the bathroom. The furniture is made from beautiful wood, and details like the dramatic woven bedside lamps add warmth and a natural touch. Other details like the plants in the bathroom and the plants that line the front of the terrace bring the nature to interact.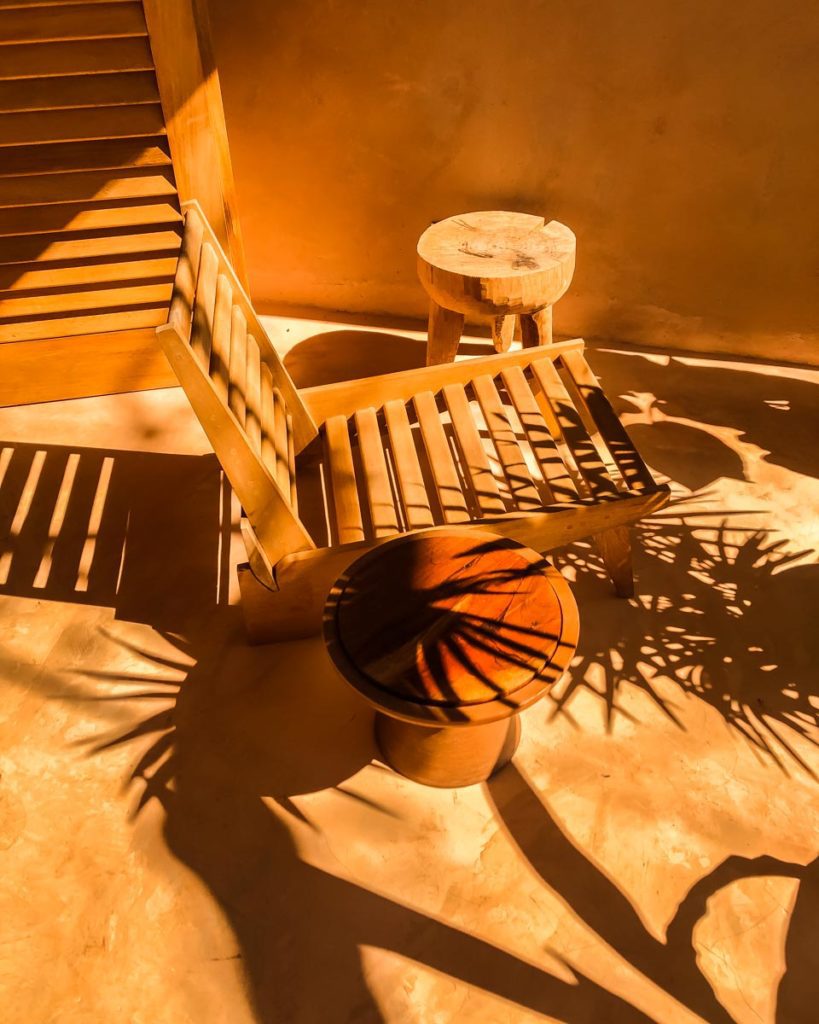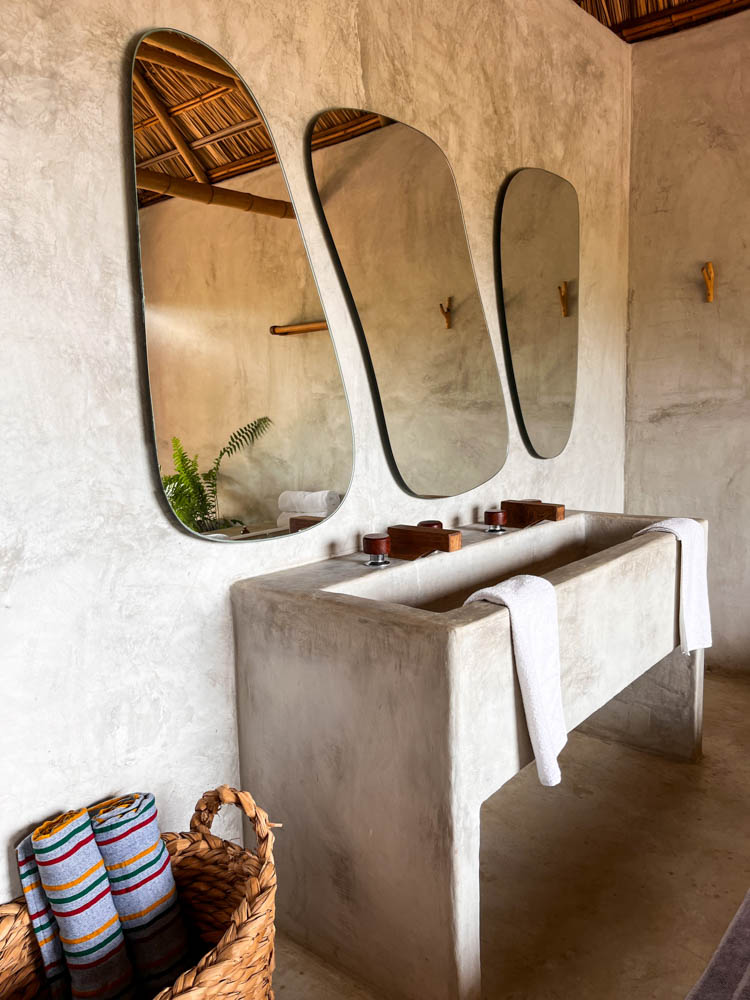 On both of my stays I've wanted to spend as much time as possible at the hotel, as it feels like a peaceful and beautiful retreat. The warm sunrises, soft sunsets, sounds of nature, sweeping views, and beautiful architecture made me want to return as quickly as possible.
Comfortable Common Spaces: Hotel in San Agustinillo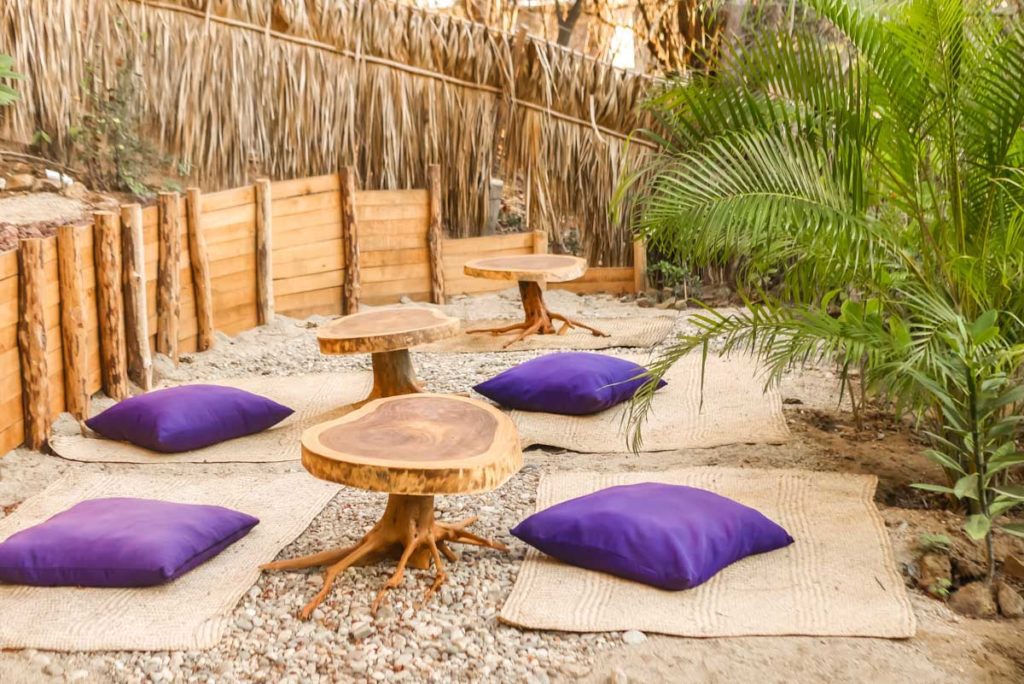 Monte Uzulu has a couple common spaces to spend time if you want to get out of your dreamy suite (but why? haha) or if you are traveling with a group.
There is a sitting area above the Temporada restaurant with comfy chairs and tables. Another gathering area features woven palm mats, hammocks, and leafy greens surrounding the space. Finally there is another covered area to practice yoga or take a yoga class during high season. There is plenty of area to spread out or change your perspective if you choose.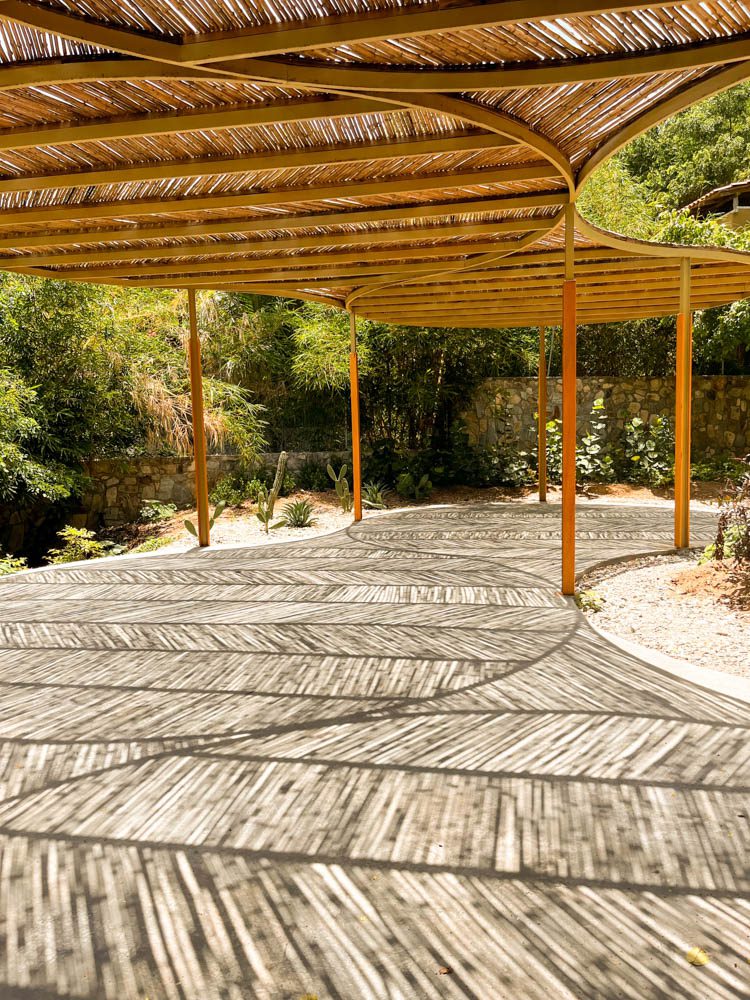 Convenient Location: Oaxaca Beach Hotel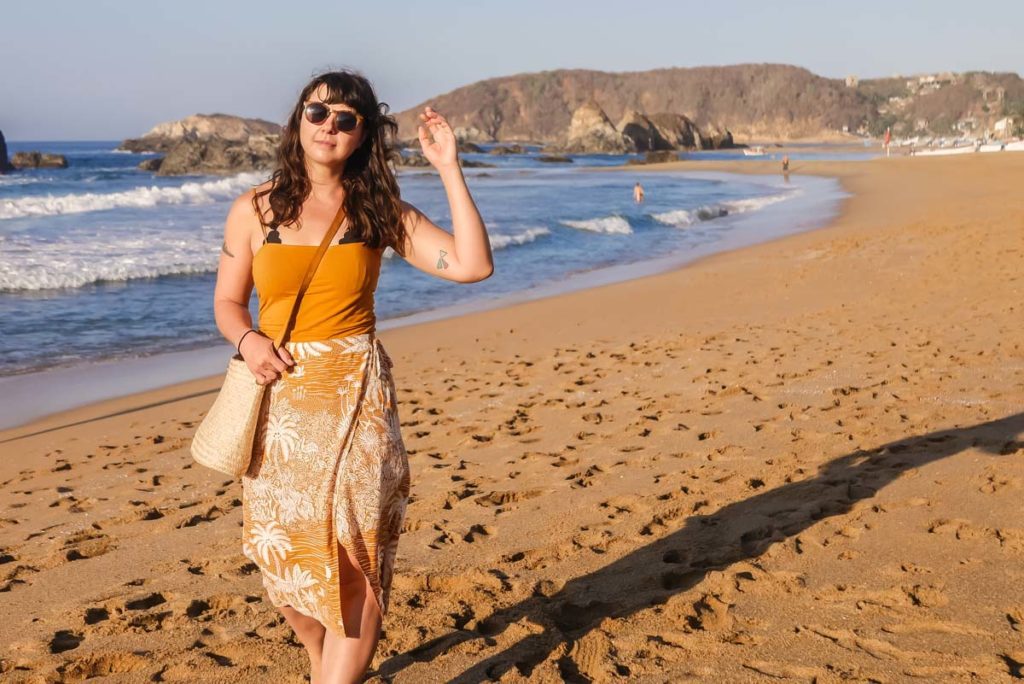 The location of this hotel in San Agustinillo can't be beat. It's just a 5-10 minute walk up from the main road, but walking up the hill gives you stunning views of the lush grounds and the ocean from the higher parts of the property. You can hear the waves crashing as if they are closer by then they really are. And in general, you have a really quiet setting, which usually is tricky in the middle of the tourist zones of Mazunte and San Agustinillo. Just keep in mind there are a few flights of stairs to climb up to reach this tranquil space. For me this is a great balance of just a few minute walk to the ocean and amenities, and still feels like a tucked away Oaxaca beach hotel.
Bathtub in Suites: Hotel in San Agustinillo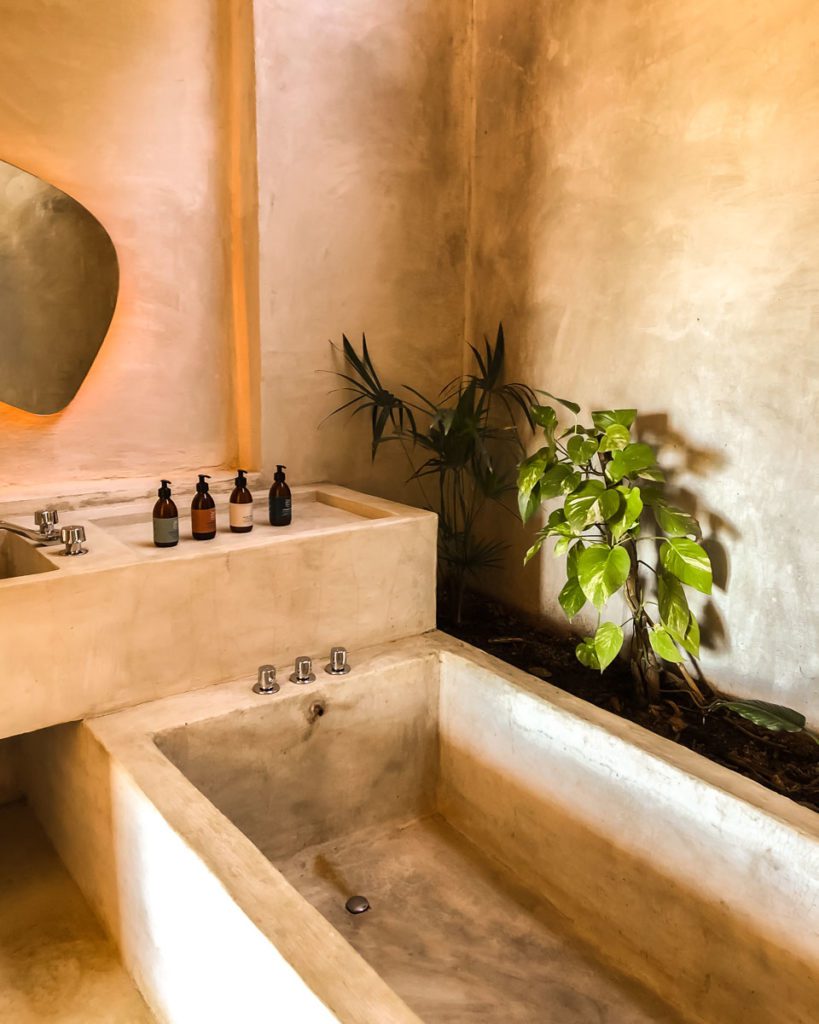 The open-plan bathroom is just stunning. The clean minimalist concrete contrasts perfectly with the lush leafy plants lining the tub. 
I always love the option of a bathtub, so I really appreciated that amenity. It also features a shower, a large sink with an asymmetrical modern mirror, and a modern toilet. In some of the suites, above the bathtub is a skylight that lets in beautiful light.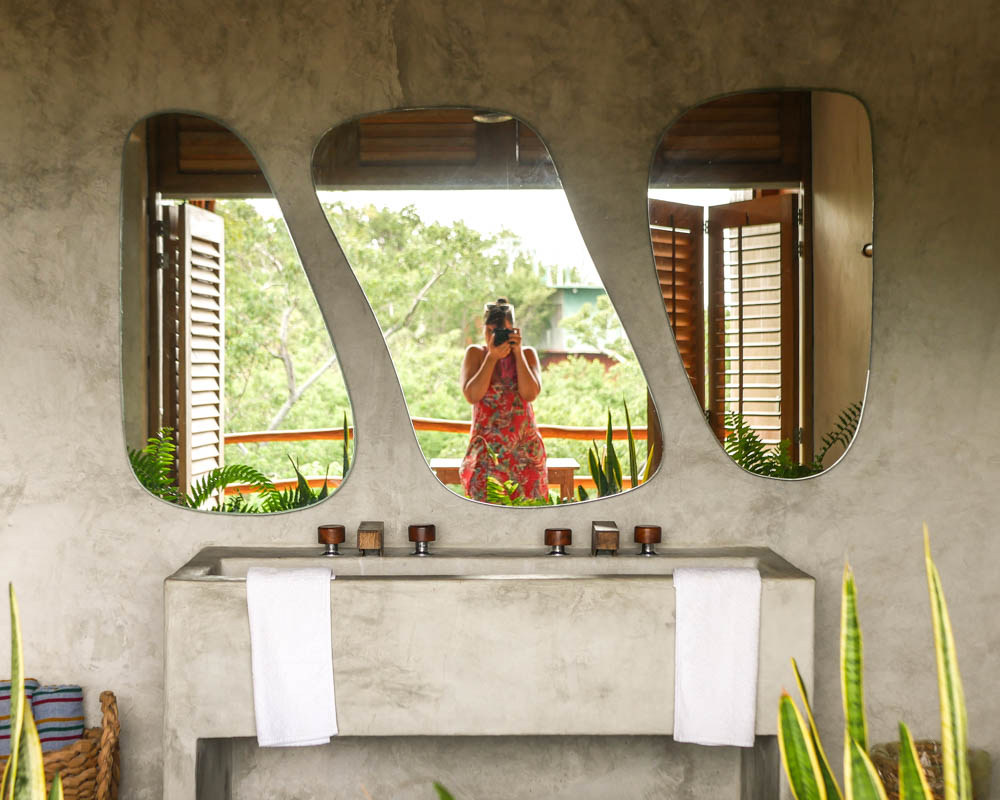 Organic and Delicious Bath Products: Oaxaca Beach Hotel
I am not that into bath and beauty products, to be honest. I'm pretty minimalist in that department. But the provided shampoo and bath products were so delicious that I wanted to take some home with. me (and they do sell them in reception if you feel the same).
Each suite is stocked with refillable bottles of shampoo, conditioner, bath soap, and aloe vera/after sun (very handy for the beach!). I loved them all and enjoyed using them more than any other products I can remember in a long time. The scents were just delicious.
Lush Leafy Grounds with Common Spaces: Hotel in San Agustinillo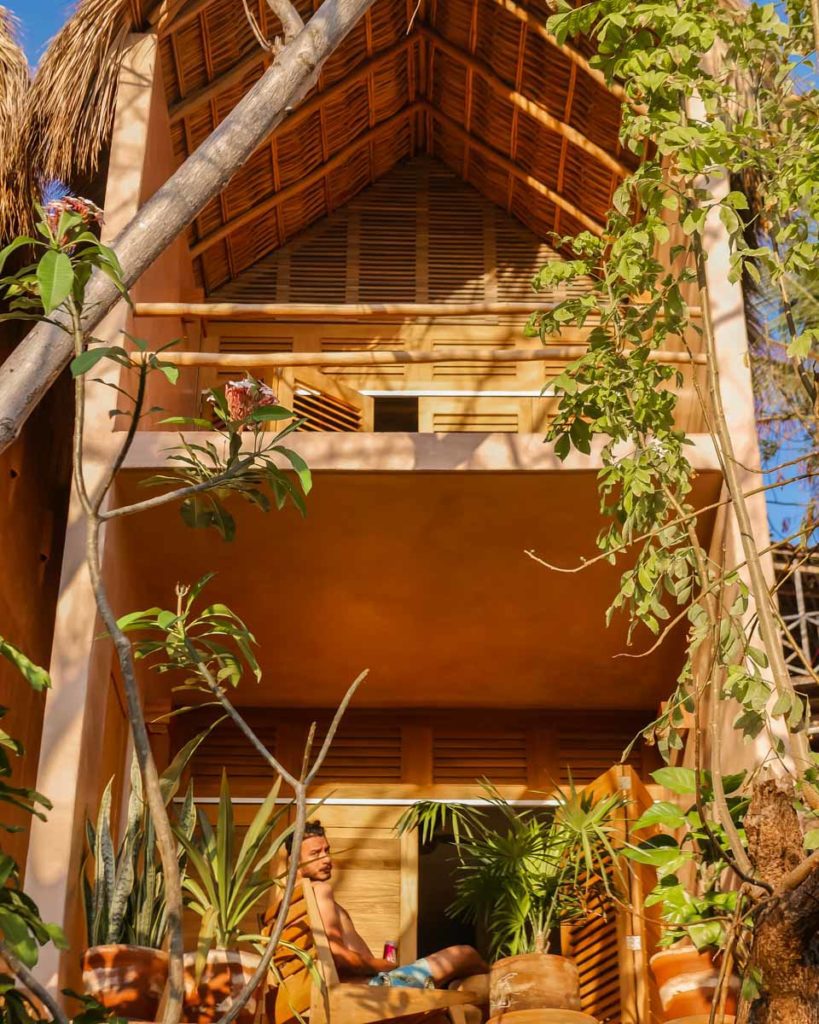 When I'm staying in a Oaxaca beach hotel, I long to feel like I'm surrounded by jungle. The lush coastline of Oaxaca is gorgeous and I want to be able to appreciate that during my stay.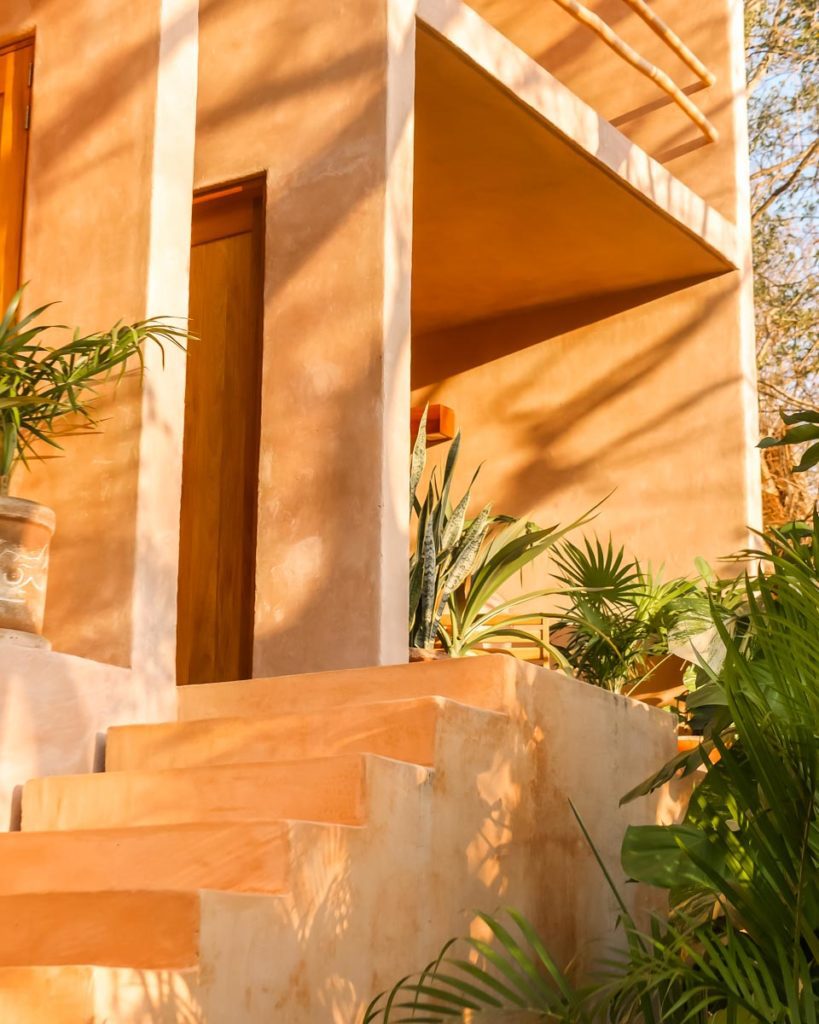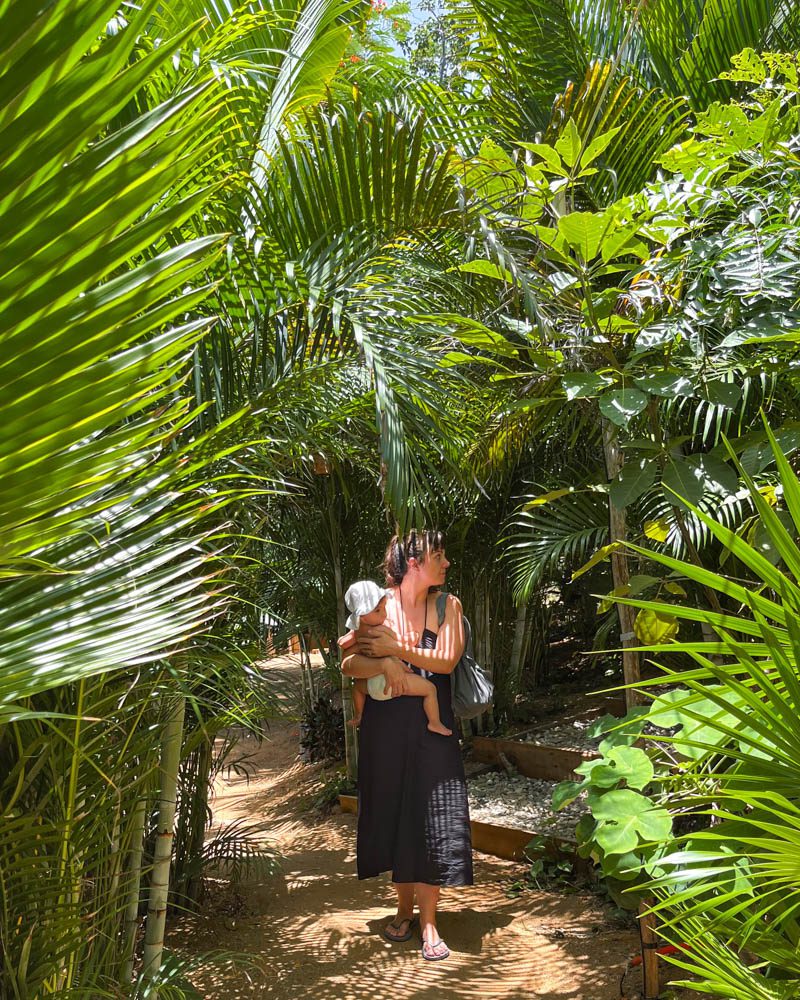 Monte Uzulu makes great use of the leafy geography. The grounds are filled with all manner of palms, including some stunning fan palms, monsteras, bird of paradise flowers, and tons of other greens in all shapes and sizes. They offer privacy between the suites and on the paths of the grounds, but they also offer beautiful shadows that play on the floor of the terrace, and a peaceful natural feeling at this hotel in San Agustinillo.
Delicious Organic Restaurant: Oaxaca Beach Hotel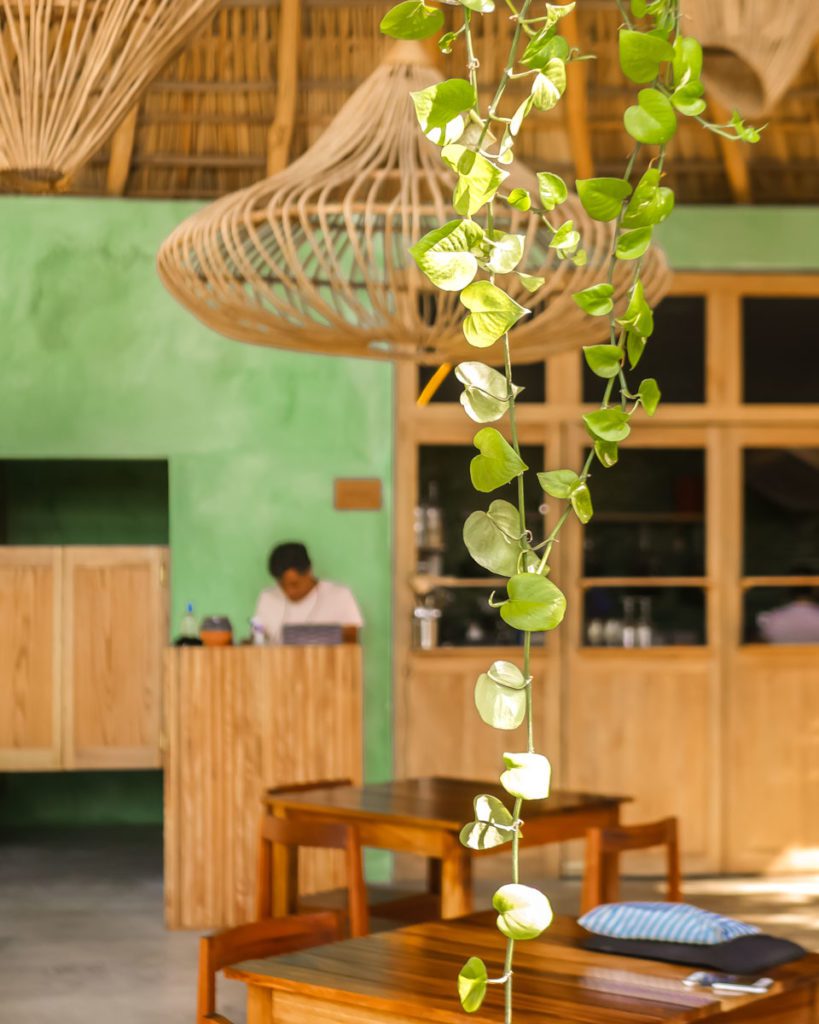 Monte Uzulu has an organic and beautiful restaurant on the grounds. Temporada, offers fresh, organic and well prepared food. During your stay, breakfast is included daily in the restaurant: fresh fruit with yogurt, granola, and honey, coffee, bread or a pancake, and a main/egg dish. I also had lunch at Temporada one day – a version of enfrijoladas (one of my favorite dishes) that was delicious. Organic corn tortillas bathed in a heirloom bean salsa with organic chorizo.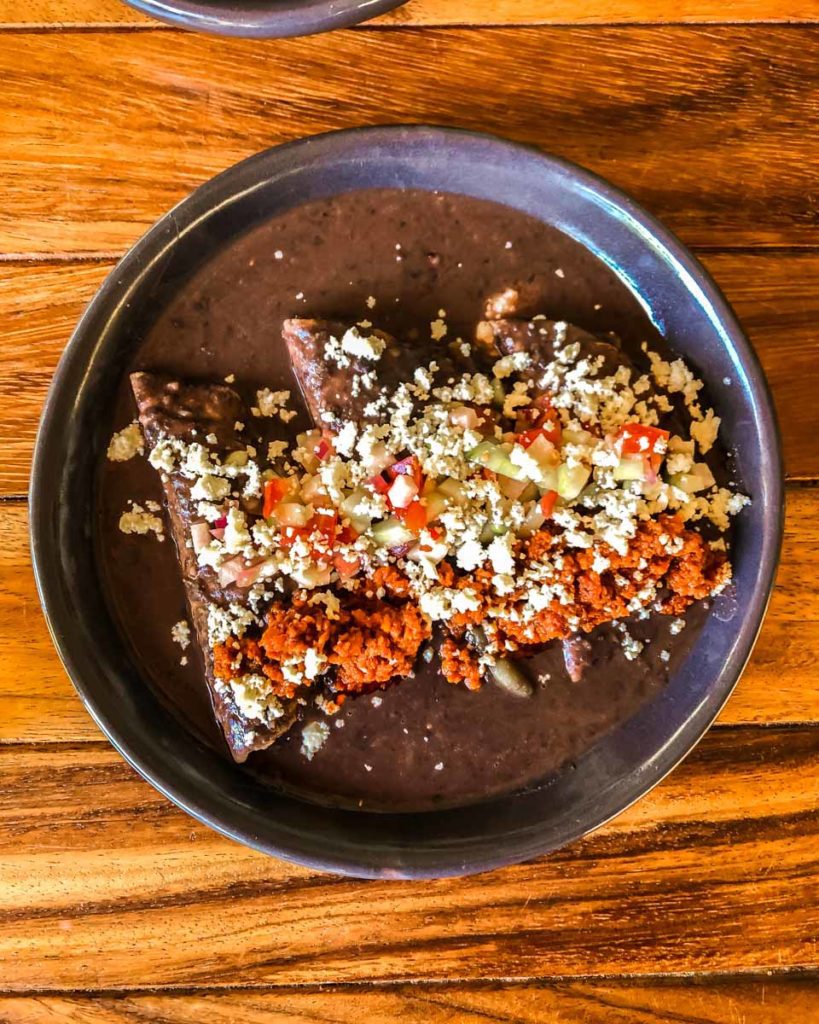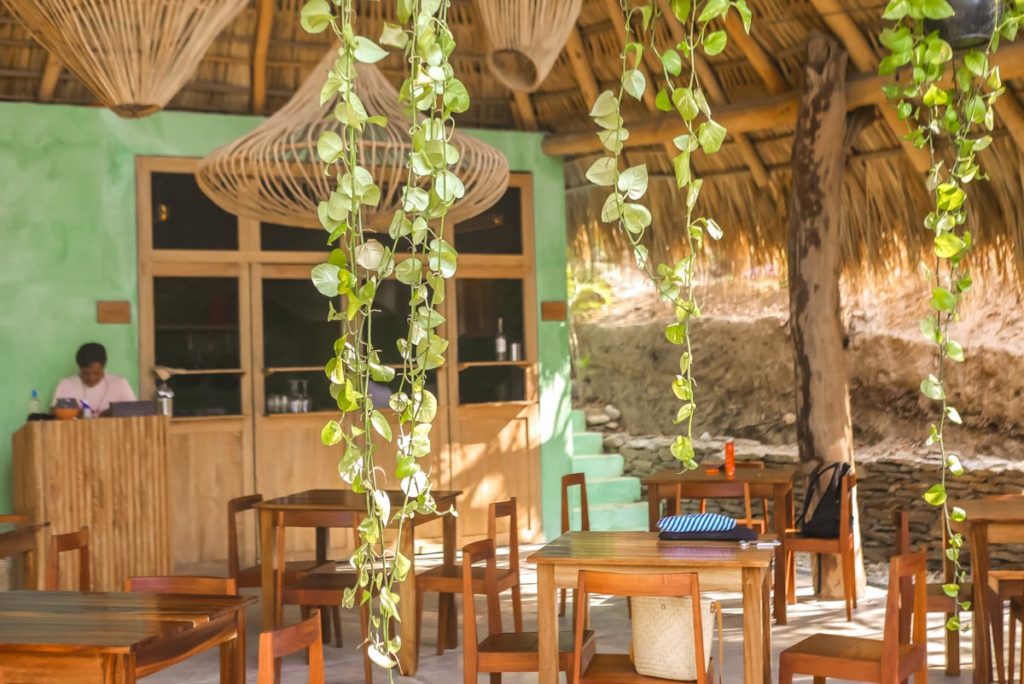 Pet Friendly: Hotel in San Agustinillo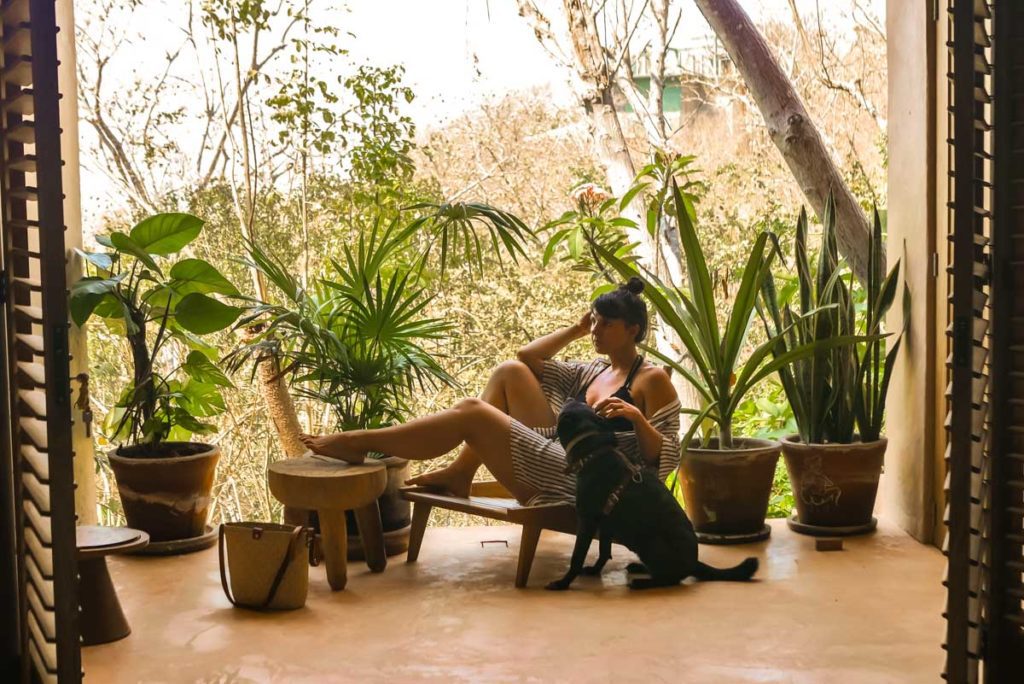 Monte Uzulu is also pet friendly! You can bring along your best friend, with a surcharge. We loved having Coatli with us, and found the space calming for her as well as us.
Final Thoughts: Oaxaca Beach Hotel
Monte Uzulu is a Oaxaca beach hotel that feels like a design lover's oasis. The thoughtful design, beautiful grounds, peaceful setting, delicious restaurant and proximity to amenities makes this one of my favorite hotels in San Agustinillo.
This hotel also does accept children. During our second stay, we stayed with our 9 month old baby. Just keep in mind that there aren't filled in railings on the balcony, so you need to be vigilant and/or shut the wooden doors if your child is mobile.
Read my full Mazunte and San Agustinillo travel guide here or my full Oaxaca Beach Guide.
Or browse all Oaxaca coast blog posts including transportation guides, beach guides, hotel suggestions and more, and Oaxaca city/valley posts.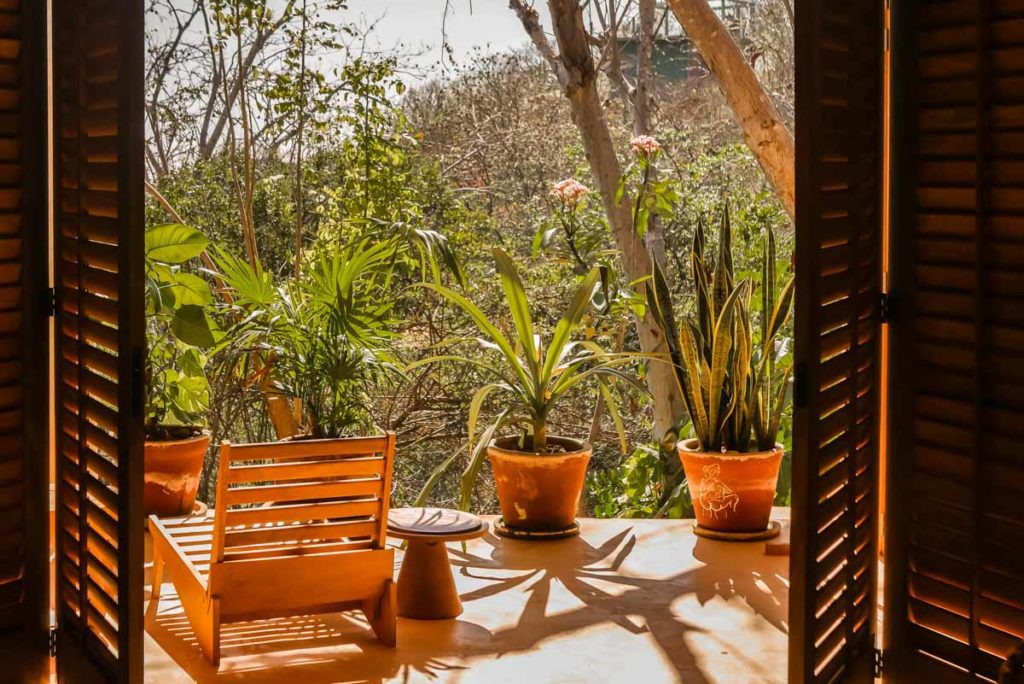 Hotel: Monte Uzulu
Social Media: Facebook, Instagram
Best For: Design lovers, creatives, and those that enjoy beauty in a peaceful location.
Price: From approx 3,125mxn or $186usd/night. Check booking link below for current rates.
Includes: Wifi, drinking water, fresh breakfast, toiletries, beach towels, ocean and jungle views.
Location: San Agustinillo, Oaxaca, Mexico
Book Here: Reservations
Pin it for Later!