My husband and I rented a fantastic apartment in Oaxaca, Mexico for a week in April. The aptly named Casa de los Abuelos (House of the Grandparents) made us feel right at home during our stay.
When thinking over the pros and cons for this list, I really struggled to come up with any cons. I think it is one of the cutest, most comfortable, and convenient places I've ever stayed.
They have two rental options:
Full Apartments: 5300 pesos/week or approx $53/night (*email them for current rates. I don't think their rates on their website are current due to fluctuation of the currency exchange rate*). The apartments include two furnished floors. The bottom floor is a full kitchen and small living room. Upstairs is an ample bedroom with king size bed, bathroom, and sliding door with a tiny balcony overlooking the central courtyard.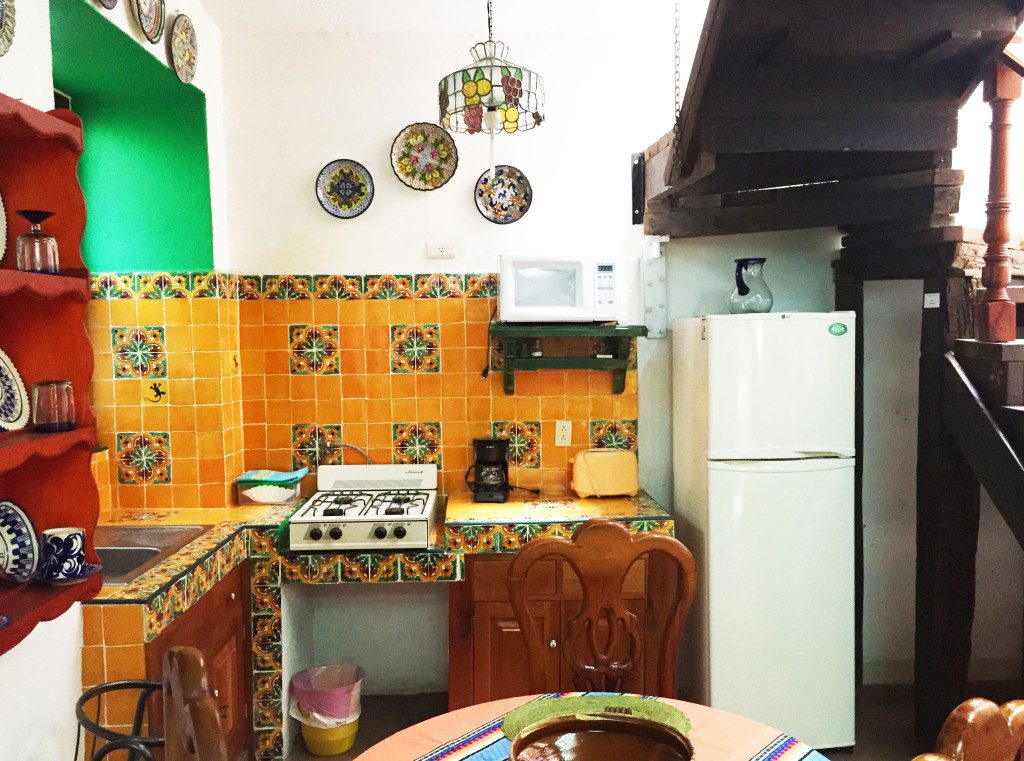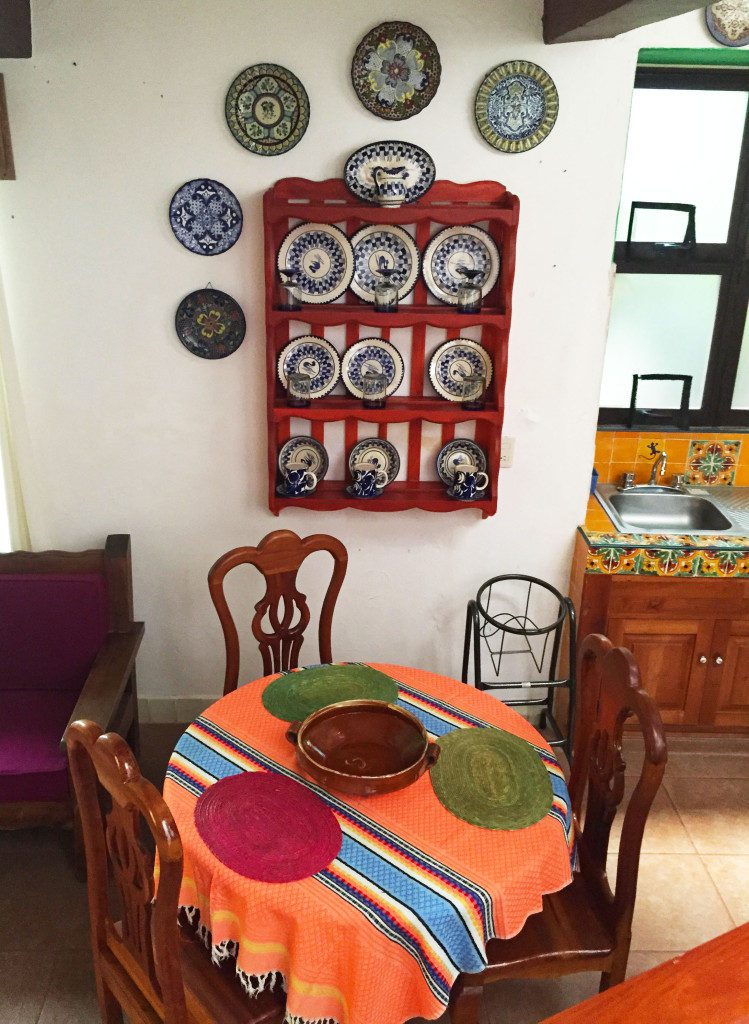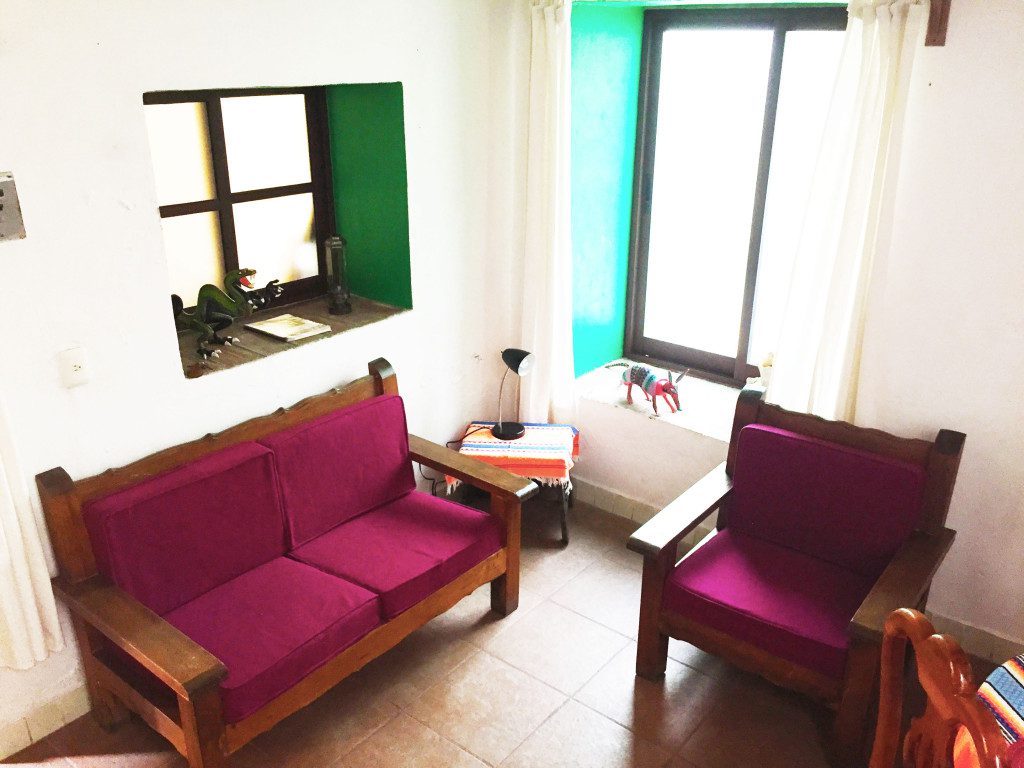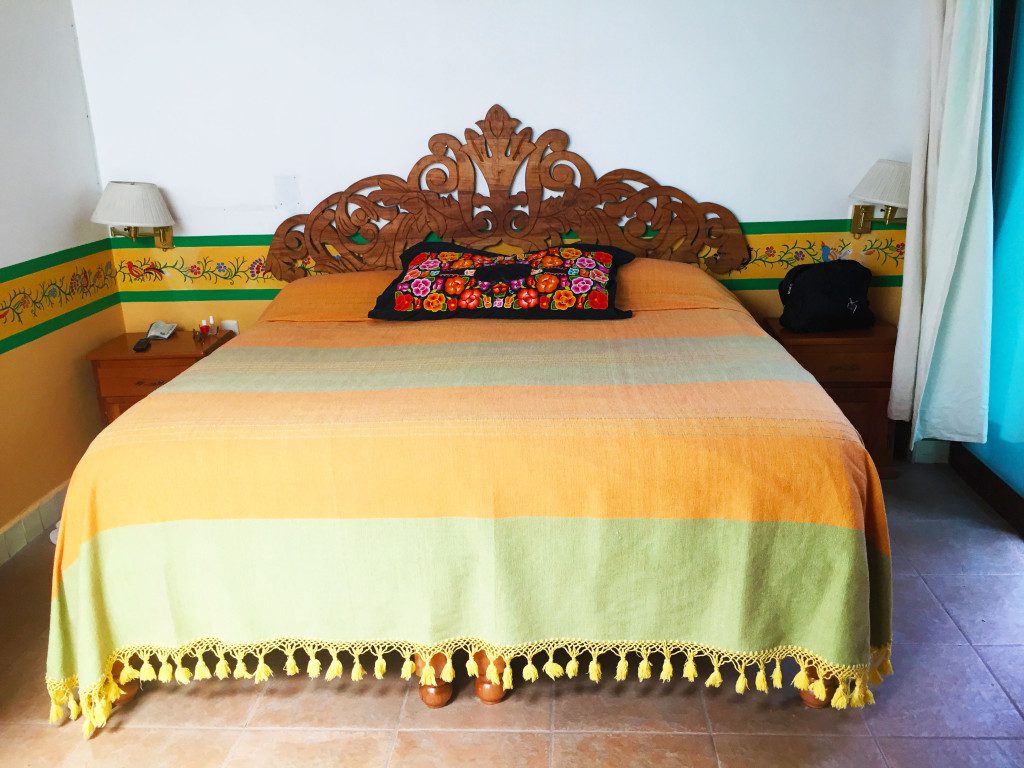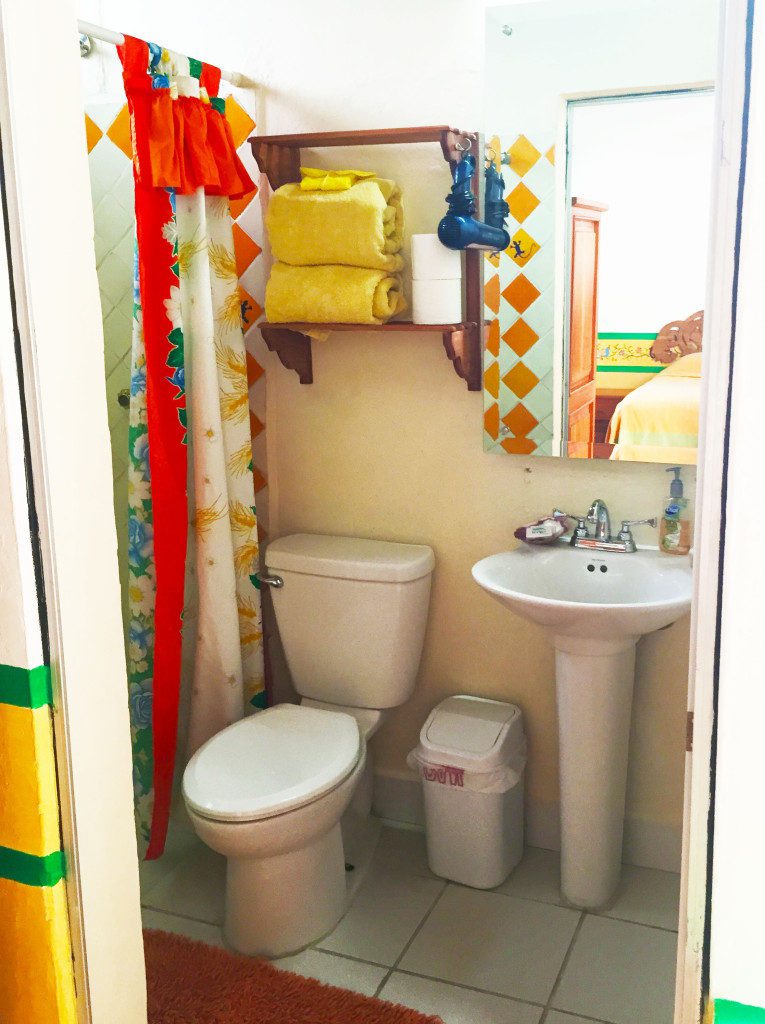 Single Rooms: 4200 pesos/week or approx $40/night (*again, email for current rates*), which consist of a furnished bedroom with private bathroom.
The rooms and apartments are set back from the street behind a secured entry door and are situated around a central courtyard dotted with tropical plants.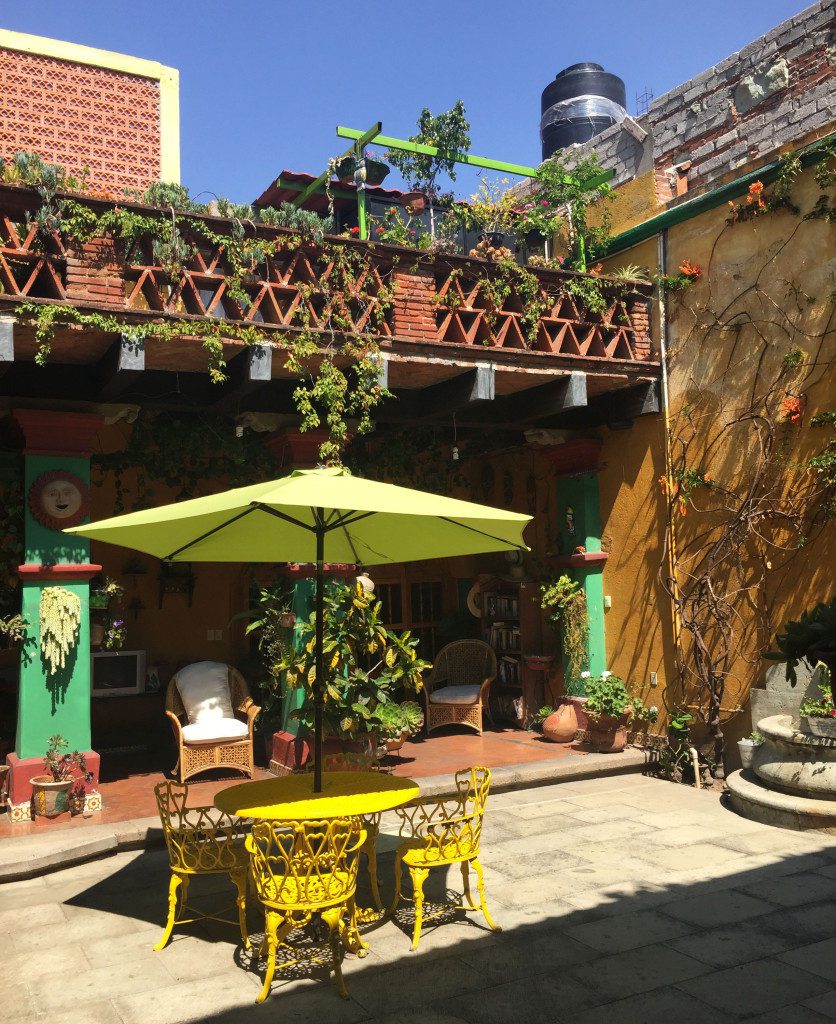 What's Great:
---
Large – The apartments provide more than enough space. If you need to get some work done, or just need to stretch out a bit during an extended trip, you'll feel very comfortable here.
Courtyard and Rooftop Terrace – These two common areas were gorgeous and so pleasant to spend time in. The central courtyard is a large tiled area with a plethora of beautiful tropical plants, cacti, and succulents and a table and chairs for dining or relaxing. The rooftop area is very large – the size of the entire building. It has tables and chairs, and the perimeter is lined with tropical greens. It' the perfect place to enjoy a happy hour cocktail and watch the sunset over the surrounding mountains.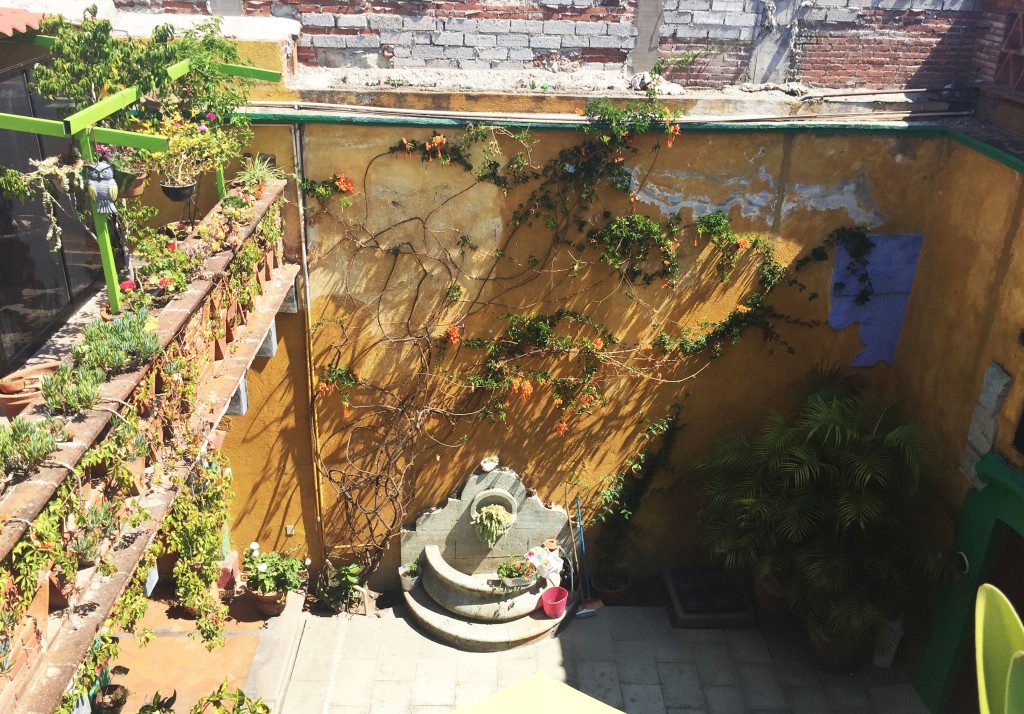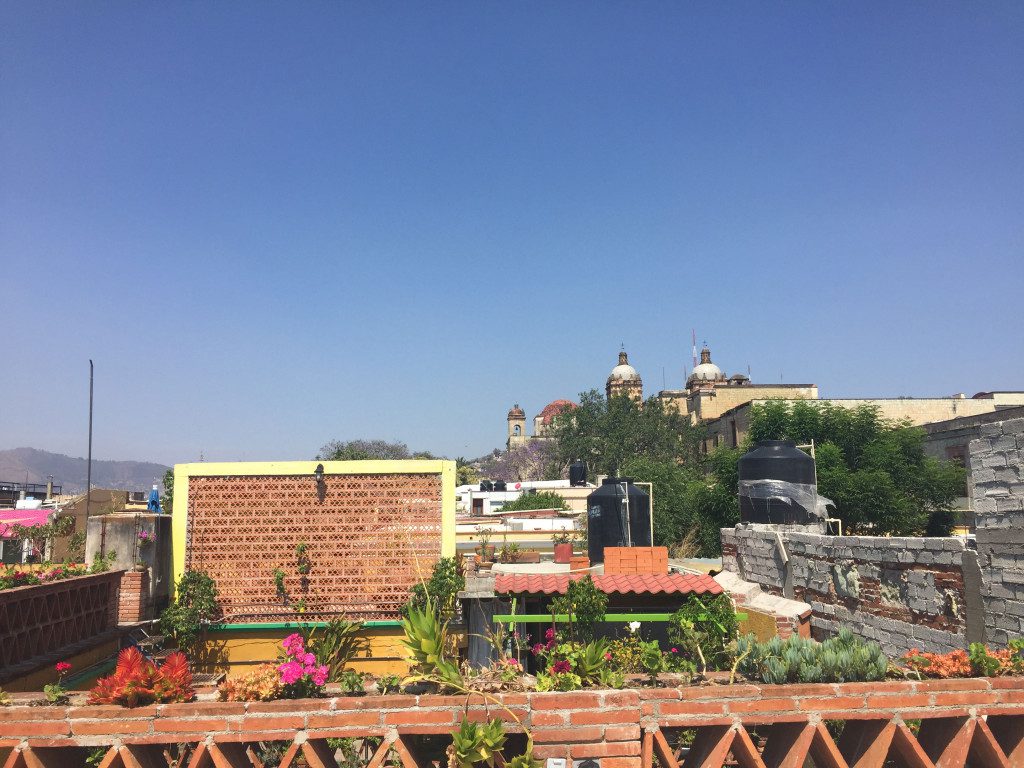 Felt Like Home – The staff, including the namesake "grandmother" made us feel comfortable and taken care of the whole week. Our water was always refilled and the apartment was always spotless. Upon check in, we were given lots of directions and tips about the immediate area. At the end of the week, I asked (last minute) the night before departure to have a taxi arranged for our early flight. At 5am, as we were gathering up our bags, the Abuela knocked on the door in her nightdress to let us know the taxi was there to pick us up. To top it all off, the taxi driver's price was extremely reasonable!
Location – The location could not have been better. We were one block East of Santo Domingo – the most famous church in the city. Every night, people would gather in front of the church to hang out, eat elote from street vendors, and people watch. It's also perfectly located between the Zocalo and El Llano park, so all of the big attractions are close. The apartments are on a street that is a bit quieter than the tourist streets, and the apartments are set back from the road, so the noise is minimal.
Free Water – The staff provides large 20 Liter bottles of purified water for the room. This may sound like a small thing, but it makes a huge difference not to always worry about how much water to buy daily and then have to lug it from the bodega back to your apartment.
Secure – The building has a large locked metal door off the street, as well as locked doors into each apartment. We always felt safe and secure.
Cool – The building is designed to stay cool during the hot Oaxacan days. The open floor plan, windows, tiled floors, and courtyards keep everything cool. With the fan in our bedroom, we never missed having air conditioning.
Wifi – The building has free wifi, and it was mostly fast and reliable.
What Could Be Better:
---
Not Modern – Again, I struggled to come up with cons for this list. The building and apartments are very cute, colorful, and nicely decorated in traditional Oaxacan decor. If you are looking for a modern accommodation with new appliances and brand new furniture, this is not the spot for you.
Wire transfer – We booked this apartment through their website, and they require a wire transfer cash deposit of $100USD. Wire transfers are slightly inconvenient as we were charged a small fee through our bank (about $10) and I had to input all the recipient's information into the online form. Still, I felt secure about it, as I found many positive reviews online from people who had stayed there.
Overall – This was one of our favorite places we've rented while traveling. So cute, so comfortable and so well situated. I would recommend it to anyone who wants an authentic and comfortable stay in the incredible city of Oaxaca.
Contact:
Reforma #410