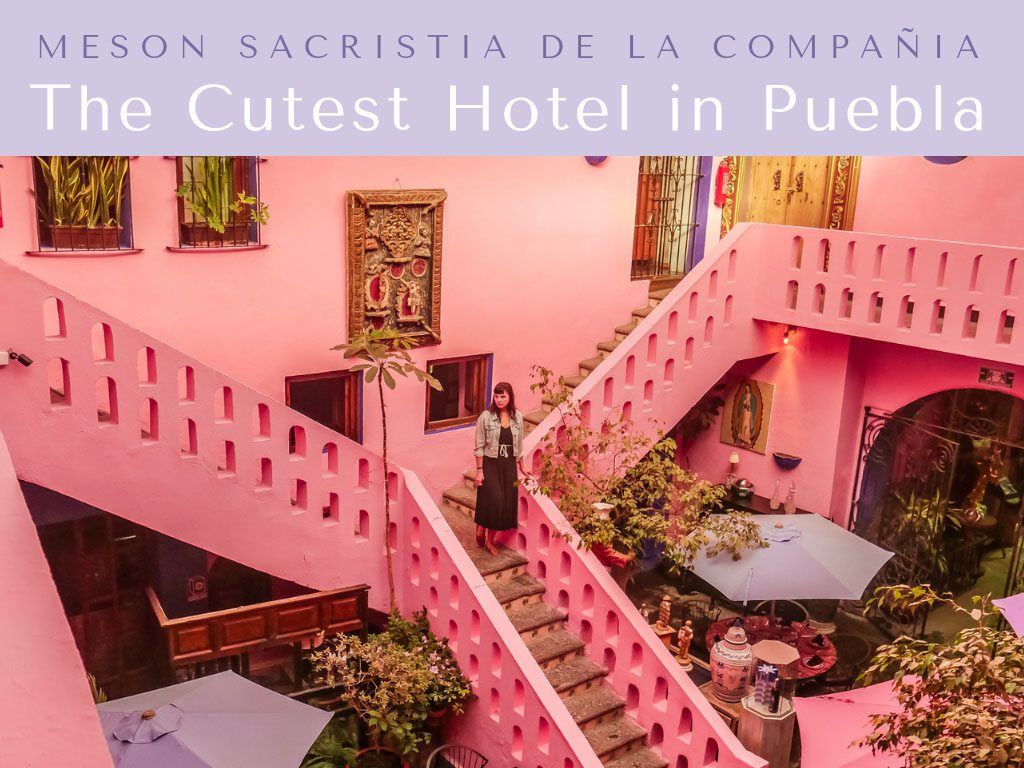 One of my favorite things about our lovely weekend trip to Puebla was our stay in the gorgeous boutique hotel in Puebla – Meson Sacristia de la Compañia . This Puebla hotel is a sight for sore eyes – a vibrant pink courtyard, carefully curated antiques, lots leafy plants, pretty filtered light, and thoughtfully decorated rooms.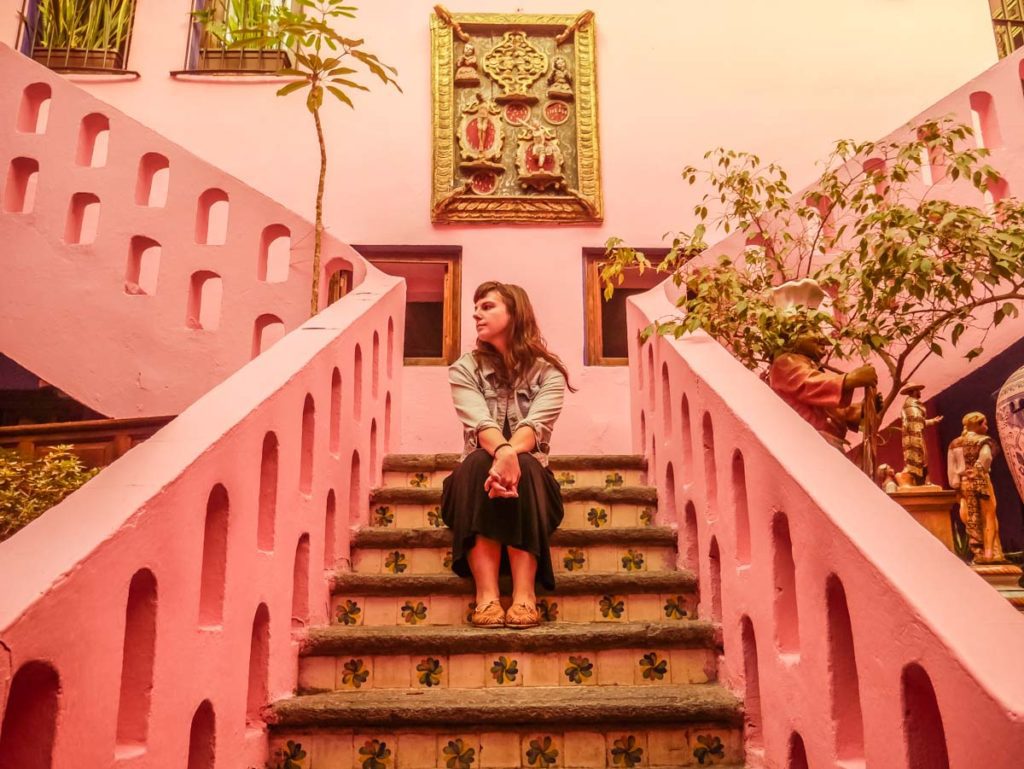 I loved our 2 night stay at Meson Sacristia and only wish it was longer! Keep reading for more specific details and features about this Puebla hotel.
Meson Sacristia de la Compañia Hotel in Puebla Features
Beautiful Designed Common Spaces: Puebla Hotel
This has to be the best thing about this Puebla hotel – the absolutely gorgeous eye candy whichever way you turn.
The outside of the building is painted a pretty pale blue with striking yellow contrasts and a cool triangle shape in front of one of the doors.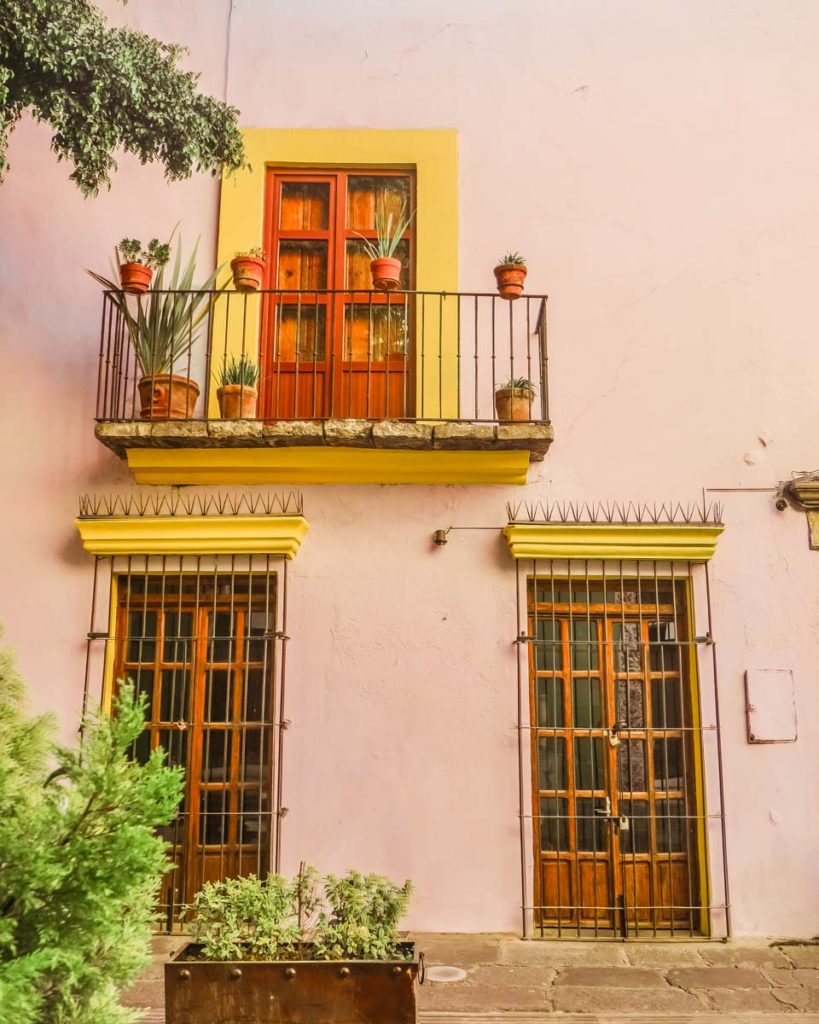 And then you pass through a pretty wrought iron entrance and are met with a bright open courtyard that is painted totally pink. It's a beautiful and dramatic room. The courtyard roof is covered (so you won't have to worry about rain) but lets in lots of filtered light.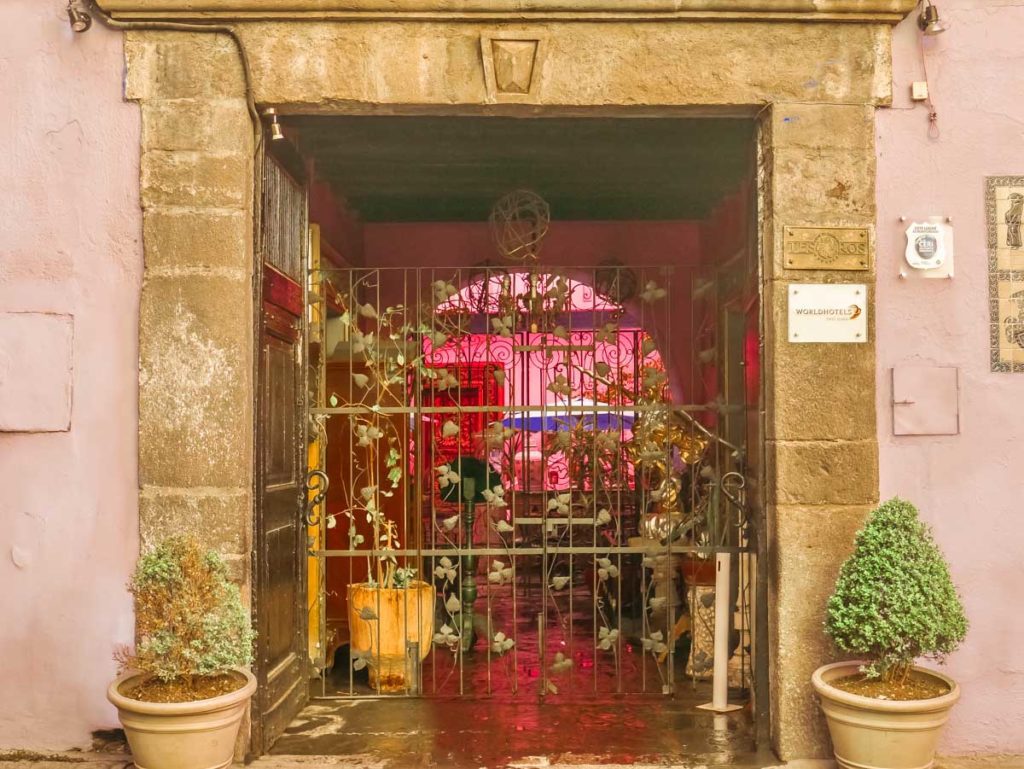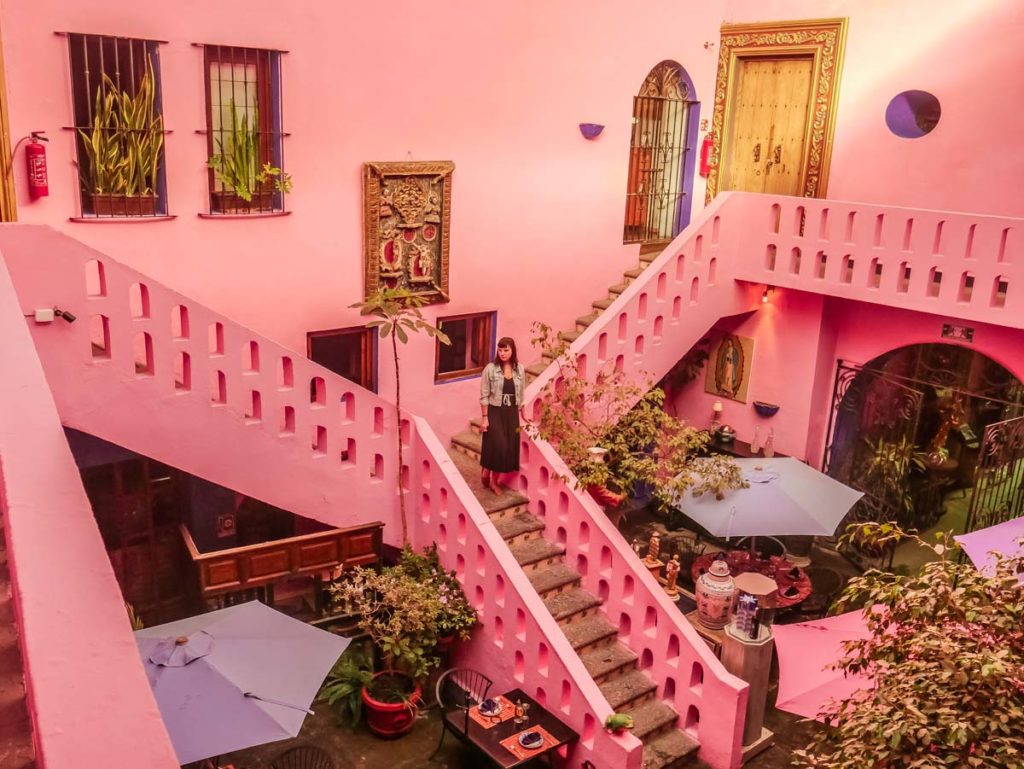 There is a staircase to one side that leads up to the Puebla hotel's rooms.
If you like beautifully designed hotels, this boutique hotel is right up your alley.
Carefully Curated Antiques in the Rooms: Hotel in Puebla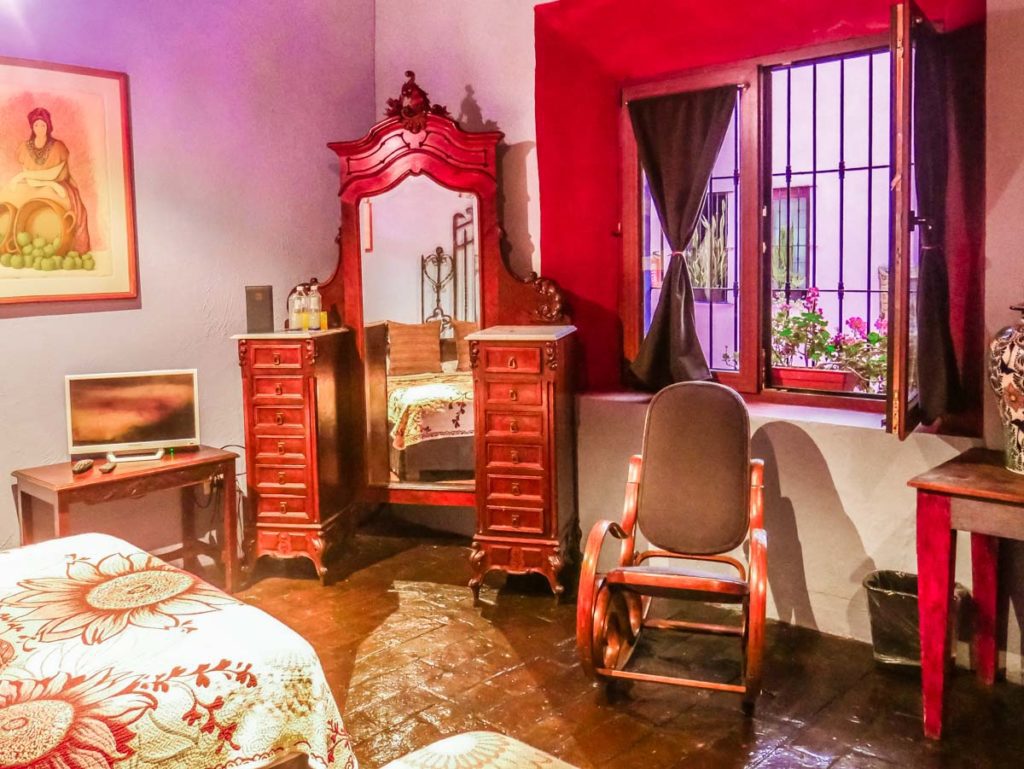 Each room in this Puebla hotel is carefully decorated with antiques. It makes for a warm and cozy yet artistic atmosphere. I loved checking out all the pieces in our room – from the vintage suitcases, to the local pottery, to the antique furniture.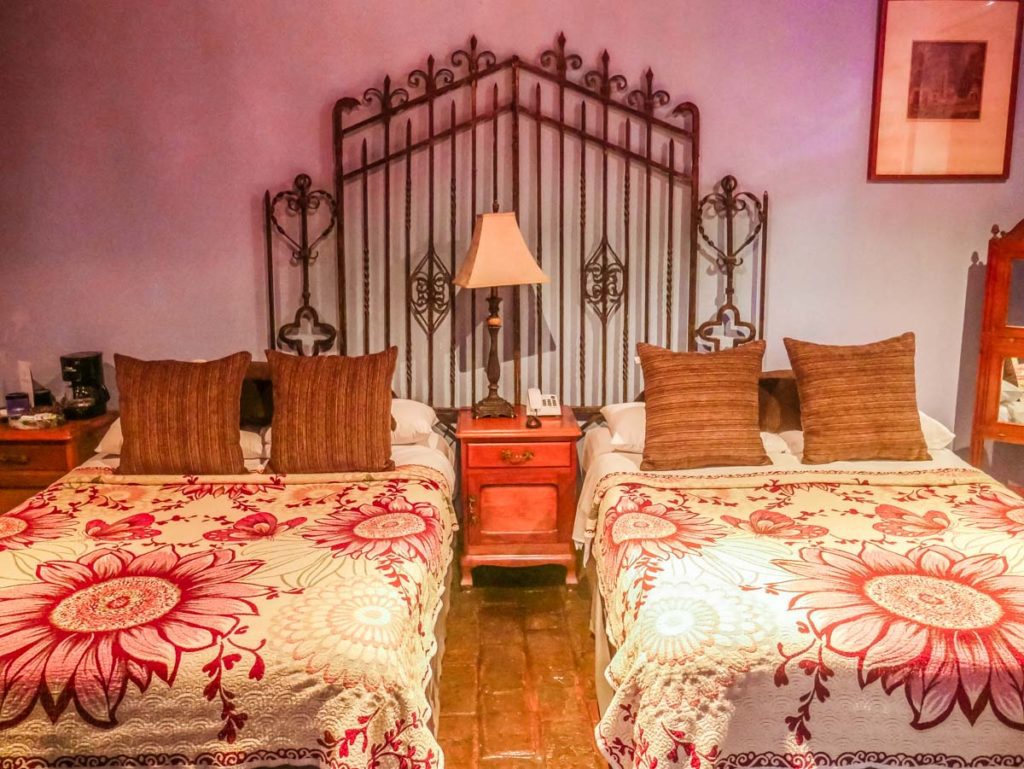 I also loved that our room was painted in a soft periwinkle – my favorite color!
Extra Comforts
I always really appreciate when a hotel goes above and beyond to add little details to the room that make you more comfortable.
I immediately noticed the in-room coffee maker and tea selection. Often the first thing I want in the morning to feel human is a cup of coffee. Loved that I had this option without having to leave my bed!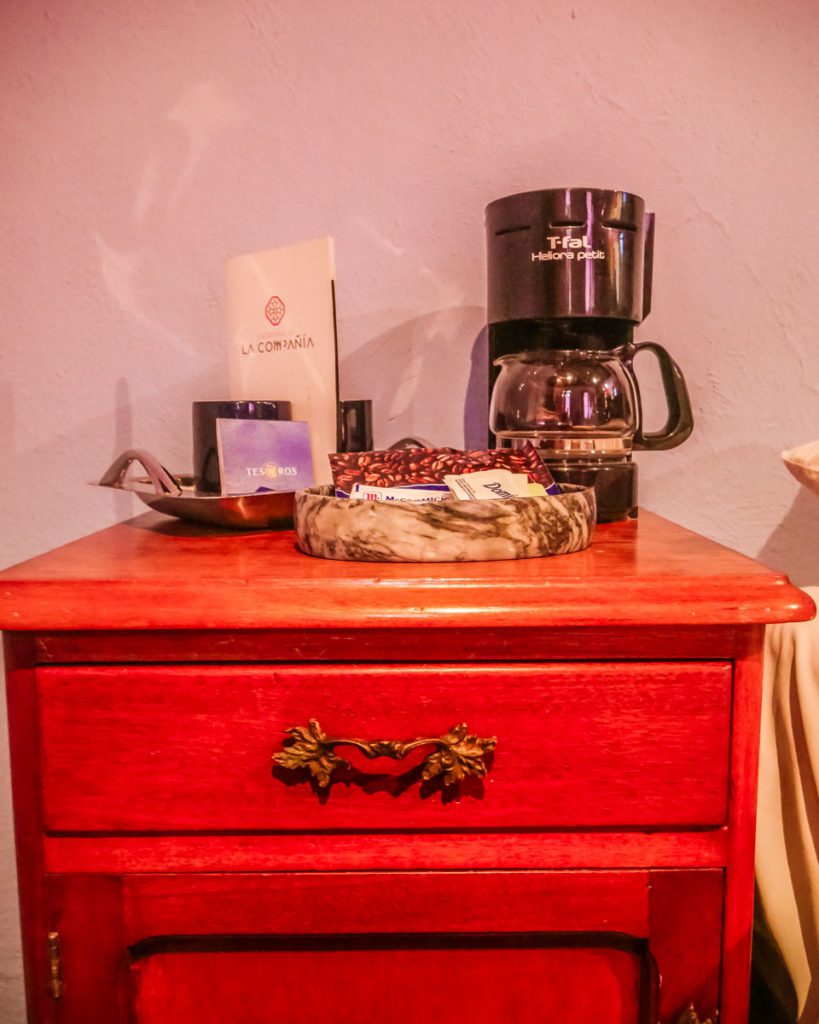 There are also bottles of purified water, hanging closet space in the armoire, nice toiletries, plush towels, and a bouquet of gorgeous flowers in the bathroom of this Puebla hotel.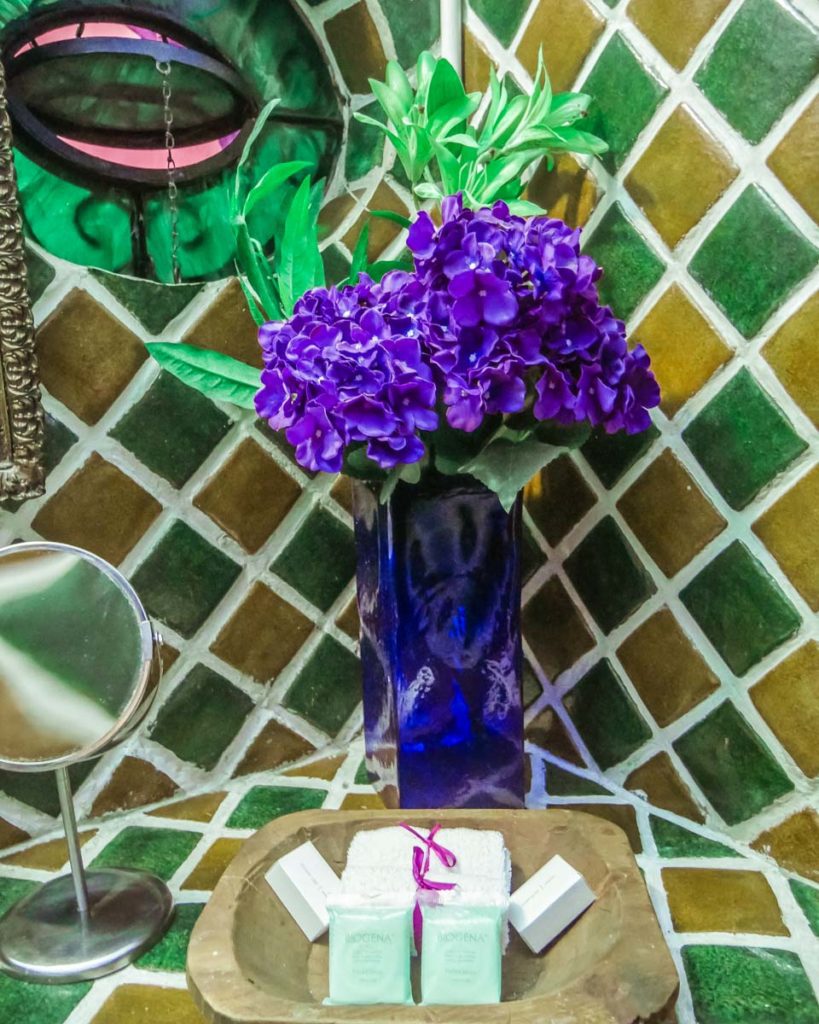 Included Full Breakfast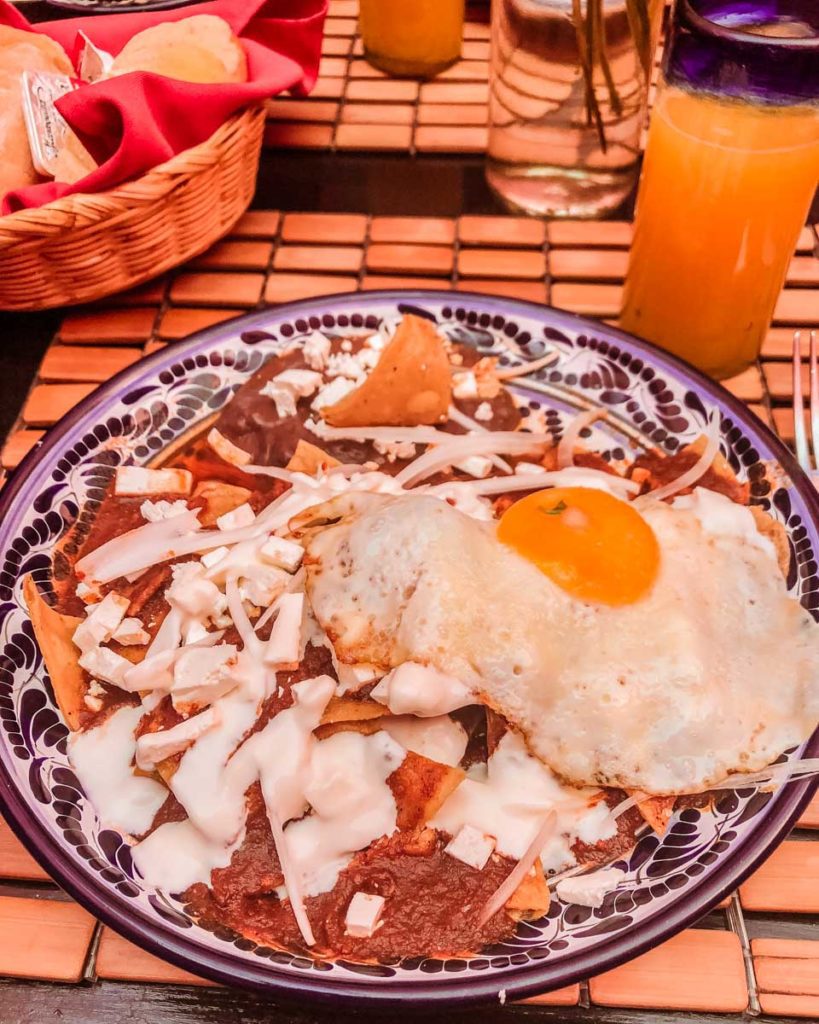 This hotel in Puebla is also a b&b, so you can count on a substantial and tasty breakfast each morning.
I highly recommend the chilaquiles, they were delicious. You also get coffee or tea, fresh squeezed juice, and a plate of fruit to start.
Spacious Room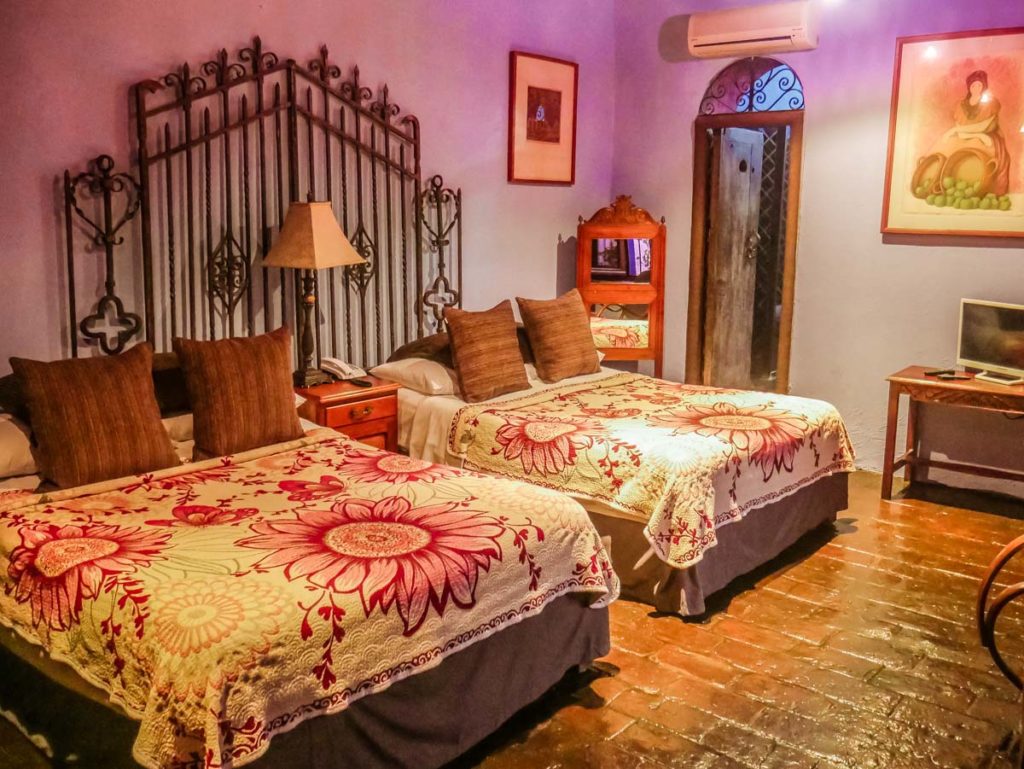 Our room, #9, was really large and spacious. We had two double beds, and plenty of extra floor space to spread out.
We also had a window that opened up into the internal courtyard. This allowed in more light and a view of the pretty pink interior. But we could also shut the window and curtains when we wanted more privacy.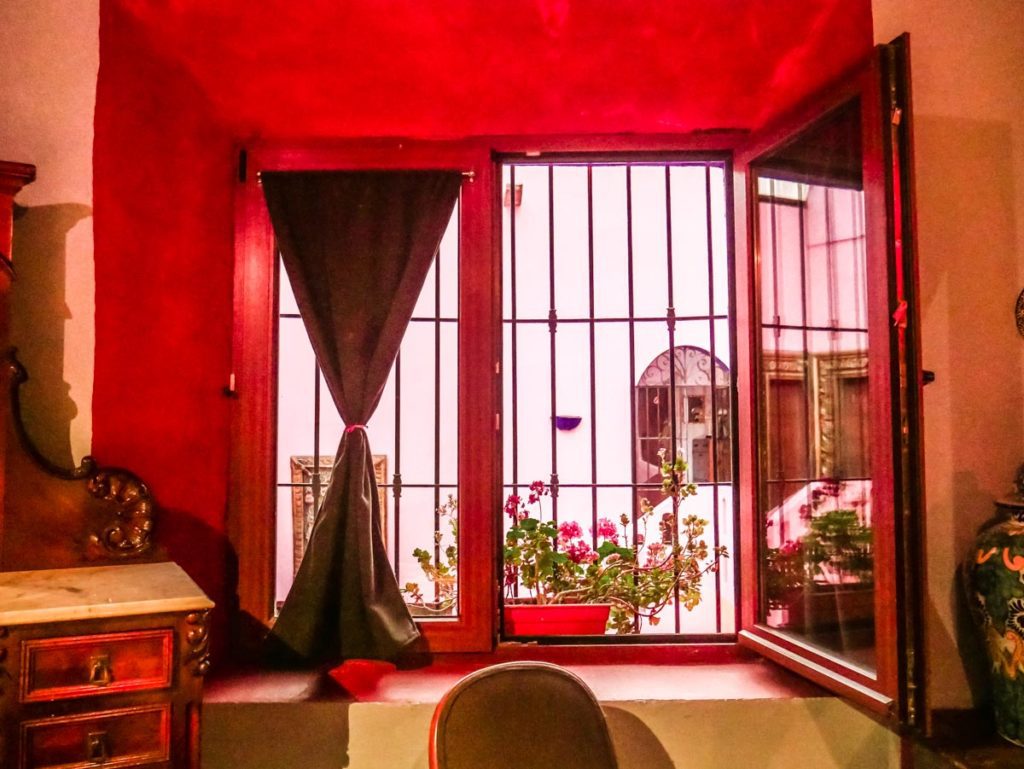 Perfect Central Location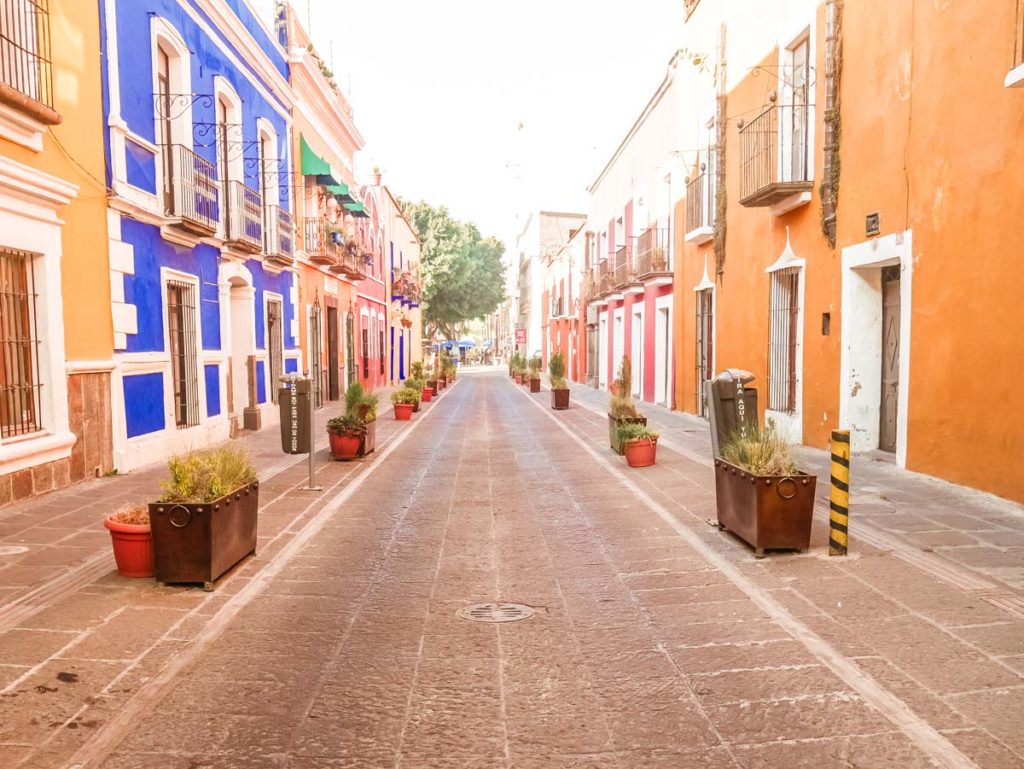 One of the other best things about this Puebla hotel is its stellar location. Meson Sacristia de la Compañia is located on the colorful and picturesque block of Calle 6 Sur. This might just be the prettiest street in all of Puebla – it was my favorite I saw during our trip.
Meson Sacristia de la Compañia is also super central. It's only 2 blocks from the Zocalo, and steps from some of the best restaurants and bars in the city.
Meson Sacristia is also very close to lots of great shopping – half a block from the Callejon del Sapo (open air artisan market), half a block from the lovely vintage/antique weekend market on the Plazuela de los Sapos, and 3 blocks from Parian, the most famous artisan market and surrounding shops.
Strong Wifi
I am always worried about wifi for work, so I was pleasantly surprised when I tested the wifi connection in our room and found a download speed of about 20mbps. In my experience, this is a great speed in Mexico.
The wifi worked well for us during our 2 day stay with no problems. If I had needed to do more intensive work, I would feel confident that this hotel in Puebla would keep me covered. Plus there was a desk in our room if I'd wanted to set up my laptop and gear.
Smooth Check in
The staff was helpful and we had an easy and smooth check in process. They answered all of our questions and made us feel taken care of us in this Puebla hotel.
Things to Keep in Mind: Puebla Hotel
Downstairs Restaurant: Hotel in Puebla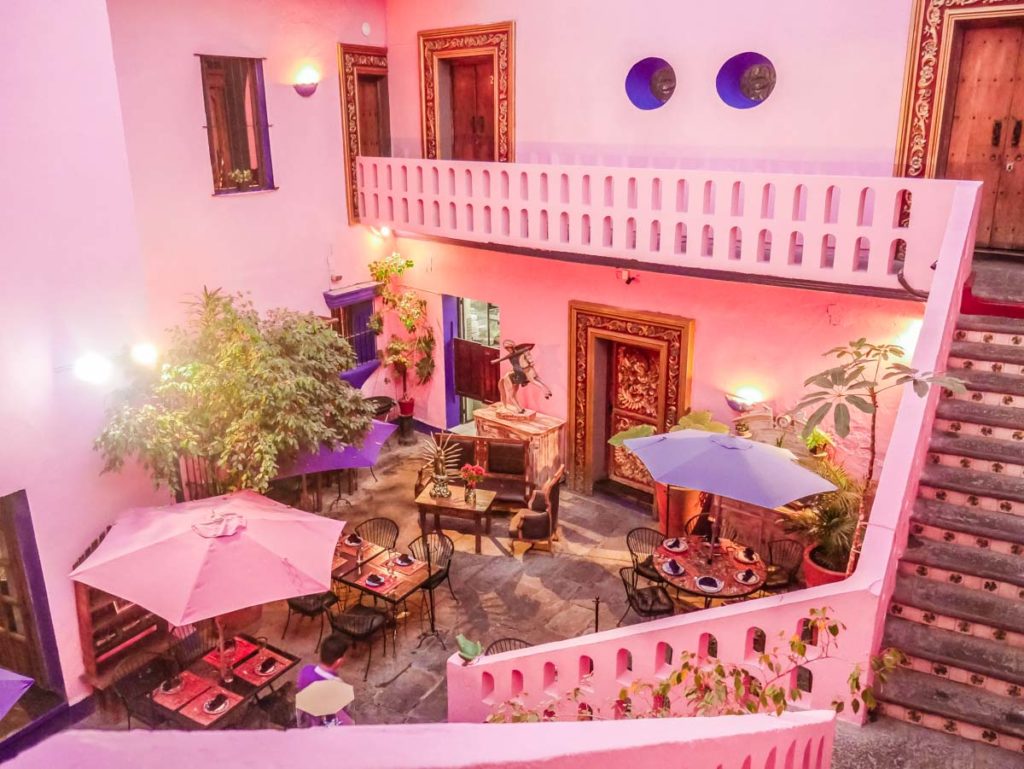 Meson Sacristia de la Compañia is a Puebla boutique hotel and a restaurant, so the downstairs courtyard is the restaurant and the hotel rooms are upstairs.
This means that each room has a window that opens to the restaurant courtyard below. You'll just want to keep this in mind if you are sensitive to any noise.
We still felt we had plenty of privacy and weren't bothered by noise. We were out all day sightseeing and noticed that the restaurant closed by 10pm everyday, with plenty of time for us to find quiet when we were ready to go to sleep. And the restaurant doesn't open until 1pm for non-guests from Tuesday to Saturday and opens at 9am on Sundays.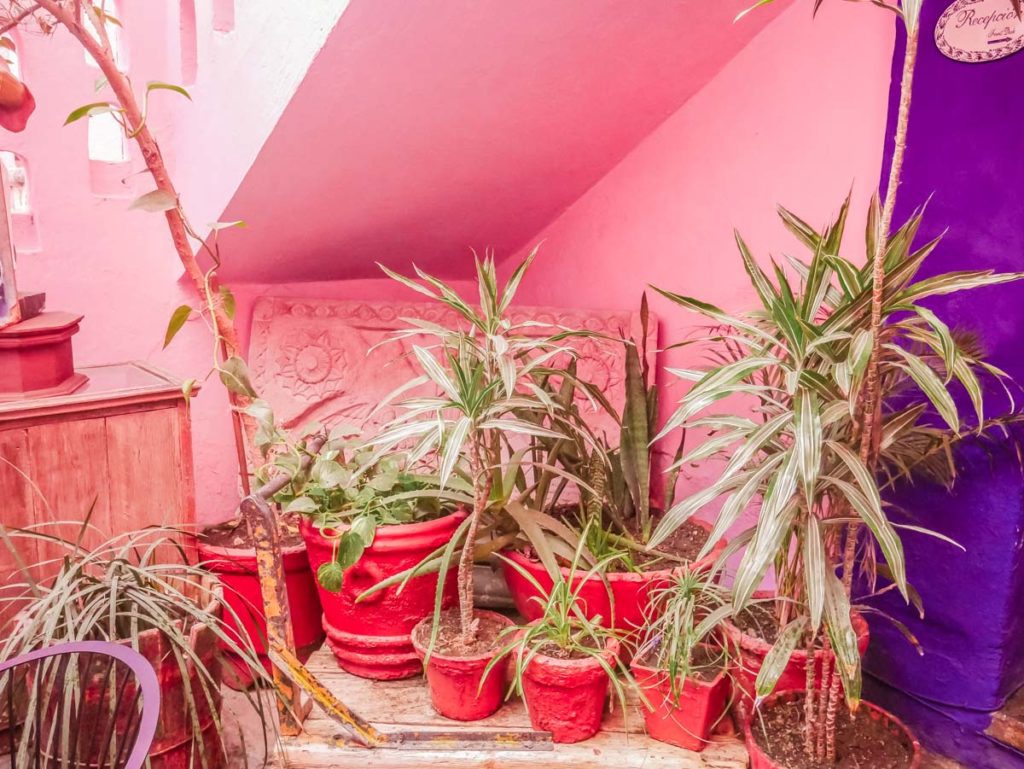 I found the downstairs restaurant to be a positive feature in this hotel because we were able to have a great included breakfast, and could choose to conveniently eat lunch or dinner downstairs if we wanted.
Final Thoughts: Meson Sacristia de la Compañia Boutique Hotel in Puebla
Our weekend stay at Meson Sacristia was flawless and a highlight of our Puebla trip. It's a gorgeously designed hotel, super comfy, and centrally located. Plus you are sure to get a few memorable (pink) photos while you are there.
Hotel: Meson Sacristia de la Compañia
Social Media: Facebook, Instagram, Twitter
Best For: Design lovers, artists and creatives, people who love color, travelers looking for a cultural experience.
Price: approx $1380-2000+ MXN/ around $72-105 USD/night based on the room, number of guests, and season. Check booking link below for current rates.
Includes: Wifi, drinking water, full breakfast, toiletries.
Location: 6 sur 304 Callejón de los Sapos, Historic Center. Puebla, Puebla (México)
Book Here: Reservations
If you are planning a trip to Puebla, check out my Quick Puebla Travel Guide for all the highlights during our trip, including the best place to eat mole poblano, and a customized map where I marked my favorite places for beautiful tile and colorful photos.
Disclosure: I was welcomed as a guest at Meson Sacristia de la Compañia. As always, all views and opinions are my own, and I wouldn't recommend anything I don't love!
Pin it for Later!