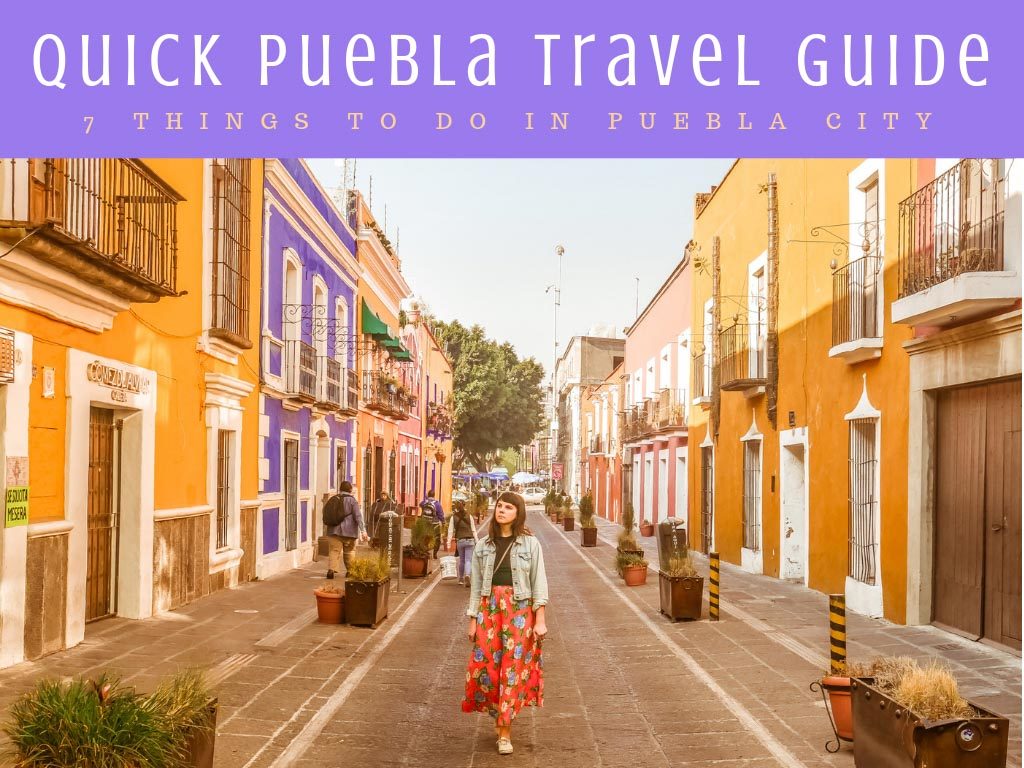 Contemplating a quick trip to Puebla? Many people skip over this huge, historic city, but if you have even a couple of days to detour here, you'll find tons of cool things to do in Puebla city. So I've put together a quick Puebla travel guide to tell you my favorite highlights.
You could easily fill up a week here, but you can get a nice feel for this colorful and important city in less than 48 hours if you are short on time.
I've been lucky enough to visit so many places in Mexico, but up until last month I hadn't spent much time in Puebla (just one late night in a hotel and one afternoon in neighboring Cholula). So when we were thinking a weekend trip from Oaxaca, heading to Puebla, the 4th biggest city in Mexico, seemed like an obvious choice.
Get instant access to my customized Puebla map below: includes all the places in this Puebla travel guide + some of the best buildings and streets I found to admire pretty architecture and take beautiful pictures:
Things to Do in Puebla City: Quick Puebla Travel Guide
Start in the Zocalo + Check Out the Cathedral: Things to do in Puebla City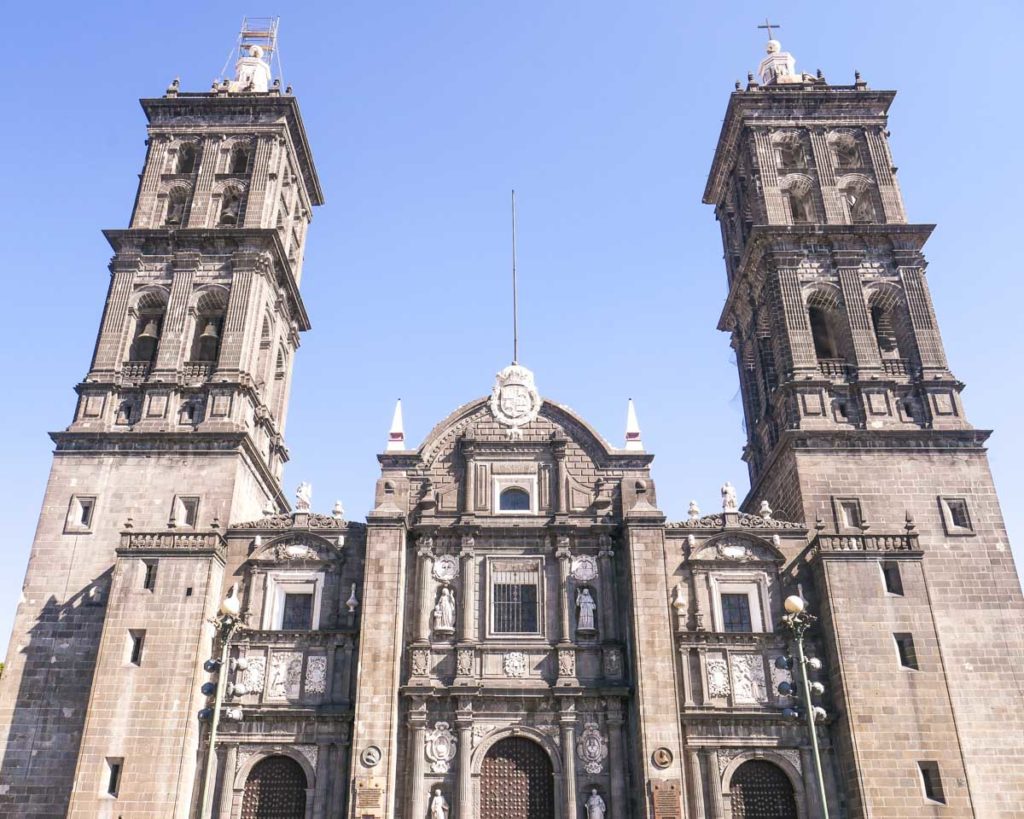 You should start with arguably the most important site in the city – the zocalo.
You may as well start in the very center – the zocalo or the central square of Puebla. Here you'll find a large pedestrian square bordered with grand historic buildings on all sides. This is the heart of the city and where Puebla life takes place.
The imposing Cathedral sits on one side and is open to the public for visits.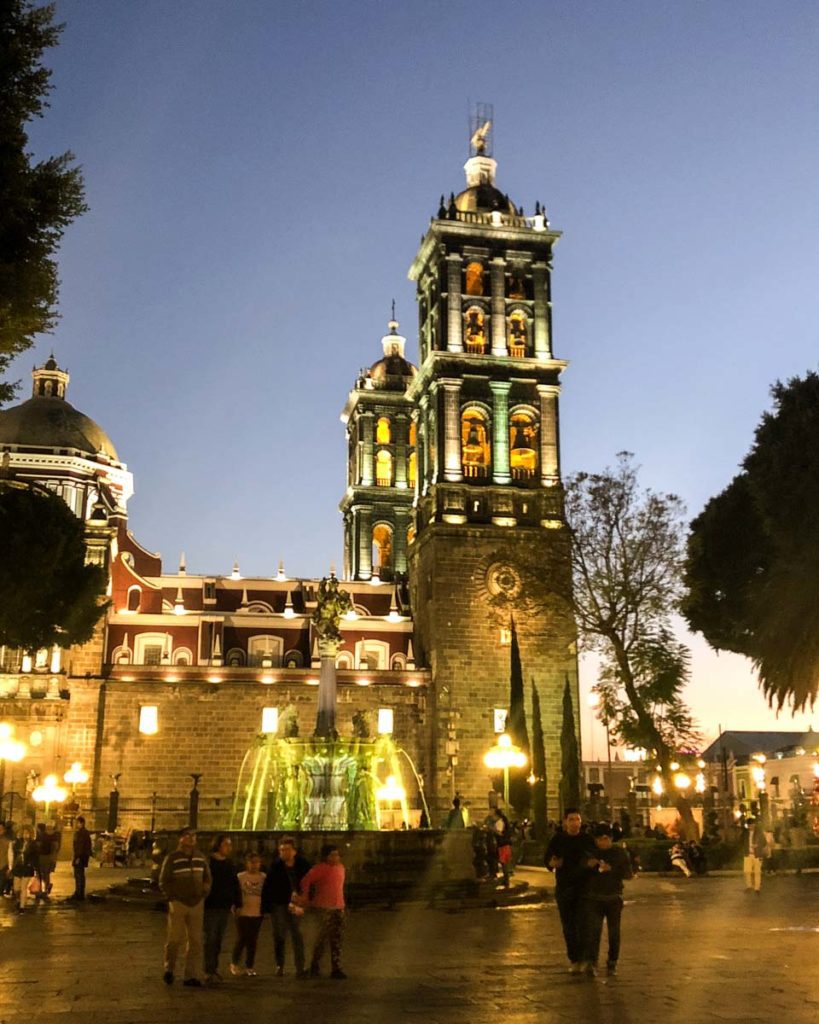 After walking around, and visiting the cathedral, grab a chair at El Corona Salon for some people watching and a beer and taco (the pollo con mole and the chicharron were both saucy and delicious).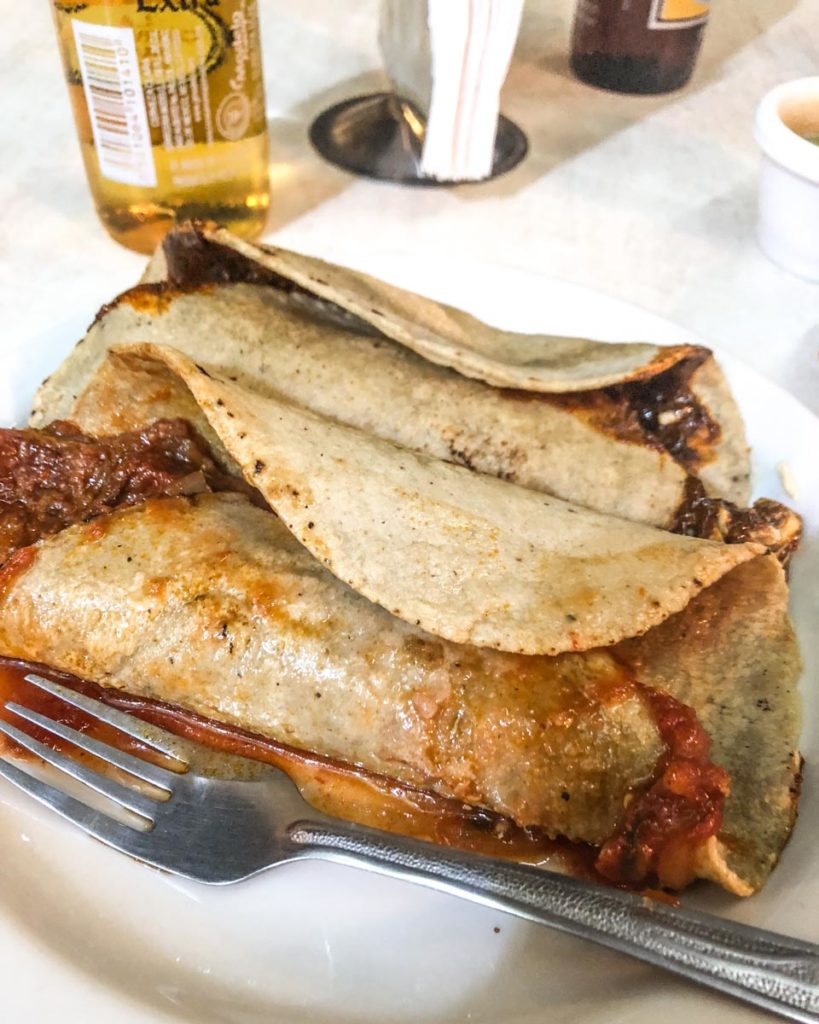 The food culture is huge in Puebla, so I'll be sprinkling through my favorite local eats throughout this Puebla travel guide.
Wander the Centro for Photo Ops of Pretty Tile + Bright Colors: Things to do in Puebla City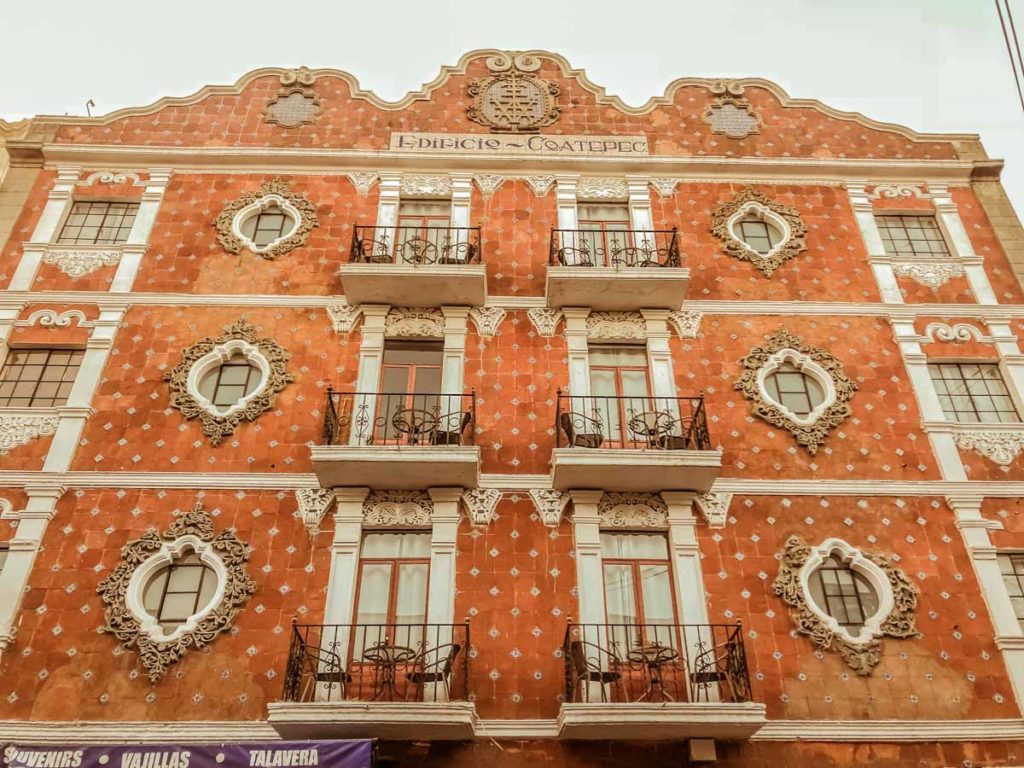 If you've been around here for any length of time, you know that I'm a sucker for the bright colorful buildings in Mexico and pretty tile. So it turns out that Puebla was right up my visual alley – this city is full of amazingly pretty buildings, colors, and tons and tons of tile.
One of the best things to do in Puebla city is just to walk and admire all this beauty. You can easily wander aimlessly around the Centro Historico and find lots of pretty things accidentally, but if you prefer to have some direction – I made a customized map with all the prettiest buildings and tile I found.
Add your email below to get the map emailed to you immediately. Puebla Travel Guide map includes:
Pretty buildings and tile for photo ops: in purple
All things to do in Puebla city from this list: in red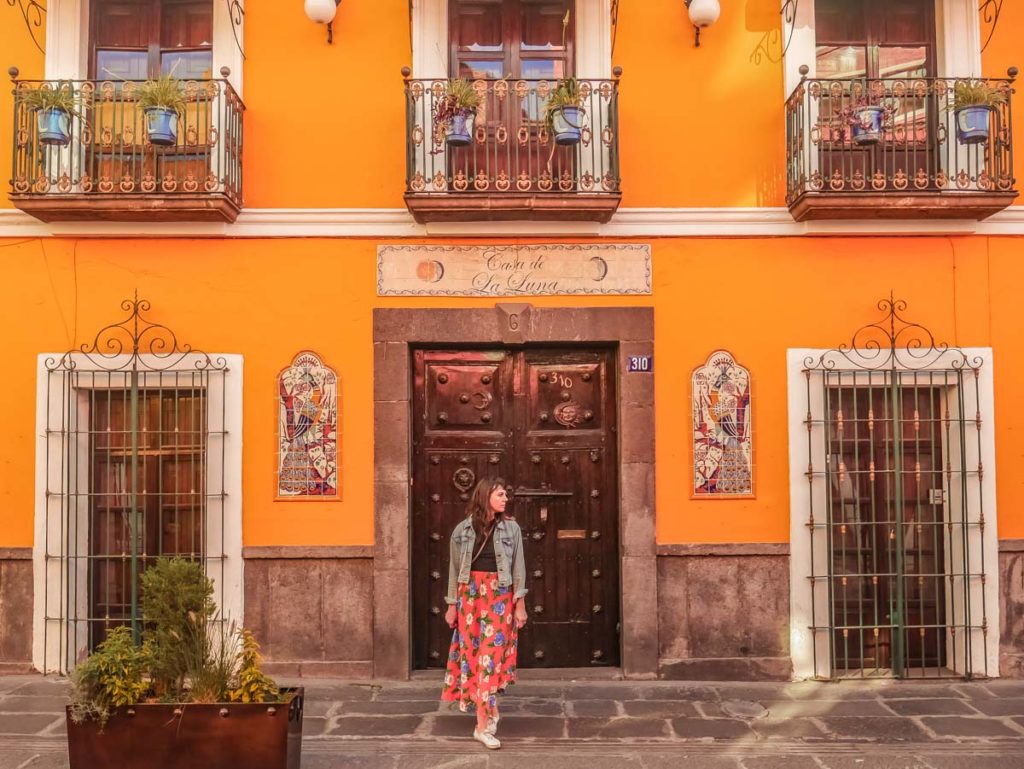 Museo Amparo: Things to do in Puebla City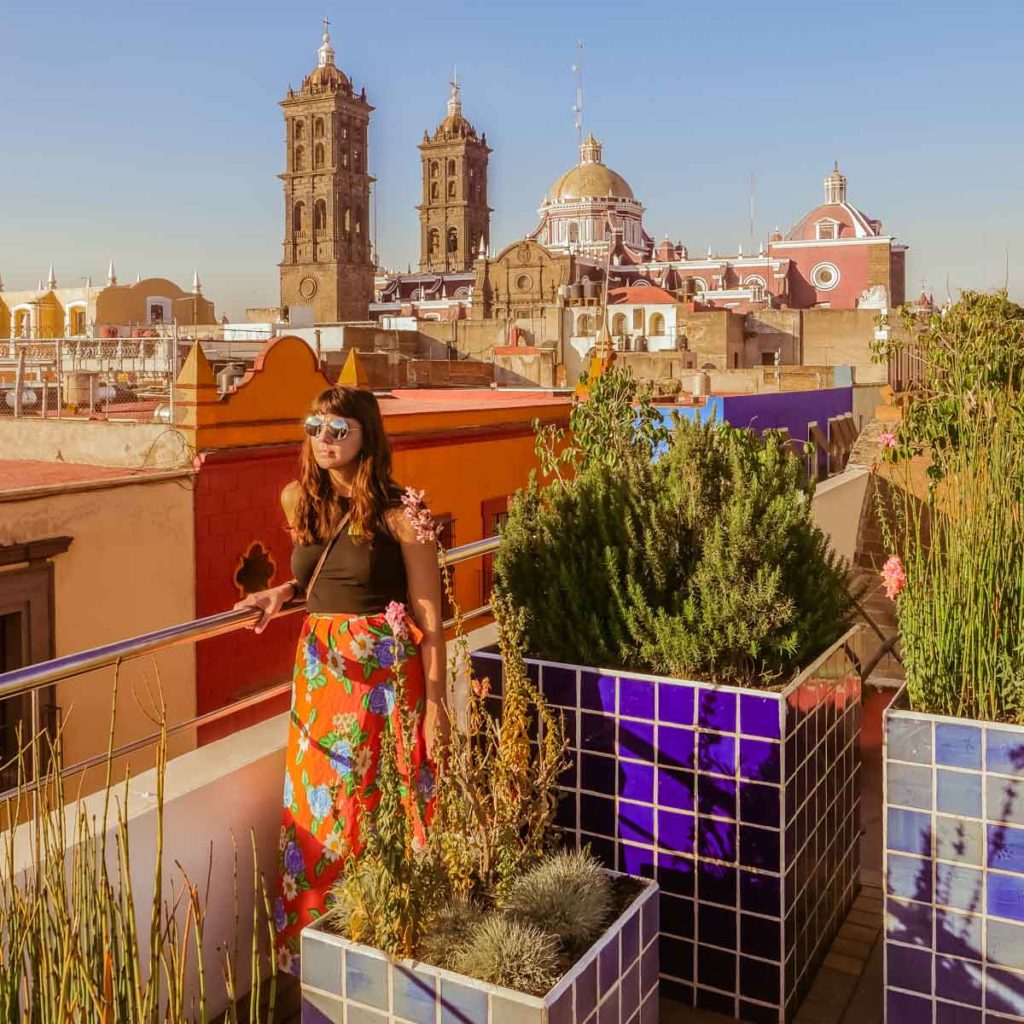 A couple of my most trusted Mexico expert friends recommended this modern art museum, but it still blew me away. It's very well curated and really quite large. There were so many exhibits to see, and I discovered a few new artists I loved that I will be following from now on.
Don't miss heading up to the roof at the end of your visit. This has to be one of the best rooftops in Puebla. It has an amazing view of the Centro, with a pretty skyline of the historic buildings. It's a great place to sip on a drink or watch the sunset.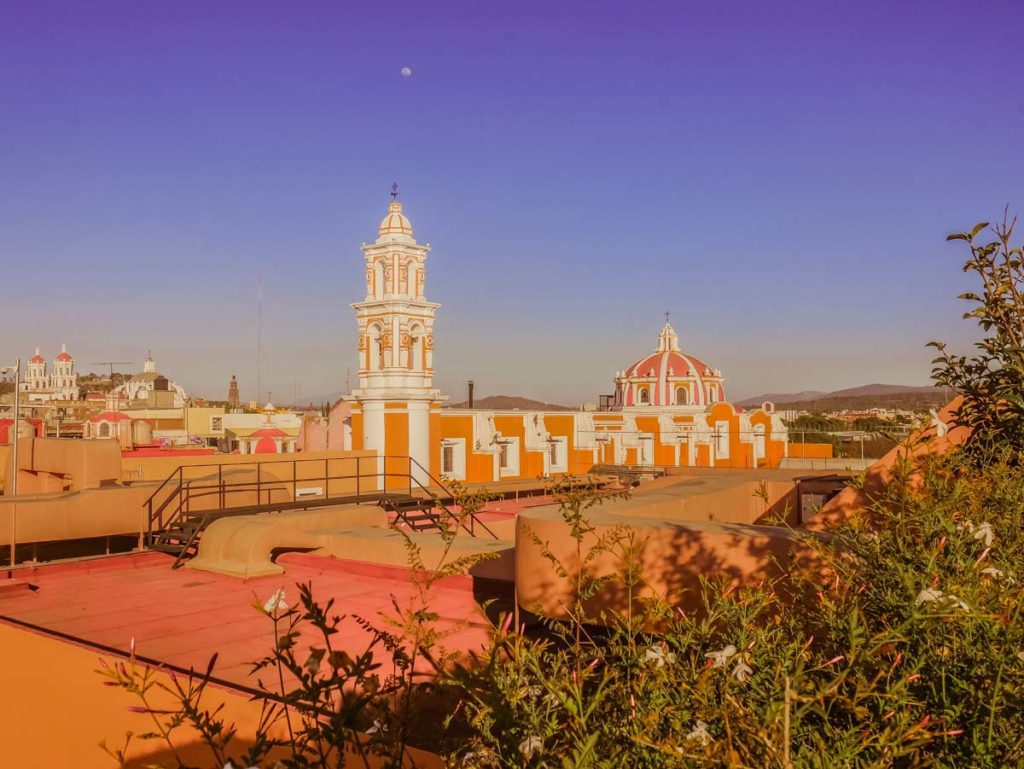 Try the Mole at El Viejo Rosario: Things to do in Puebla City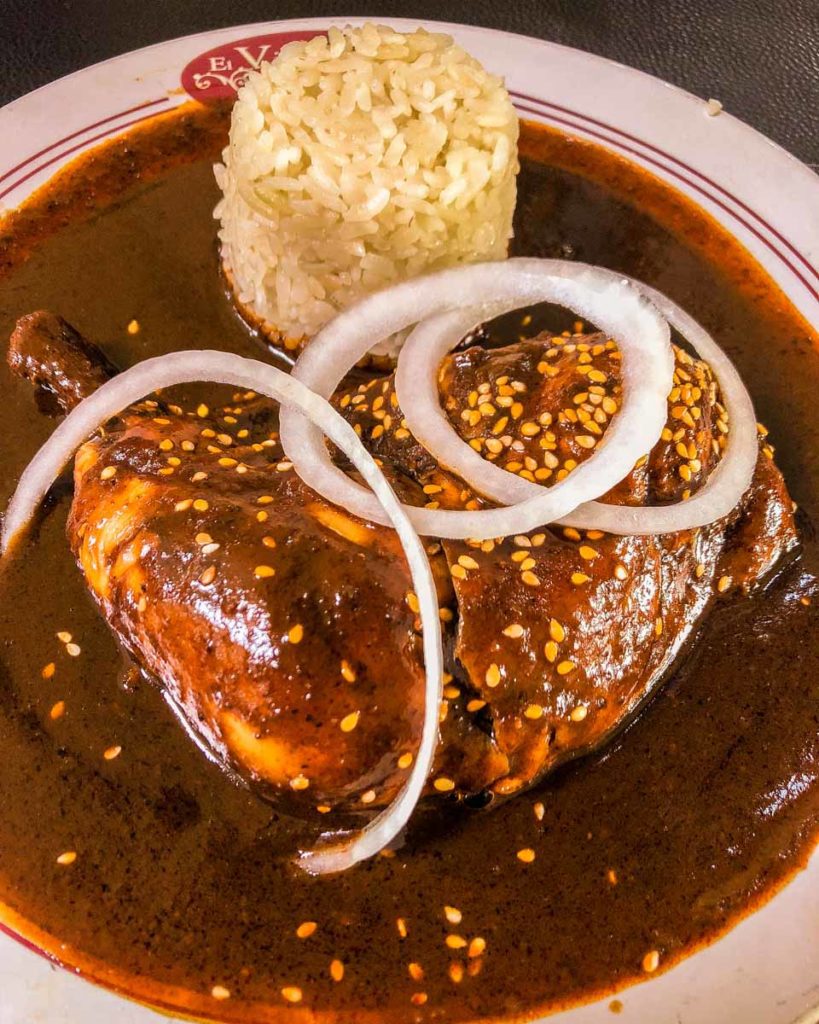 El Viejo Rosario was absolutely my favorite restaurant I tried – and my most recommended in this Puebla travel guide. It's an old school establishment housed in a giant old historic building.
The wait staff is exceptional and professional, the furniture is quirky, and the food is phenomenal. Everything we got – from the salad, to the aguas frescas, to the main dishes were so delicious. But I absolutely recommend you order the mole con pollo.
Trying Mole Poblano is one of the essential things to do in Puebla. The city is famous for its rich mole, and it is different from other moles I've had in Mexico (particularly different from Oaxacan mole).
El Viejo Rosario makes an absolutely delicious one and serves it with fresh tortillas. Definitely not to be missed on this Puebla travel guide.
Take a Quick Side Trip to Cholula Pyramid: Things to do in Puebla City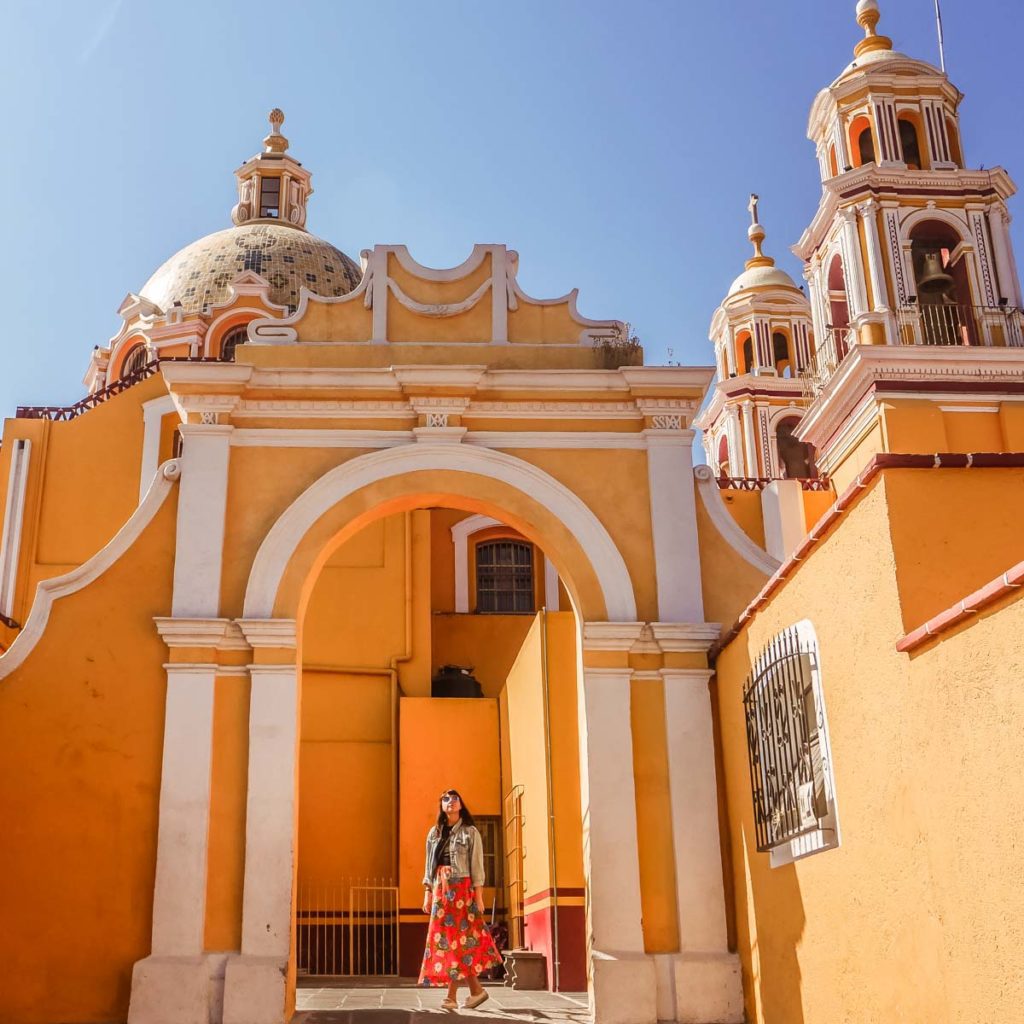 It may seem difficult to take time out of a short stay to go to a whole other town, but visiting Cholula is absolutely worth it.
Cholula is a nearby town that is so close, it only takes about 20 minutes to drive there. We took an affordable Uber both ways. There is also a tram that goes between the cities, but only at set times and I believe it ends up being the same cost if you have 2 or more people to share the Uber.
Cholula is famous for the prehispanic pyramid that is actually the largest in the world – by mass and width. It's huge and most of it hasn't been excavated and is covered in grass.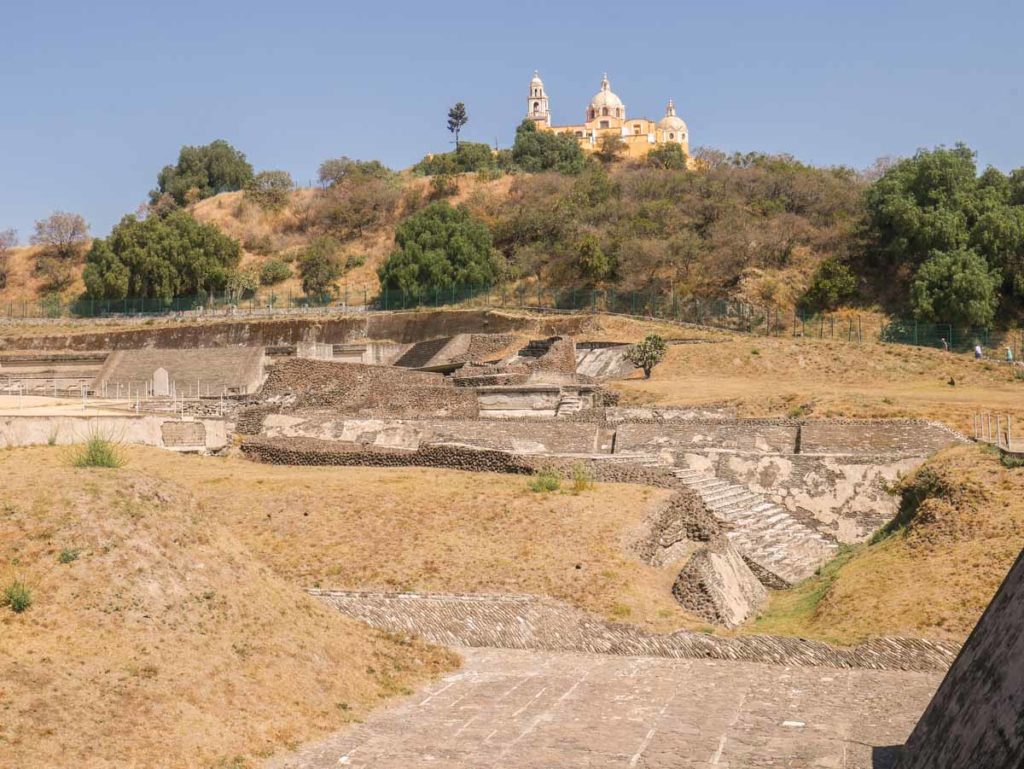 A beautiful Spanish colonial church sits on top of the pyramid (typical Spanish colonial move). You can climb up to the top easily on a paved road. The view from there is beautiful – you can see far on all sides, and if it's a clear day, you'll be rewarded with an epic view of the nearby volcanoes.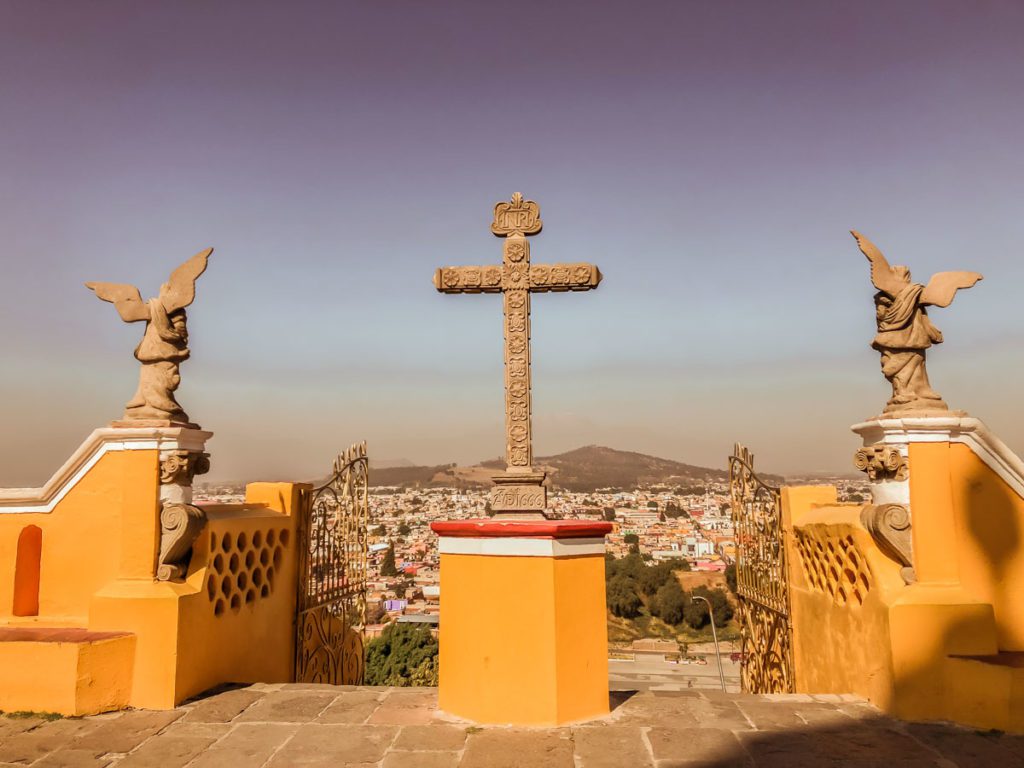 You can also take a tour inside of the pyramid. There are tunnels that were carved through for archaeologists to understand the construction and history. We don't often hire guides, but we did this time and he was amazing and gave us such better insight into the history and importance of this place. Our enjoyment and understanding was increased exponentially.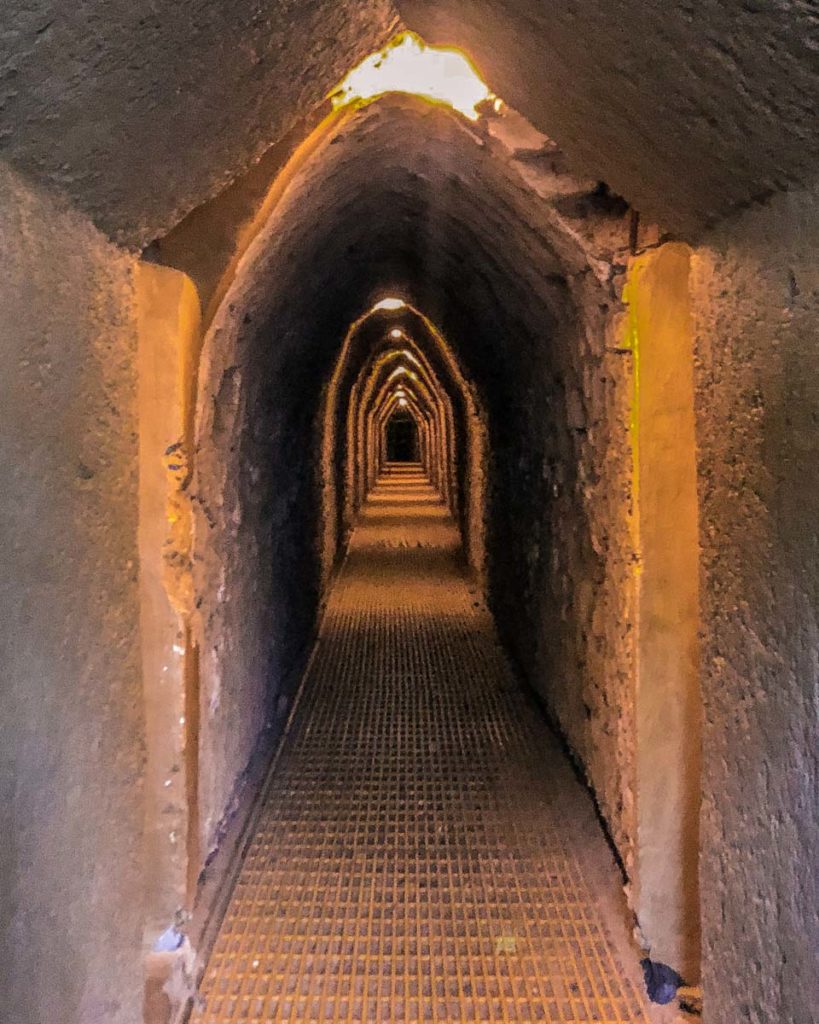 The town is also charming and colorful. If you have enough time, take a walk around the centro, and visit the Convento de San Gabriel.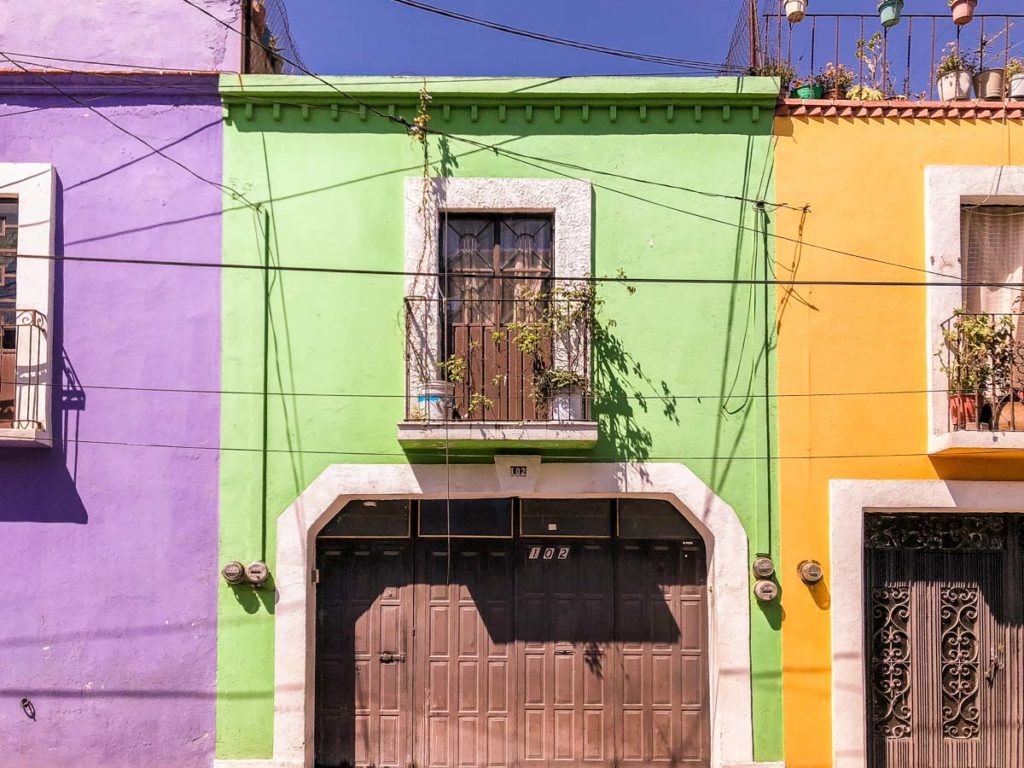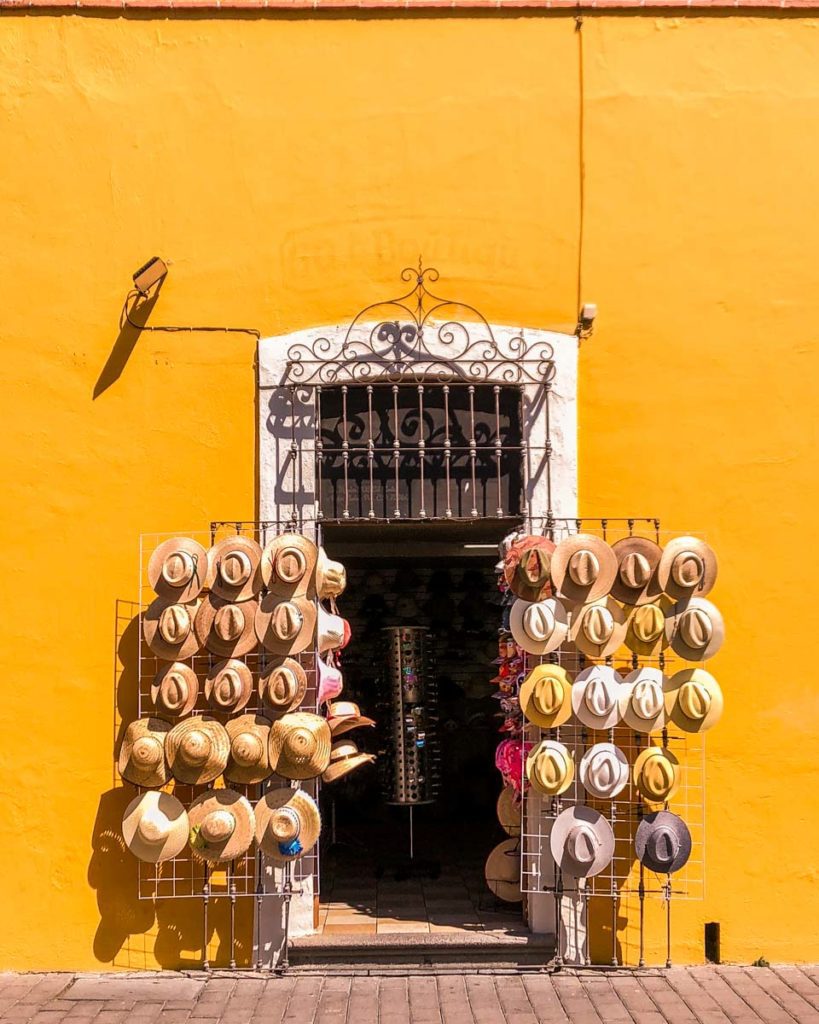 Start Your Day with Chilaquiles at Beautiful Meson Sacristia de la Compañia Cafe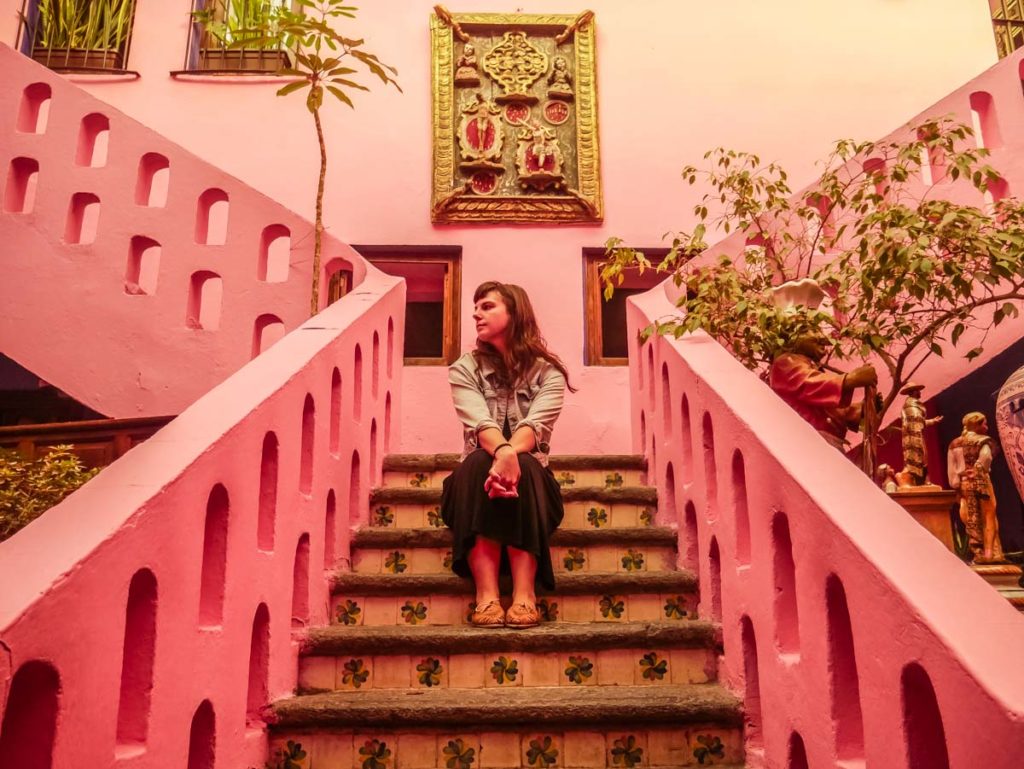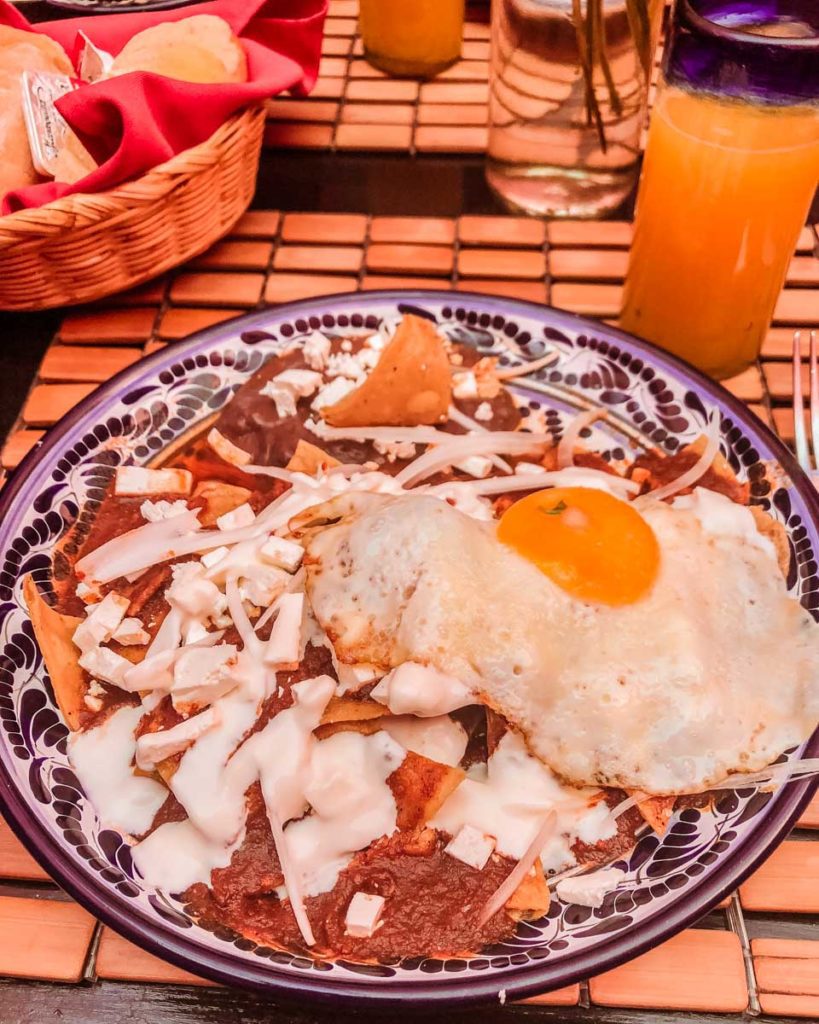 Do yourself a favor and start one of your Puebla travel days in the dreamy courtyard of Meson Sacristia de la Compañia.
This gorgeous boutique hotel also has a restaurant in their courtyard. The pink staircase, the lush green plants, and the curated antiques makes for a lovely ambiance.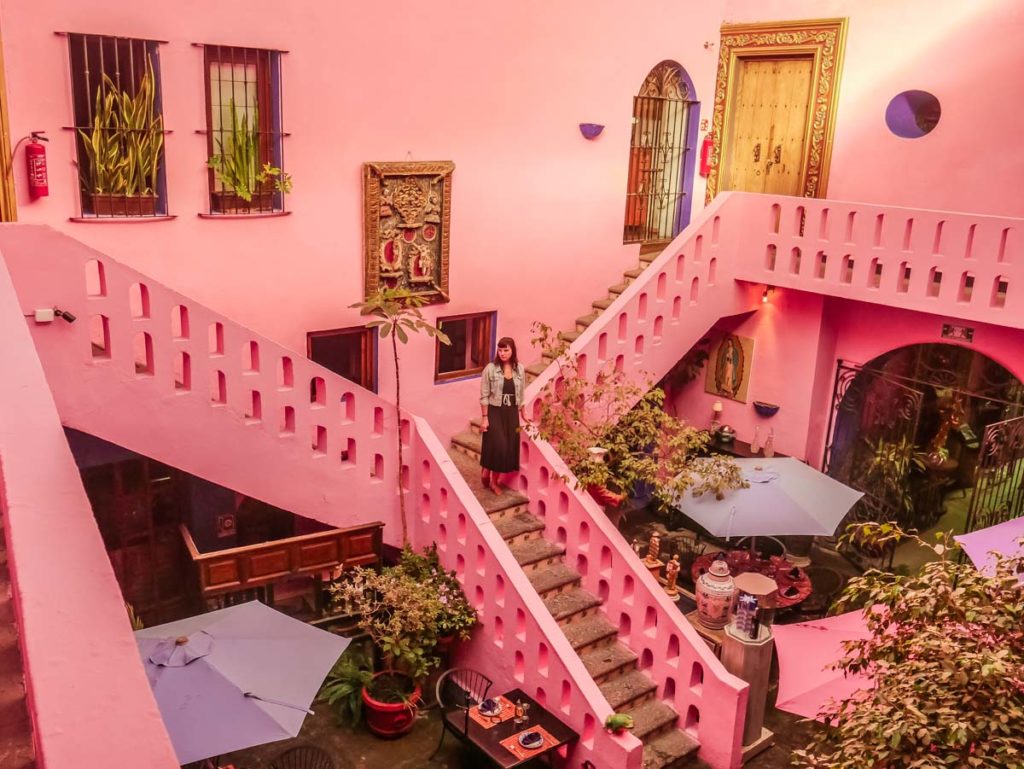 The chilaquiles are delicious and an important Mexican dish to try while you are in the country. This is one of the best foodie things to do in Puebla, plus a great photo op in their gorgeous courtyard.
And if you are looking for a beautiful and unique hotel during your Puebla stay, Meson Sacristia de la Compañia is a great option! I'll be writing a detailed blog post about the hotel next week.
Go Shopping for Artisan Goods & Mexican Vintage/Antiques: Things to do in Puebla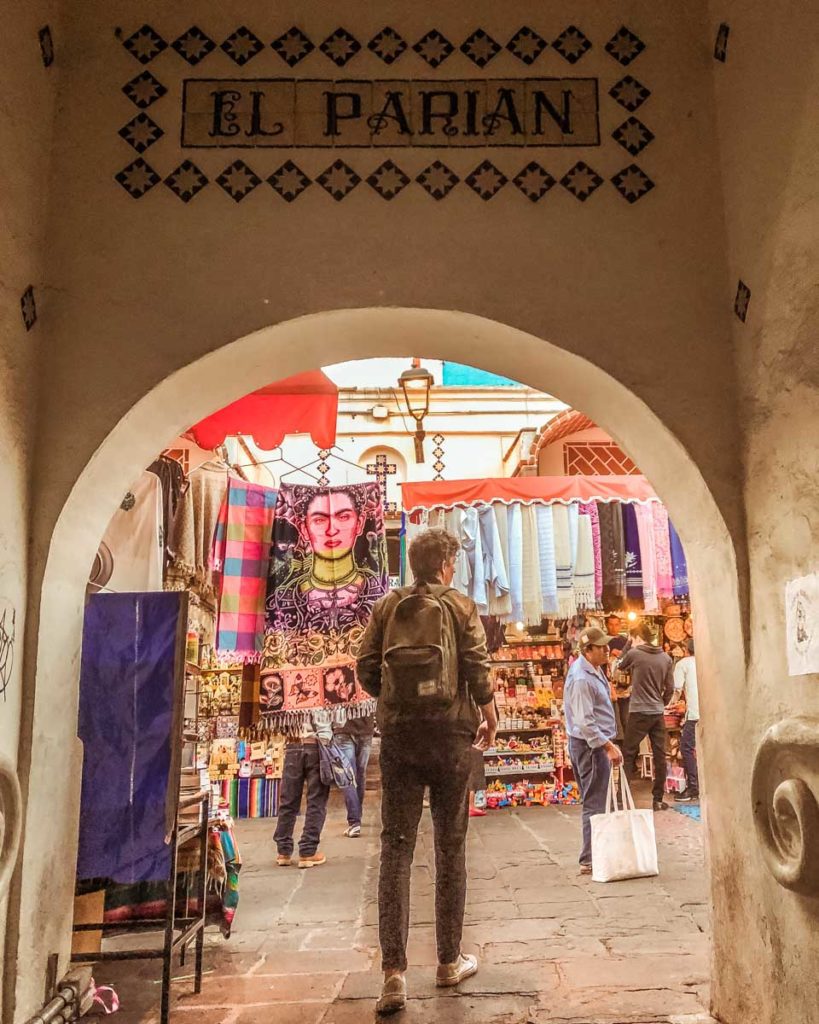 There is lots of great shopping in Puebla, so be sure to set aside time to visit some of the many markets.
The Parian artisan market is a must stop on this guide of things to do in Puebla. You'll find rows of locals selling the famous Poblano pottery, as well as textiles, jewelry and other artisan products.
The Parian market isn't huge, but many of the nearby streets are filled with artisan shops. Particularly, the block north of the market on Calle 6 Norte has many Poblano pottery shops.
Then circle around to the Barrio del Artista where you will find lots more local artists selling their work.
For a great shop in this Puebla travel guide that has lots of cool locally made clothing and accessories, stop into Los Bigotes de Frida.
Another great spot to check out local artisan products is the market in Callejon del Sapo.
And if you're in Puebla on a weekend, there are lots of tianguis, or temporary pop-up markets to explore.
Our favorite weekend tianguis is the antique/vintage market in the Plazuela de los Sapos. Here you will find everything from vintage records, to antique furniture, to jewelry, books, clothing, and more. We absolutely loved browsing every aisle, picking up some fun pieces, and enjoying the sunny weekend morning.
Mezcal Nightcap at Licoreria San Pedrito: Things to do in Puebla City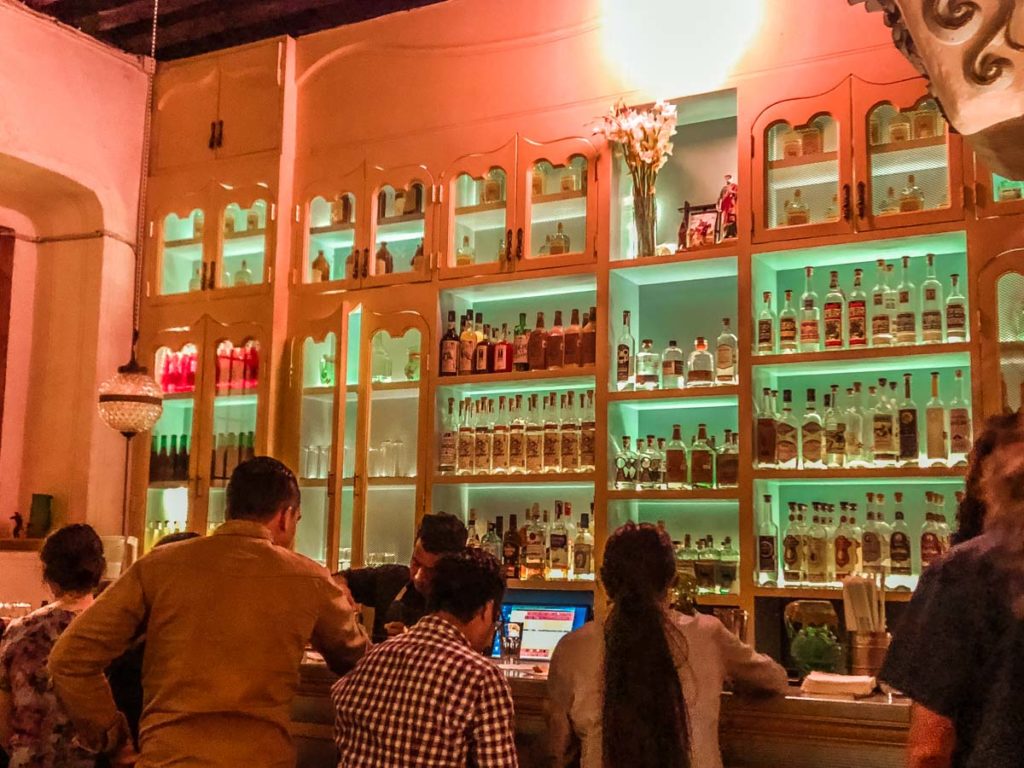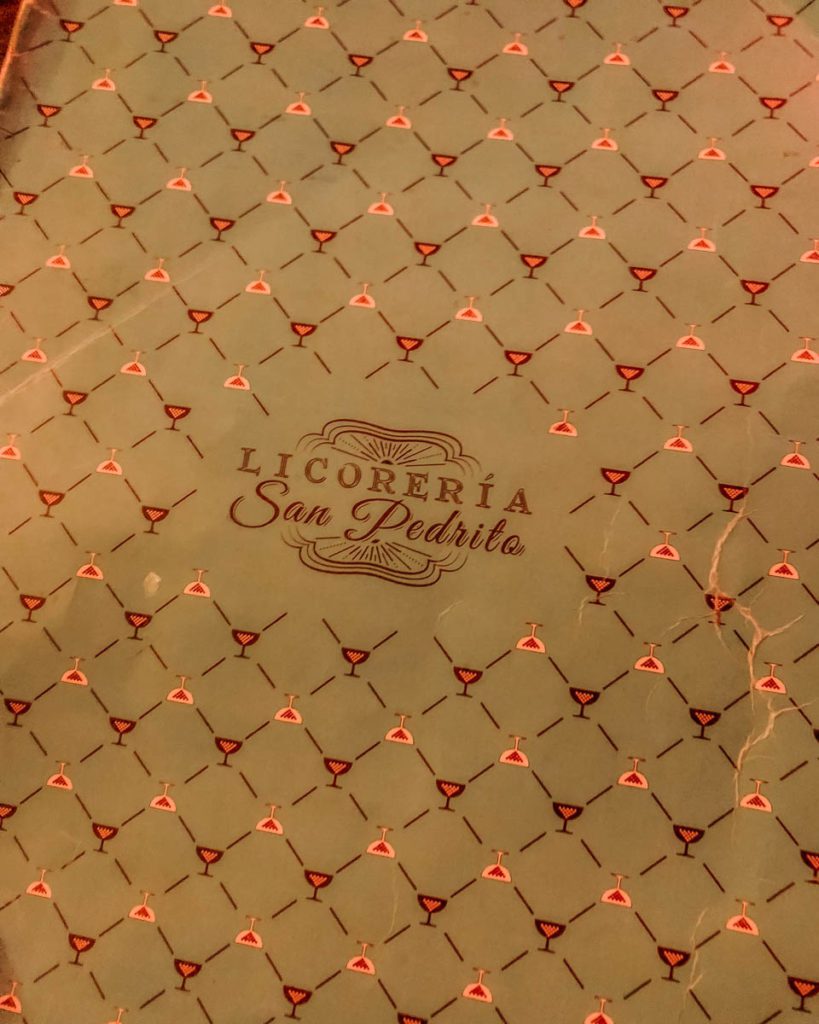 This adorable bar has a great list of mezcals as well as pox and raicilla – some lesser known but traditional liquors from around the country.
This was my favorite bar I visited and absolutely would recommend it for an evening out during your Puebla travel.
Quick Puebla Travel Guide
While really there is so much to do in this giant metropolitan city, you can enjoy and learn a lot in a couple of days if you are motivated. I'll be returning to Puebla and keeping this guide updated after future trips.
Get instant access below to my customized map with all the locations above + the best places i found to take pretty photos of buildings, tiles and color.
Pin it for Later!