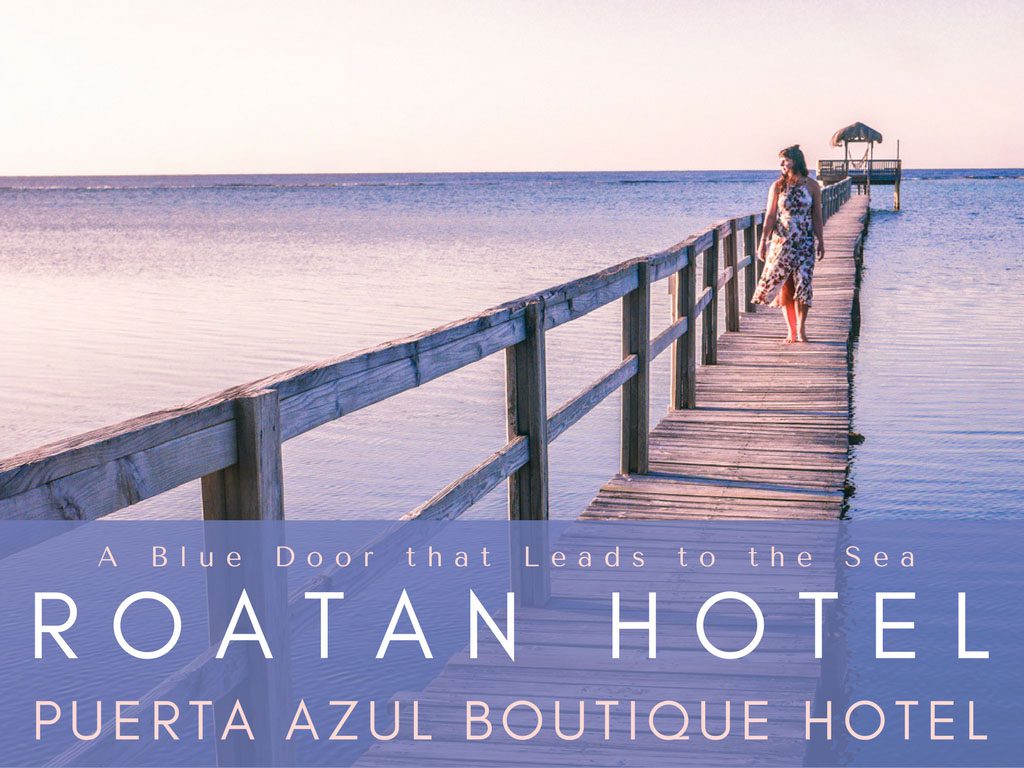 A good hotel should tick all the boxes - including location, decor, and amenities. But most importantly, it should feel GOOD to be in. Roatan hotel, Puerta Azul boutique hotel has a great vibe and felt like the perfect retreat for my last 4 days in Roatan.
What I loved most about this beautiful Roatan hotel, is that it's only minutes from all the biggest tourist attractions and best restaurants in Roatan, but the jungley grounds and comfy bungalows feel like they are tucked miles into the jungle. The beach in front of Puerta Azul Roatan hotel is usually totally empty. And the super long private pier allows you to get even further from the world, surround yourself with aqua waters, and just escape for awhile.
Read my full Roatan travel guide for where to stay, what to do, and what to eat.
In case you couldn't tell, I loved my stay at the pretty and peaceful Puerta Azul boutique hotel. Check out my video below of my days in this piece of paradise and scroll down for the full review on all the specifics at this Roatan hotel.
Disclosure: this post is written in partnership with Puerta Azul Boutique Hotel. All views and opinions are my own, and I wouldn't recommend anything I don't love!
Find Roatan Travel Flight Deals: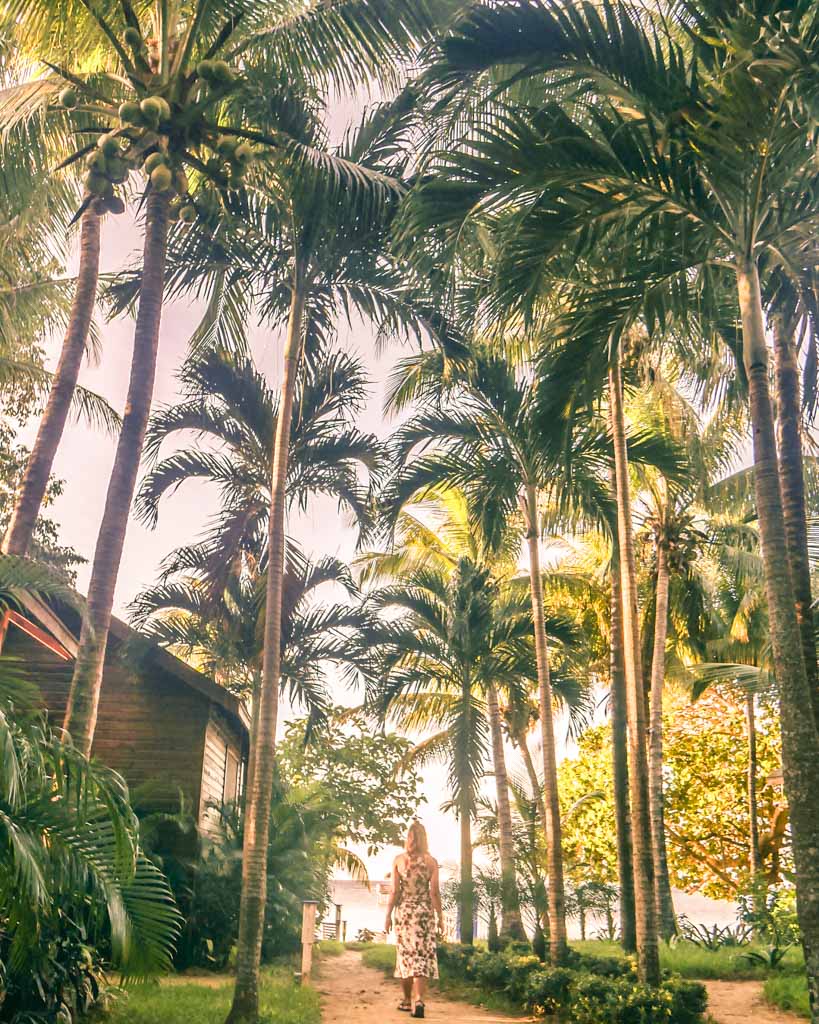 Lush Jungley Gardens: Roatan Hotel Puerta Azul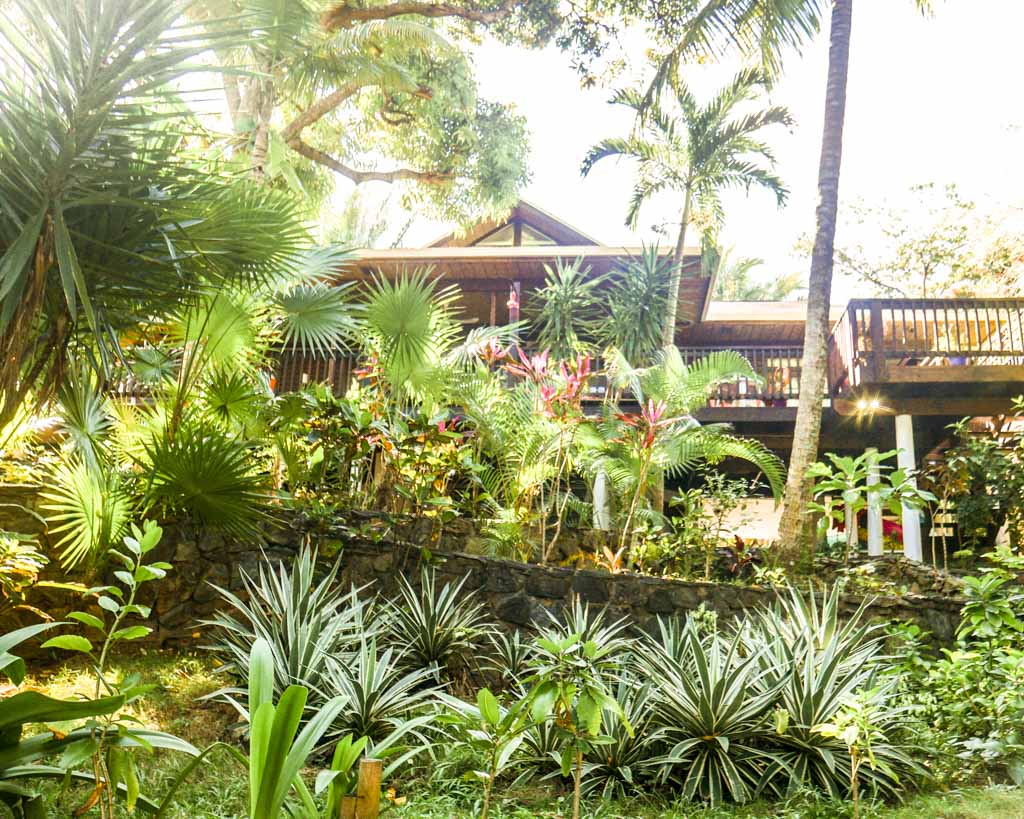 My favorite thing about Central America is the LUSH jungle that dominates the region. So when I planned my trip to Roatan, I knew I didn't want to just stay near the beach, I wanted to get as much jungle time as possible too. Puerta Azul was perfect for this because the grounds are full of natural palms and ferns that line the paths and surround the bungalows.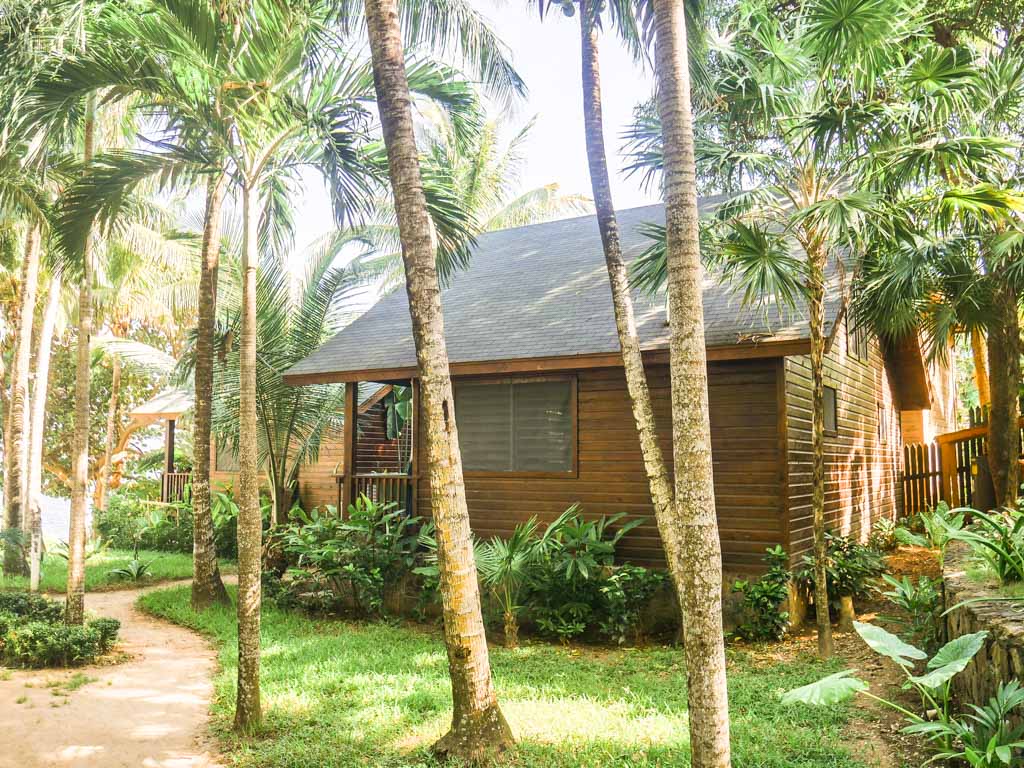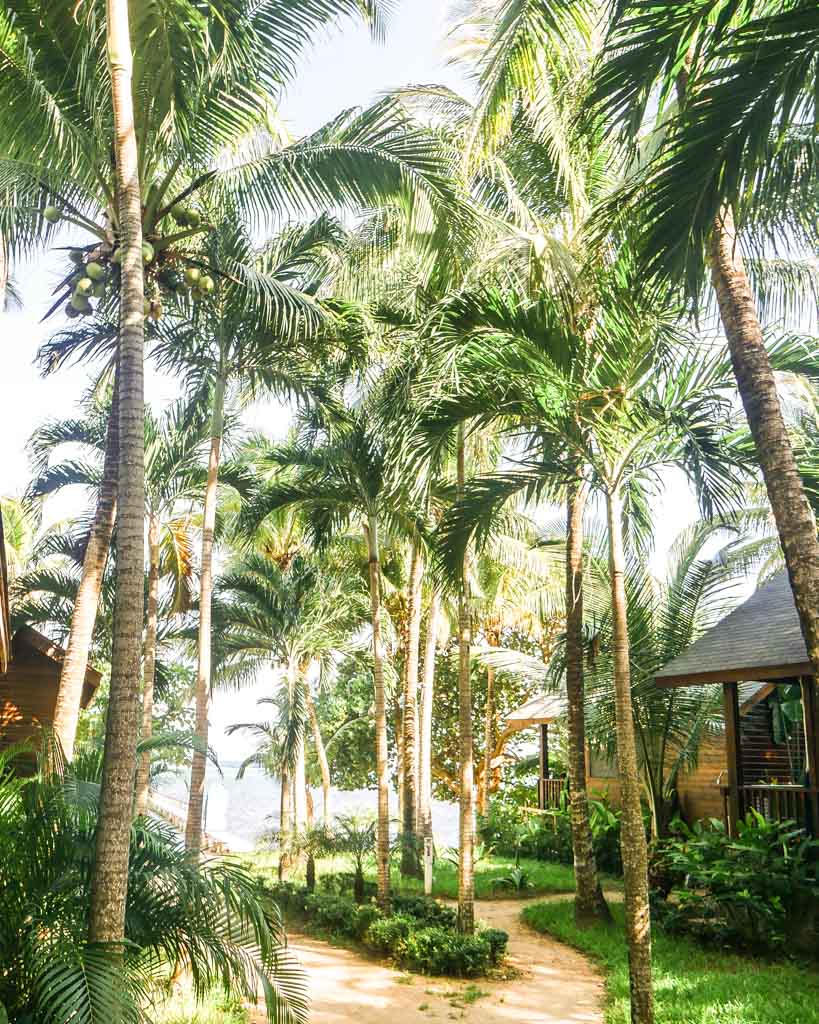 This also adds lots of privacy and makes you feel like you have your own little home to yourself.
I loved wandering through the paths and taking pictures of the palms and banana leaves.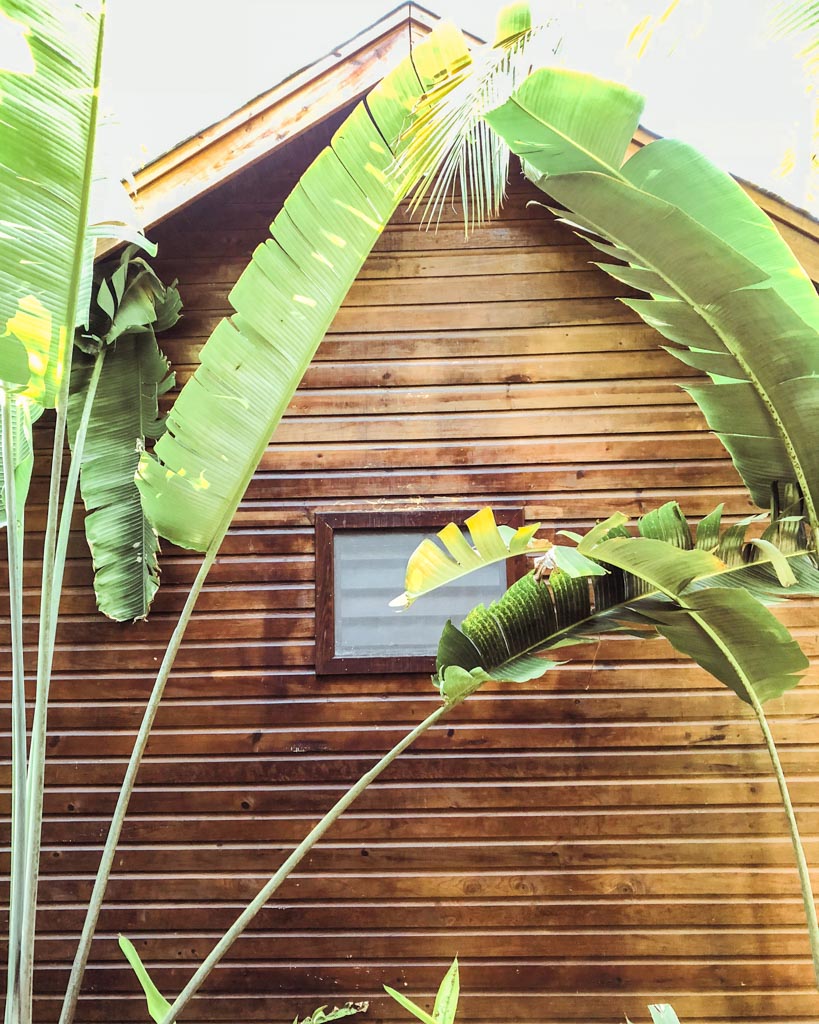 This Roatan hotel does an amazing job integrating with the beautiful natural surroundings. This does mean that you'll hear some animal noises like birds (and maybe the neighboring chicken), but that's part of immersing yourself in nature.
Beachfront Location: Roatan Hotel Puerta Azul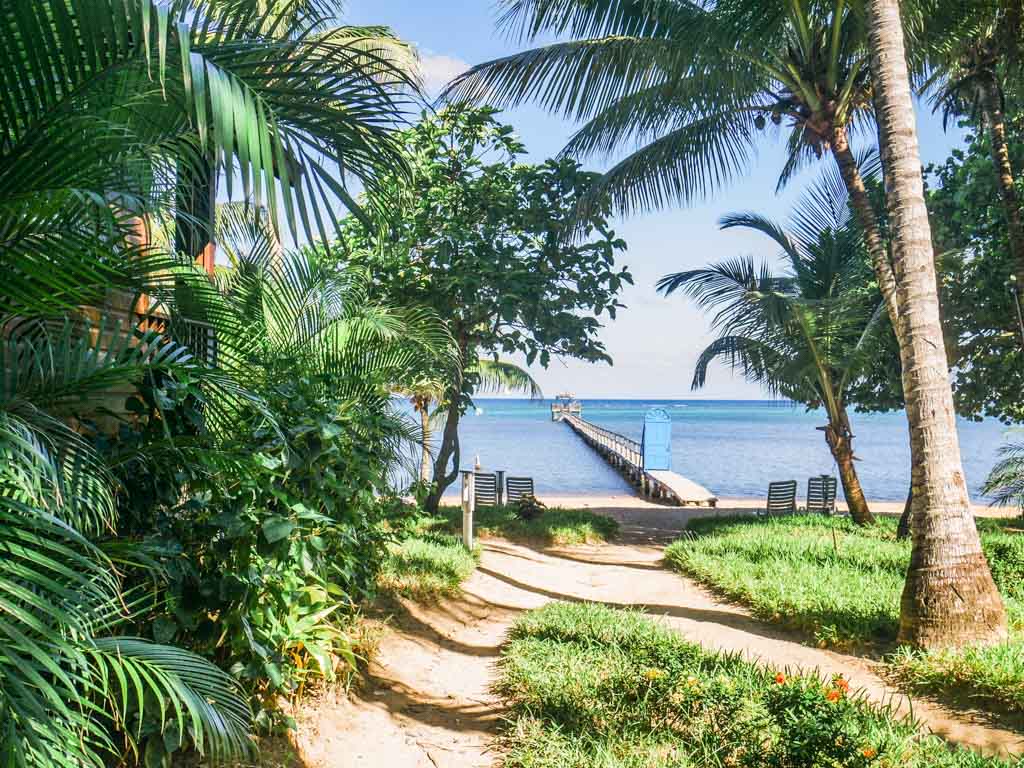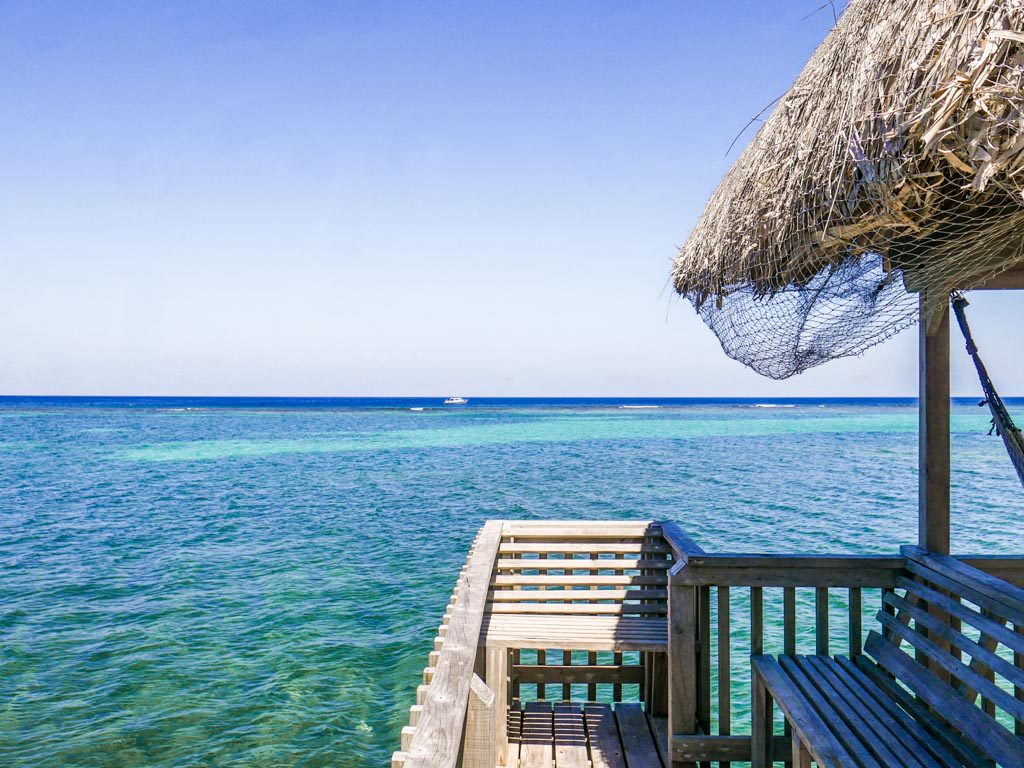 Puerta Azul Roatan hotel gives you the best of both worlds, lush jungle and a beach front location. The bungalows face the Caribbean and are only a few feet away from the sandy beach.
The beach here in Sandy Bay is super quiet and you will most likely have the sand mostly to yourself. The sand color is a little darker here than in West Bay, but it's still pretty and a great place to spend an afternoon.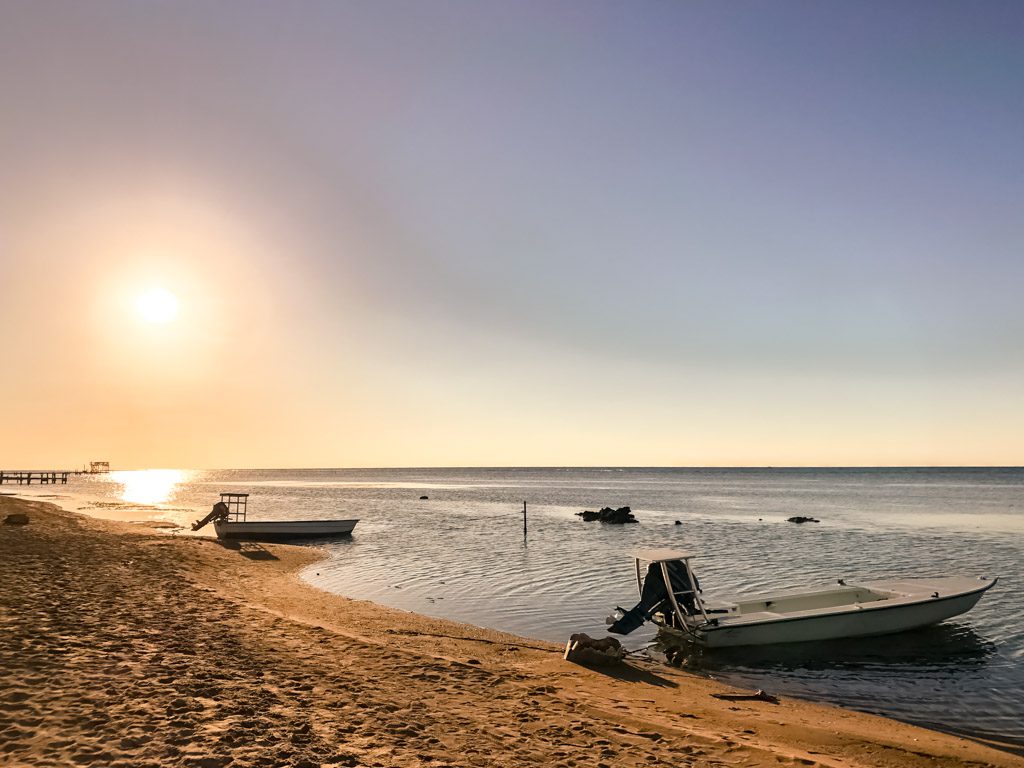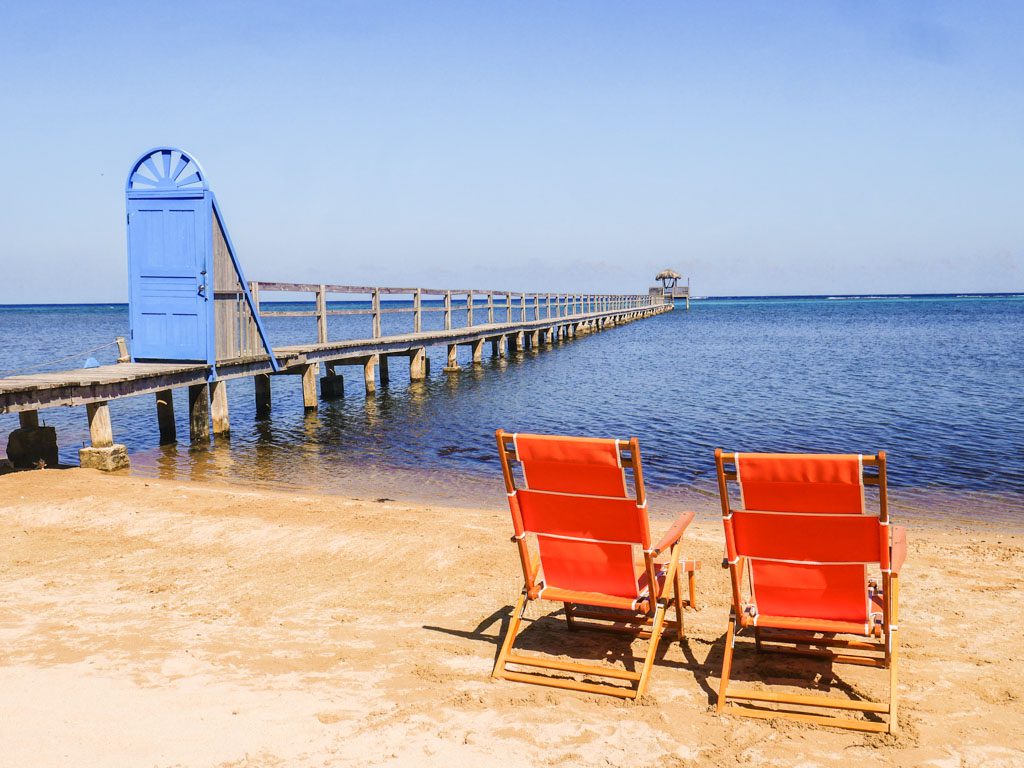 The sea here is super calm, and the edge of the water is filled with sea grass. This is why Puerta Azul has a long pier that you can walk to the end of and then jump (or walk down the steps) into the clear aqua water for a nice swim.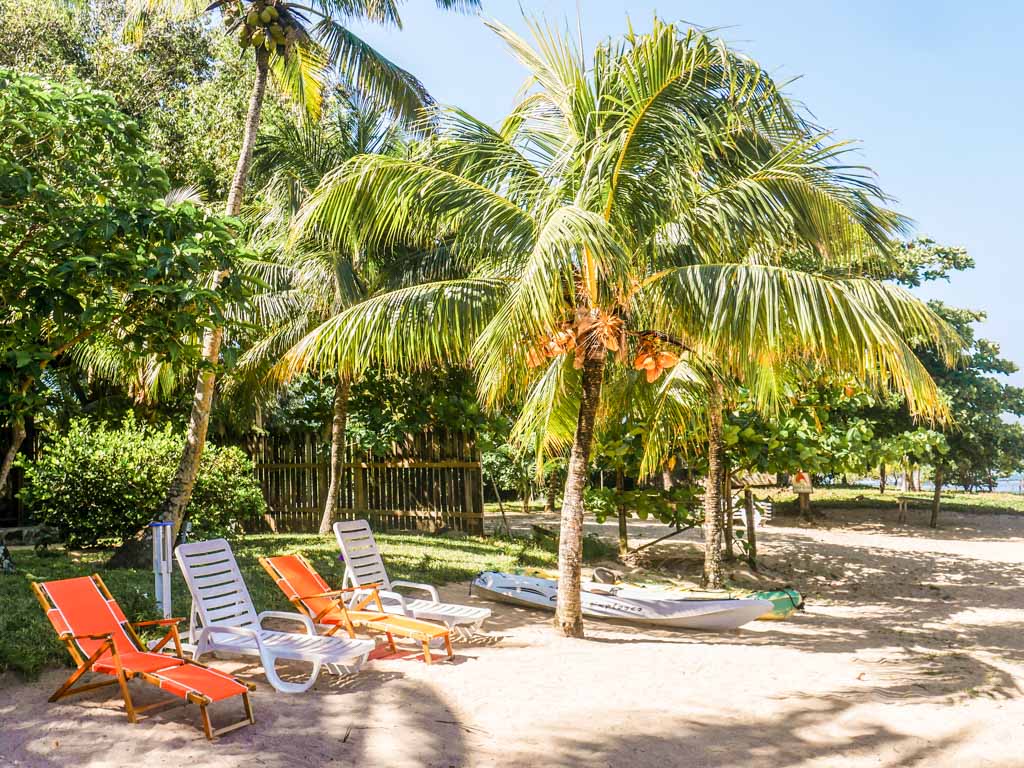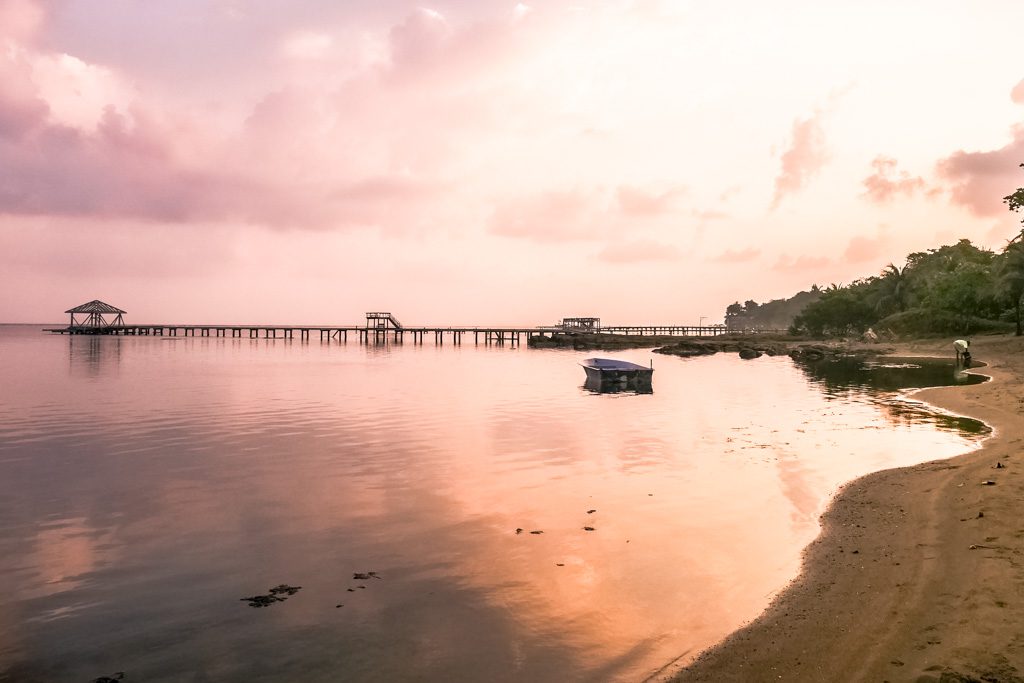 The Pier with the Blue Door: Roatan Hotel Puerta Azul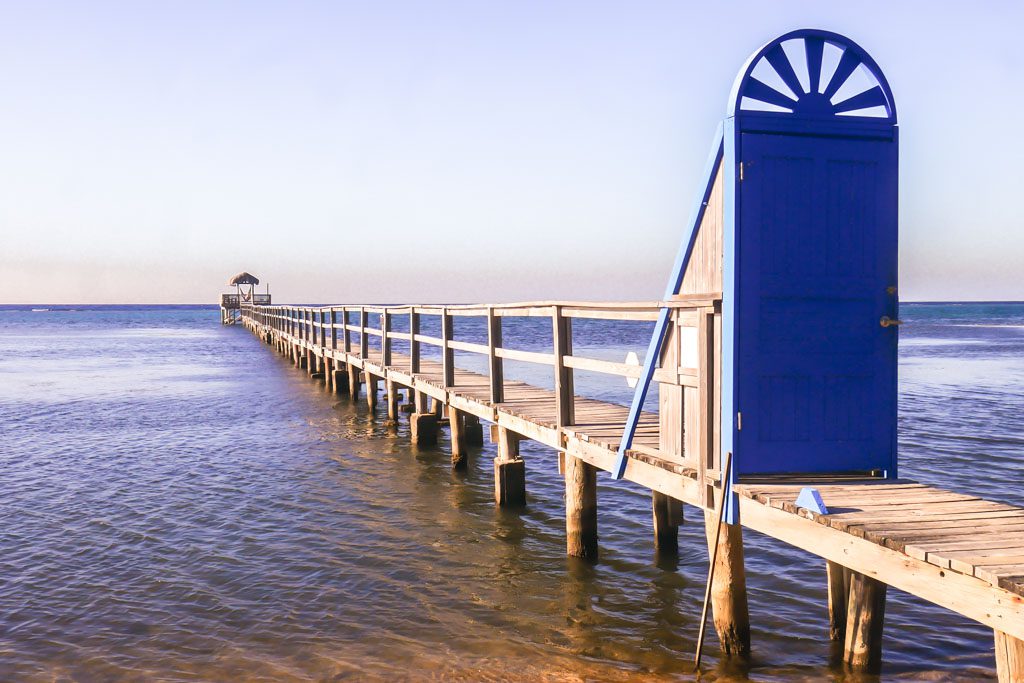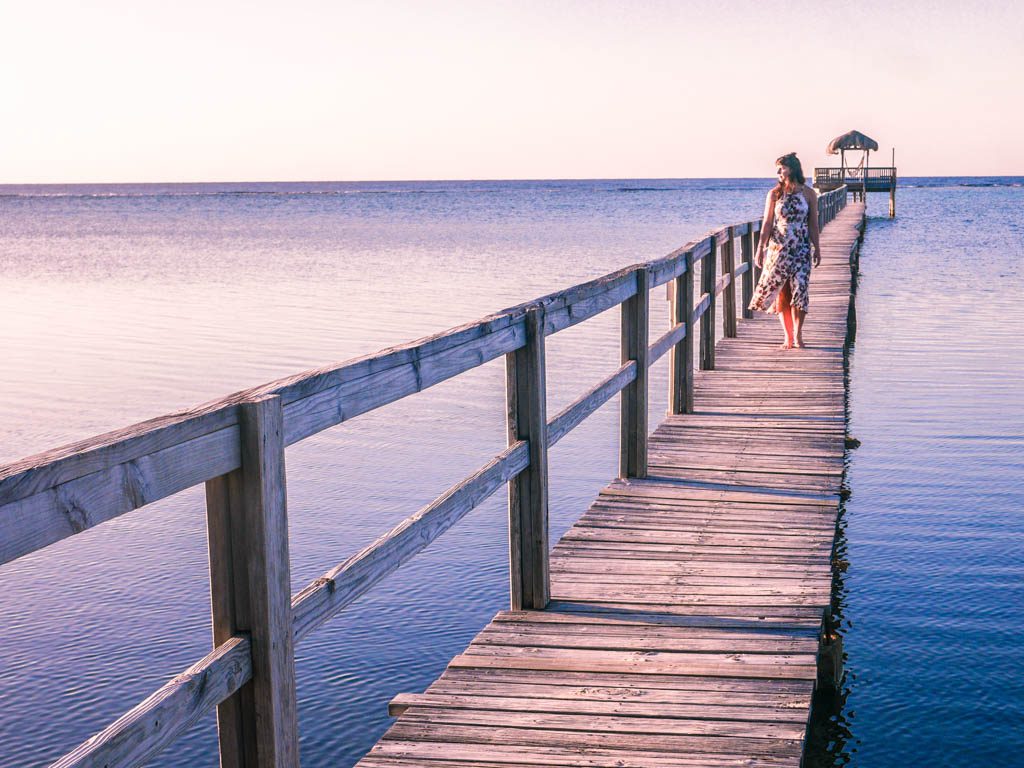 The pier at this Roatan hotel is the icon of Puerta Azul. The pier starts with a bright vibrant blue door that opens to the 200 foot long wooden walkway.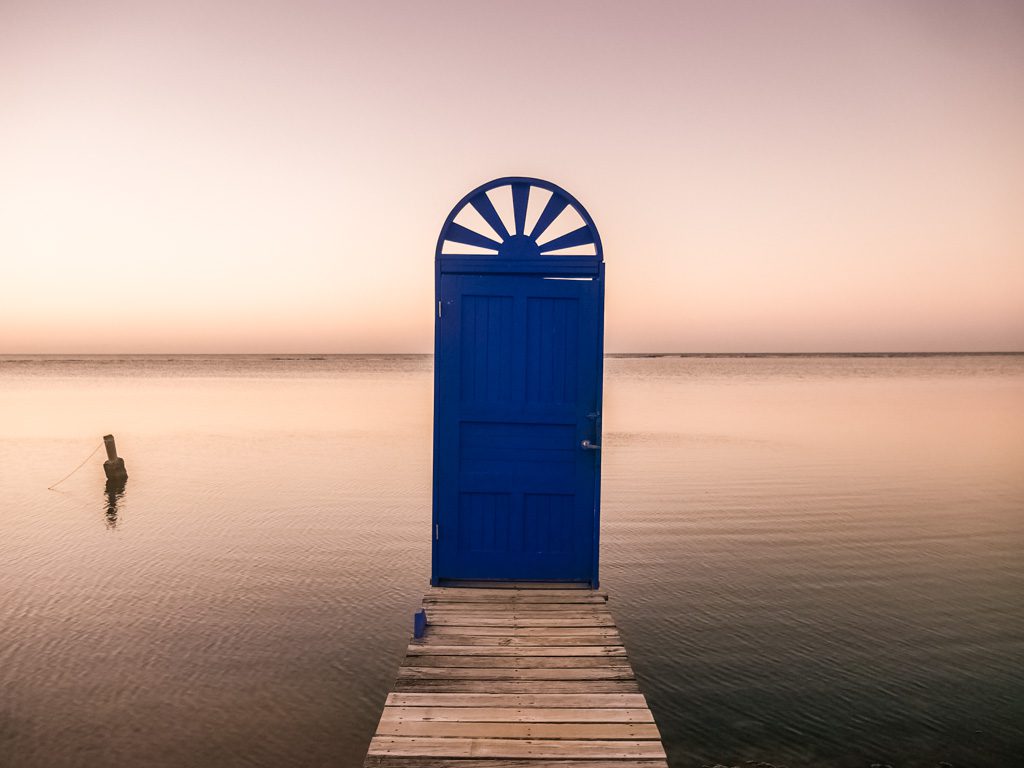 Continue down the pier and you'll find a comfortable deck with seating, hammocks and a palapa roof to relax on. This is the perfect place to read a book, enjoy a post swim rest, or take in the sunset. You'll get an amazing view here of the far off shoreline and the lush jungle that dominates the island.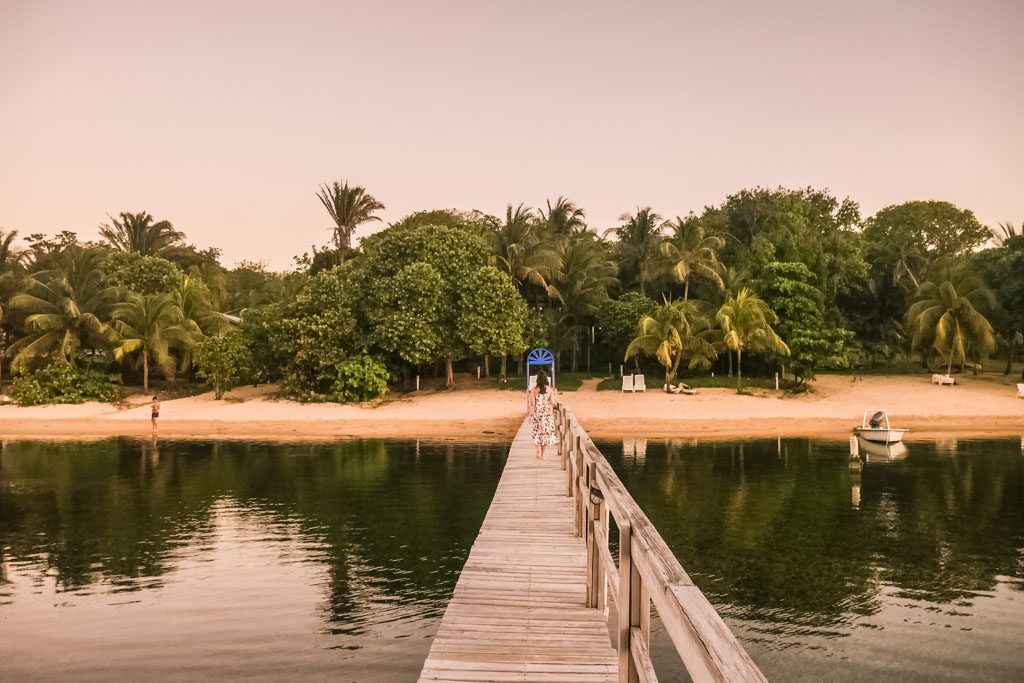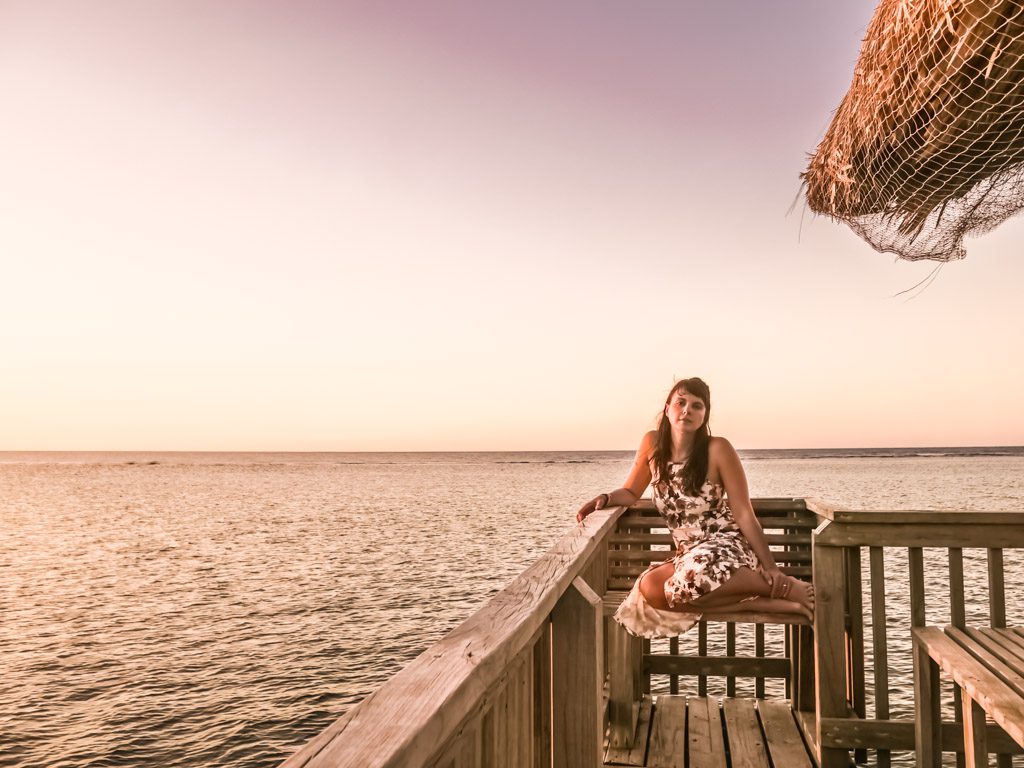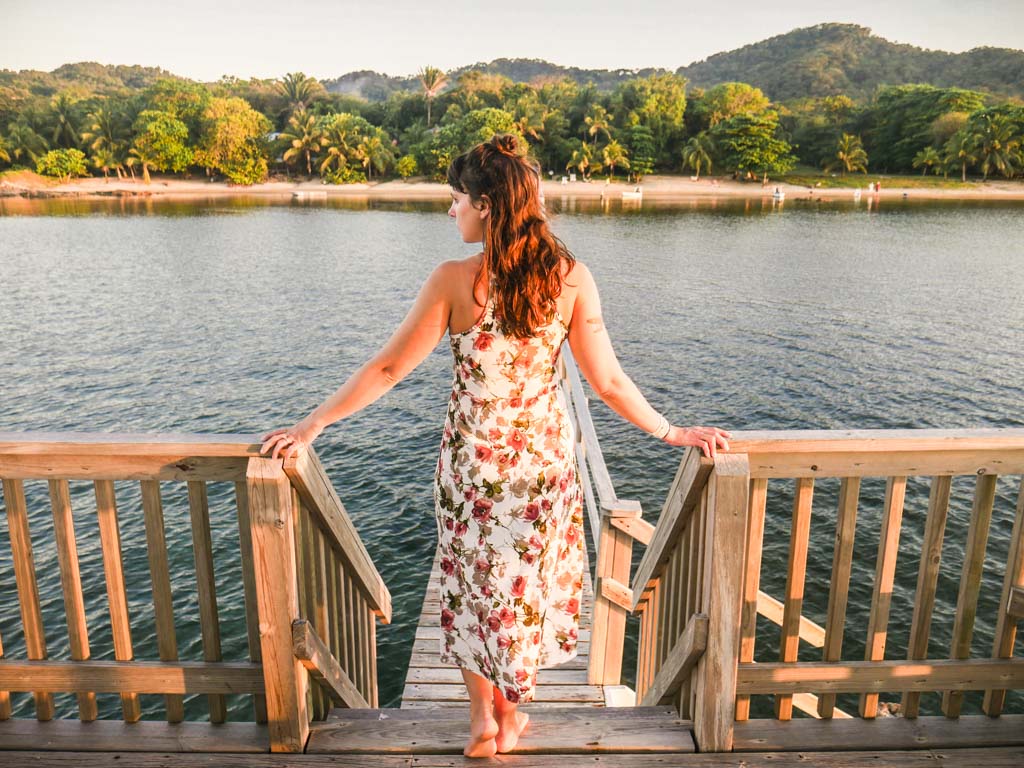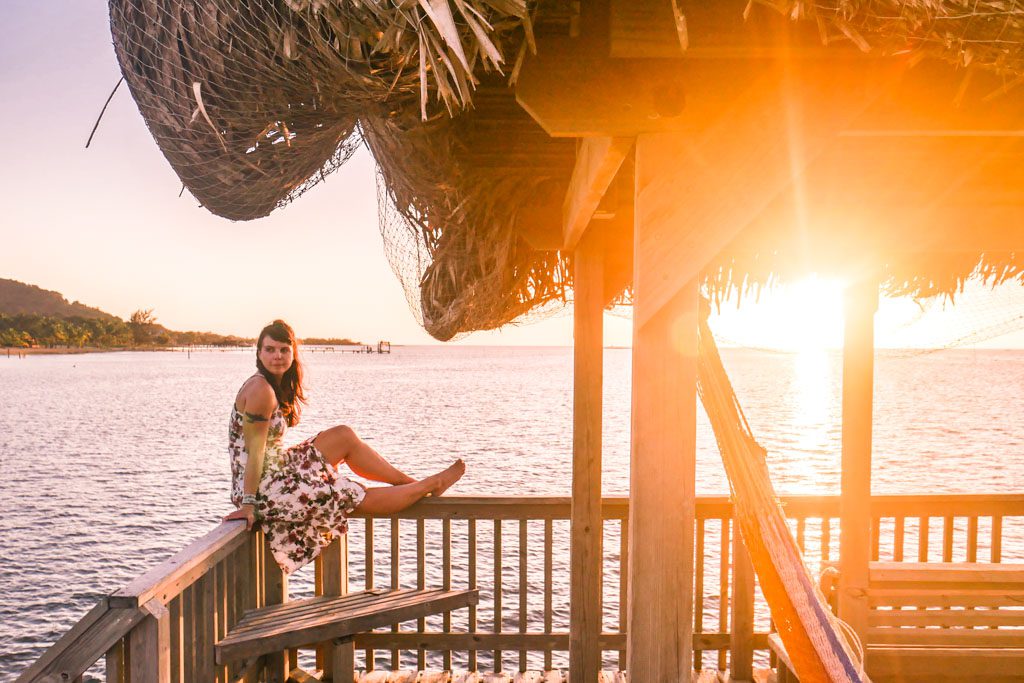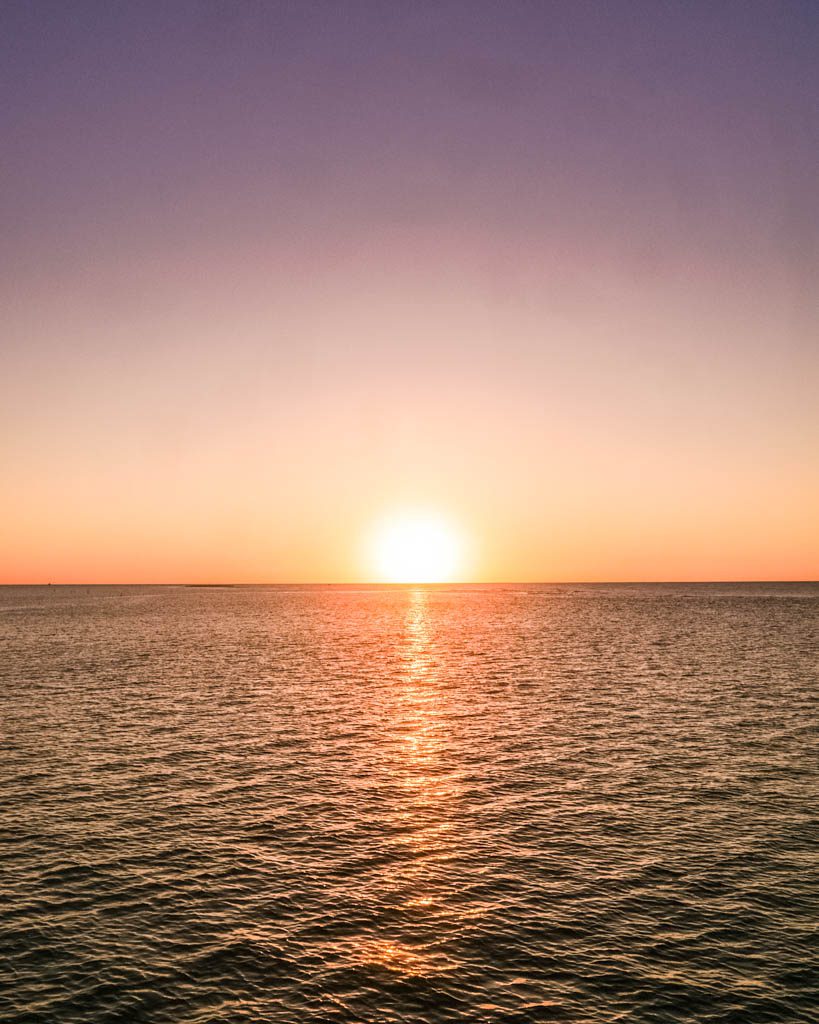 This is also where you will want to go for a swim. At the end of the pier are some steps down into the clear water. Float around on this Roatan hotel's complimentary inflated flamingo/inner tubes or borrow the snorkel gear and swim out to the reef further from shore.
Find Roatan Travel Flight Deals:


Comfy & Private Bungalows: Roatan Hotel Puerta Azul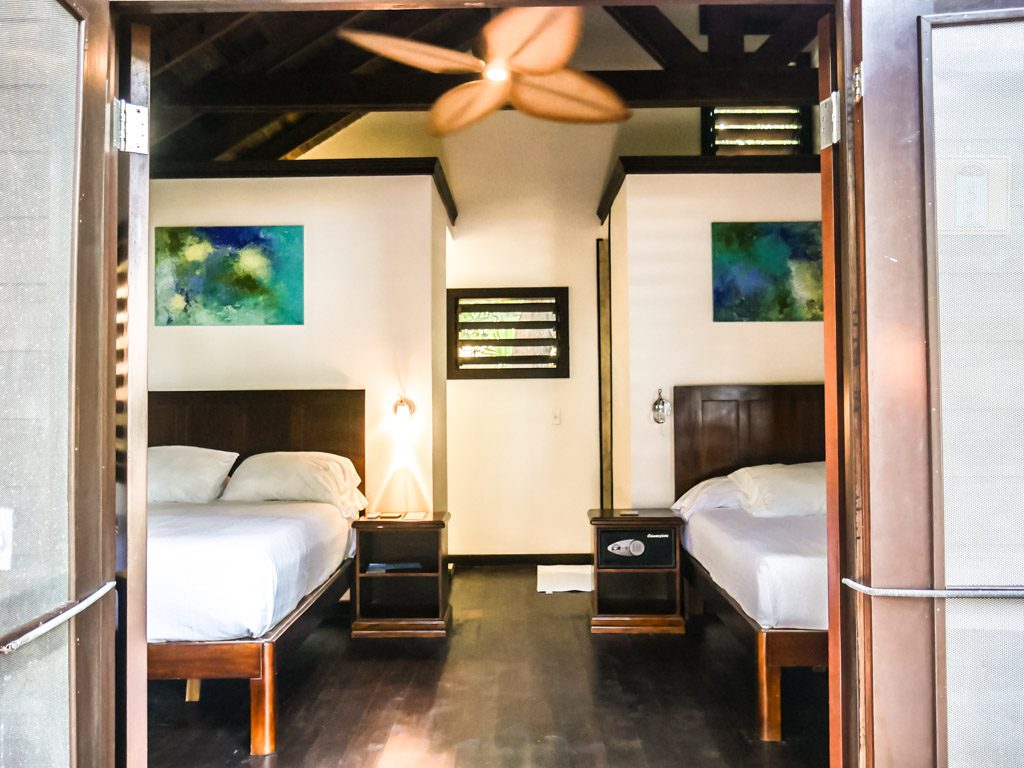 The bungalows at Puerta Azul are super pretty and comfy. I loved the natural wooden feel of the outside of the structures, as well as the inside.
Most are stand alone bungalows and one structure is a connected double, but there is plenty of privacy, especially with the flora that surrounds the rooms. There is also one casita on the front of the property that would be good for a family or group traveling together.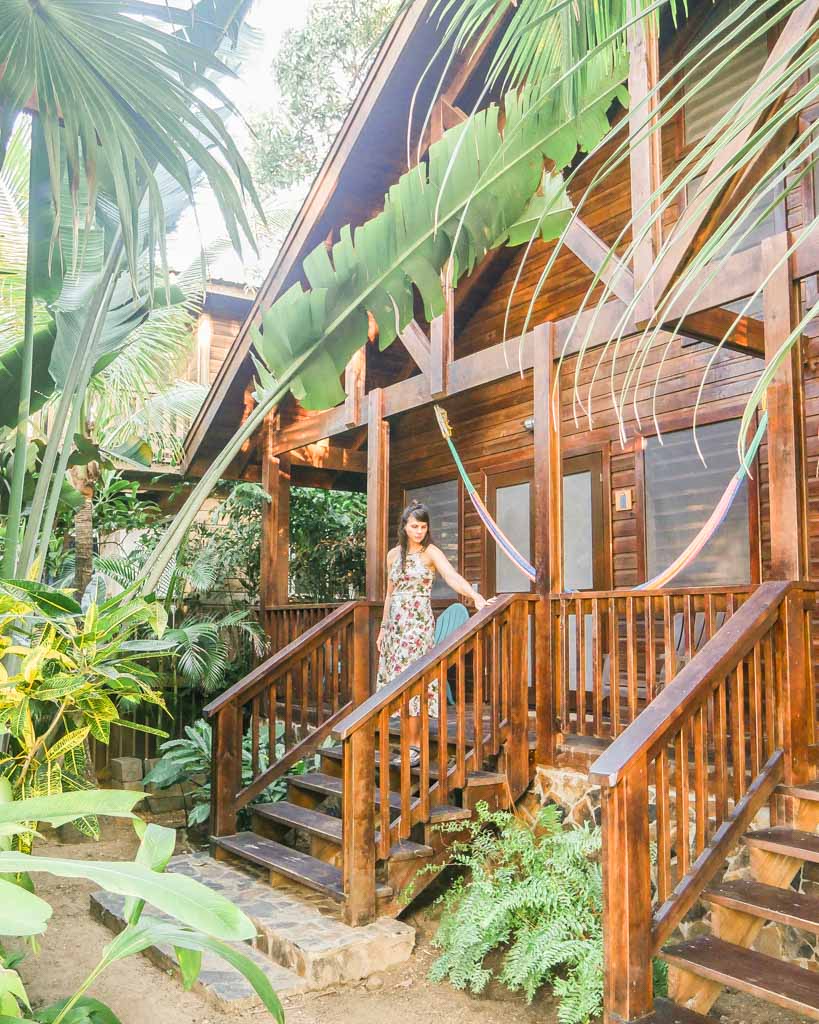 My room was spacious, with one queen size and one full size bed, plenty of space in between, and a roomy bathroom and shower.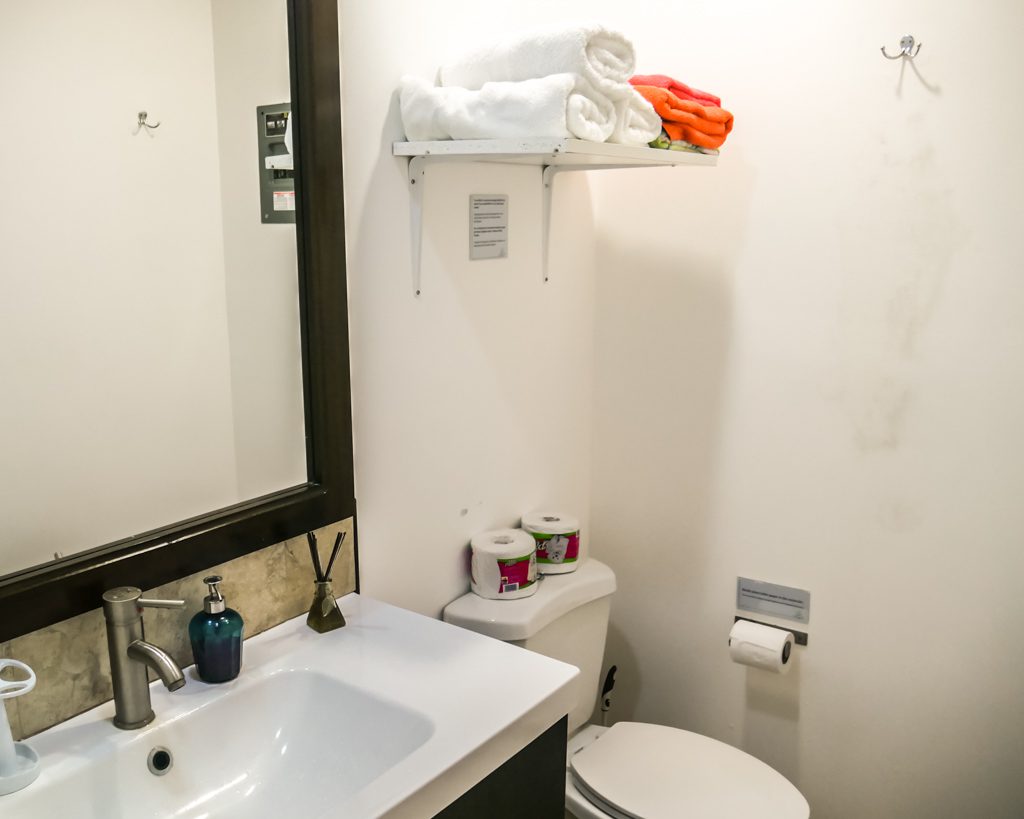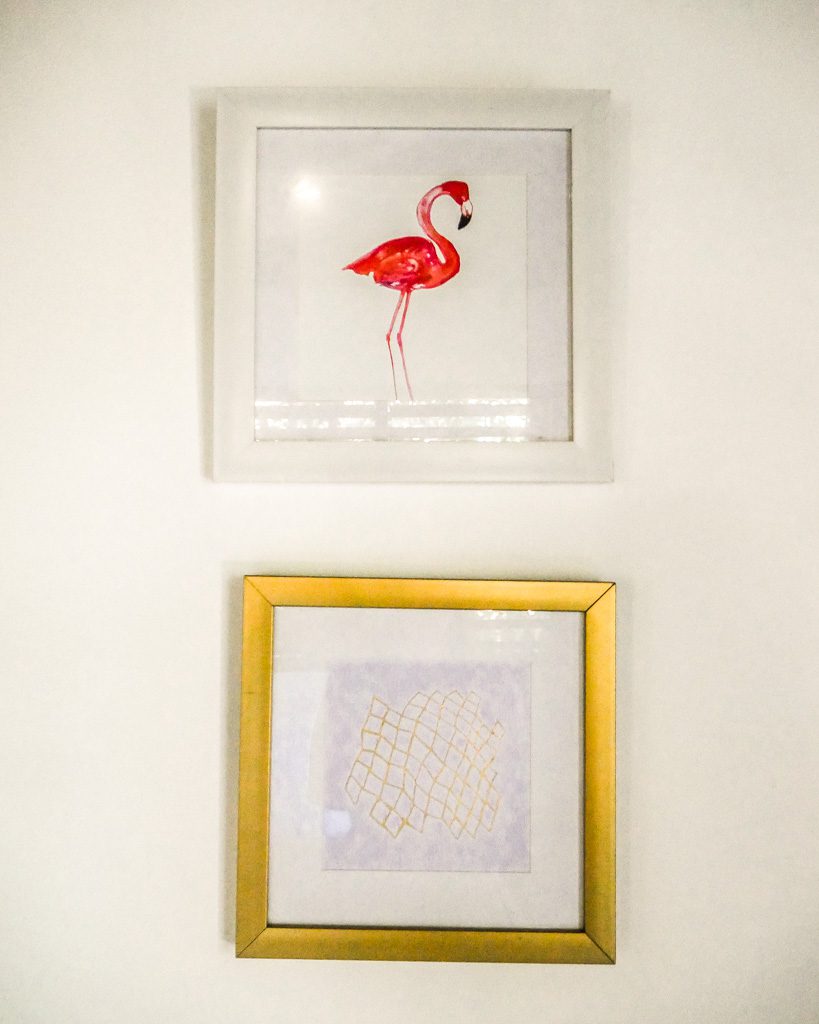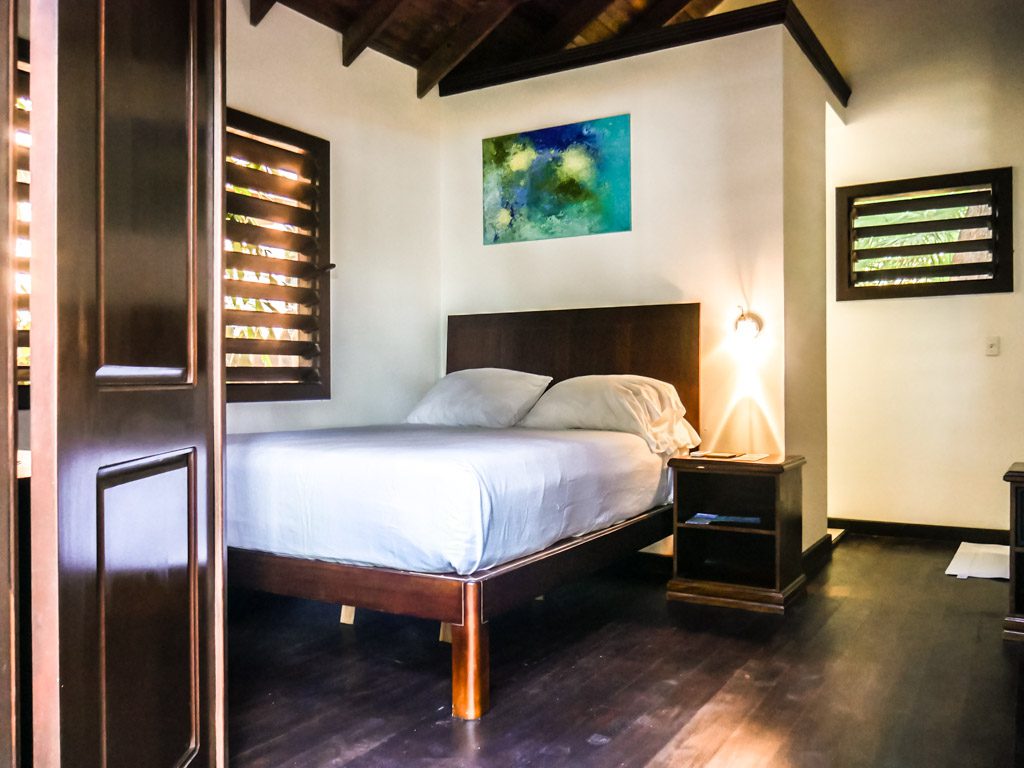 All the furnishings were well made and the design was chic and minimalistic. The vaulted wood ceiling makes the room feel super open and airy.
The Convenient Location: Roatan Hotel Puerta Azul
In my opinion, the location of Puerta Azul is perfect for enjoying the island of Roatan. It's close enough to the tourist hot spots of West Bay and West End that it takes only minutes to get there by taxi, but it's far enough that the grounds and beach at this Roatan hotel are totally chill and peaceful. I loved this.
I stayed in West End one night and didn't care for the loud and touristy atmosphere. I preferred to visit earlier in the day before many people arrive, or in the night for a nice dinner. I took shared taxis from Puerta Azul during the day and night back and forth to West End. It would only take 15 minutes or so and cost about $2-3/per person. From West End you can take a water taxi to West Bay and be there in just a few more minutes.
There are also some restaurants near Puerta Azul for a lunch or dinner closeby. And there is small market across the street for any essentials you might need.
Read my full Roatan travel guide for where to eat and what to do on Roatan.
Fresh & Tasty Breakfast: Roatan Hotel Puerta Azul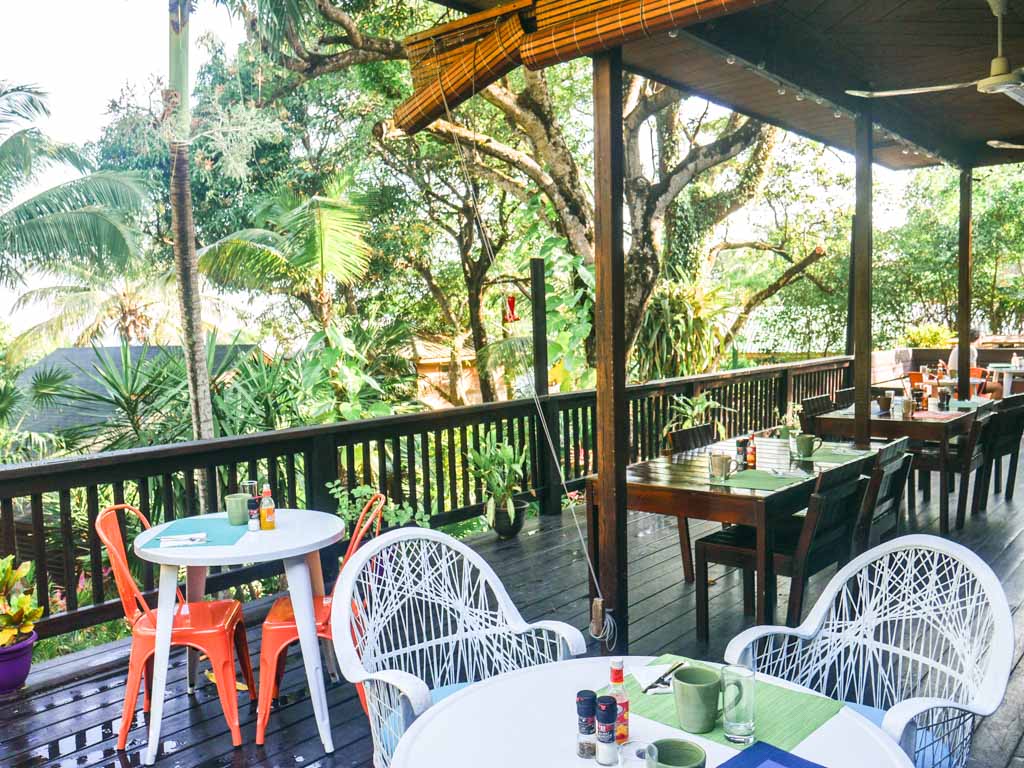 This Roatan hotel is a B&B, so a fresh breakfast is made for you every day. I was served on the giant raised deck overlooking the property. There is lots of room for many tables so it never felt crowded, and the view overlooking the palms and jungle below was a nice sight as I sipped my coffee.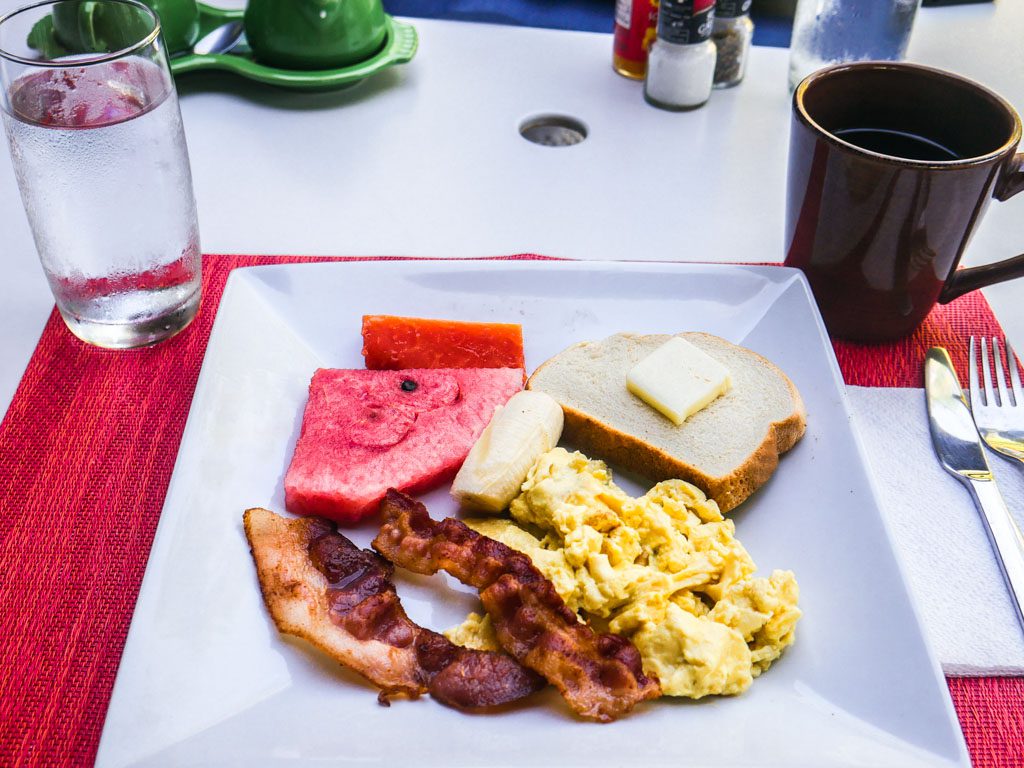 I was always served by Talia, the owner, and enjoyed chatting with her as she promptly brought out my coffee and water, and then my breakfast shortly after. The meals were different each day. They were simple meals but really tasty and were obviously made with fresh ingredients.
Free Use of Ocean Toys + Access to Kayaks and SUP Boards: Roatan Hotel Puerta Azul
Puerta Azul is stocked with all kinds of floaties (including the iconic pink flamingo floatie), inner tubes, and noodles for you to take out to the pier and enjoy an afternoon float in the water.
There are also snorkel masks and flippers to borrow if you'd like to swim out to the reef. If you swim out 100 yards from the pier, I was told you'd find an amazing reef, and no one else around. I didn't get a chance to see it, but heard it was amazing from other guests.
There are also kayaks and SUP boards that you can borrow and are asked to leave a donation for their upkeep.
Amenities: A/C, Wifi, Water, Kitchen: Roatan Hotel Puerta Azul
Puerta Azul has all the other amenities you'd need for a comfortable and luxurious island stay. The rooms are equipped with A/C. However, I never needed to use it. The screened windows, high vaulted ceilings, and powerful fans kept the room cool and comfortable day and night.
There is also wifi available in the rooms. This was important for me since I work online. It's not the strongest signal in the world, but I expected that on a Caribbean island. It was strong enough for me to do all my basic work, so it was no problem.
Free water is available at all times in the small shared kitchen. And this kitchen is communal if you'd like to keep food in the refrigerator or prepare a meal.
Final Thoughts: Roatan Hotel Puerta Azul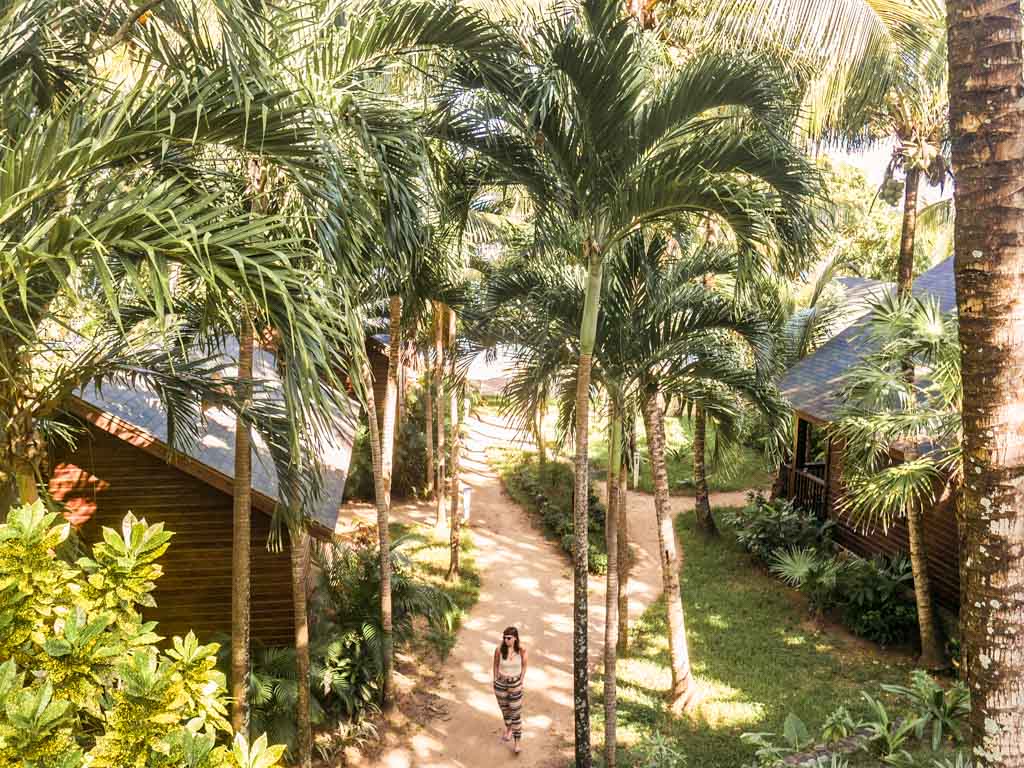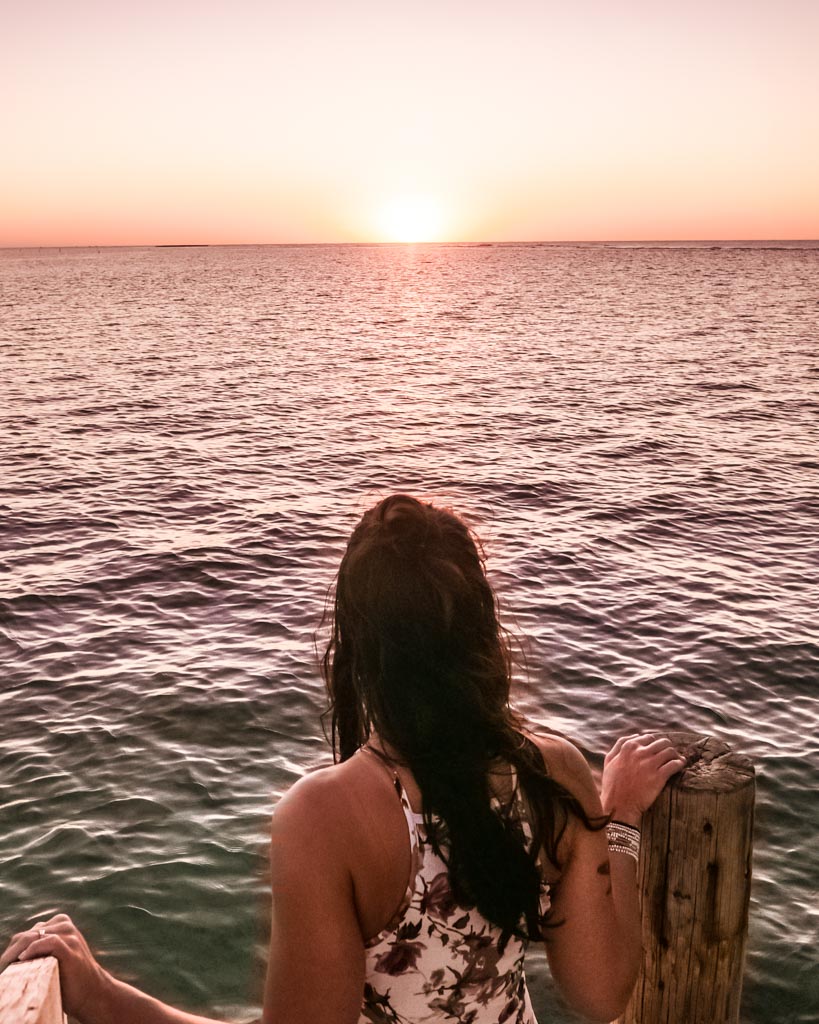 Puerta Azul was the perfect Roatan hotel to conclude my time on this lovely island. It allowed me to slow down, enjoy the gorgeous nature, and be close to amenities and restaurants.
I took some time to visit the nearby Carambola Gardens, visit West End beach in the morning before the cruise shippers arrived, take a water taxi to West Bay, and take a nearby yoga class. All of this was super close to Puerta Azul, and then I could escape back to this tranquil Roatan hotel for a quiet night tucked in the jungle.
My favorite part of this Roatan hotel is the beautiful pier. It was the perfect place to sit each night and watch the sunset over the Caribbean. The sky and water would turn all shades of pink, purple and orange. And since the pier is so long, you are really surrounded by it.
I'd definitely recommend Puerta Azul to anyone who wants a Roatan hotel that is close to the action, but feels like a tranquil quiet hideaway.
---
Hotel: Puerta Azul
Social Media: Instagram
Price: Varies depending on room & season. Check the booking link below for more details.
Includes: Breakfast, air conditioning, wifi, unlimited drinking water, free use of ocean toys/snorkeling gear.
Location: Located across the street from the Sandy Bay JAS carwash, near Lawson Rock
Contact: [email protected]
Reservations: Book here
If Puerta Azul isn't the right hotel for you, search Roatan Airbnbs and Hotels below: