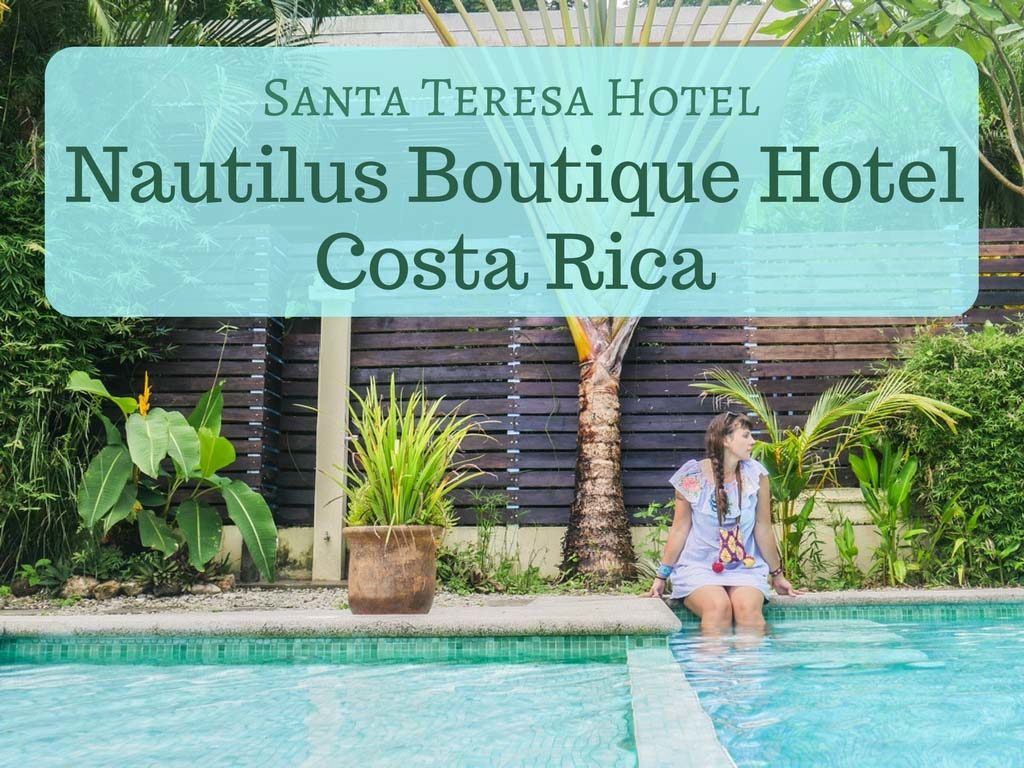 When I found Nautilus Boutique Hotel online, I knew they filled all 3 of my Santa Teresa hotel requirements:
◆Jungle plant overload
◆Central location to beach and amenities
◆Lots of cute details
So if you hadn't already guessed, I loved my time here!
I only had 9 days in Costa Rica, so I wanted to make sure that I made them count. But at the same time, I refuse to move to a new location every day or two anymore on a trip. I just don't think I really get to know a place that way, plus I feel like a zombie by the time the trip is over.
So I decided I would do a yoga retreat for 5 days and then would head to what I had heard was the coolest town on the Pacific - Santa Teresa, Costa Rica. It's known to be a mecca for surfers with a laidback hippie vibe. It definitely lived up to its reputation.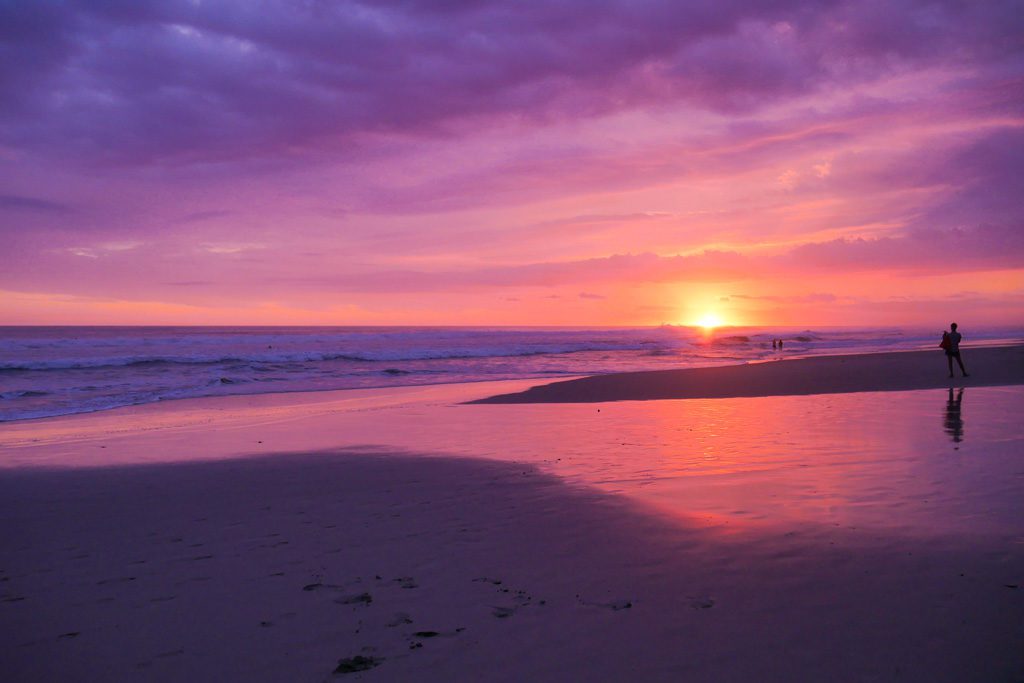 My home in Santa Teresa was Nautilus, and I really wish I could have stayed longer than 4 days. I felt like I only touched the surface in this area. Nautilus Boutique Hotel was a perfect oasis during those days. I was able to get work done when I needed to, and then make a short 5 minute walk to the beach or restaurants any time I wanted.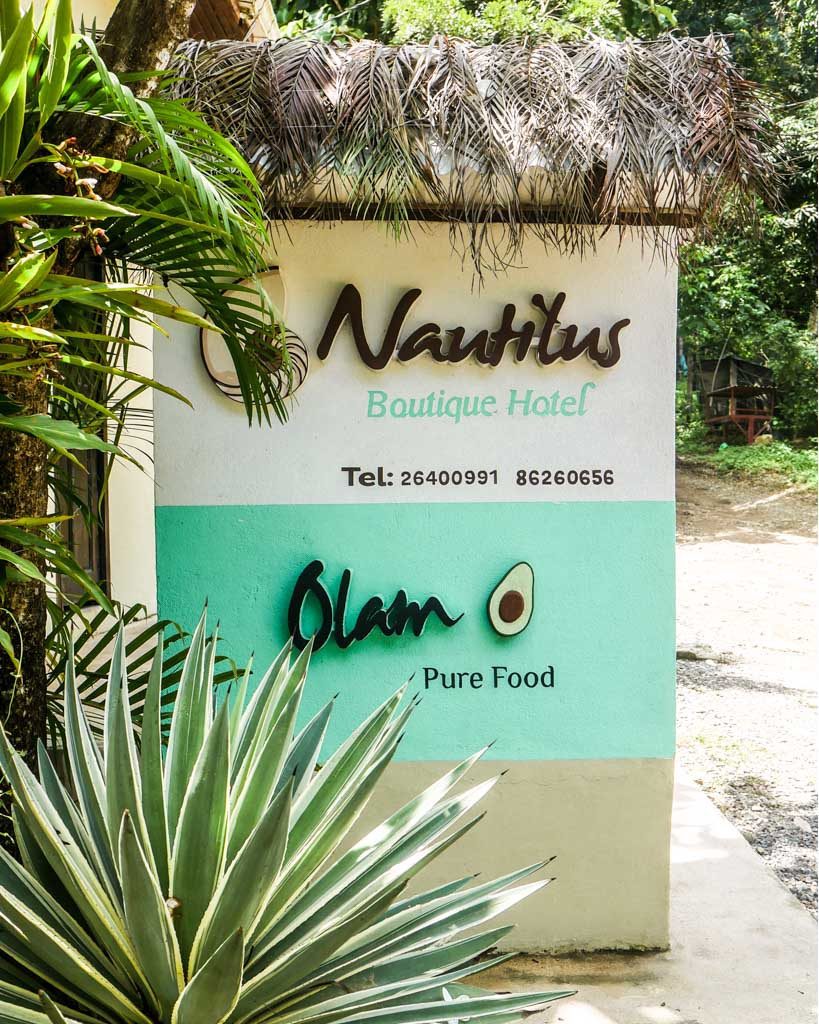 Nautilus - Santa Teresa Hotel Features
Lush Jungley Grounds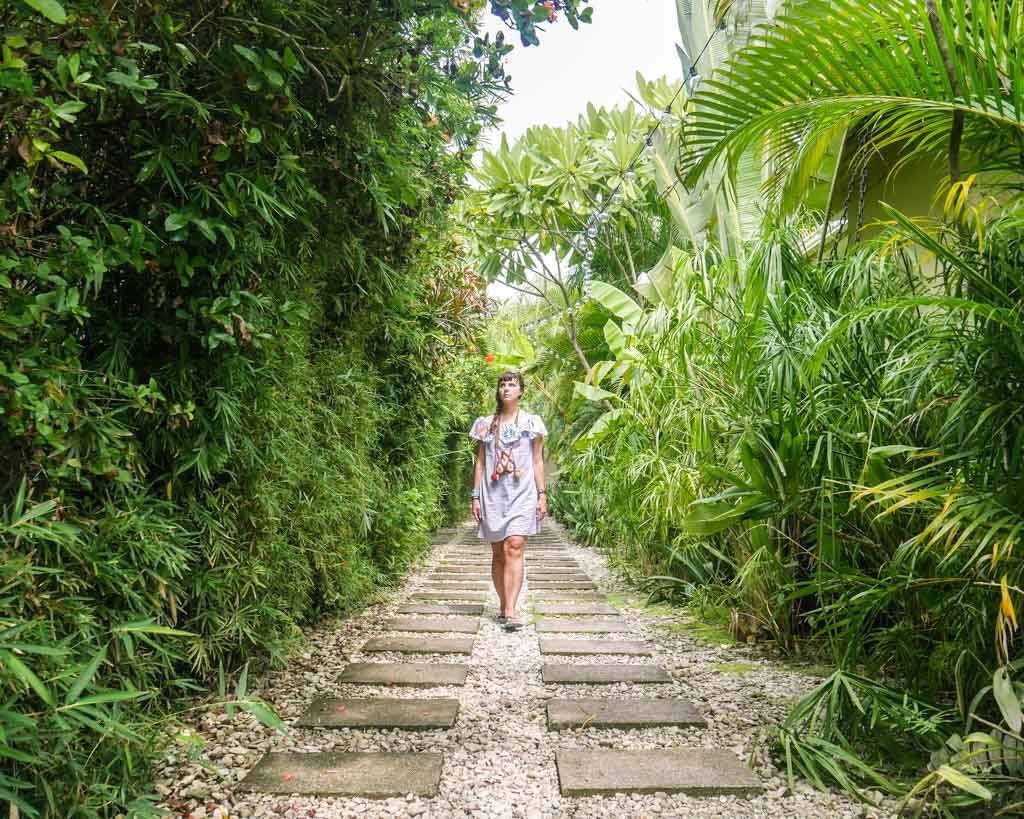 This is pretty much my favorite thing about any hotel, and Nautilus went above and beyond. This Santa Teresa hotel somehow made it feel like we were tucked deep in the jungle, miles from anything, yet we were only steps from the center of town.
The main pathway is the best example of this. It's a pretty stone path completely engulfed in ferns, palms, and every kind of jungley leaf you can imagine. And then pretty globe lights are strung in a zig zag pattern above. This makes the most dreamy walkway at night with the lights shining.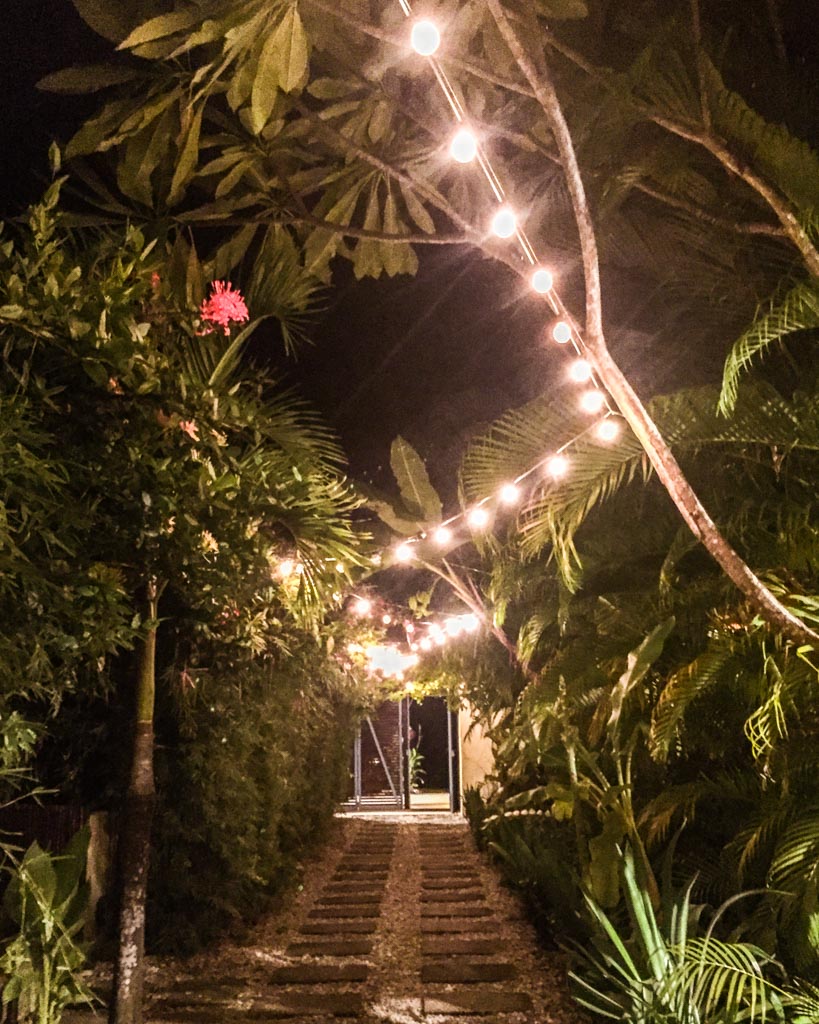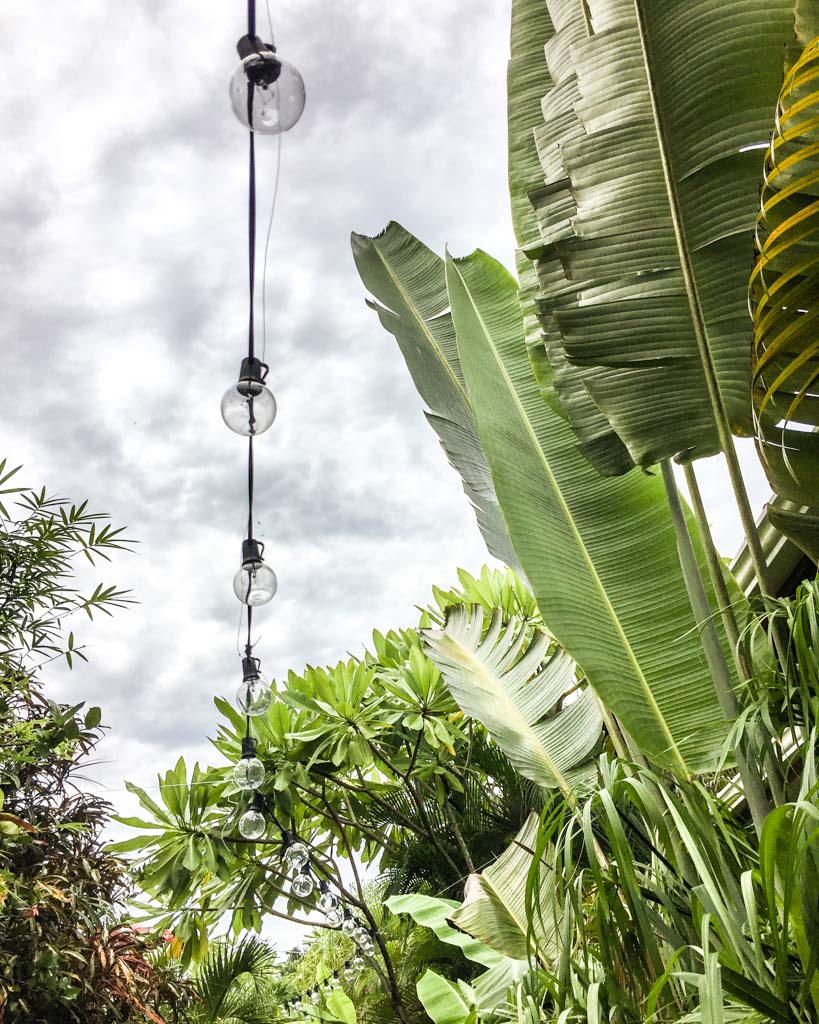 There are several small buildings scattered around the property that house the villas. Each villa is completely surrounded by foliage, so they feel completely private. My villa had it's own private porch with chairs and a hammock, but it was lined with greens, so I felt like I was in my own world.

Great Santa Teresa Hotel Location - Close to the Beach & Amenities
Location is always really important to me in a hotel. If you want to find a centrally located Santa Teresa hotel, I don't think you could do better than Nautilus Boutique Hotel. It's a 2 minute walk uphill from the main road, so it feels a bit quieter and secluded, but it's so easy to get anywhere. Once you walk down to the main road, there is a path to the beach directly across the street. You can be on the beach in 5 minutes from the Nautilus door.
Selina hostel is also right across the street once you descend the hill. This is a good place to get a drink, see some live music or grab some food. And if you walk in either direction down the road you'll come across lots of restaurant and a couple nightlife options. About a 5 minute walk down the main road to the south is the closest grocery store with a pretty decent selection of food, fruit, veggies, wine, beer, etc.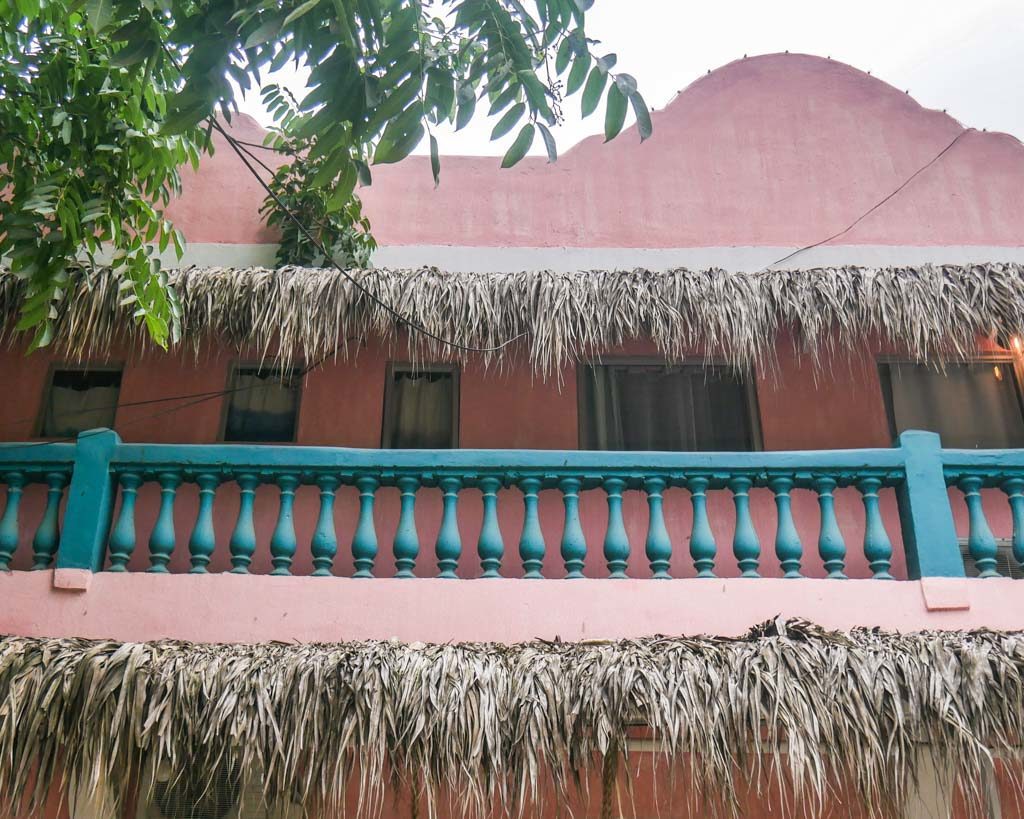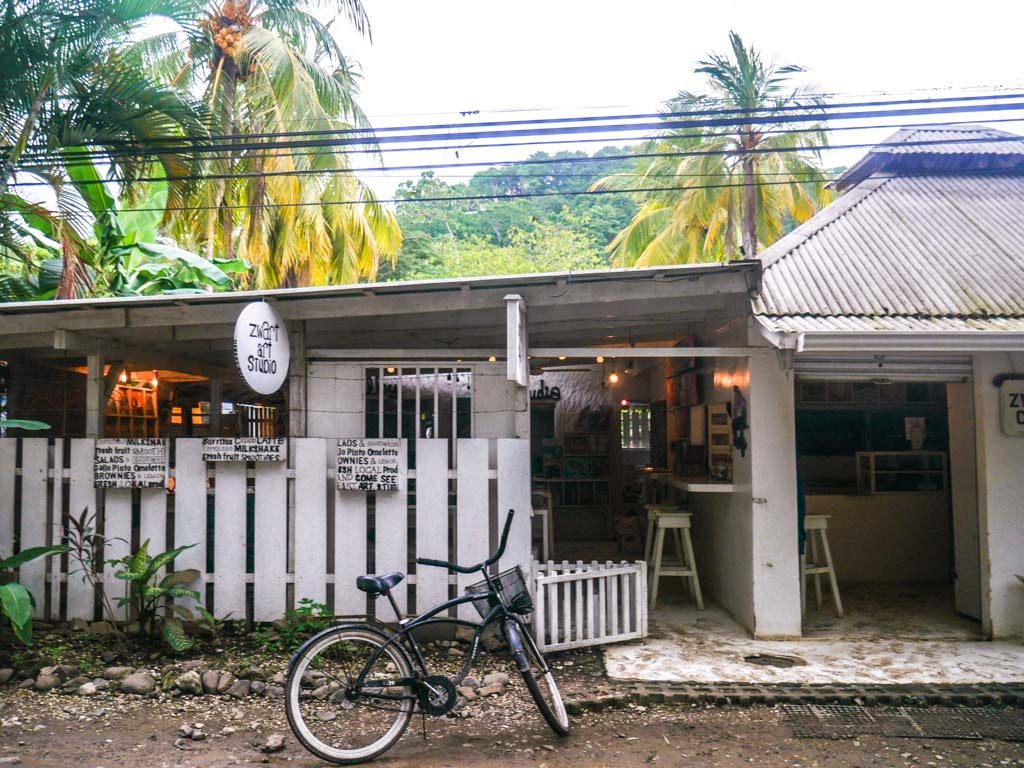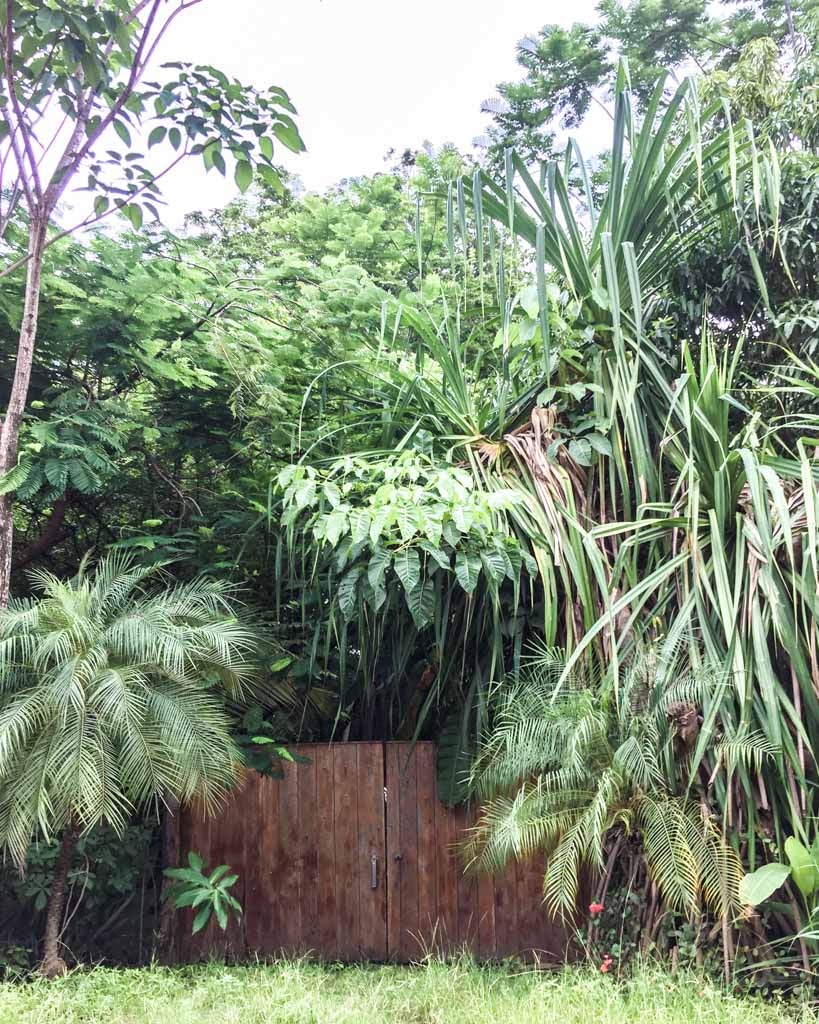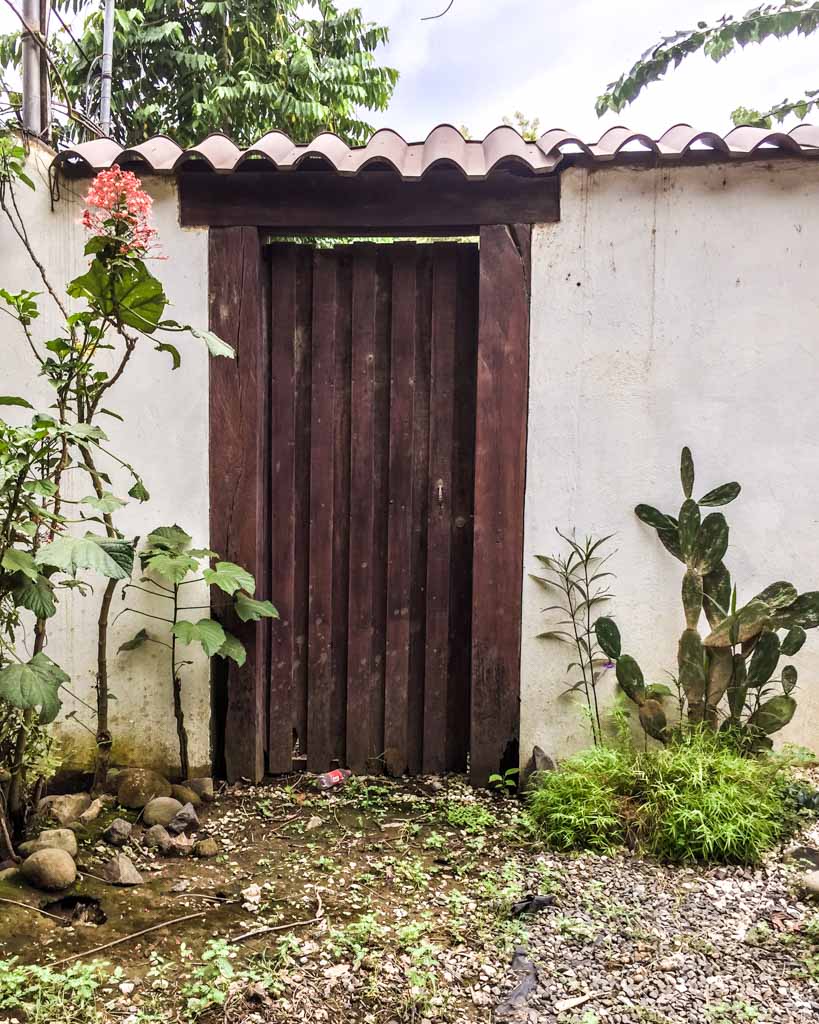 Beautiful Pool Area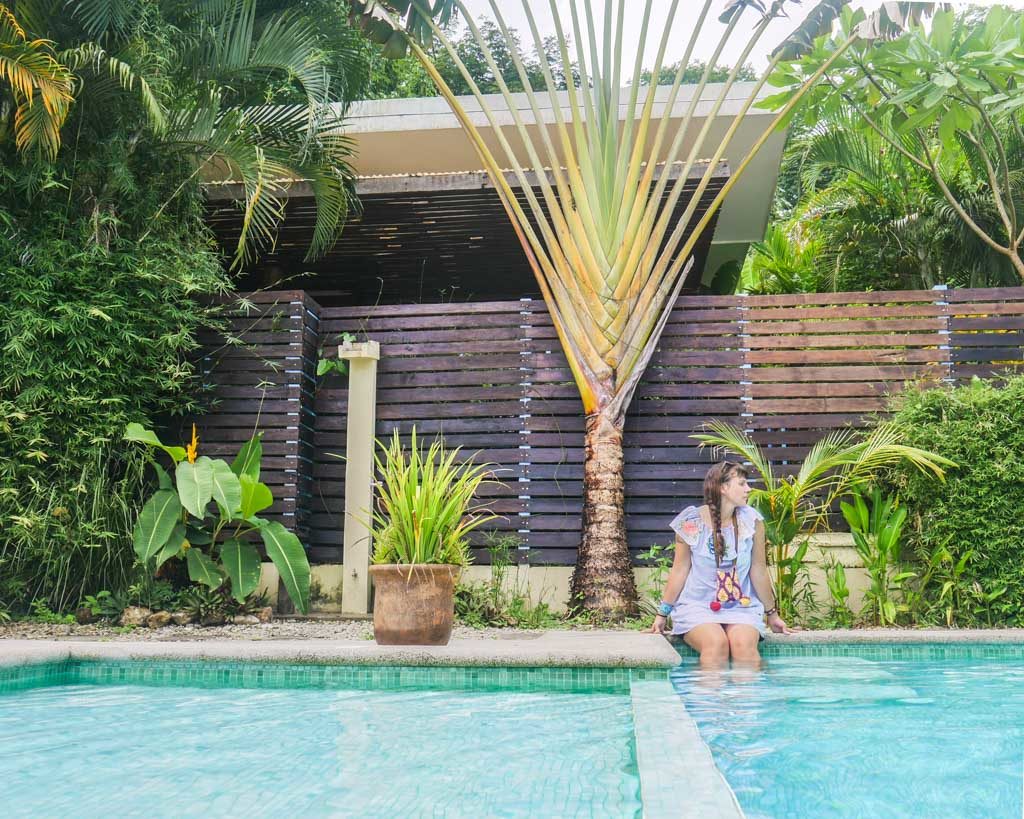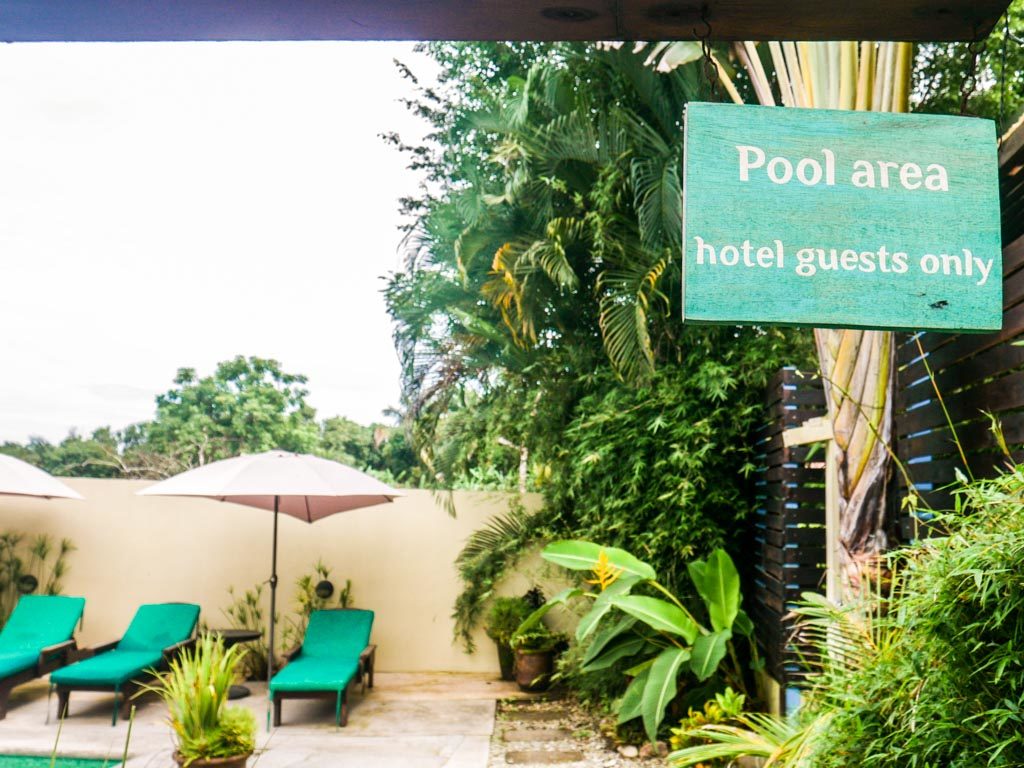 Who doesn't love a beautiful pool?? The one at Nautilus is done really well.
It's tucked in the back of this Santa Teresa hotel, so it feels private and secluded. In my 4 days there, I only saw one other person using it once, so it's very peaceful.
There are tons of pretty wooden lounge chairs to use, plus umbrellas to keep you protected from the sun.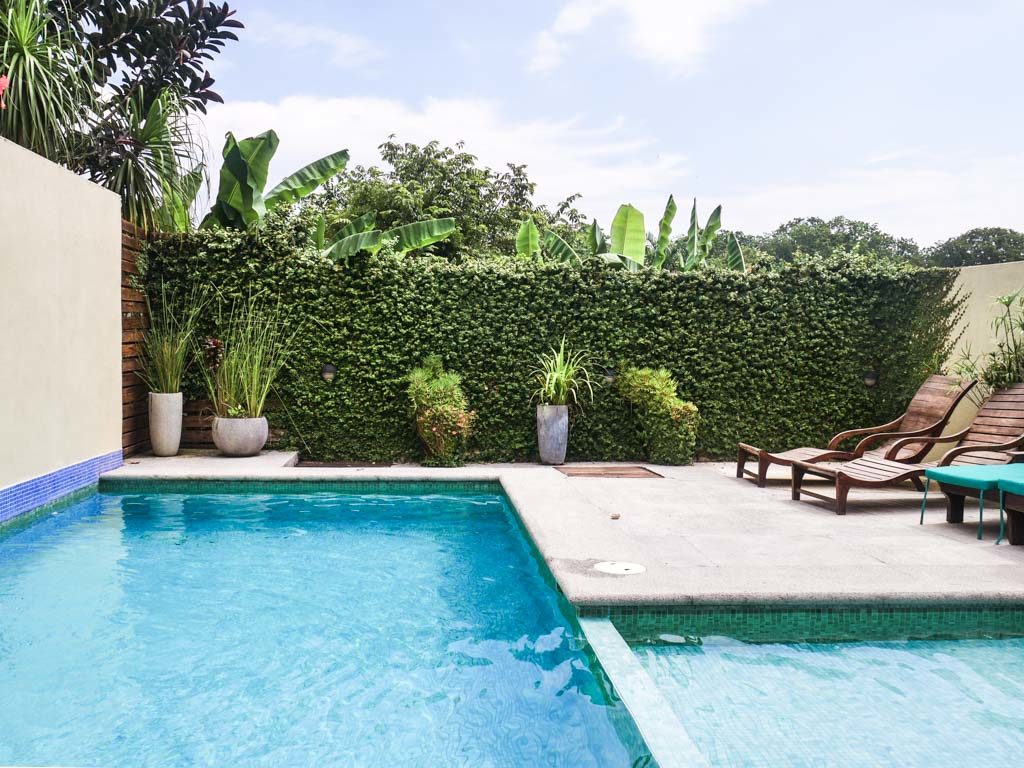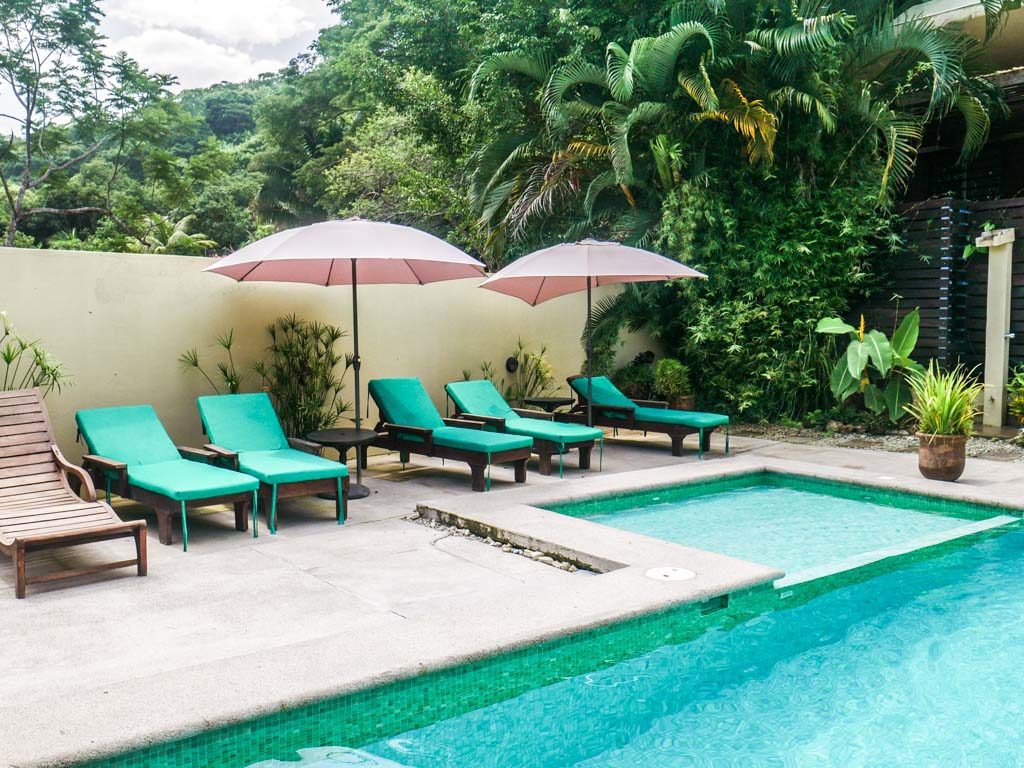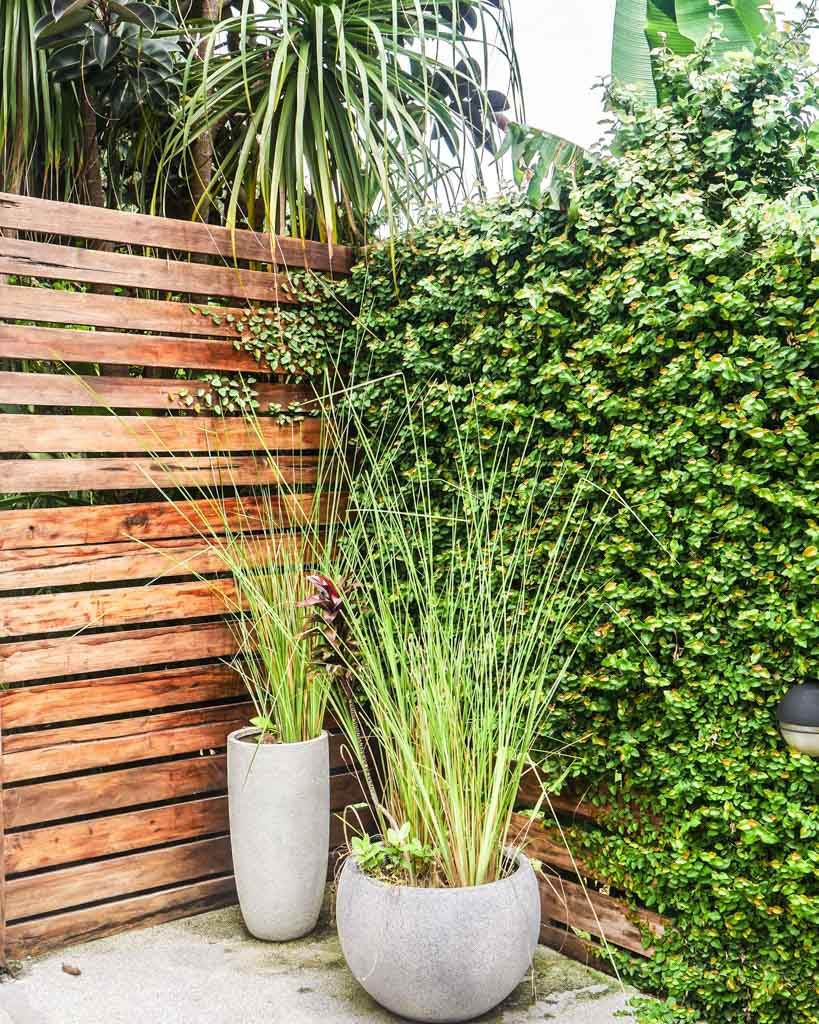 The pool is covered in tiny aqua tiles, and has a waterfall on one side. And of course there are tropical plants lining 2 sides to remind you that you're in the Costa Rican jungle.
Air Conditioning
The Costa Rica coast is hot. It's also humid, so you'll do your fair share of sweating. The pool is a great respite, but you also have powerful air conditioning units in each room.
I'm actually not usually a fan of A/C since I don't mind being hot. But it was nice to have during the times when I felt exceptionally sweaty after a long walk. Or if you're a sensitive sleeper, you'll be really happy to have this in your Santa Teresa hotel.
Hot Water Shower
The shower is nice, with good water pressure, a wooden floor, and plenty of hot water. Need I say more?
Great Complimentary Toiletries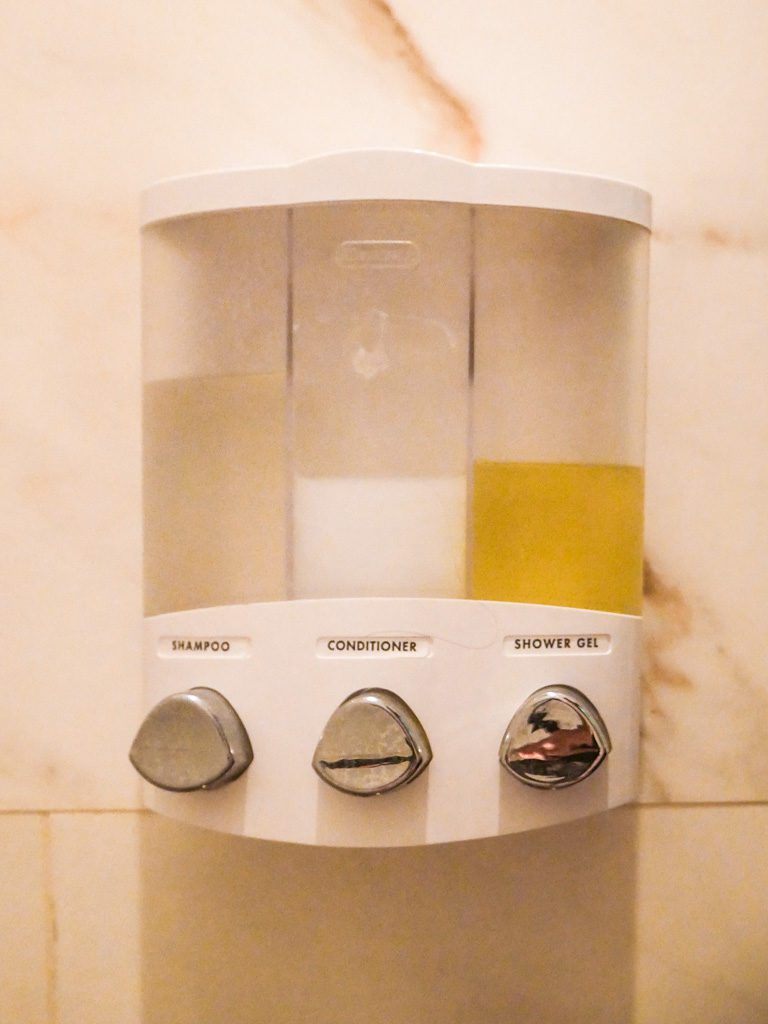 This is one of those little things that makes a big difference for me. I love some nice complimentary shampoo, conditioner and soaps that smell lovely and make me feel great each time I shower.
The complimentary toiletries at Nautilus were just that - they smelled so great - were really herbally but lovely.

But the thing I loved most was the way they were provided. Instead of those little wasteful plastic bottles that you will surely use a little of and then throw out - they have a dispenser in the shower that they keep full for your stay. That way you can use as much as you need, avoid the annoying bottles, and cut down on all that horrible plastic usage. Brilliant!
Helpful Staff
The staff at this Santa Teresa hotel was so warm and helpful. From the moment I booked the room, through my stay, they were always happy to help with questions or problem solving.
Rima, the manager, was a pleasure to email with before arrival. She helped me with any questions I had and was happy to help me arrange all the shuttle transportation I needed. She also helped us arrange a tour to Tortuga Island that I'll talk more about below.
Coty, at reception, was especially helpful too. She helped us rearrange some shuttles we needed, and answered any question with a smile.
Great Yoga & Studio On-Site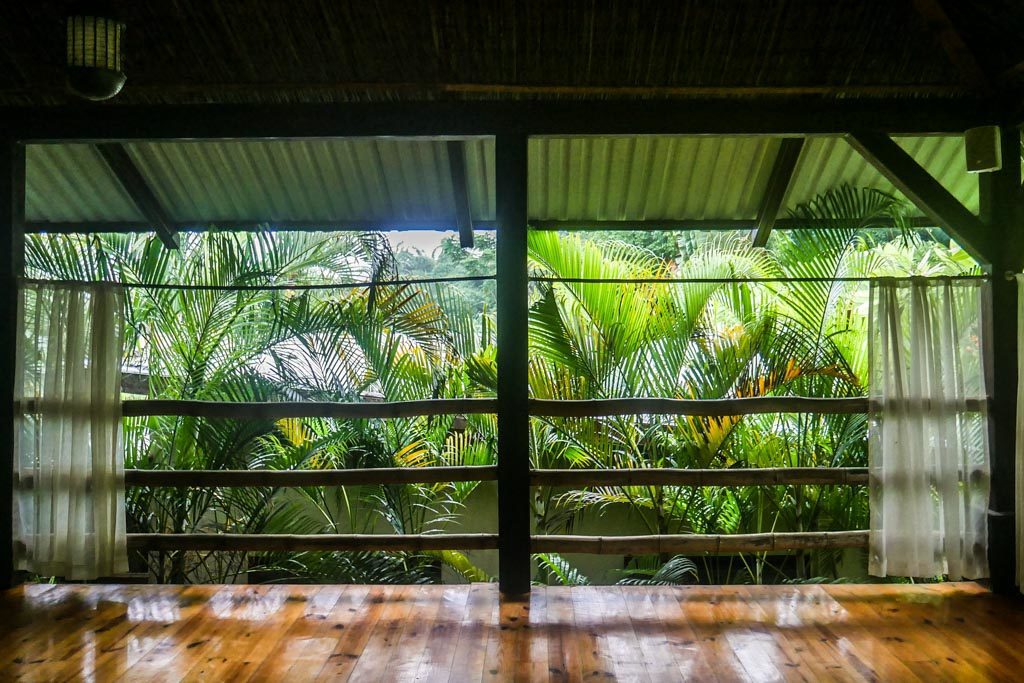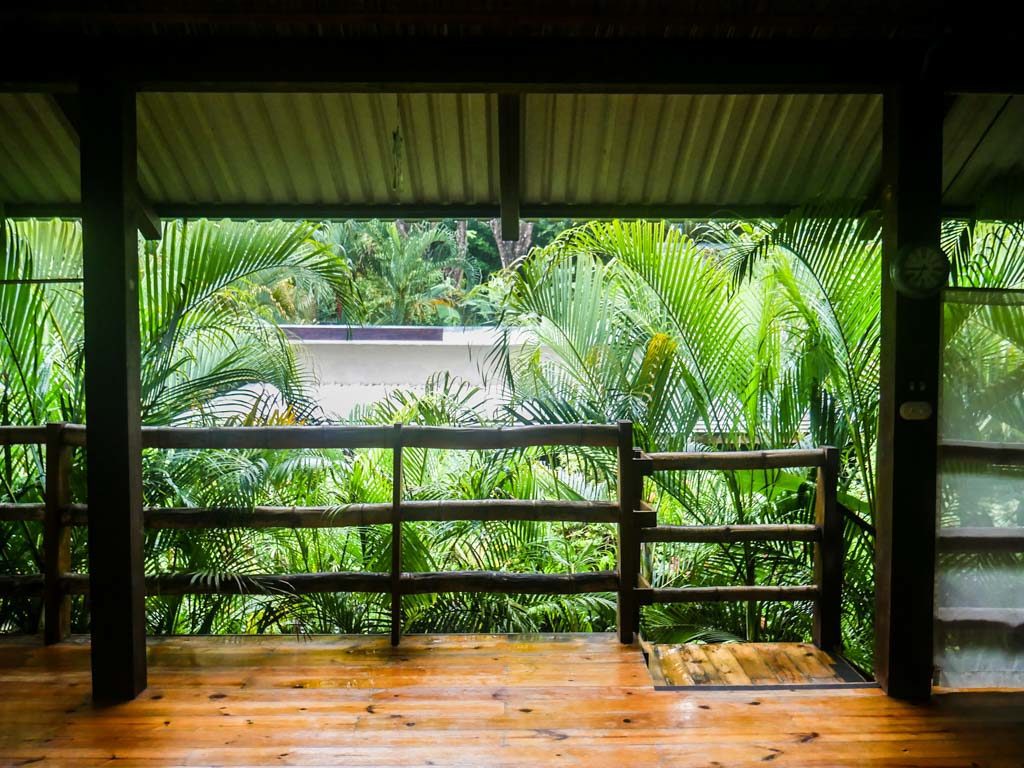 I had just come from a yoga retreat, so I was really motivated and excited to continue a consistent practice during my stay at this Santa Teresa hotel. I was in luck because Nautilus is known for their great yoga classes and beautiful studio.

Nautilus has a lovely "jungle studio" above the reception/restaurant. They do twice daily classes - morning and evening. I took the evening classes for 2 of my 4 nights there and had great experiences. One class was a pretty relaxed, restorative feeling class. The second class was a super challenging vinyasa class with an incredible teacher. I would have absolutely taken more classes there if I had more time.
The studio is lovely - it's a huge wooden loft area with open sides so you can gaze at the jungle foliage. The equipment is also plentiful and great quality. There are lots of good quality mats, blocks, straps, etc.
Healthy & Delicious Restaurant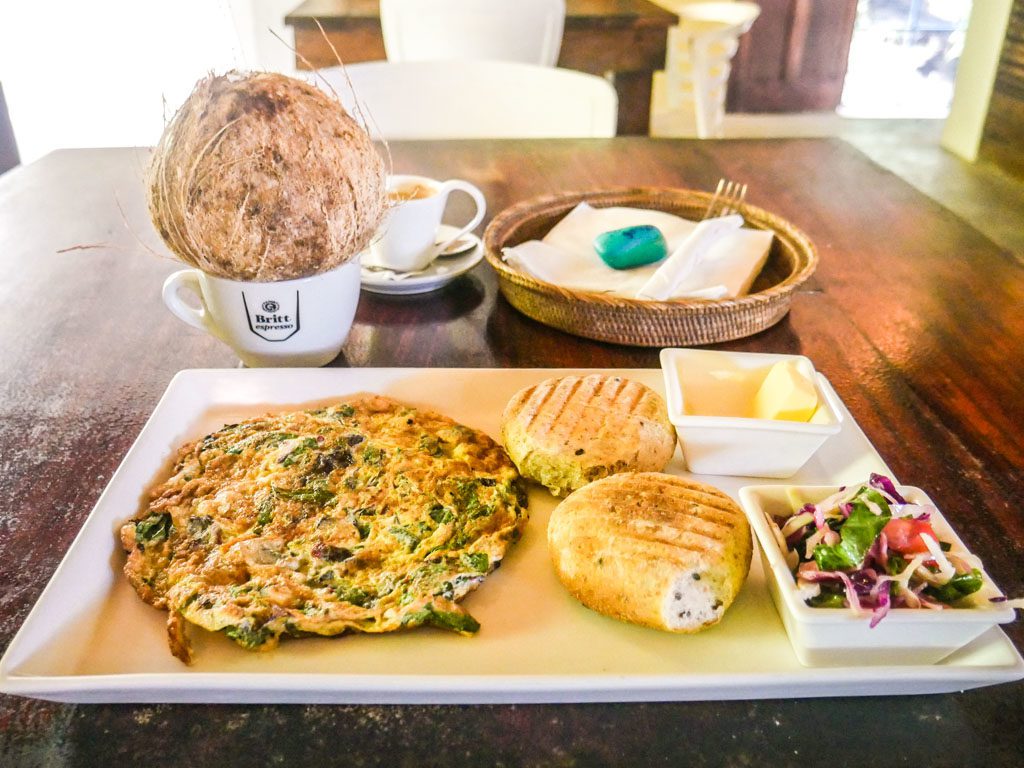 There is an onsite health food restaurant called Olam Pure Food. It's open for breakfast and lunch as well as dinner a few nights a week.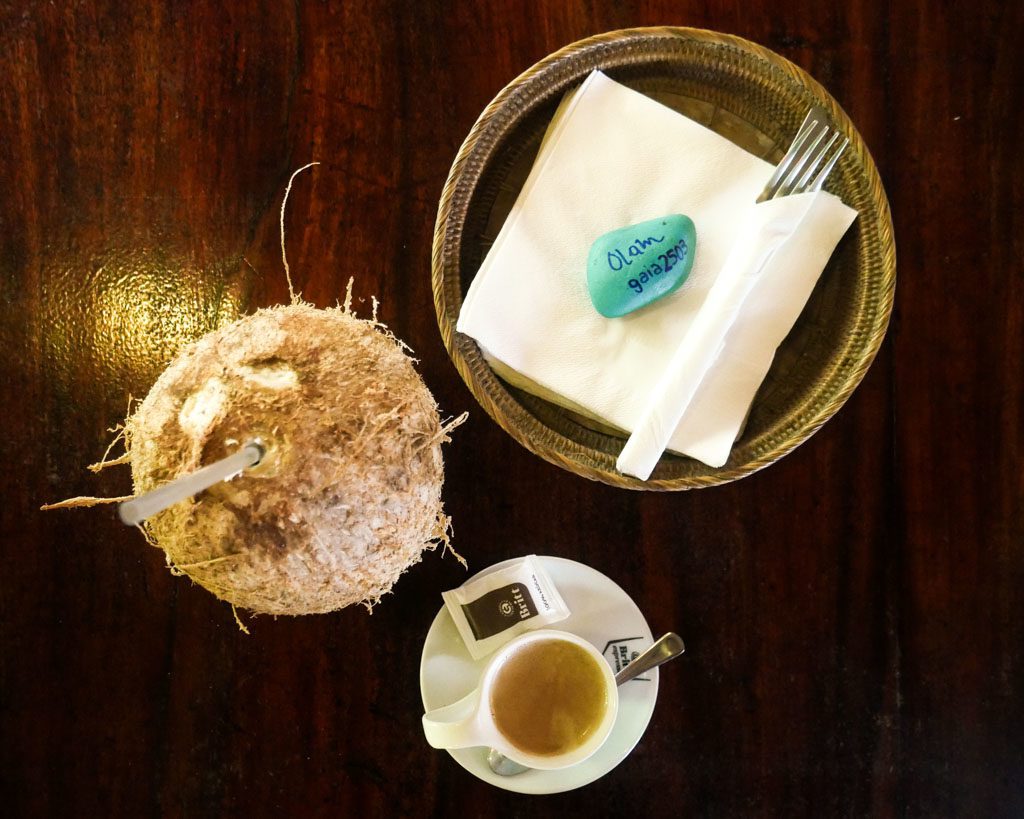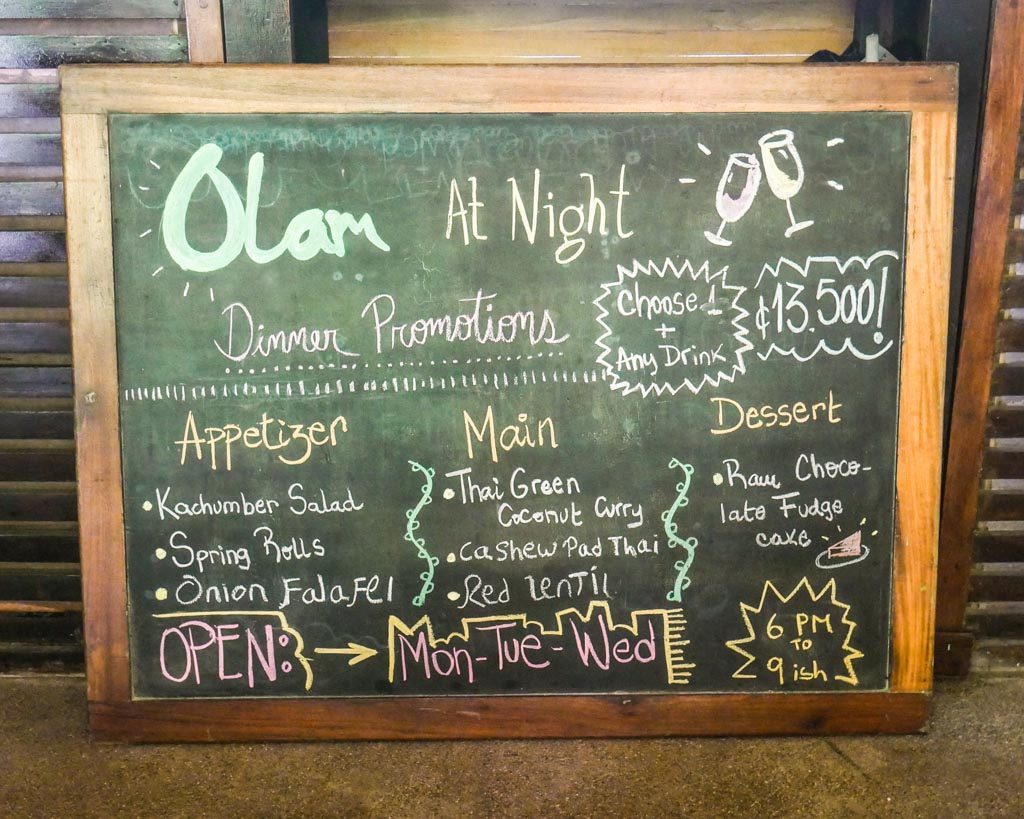 Don't let the "health food restaurant" descriptor scare you. The food is great. Everything I had was super fresh and well made. I had an espresso and a fresh coconut (out of the shell!) one morning and they were the perfect way to wake up. My omelette was well-made and included fresh veggies, it came with two fresh rolls with real butter, and a crisp veggie salad. I would have liked to have more meals here, but seemed to run out of time.
Large & Comfortable Villas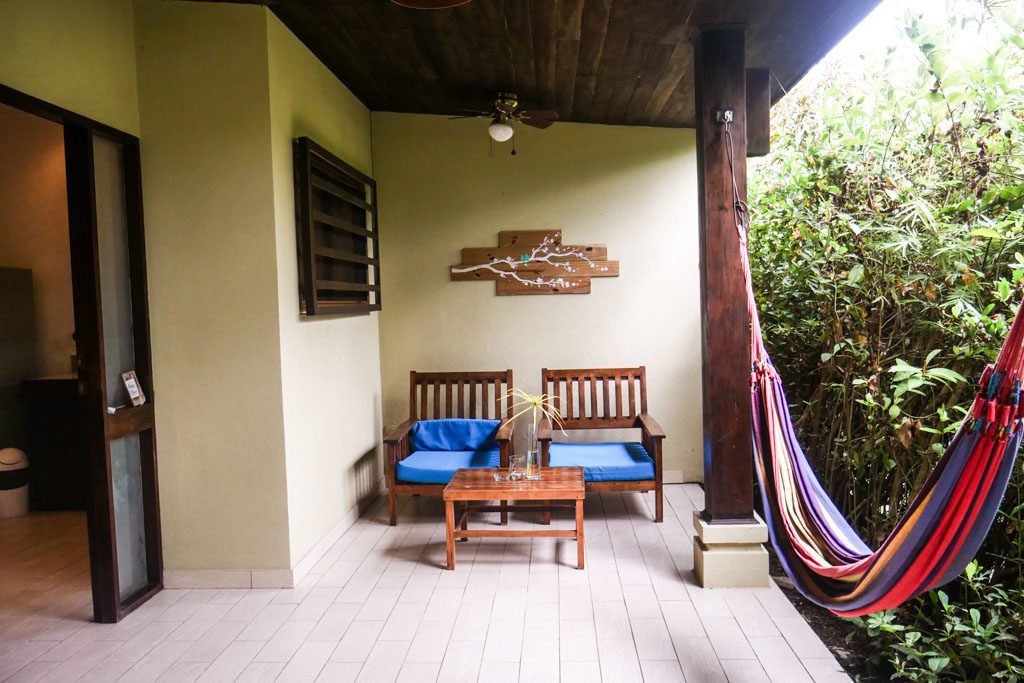 My villa was huge, comfortable, and had lots of cute details.
I stayed in villa 4 - a suite with a living room, kitchen, bathroom, bedroom, and lots of closet space. I felt like I had my own apartment!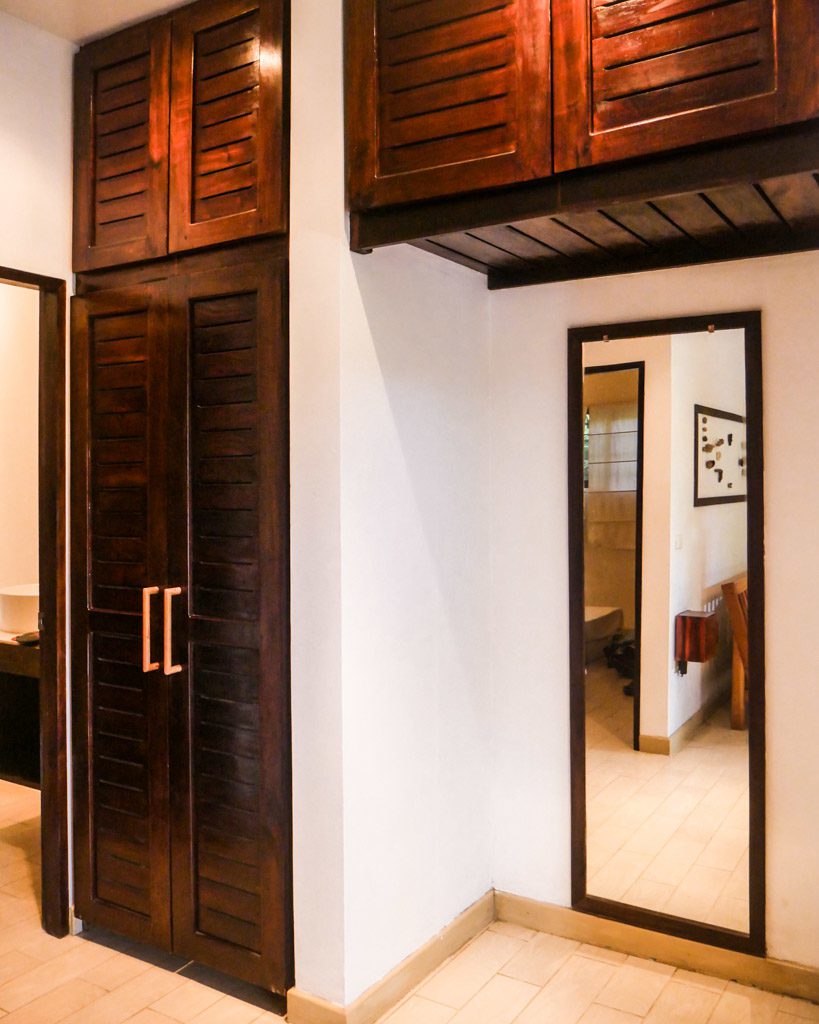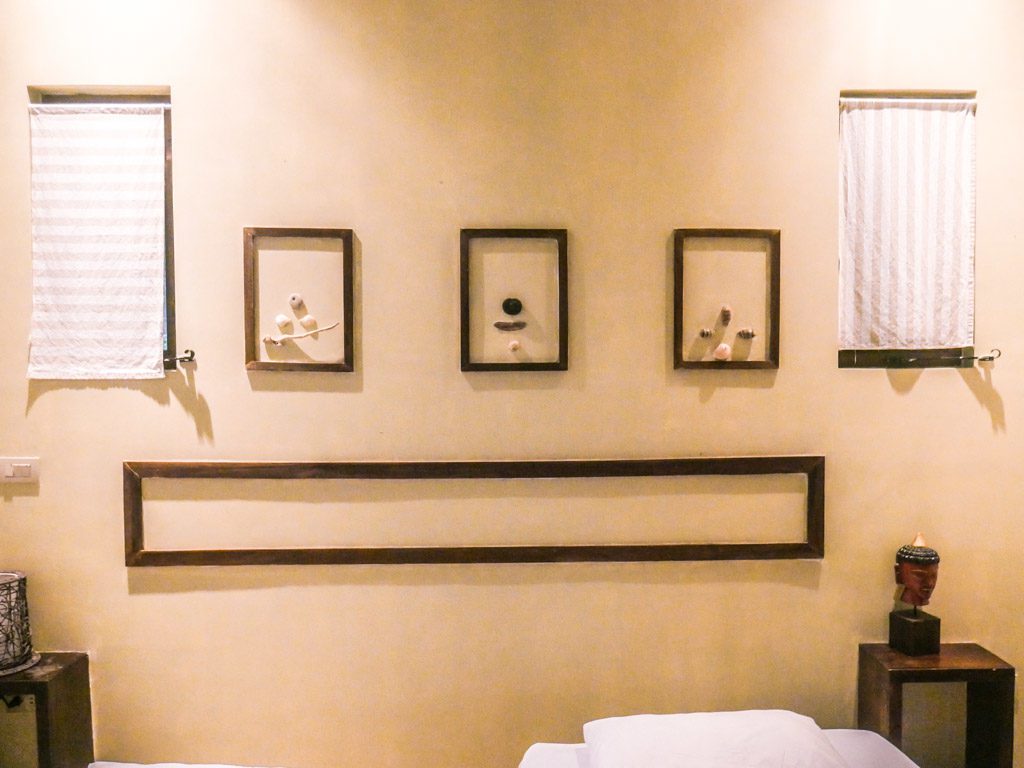 The room had two twin beds and a closet. There was another closet between the bedroom and bathroom, and a full length mirror - seriously, why don't more hotels have full length mirrors??

The bathroom was a good size. The sink had plenty of counter space which is always something that makes me happy. The toilet was modern, and the shower was large and well-designed.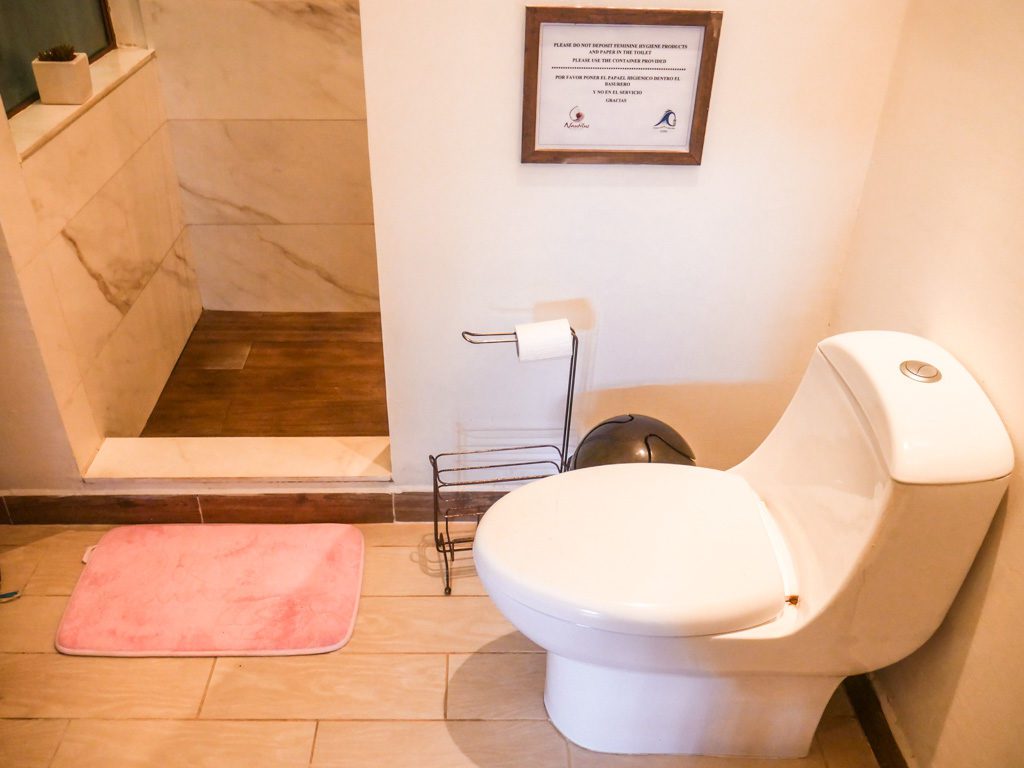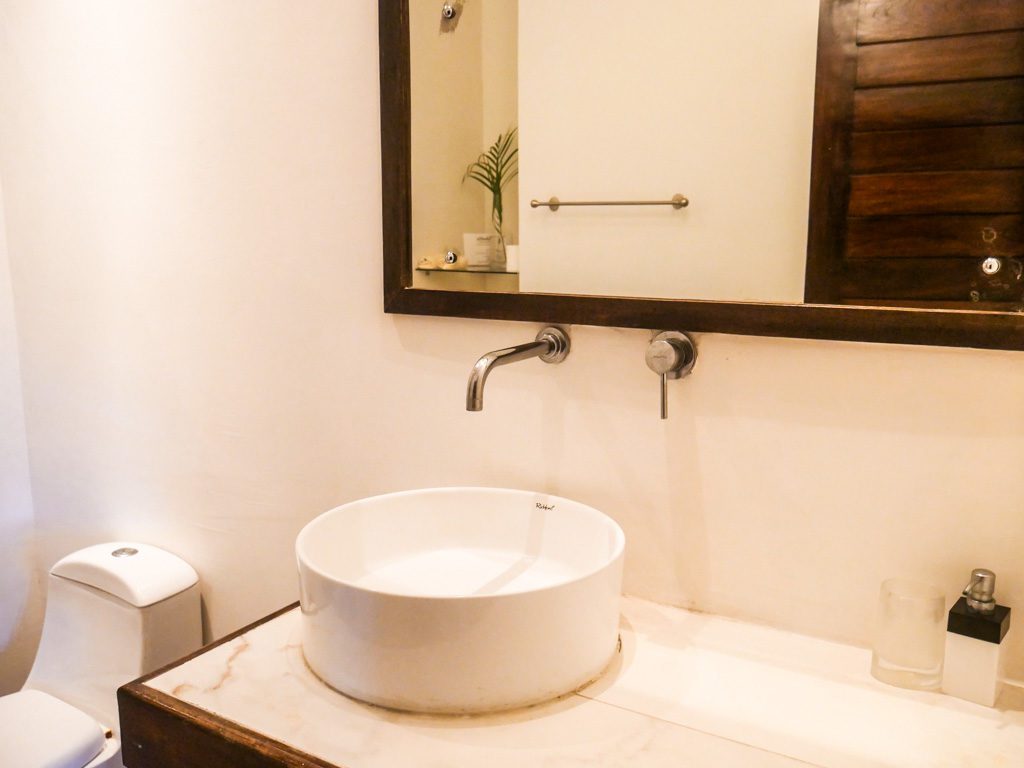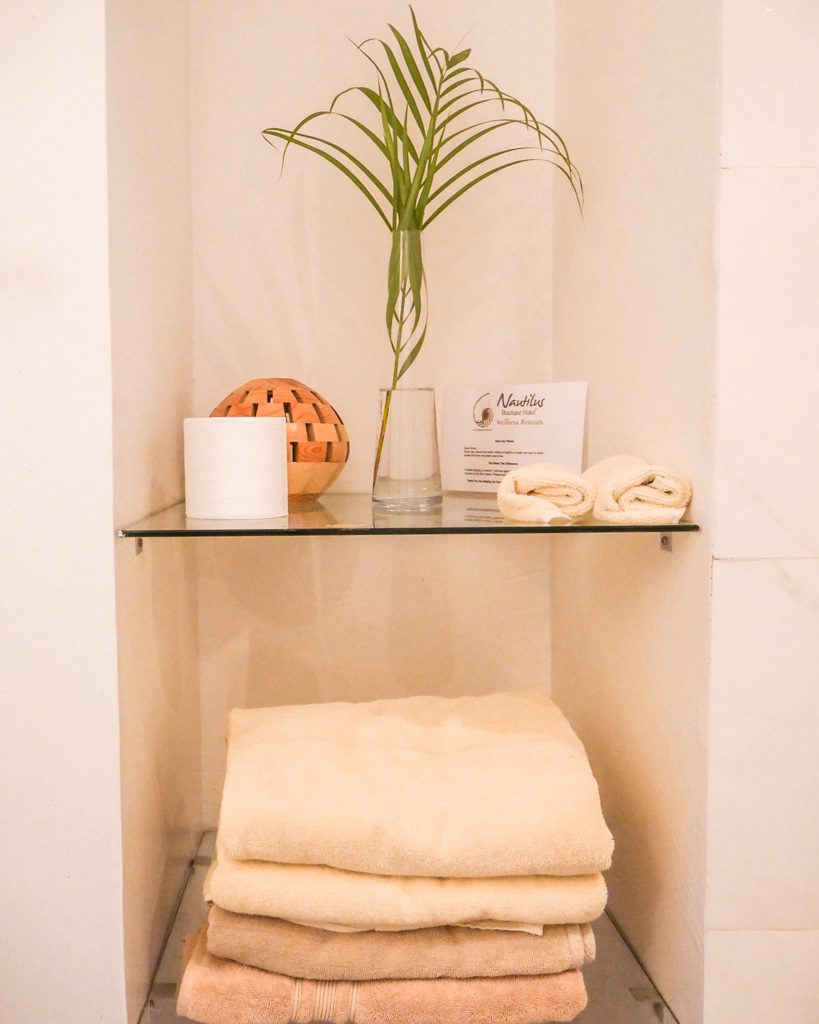 The kitchen included a small stovetop, a big refrigerator, basic dishes/utensils, a sink (with sponge and dish soap! Nice to have everything you need), a coffee maker, and a toaster. I only used the kitchen for some snacks, and leftovers, but it seemed you could easily cook some simple meals here in this Santa Teresa hotel. Always a nice touch when you're traveling.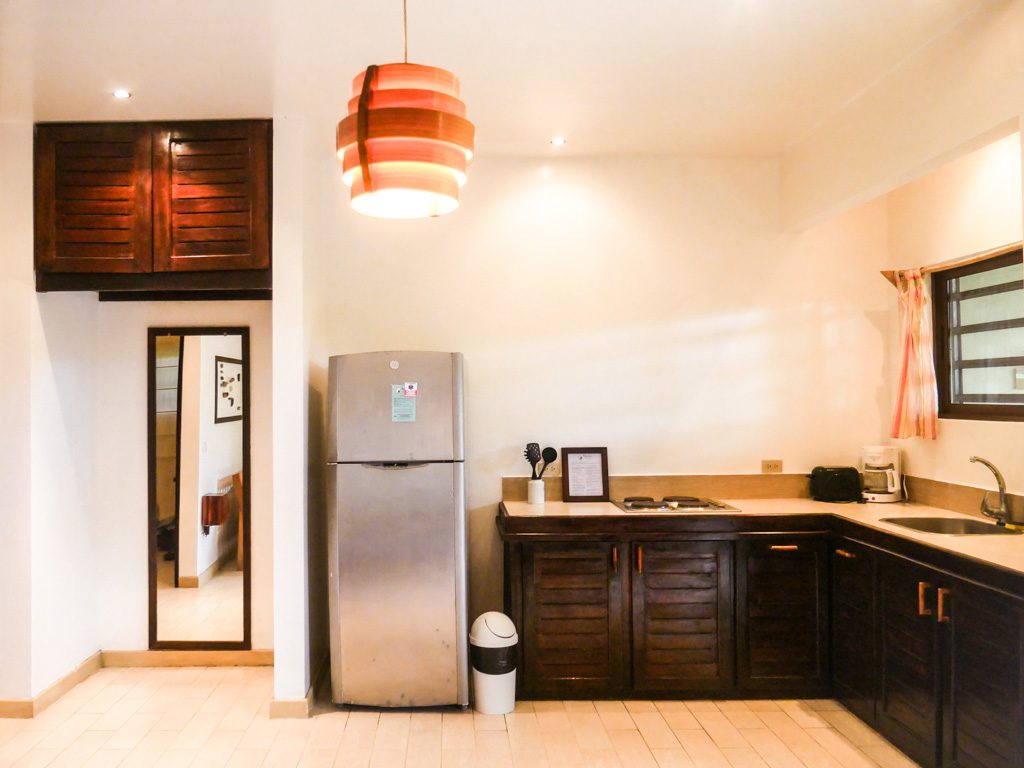 The living room is adjoined to the kitchen, but is large in itself with a big couch, coffee table, and tv.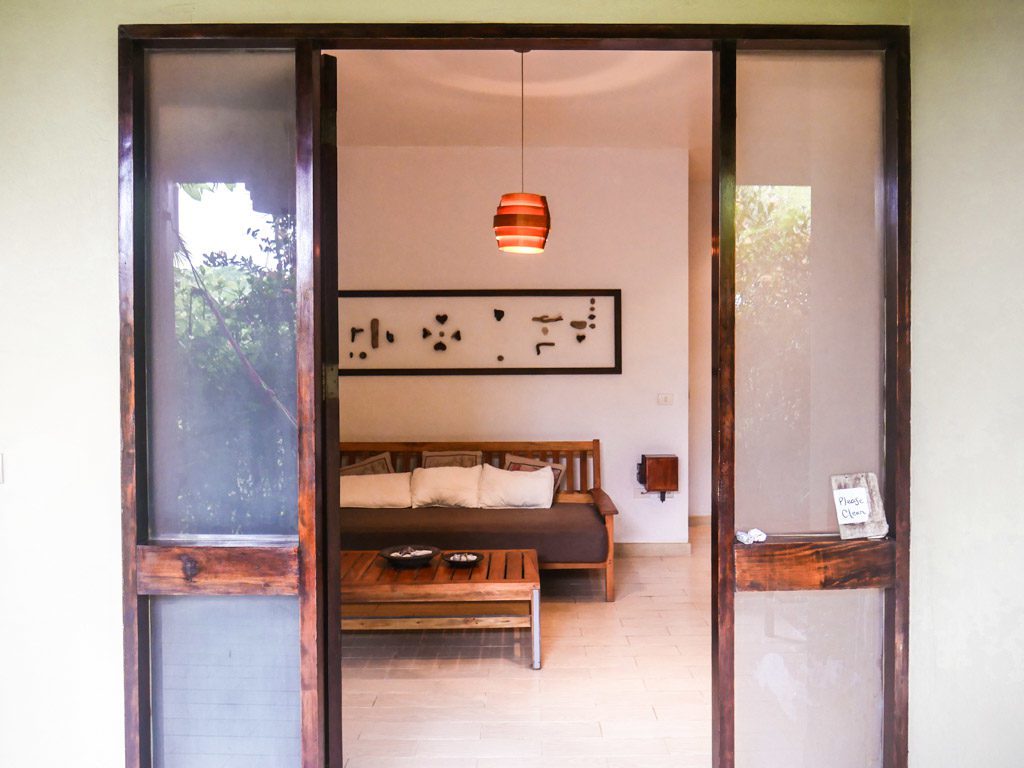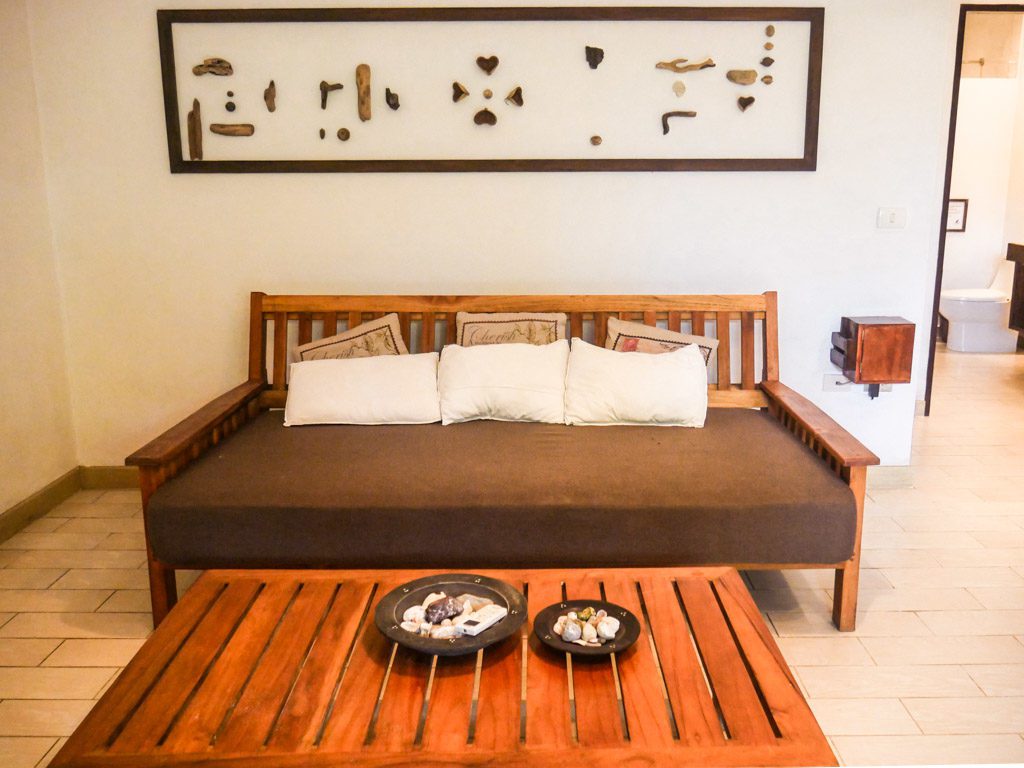 Good Wifi
I am always worried about wifi - since I work online as I travel - but I never had an issue here. As with almost anywhere in Latin America, you can't expect it to be as fast as maybe a major city in the US, but it was consistent and worked fine for me here. I was able to get all the work done that I needed while I stayed at this Santa Teresa hotel.
Day Tour to Tortuga Island with Cocozuma Traveler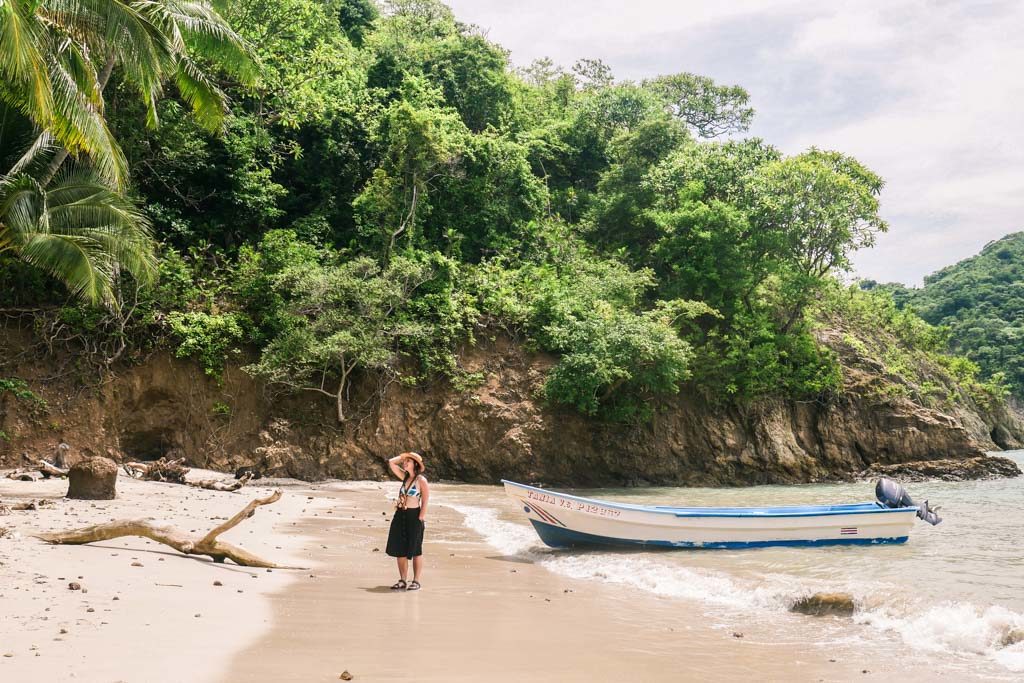 During our stay at Nautilus we had the pleasure of taking a day tour to Tortuga Island with Cocozuma Traveler. This is a great tour to take if you want to have a relaxing day to see the coastline of the Nicoya, do a little snorkeling, and relax on a tropical beach for the afternoon.
We started off our day tour with Cocozuma Traveler by heading to Montezuma. This little town was surprisingly charming and I wish I had more time there. After grabbing an espresso and a smoothie while we waited for our boat, we met up with the rest of our tour group and grabbed our boat in the town's beach cove.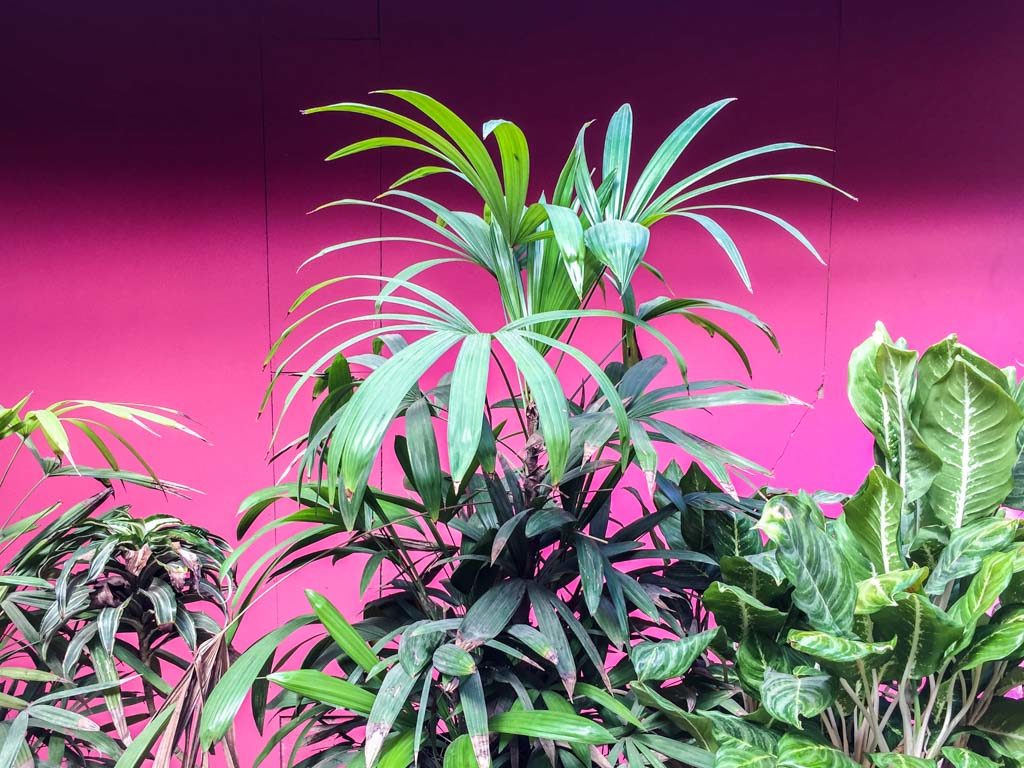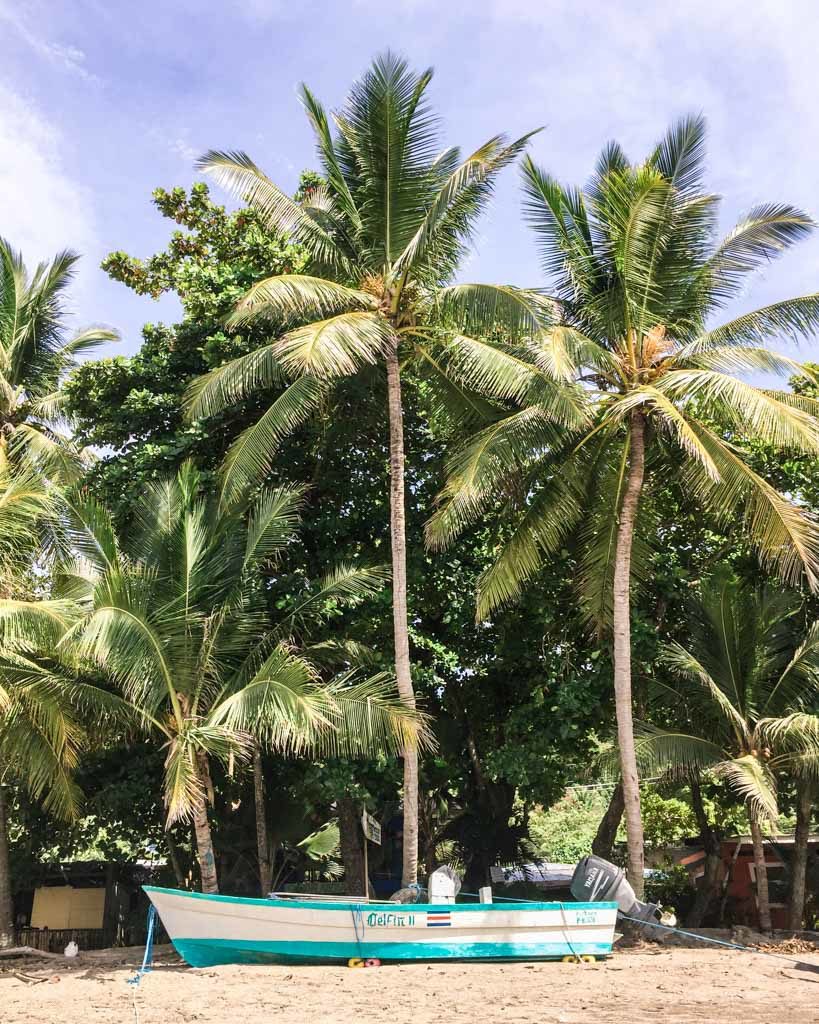 My Favorite Part - #OnABoat: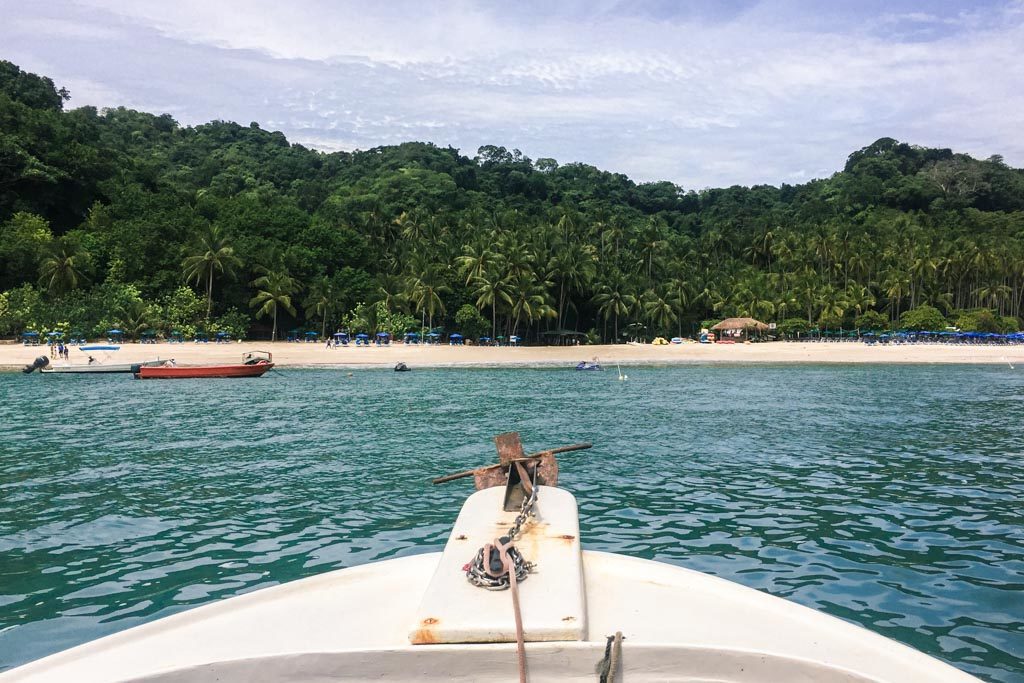 Our boat was somewhat small, so we were able to all get a good seat to watch the picturesque journey to Tortuga Island. I'm a little biased because I absolutely LOVE being on boats, but this was my favorite part of the tour. The ride to and from the island follows a gorgeous coastline that looks like it's out of a deserted island movie. We passed jagged coastlines with dramatic cliffs, tall waterfalls in the distance, and tiny little scattered islands and rock formations.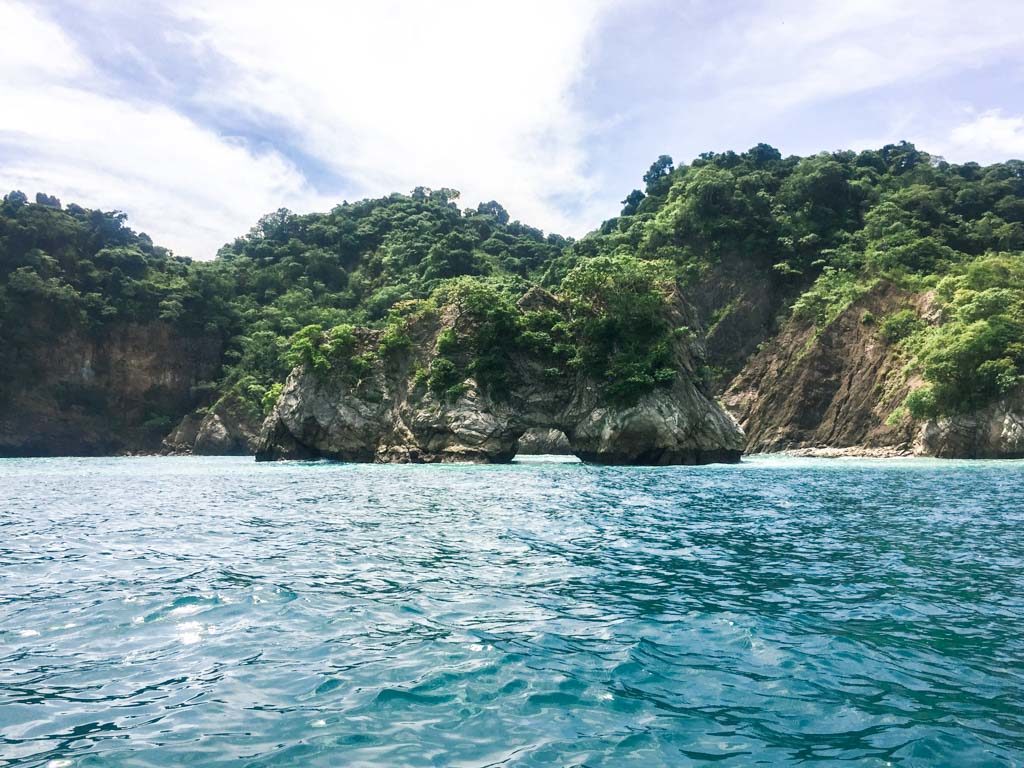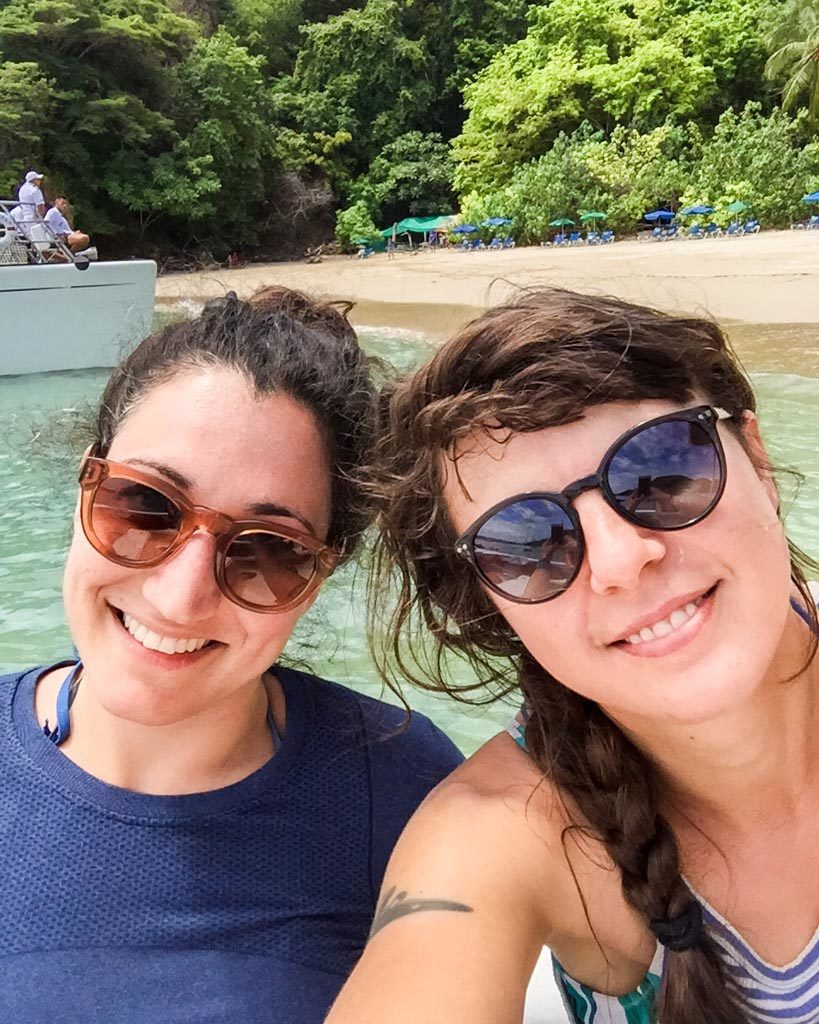 We weren't able to see turtles at Isla Tortuga, but we did see some popping up in the ocean from the boat. The driver quickly noticed them, stopped our boat and waited while we watched them.
Snorkeling:
We then went on to our snorkel portion of the tour. I believe they normally do one snorkel portion, head to the beach, and then offer another snorkel opportunity later. But because of the weather that day, they had us do both snorkel portions together in the beginning of the day.
Both snorkel opportunities were around some rock formations a few minute boat ride from Tortuga Island. Unfortunately the water visibility wasn't great the day we went, but I was still able to see some beautifully colored vibrant fish.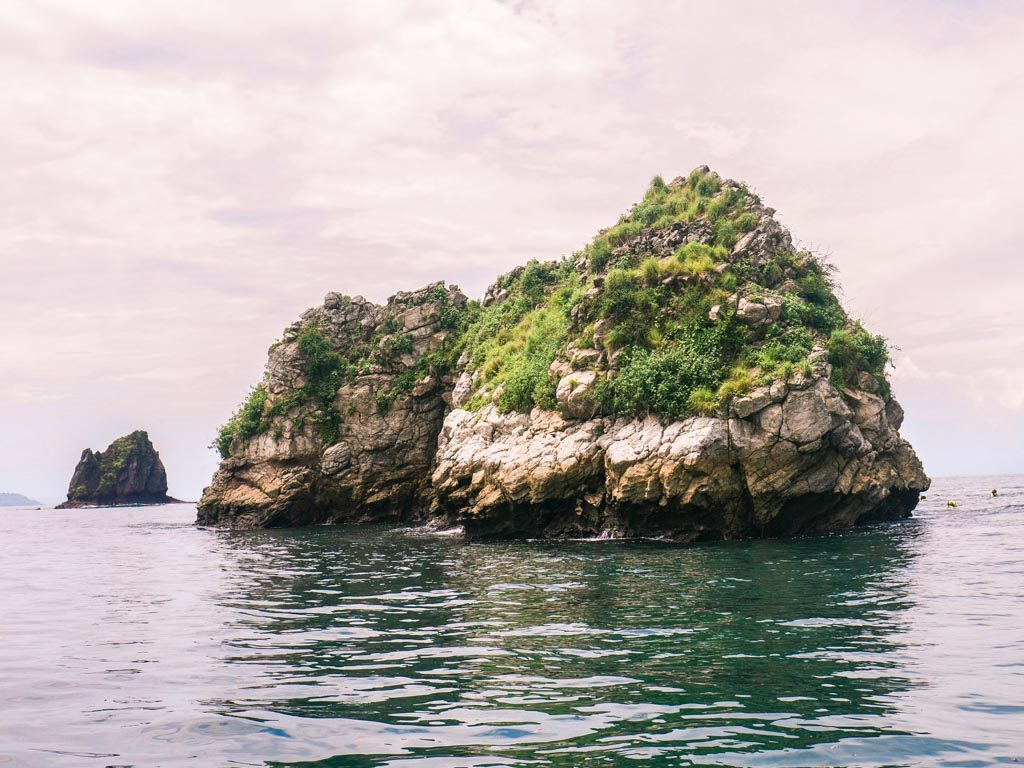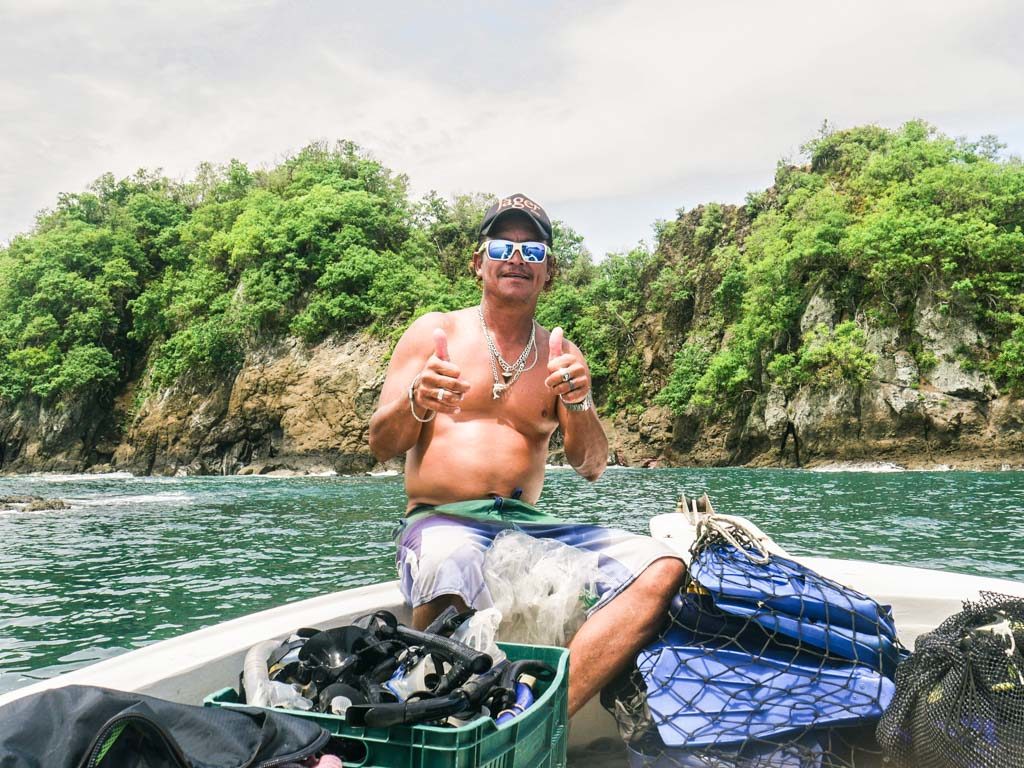 Refreshments were available on the boat - water, beer, and soda - anytime you wanted them. They also cut up fruit a couple times and passed out some slices of pineapple and watermelon.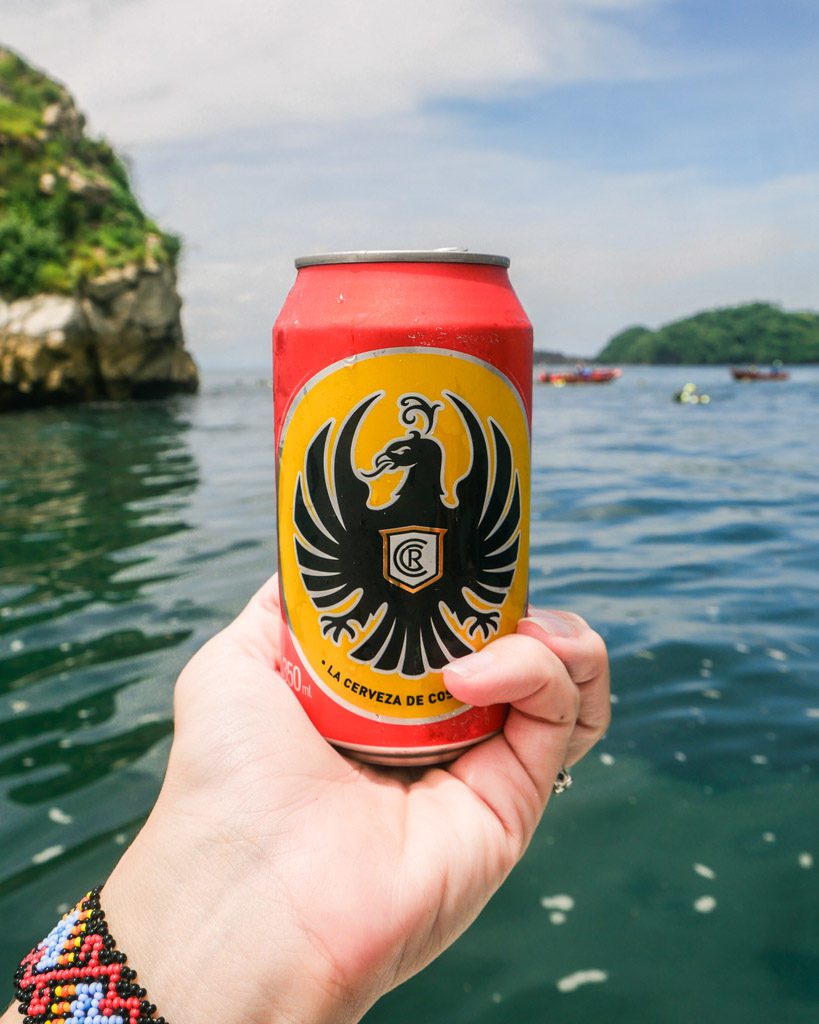 Tortuga Island: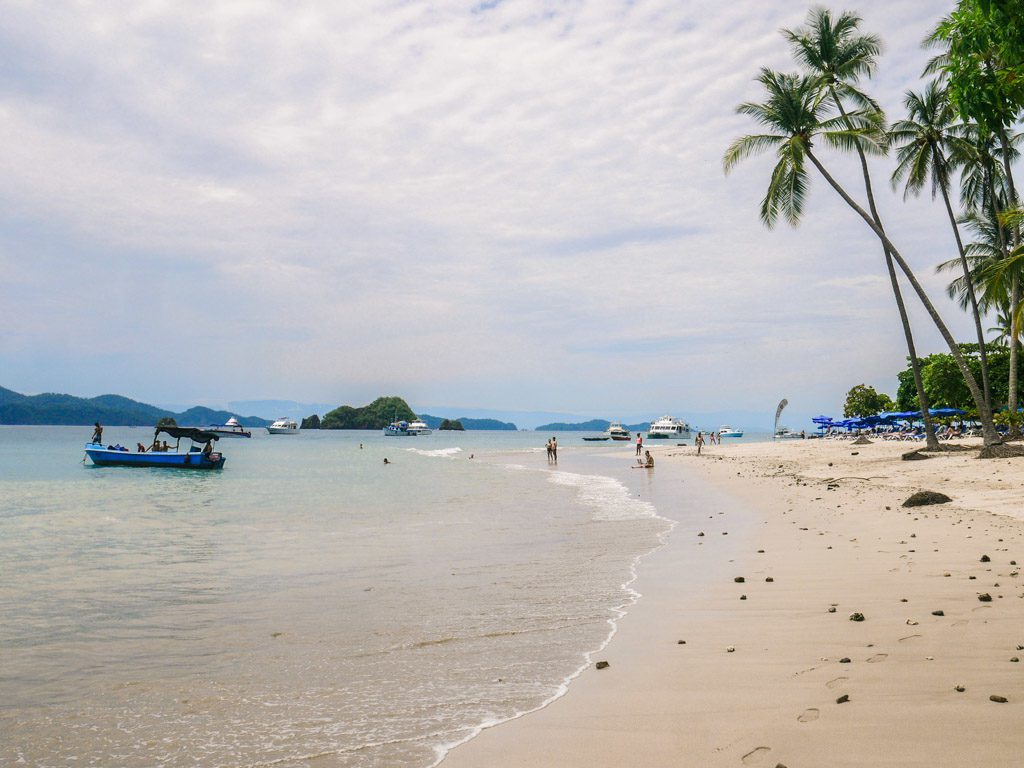 We then traveled the rest of the way to Tortuga Island. This is an island set up for tourism, so there are plenty of little restaurants or vendors available near the waters edge. We went to the covered area where our captain had our lunch all ready for us. We sat and ate our fresh fish, potatoes, and pineapple.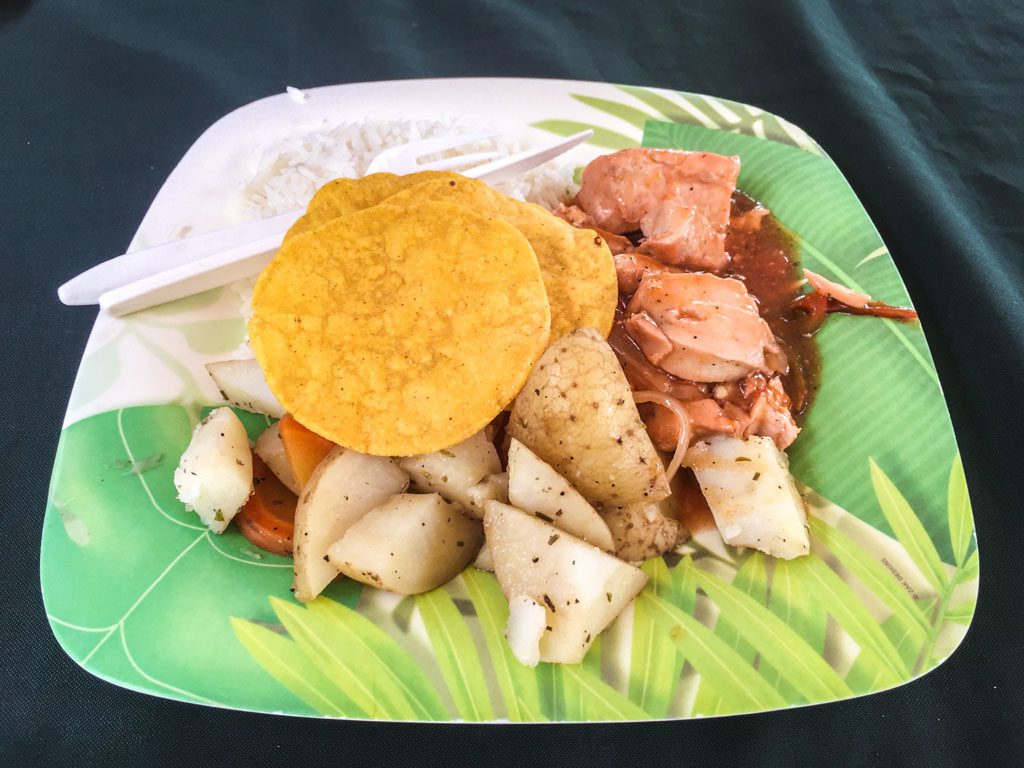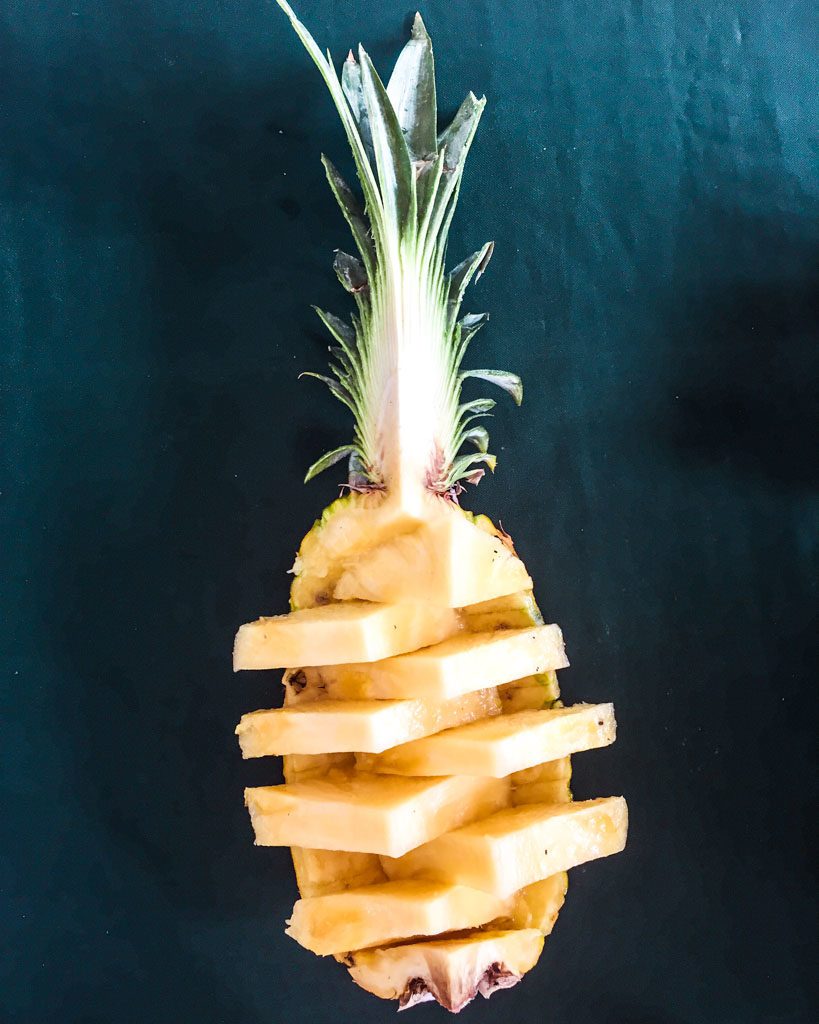 After lunch we had free time to explore the island or just relax. My friend and I walked the length of the beach and found an empty portion at the edge to walk and take some pictures. Then we headed back, found a shady patch, and took turns napping and taking a dip. There are plenty of other people around, but you can still find your own places to relax if you want.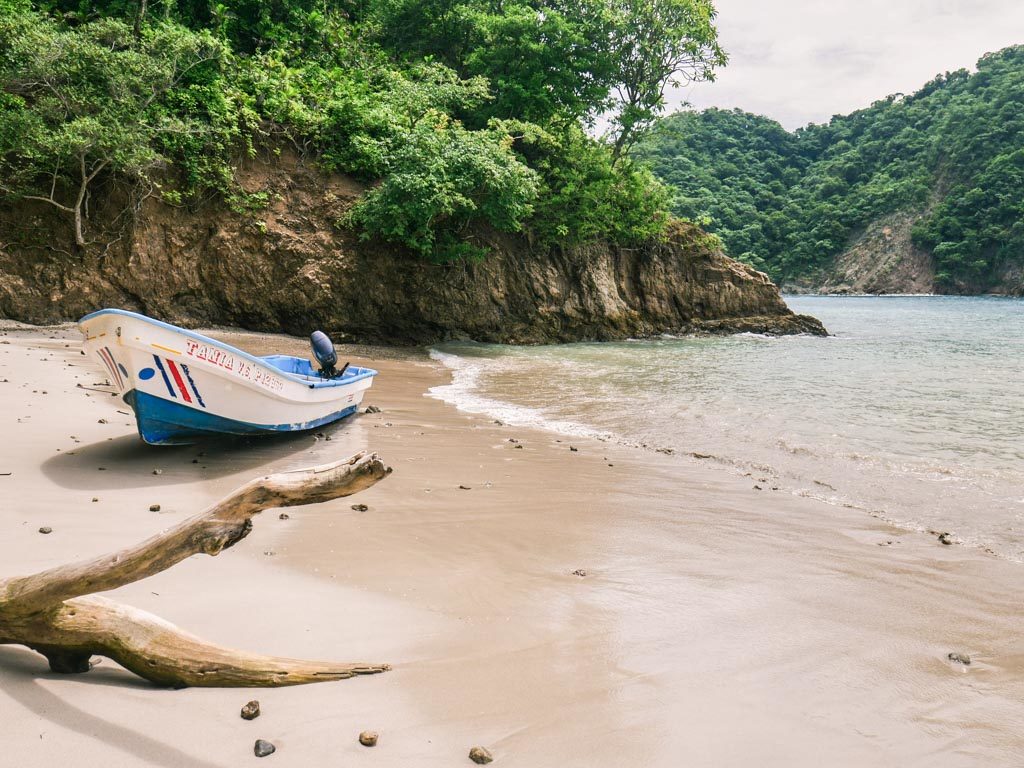 If you're a big snorkeler, I'd urge you to ask around about the visibility conditions. I was able to see some fish, but if you're looking to see a lot, you'll want to make sure that's possible. Another thing to keep in mind is that this is a popular tour, so there are often quite a few other tourists snorkeling and relaxing on the beach. It might be best to try to time this tour with a quieter day of the week.
Overall, I had a great day, getting to know the coastline, seeing some beautiful wildlife, and relaxing at the beach during my tour with Cocozuma Traveler!
Tour Company: Cocozuma Traveler
Tortuga Island Tour: $55 per person
Email: [email protected]
Book Here:  http://www.cocozumacr.com/reservations_tours_booking_Montezuma_Costa_Rica.php
---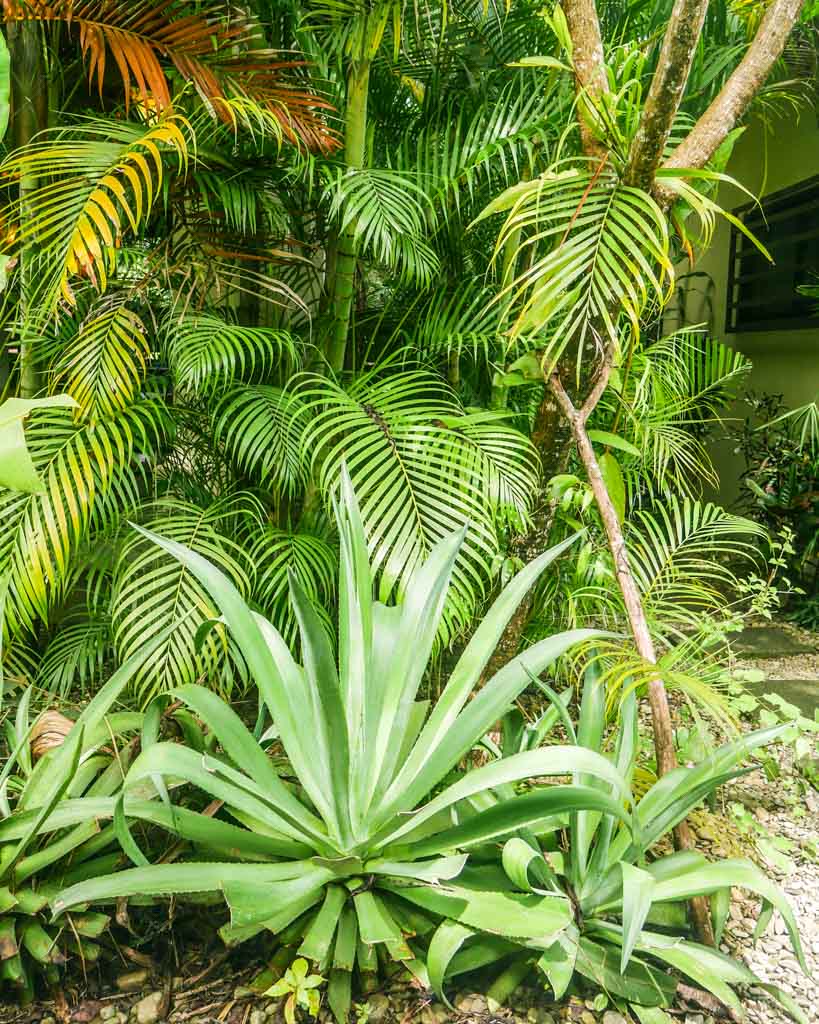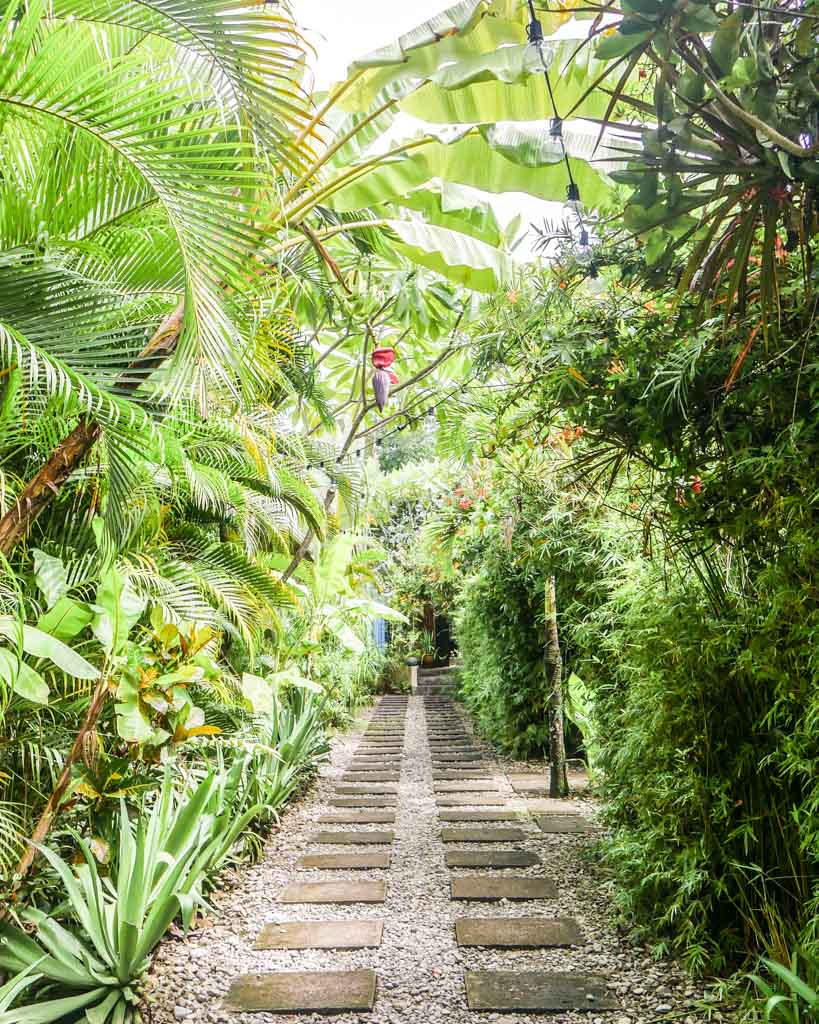 Hotel: Nautilus Boutique Hotel
Social Media: Instagram, Facebook, Twitter
Price: $165-400/night depending on number of bedrooms & season. Check their rates page for more details.
Includes: A/C, wifi, toiletries, private kitchen, pool, private terrace, on-site restaurant and yoga classes for an additional charge.
Location:  75 meters east of Selina's Hostel, Santa Teresa, Costa Rica
Contact: [email protected]
Reservations: https://www.hotelnautiluscostarica.com/book-your-stay
---
Video Tour:
Disclosure: this post is written in partnership with Nautilus Boutique Hotel and Cocozuma Traveler. All views and opinions are my own, and I wouldn't recommend anything I don't love!