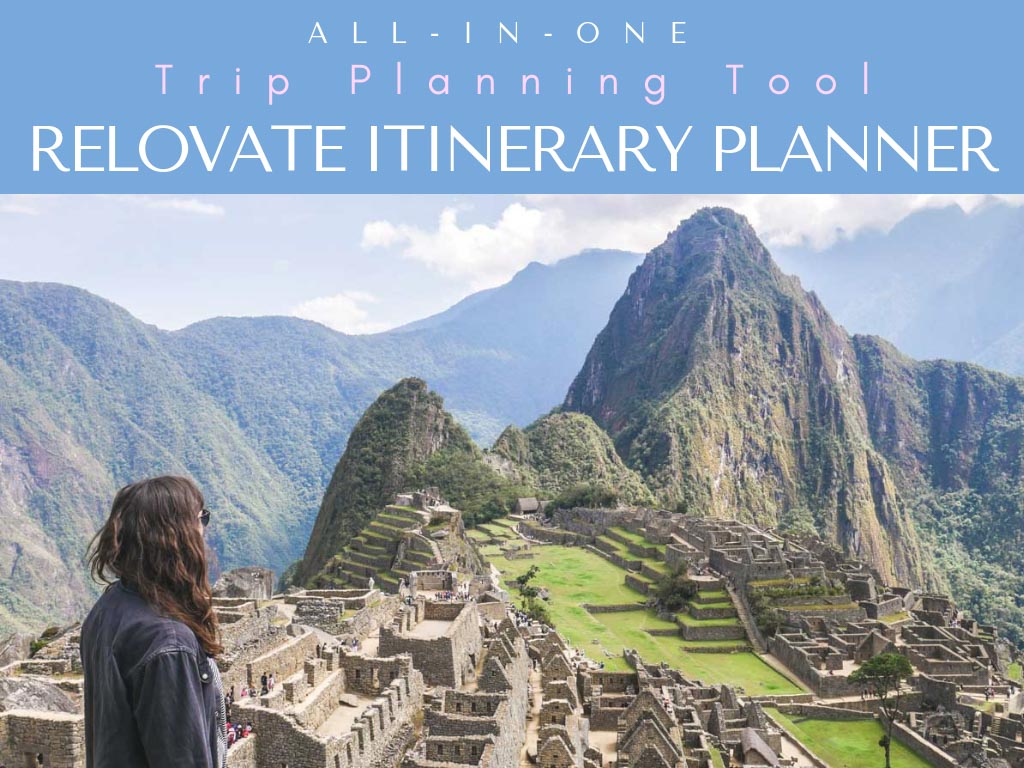 I recently found out about a new trip planning tool called Relovate that I've been using as my itinerary planner for two upcoming trips. It has some really unique features that I haven't seen before all in one tool, so I'm excited to tell you more about it!
When I plan an upcoming trip, I usually use a dozen websites and search engines, spend way too much time cross referencing hotels on different sites, open tons of tabs, hunt for reviews, etc..
One of the coolest things about Relovate is it allows you to search for every aspect of a trip in one place - from flights to hotels, restaurants, tours/activities, weather, spas, and more. And before you get worried that you'll have to pay a membership fee to join - it's totally free for users. You can set up a free account and get started trip planning right away.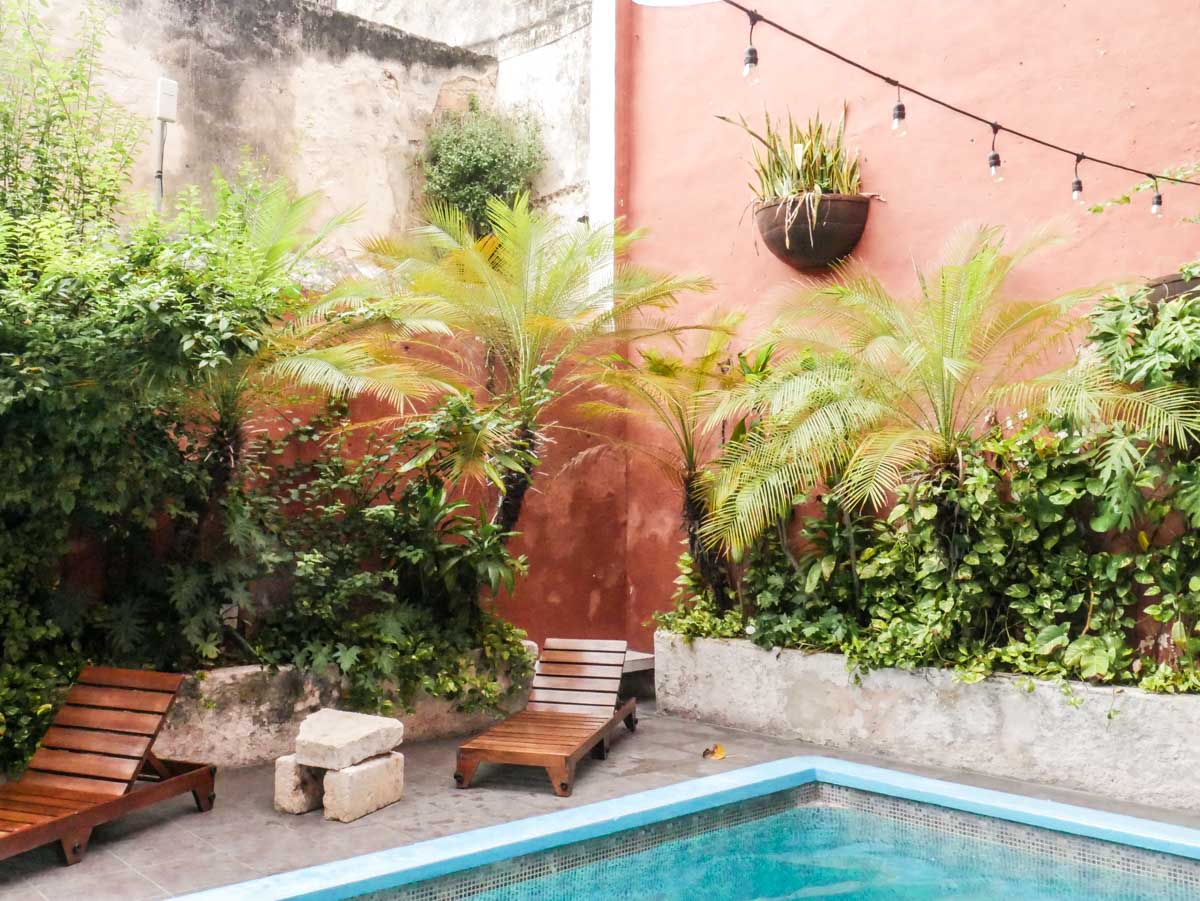 Here is a full rundown on Relovate's features that I've been using:
An Organized + User-Friendly Dashboard: Relovate Itinerary Planner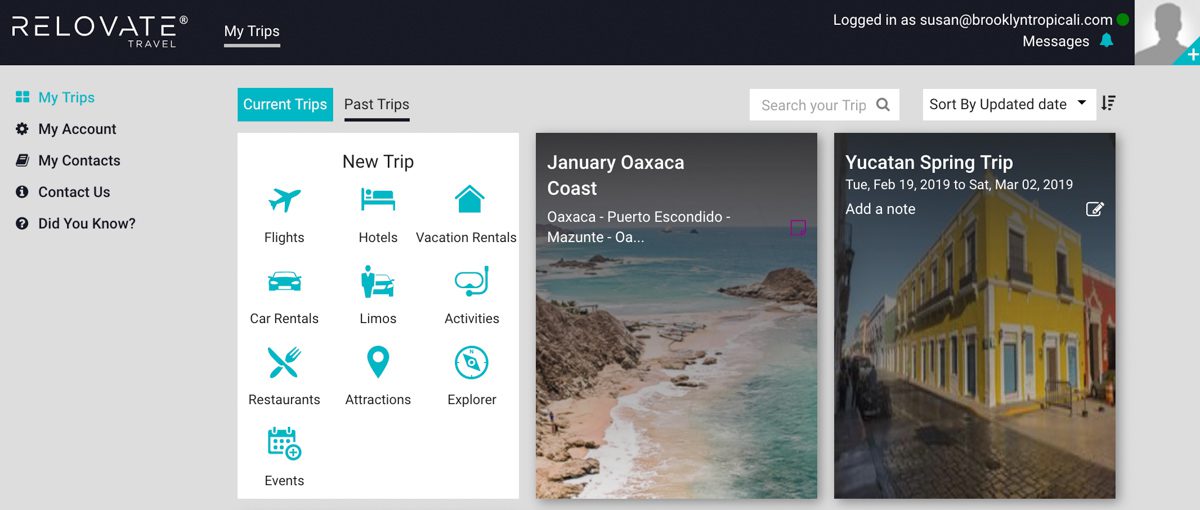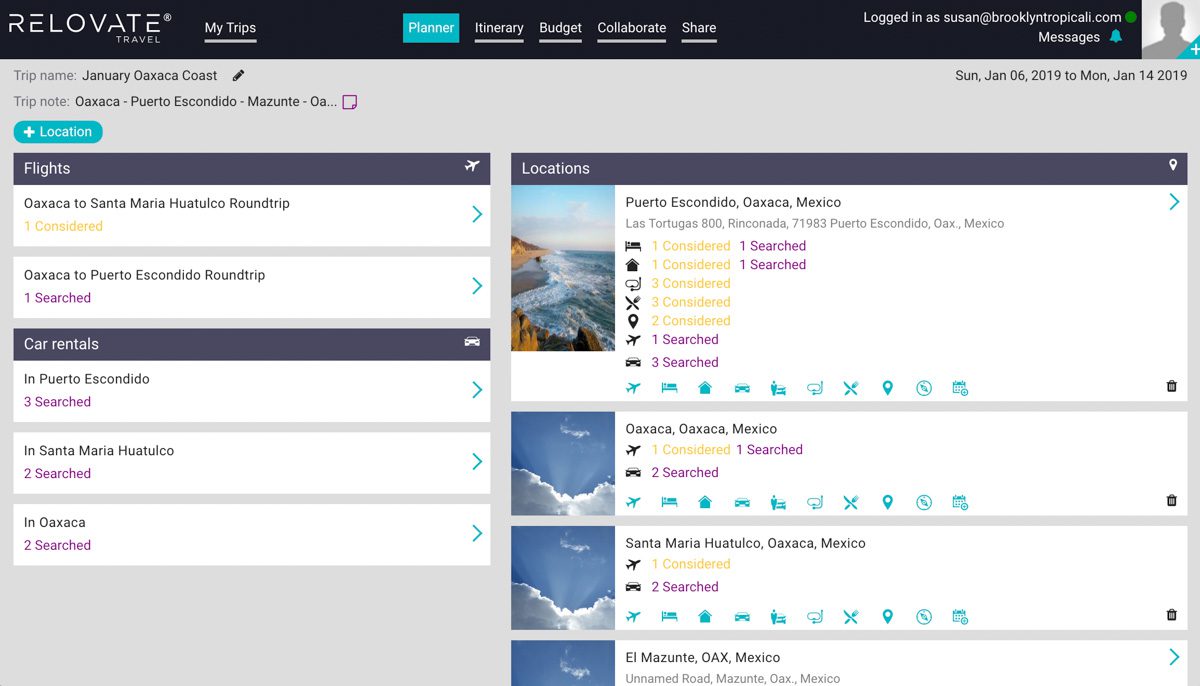 As I mentioned, Relovate is an all-in-one trip planning tool. You can search for basically every aspect of a trip in one place.
The dashboard allows you to create multiple trips, and then add different searches, budgets, and notes for each trip. It only took me a few minutes of playing around with the trip planning tool to get the hang of the work-flow.
The software keeps track of every search you do, as well as saved options that you "consider", and your own personalized notes, and keeps it all in one organized place.
I also love how the tool makes it so easy to keep track of complicated itineraries with lots of destinations. For example, I'm planning a trip in the Yucatan of Mexico where we change destinations every couple of nights. Relovate keeps track of this with a color coded system in the calendar, so whenever I search for a new thing, I can easily visually see where we will be each night without having to click back or check my own calendar/notes.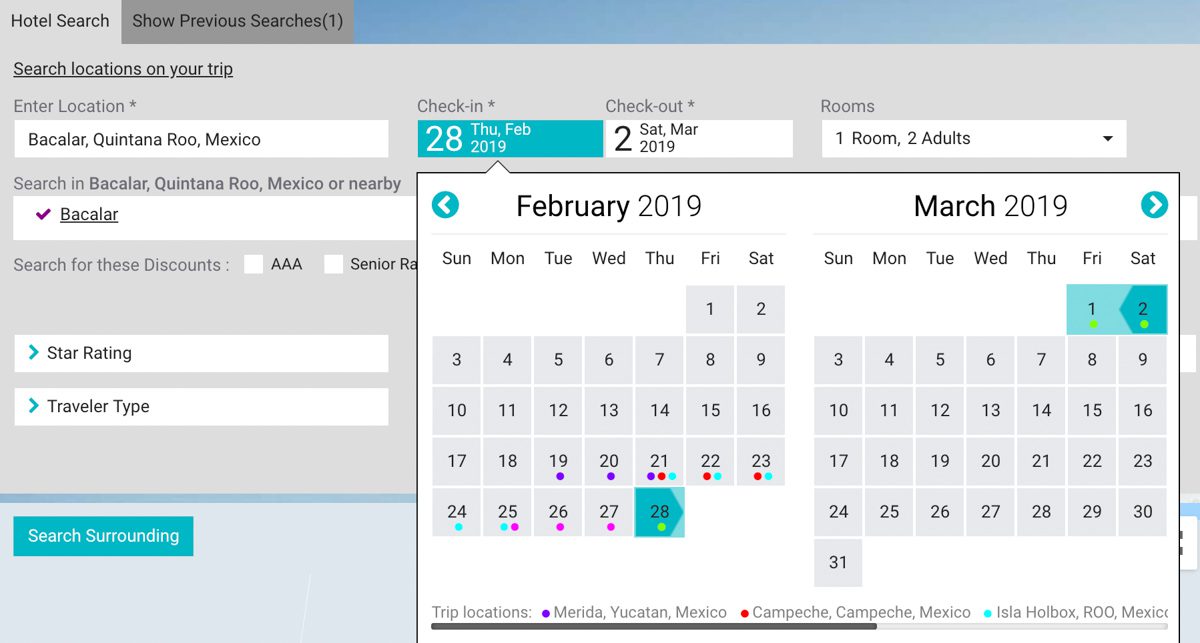 Another unique thing about Relovate's itinerary planner is that it is free of advertisements - no distracting ads or pop ups to be found. I can't think of any other booking site that has this clean and straight forward of an interface. Makes it easy to focus on your searches and options.
Save Favorite Options as "Considered":
Relovate Itinerary Planner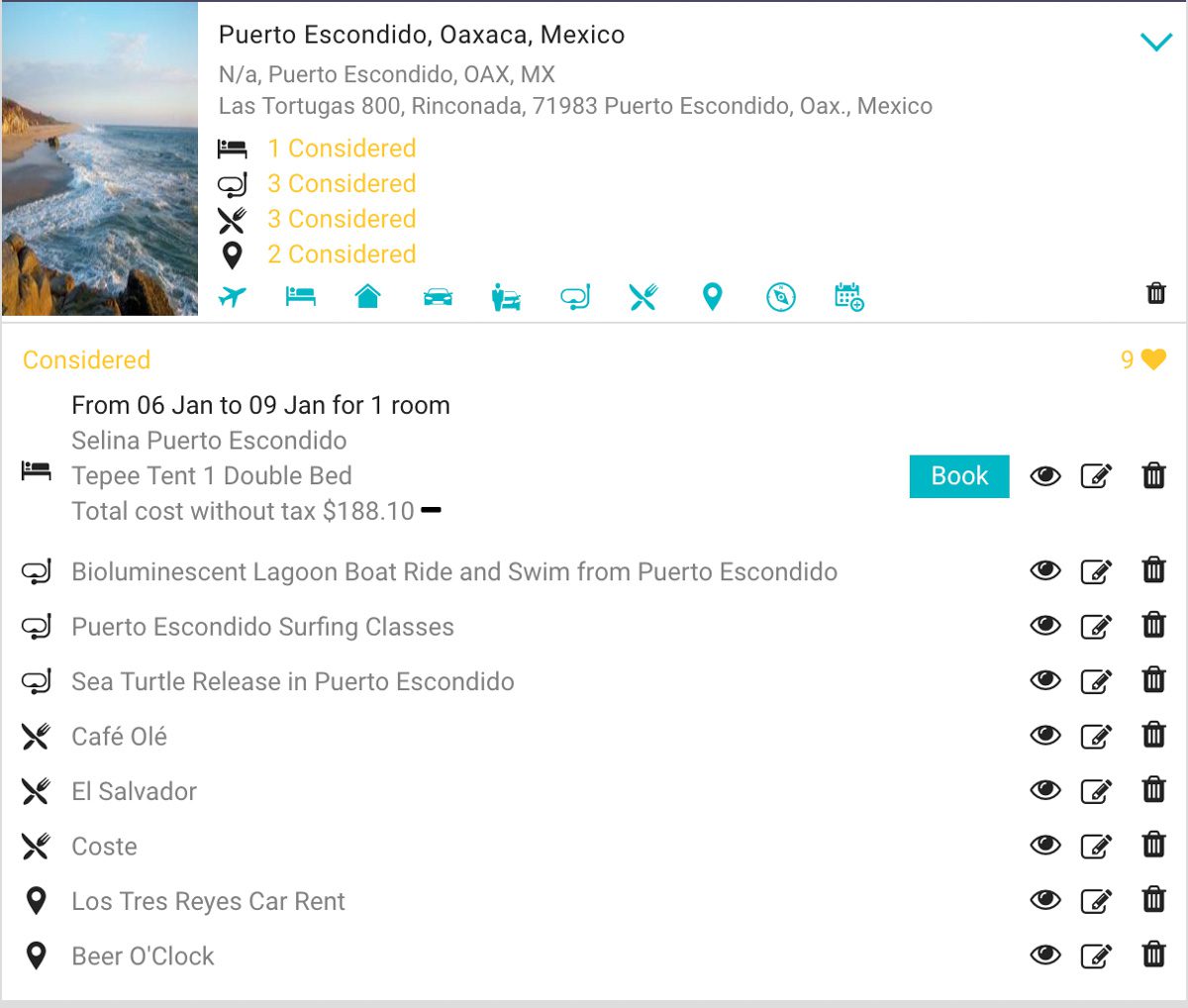 I love that the Relovate trip planning tool allows me to save options aka "consider" them. Usually I find several flights, several hotels, several tours, etc and have lots of open browser tabs. Or I'll start a Google doc and drop a bunch of links there. Then each time I revisit them I have to backtrack to remember what they all are.
But Relovate itinerary planner keeps all your considered options in one handy place that you can compare next to each other, and then click through to book right in the website.
All in One Place - Hotels, Flights, Restaurants, Tours/Activities, Local Info:
Relovate Itinerary Planner
Here's a breakdown on all the types of travel options you can search for and book within this trip planning tool.
Flights: Trip Planning Tool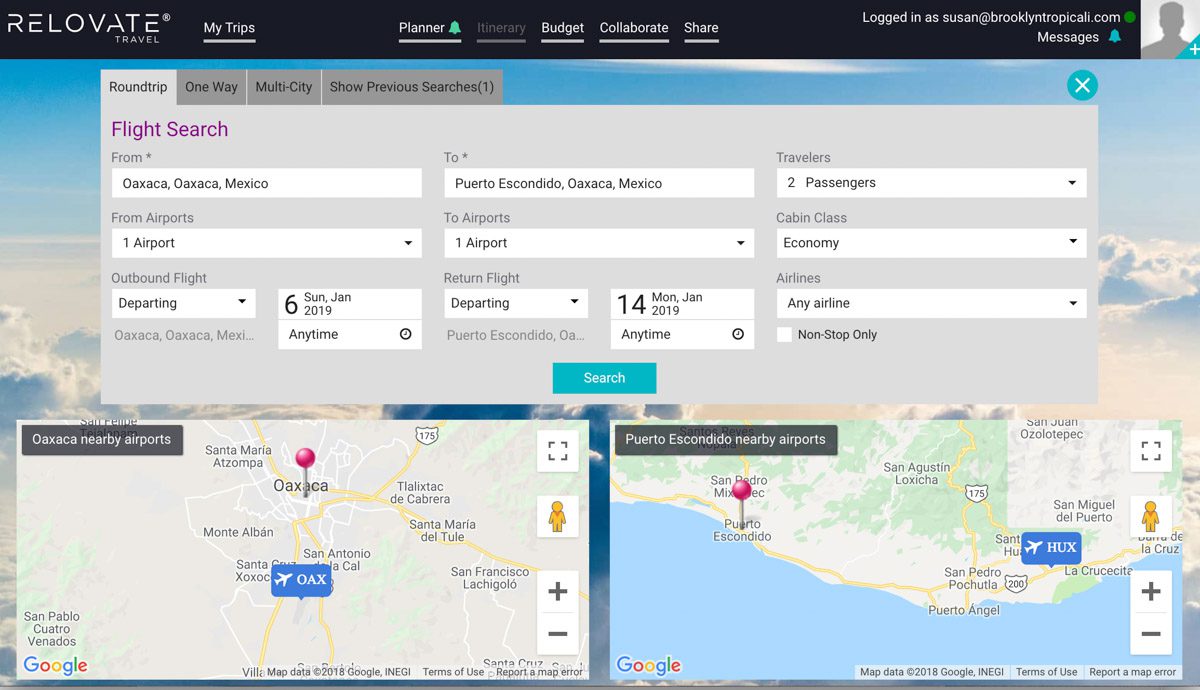 Just the other day, my husband and I searched in-depth online via various flight search engines for flights to the Oaxaca coast. The best option we were able to find was around $320 roundtrip. I was so pleasantly surprised to find that the search on Relovate brought up Kiwi results that found a cheaper itinerary - routing us back on two different airlines. It's great to see such in-depth options for a flight itinerary that is actually very difficult to even search online in general - there are usually very few options from Oaxaca - Oaxaca coast.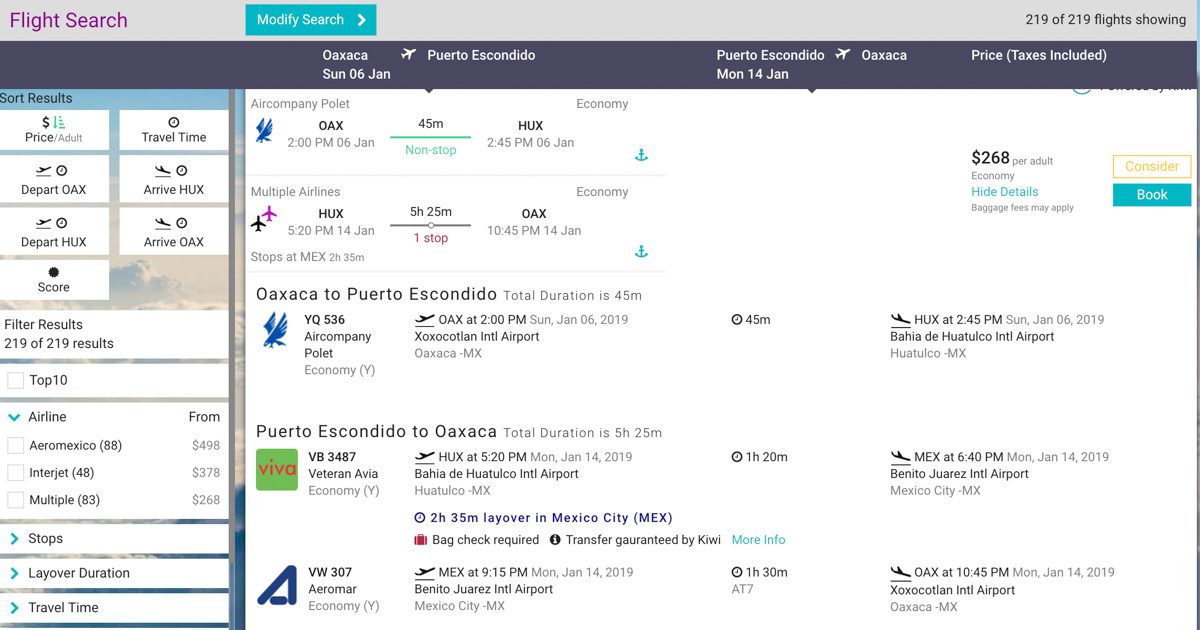 Hotels: Trip Planning Tool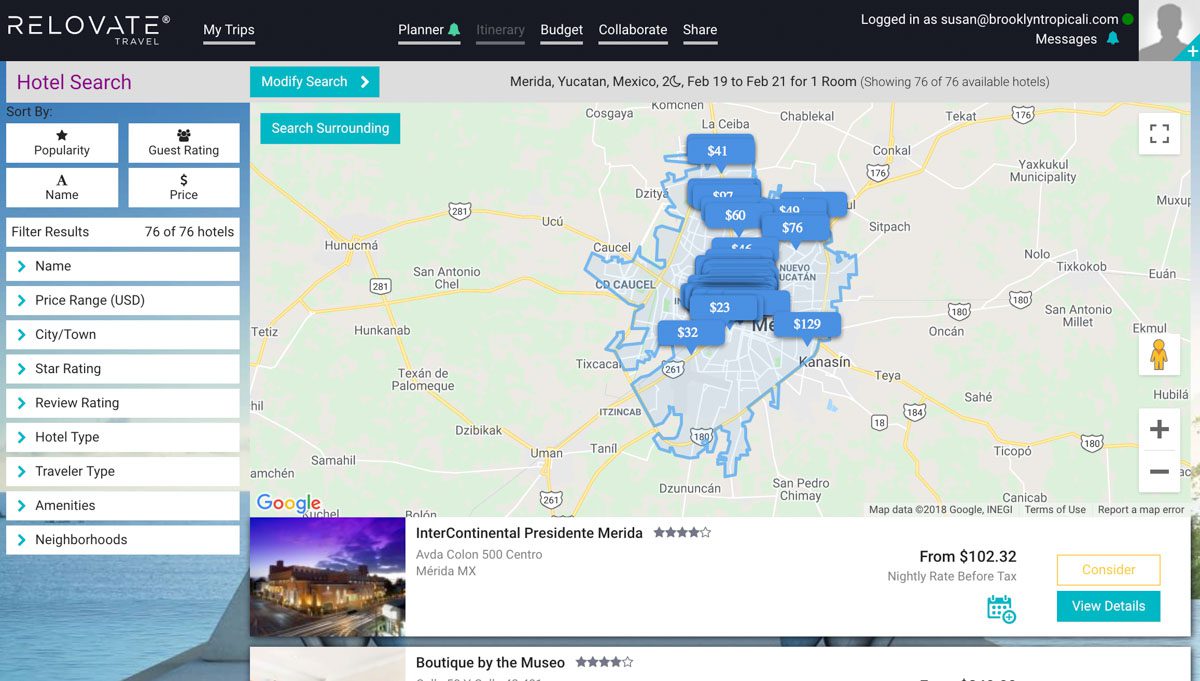 Relovate uses one of the world's largest GDS (Global Distribution Systems) and is also adding more providers all the time. That said, they don't have every single hotel option that exists, but the searches I've done on this itinerary planner have returned a nice selection of options, and the options that I've found have seemed to be high quality - nice photos, lots of information about amenities and specifics, and generally nice looking hotels at different price points.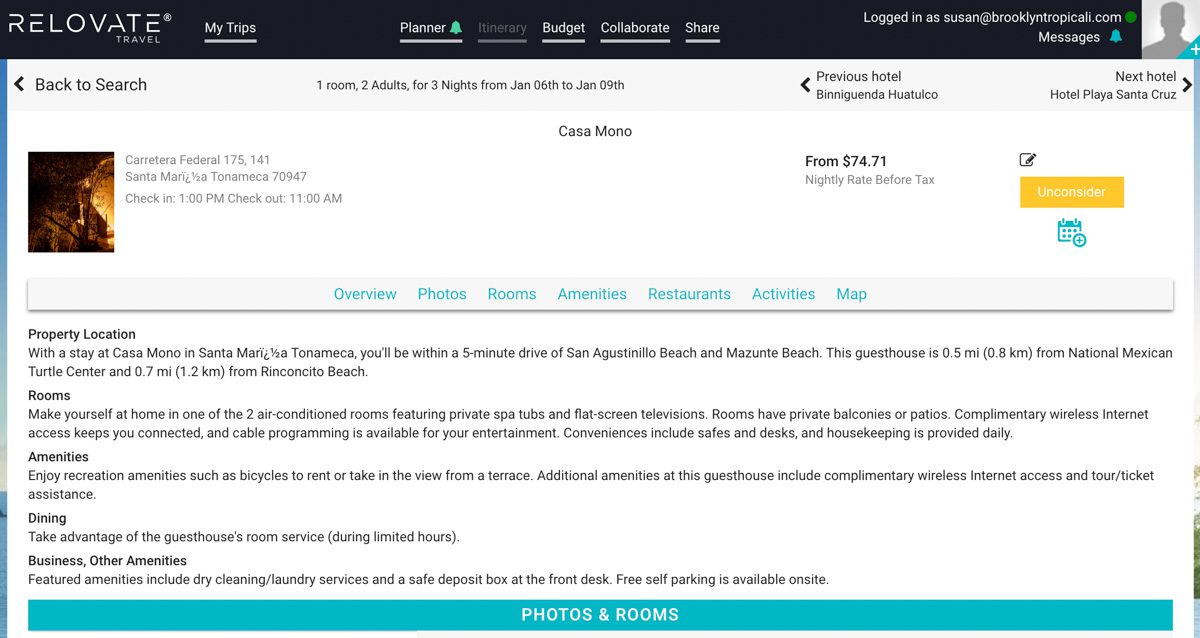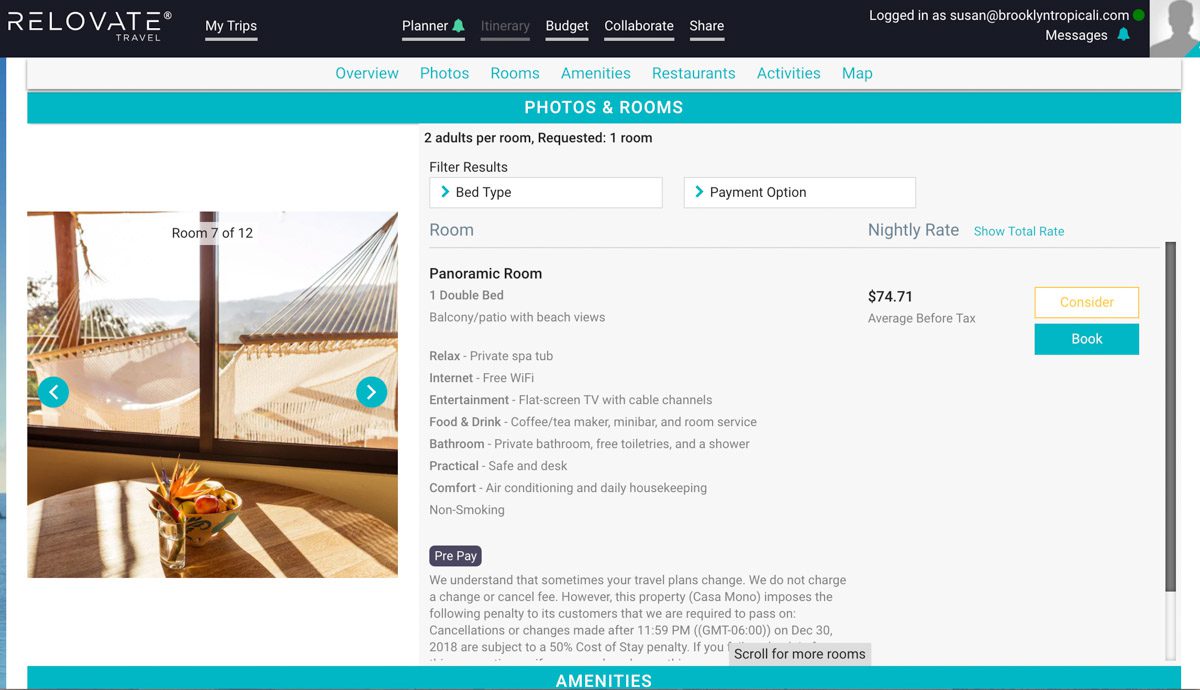 Vacation Rentals: Trip Planning Tool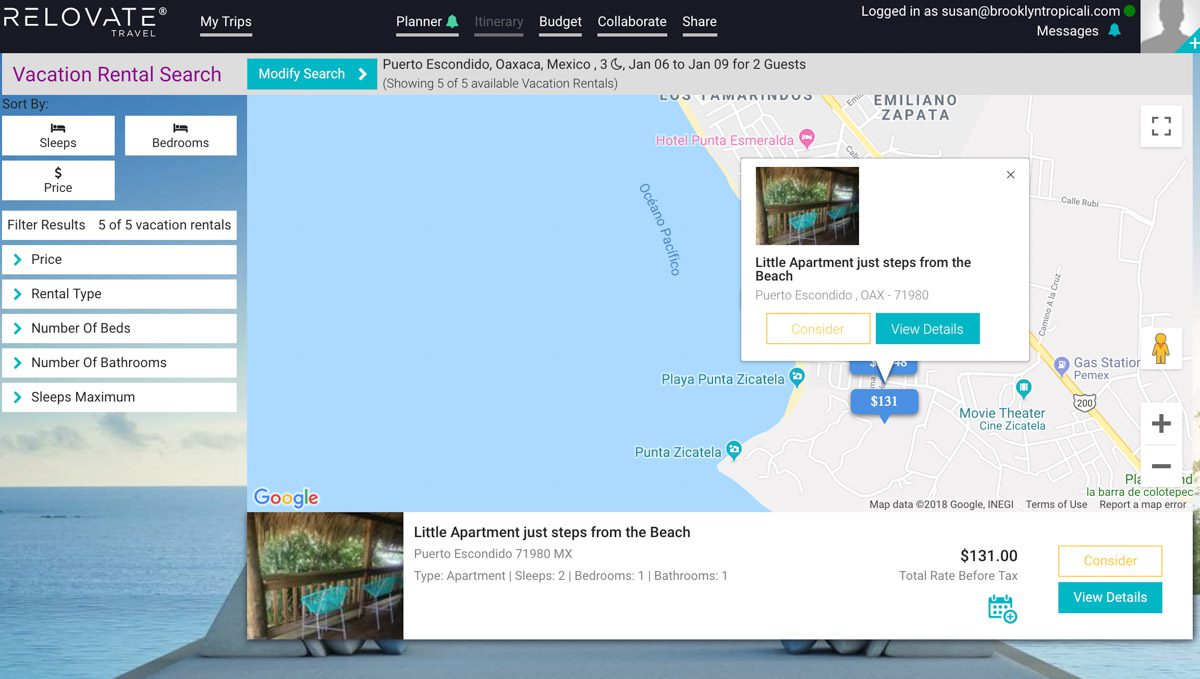 Vacation rentals can be searched separately on this trip planning tool, and the search is powered by Homeaway. When you click through to book one of these options, it will take you directly to the Homeaway site.
Car Rental: Trip Planning Tool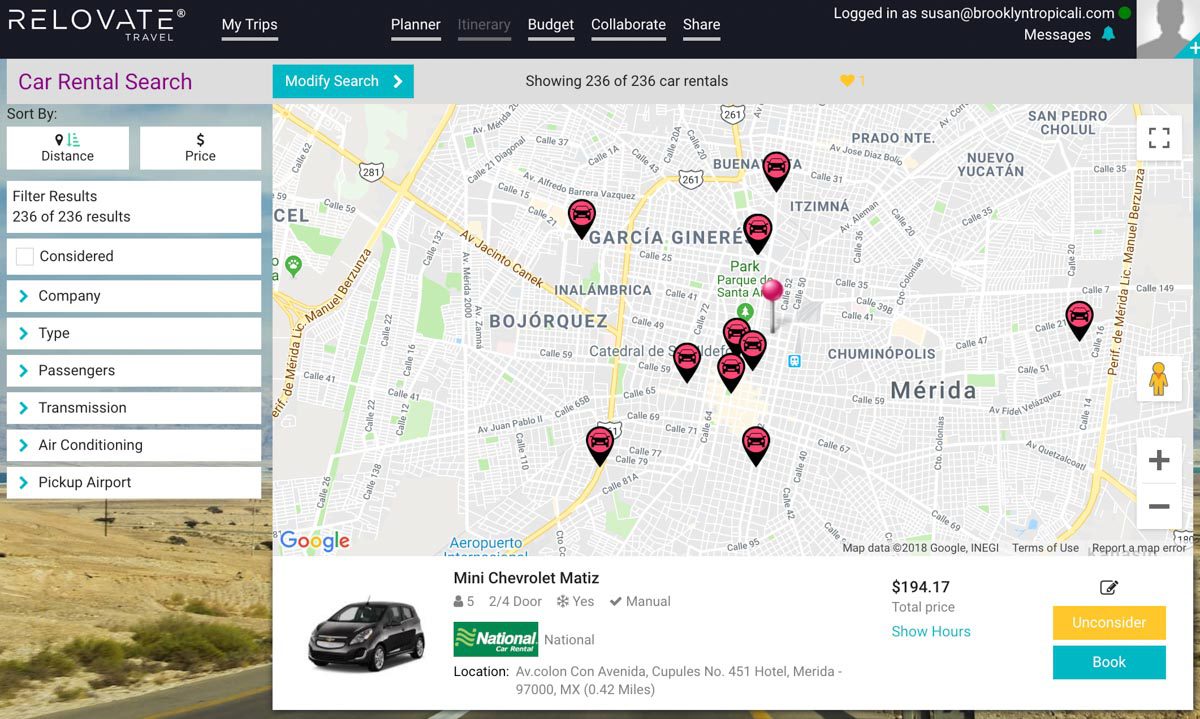 You can also search for car rentals within Relovate's itinerary planner interface.
I have been working on planning a couple different trips within Relovate and noticed that smaller, more off-the-beaten path destinations might be trickier when searching for car rentals. I am planning a trip to the Oaxaca coast (which is a lesser-visited travel destination and can be challenging to find lots of info online) and didn't find any car rental options through this search. However, when I searched for options in Merida, Mexico (a bigger travel destination), I found lots of information and a great price for a week and a half trip.
If you are searching for a car rental for a smaller destination on Relovate and don't see any options returned, scroll down to the Attractions section below to find out how to find small/local car rental agencies that may or may not be online.
Limos: Trip Planning Tool
If you're feeling fancy, you can search for limo service too!
Activities: : Itinerary Planner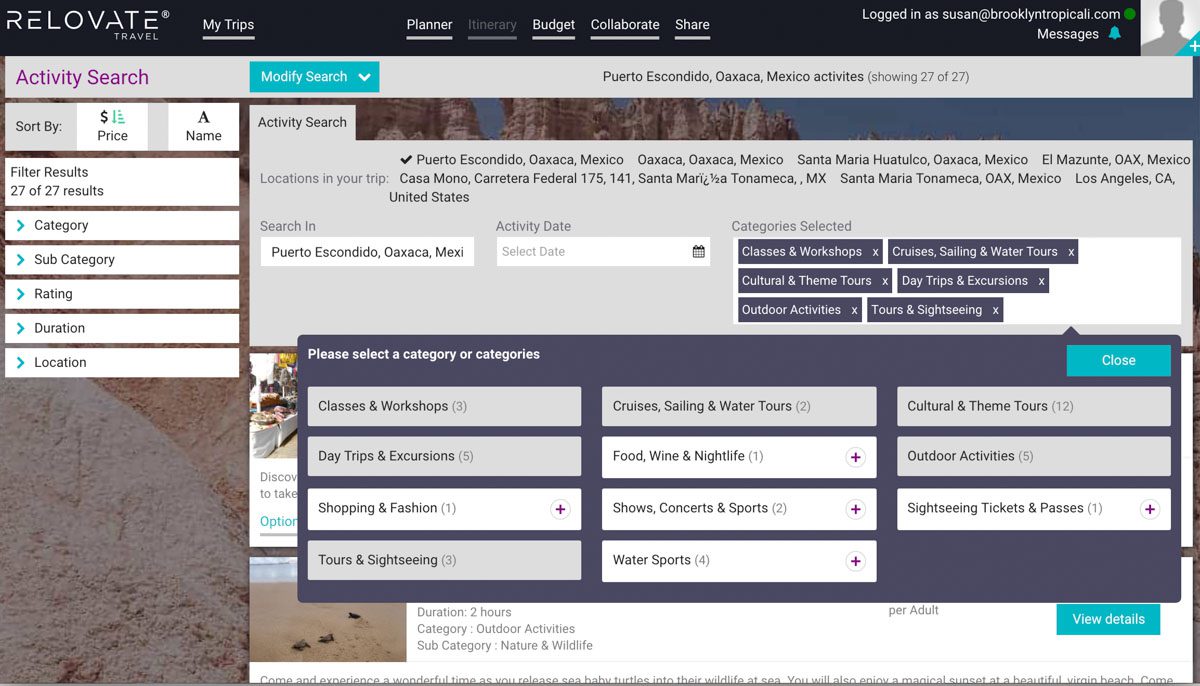 Here is the section in the itinerary planner that you can find and book all your tours and activities. You can use this section just for inspiration - to find out what types of things there are to do in the area. Or you can book here directly. You can also sort by types of activities to narrow it down.
Restaurants: Trip Planning Tool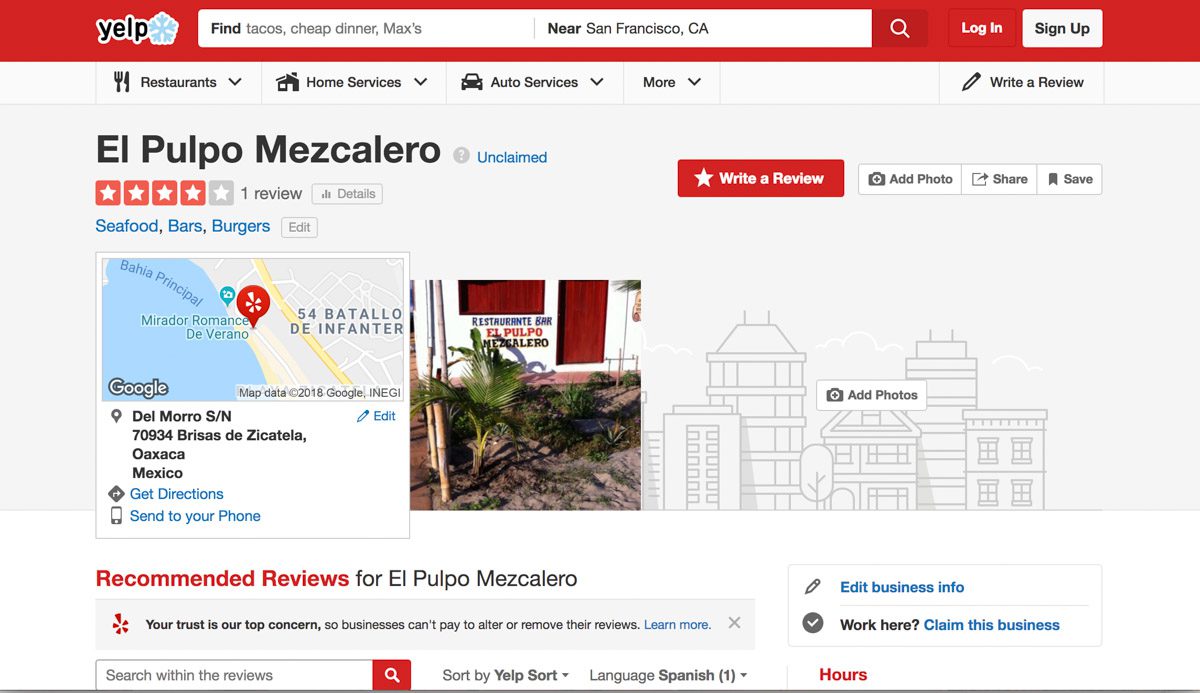 I love that there is a restaurant section in the trip planning tool too! This search is powered by Yelp and will return all the local restaurants with Yelp reviews. You can see the name and review rating, and if you want to read more, you can click through to Yelp to read full reviews and find other information. Then you can "consider" the restaurants that you like so you can find them all later during your trip when you feel hungry.
Attractions: Trip Planning Tool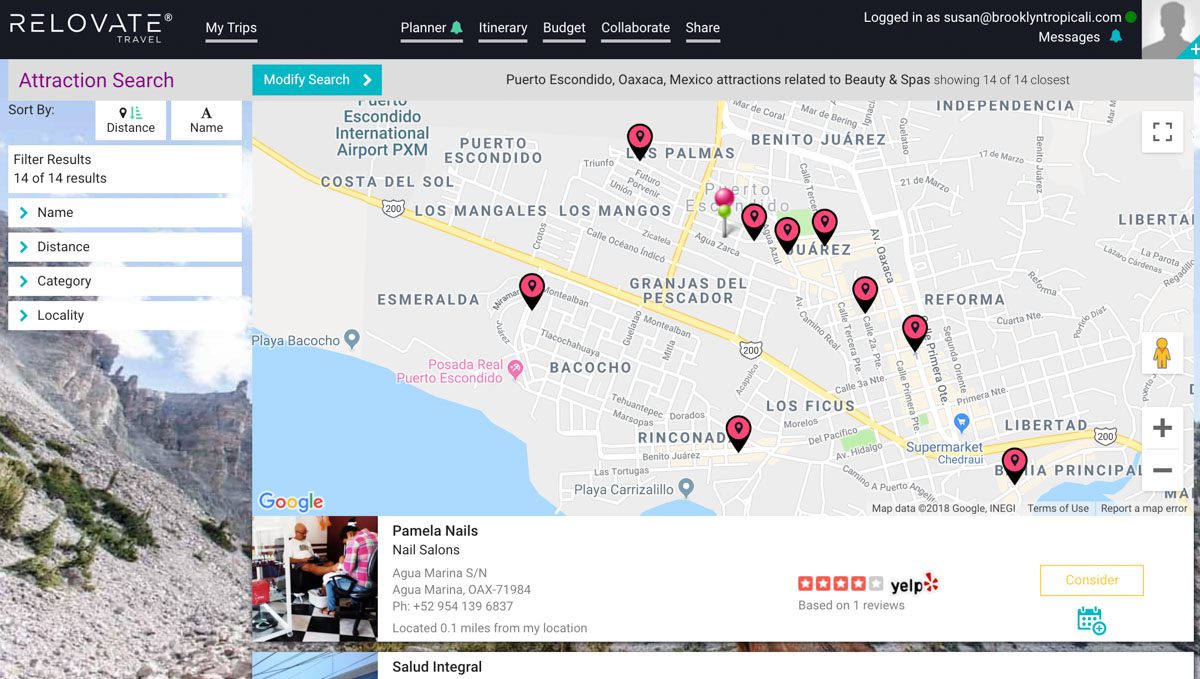 This section in the itinerary planner is also powered by Yelp, and can help you find all the other types of local establishments you might look for during travel. Here's a list of what you can search for.
Landmarks, Automotive (parking, car repair), Beauty/Spas, Active Life (amusement parks, gyms, beaches, surf schools, tennis, fishing, etc), Health & Medical (doctors, hospitals, pharmacies), Hotel & Travel (car rental, train stations, rv parks), Local Services (laundry, internet cafes, courier services), Nightlife, Religious Organizations.
Note: This is where I found a good work-around to find local car rental agencies in off-the-beaten path destinations. Search Attractions - Hotel & Travel - Car Rental and you'll see a list of local agencies with Yelp reviews. In more off-the-beaten path destinations this is a better bet anyway to find local options. You can then contact the agency directly to make a reservation over the phone.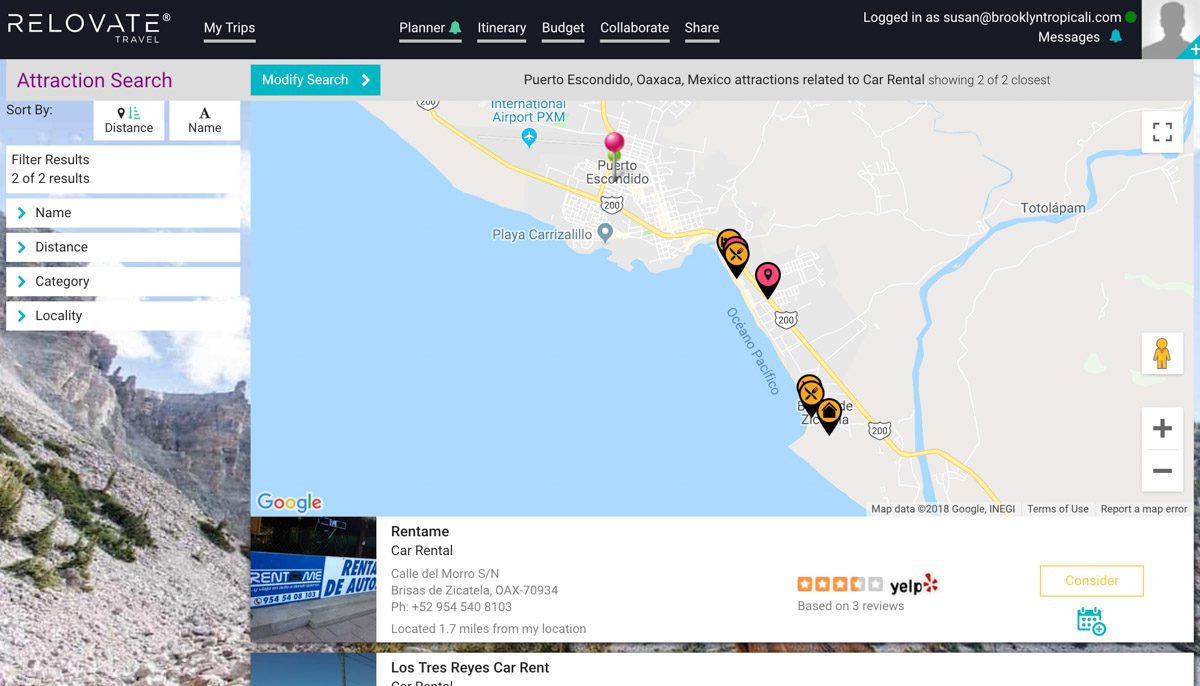 Explorer: Trip Planning Tool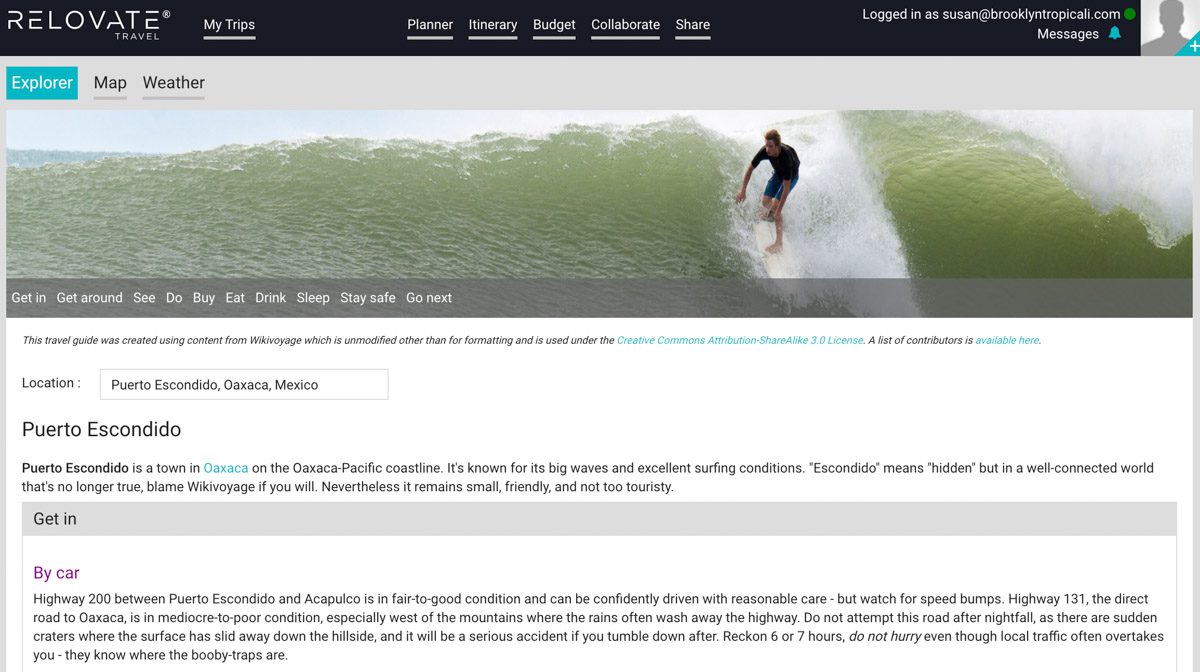 This trip planning tool section has lots of good basic info about the area. It's created using content from Wikivoyage - so there is info about how to get in and away, how to get around, what to see, do, eat, buy, drink, where to sleep, safety info, and nearby destinations.
This is great as a quick primer to the area. There is also a map and weather info. The weather section of the itinerary planner has a weather history section at the bottom that shows average rainfall for every month. This is actually super helpful in tropical regions where the forecast can be deceiving.
Scheduling Events:Relovate Itinerary Planner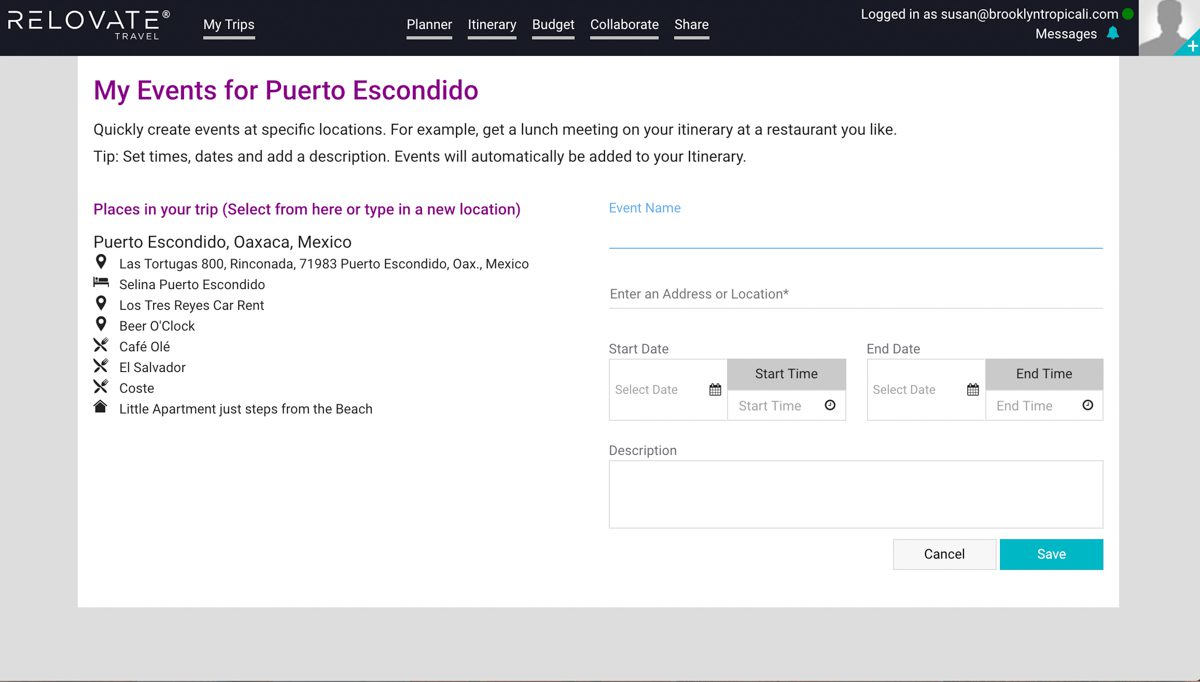 You can create your own events for your itinerary planner - including date/time, location, notes. This seems especially useful for group trips or destination events. Or can be great to schedule a special dinner out, or to block out time for certain activities, beach time, or city exploration.
Budget Planning + Tracking: Relovate Itinerary Planner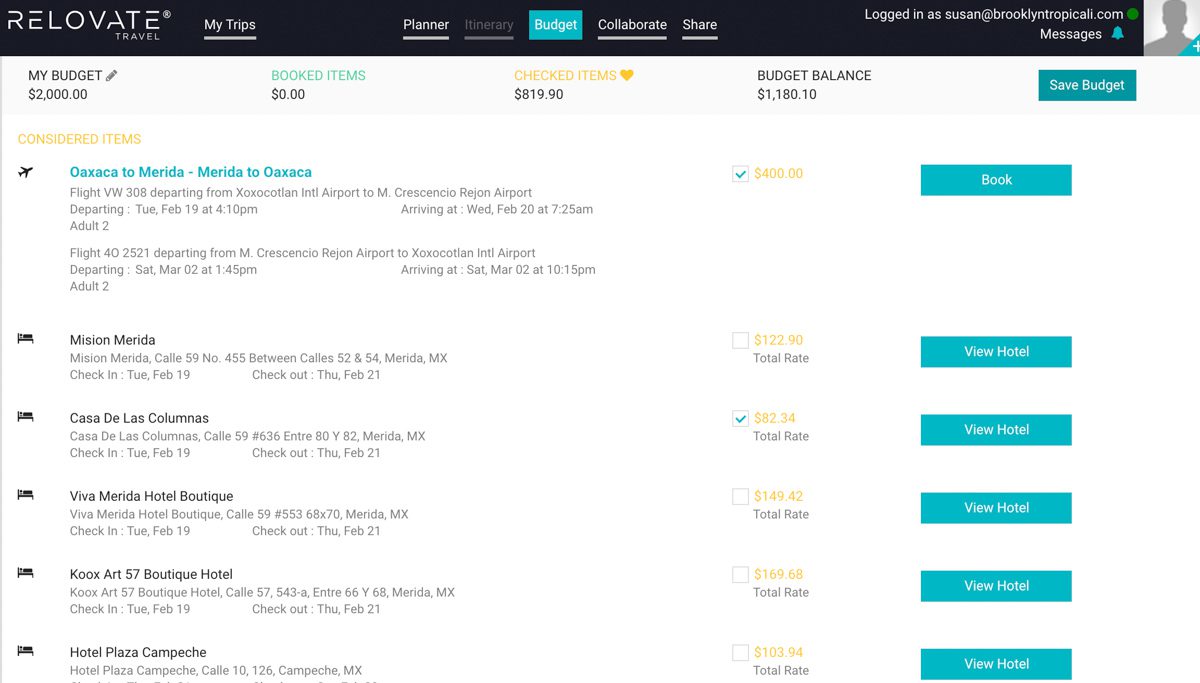 Another feature I love on the Relovate trip planning tool is the budget tracking section. Here you can set your overall budget and track how much everything will cost. You'll find a list of all your "considered" options, and you can check and uncheck them and see the estimated budget adjust in real time. Then once you book any hotels, flights, activities, etc - it will update the booked items number.
I think this estimated/checked items feature is amazing for preliminary trip planning. We are at the very beginning stages of thinking about at a trip to the Yucatan peninsula this spring. It's amazingly helpful to get a broad idea of how much hotels, flights, and car rental will cost all together to think about if the trip even makes sense, do some money savings calculations, and decide what dates will be best for our trip. I think this is a great tool for planning trips farther off or just getting realistic ideas about bucket list destinations.
Personalized Notes on Options (for yourself or other collaborators):Relovate Itinerary Planner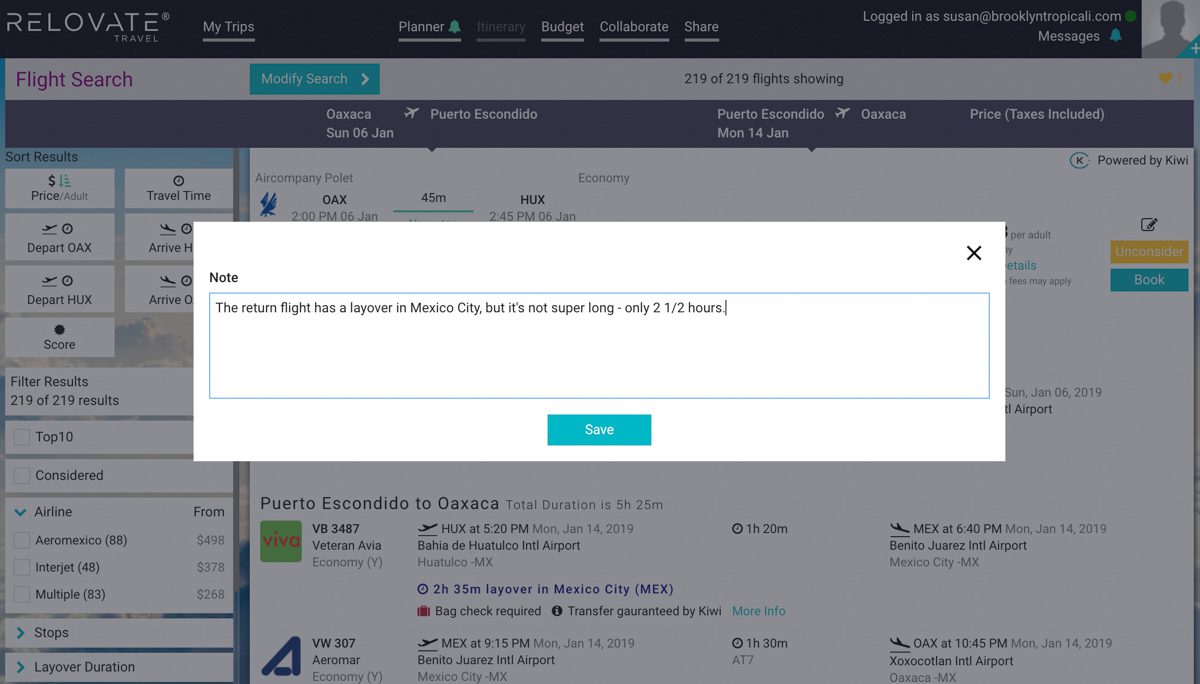 I love the notes feature included in this trip planning tool. I often have lots of initial thoughts or pros/cons about the hotel (or other) options I find. This is a super easy way to note them and easily see them the next time you log in (or so your traveling companions can see them) without having to click back through all the pictures and read back through the info.
Collaboration with Travel Companions: Relovate Itinerary Planner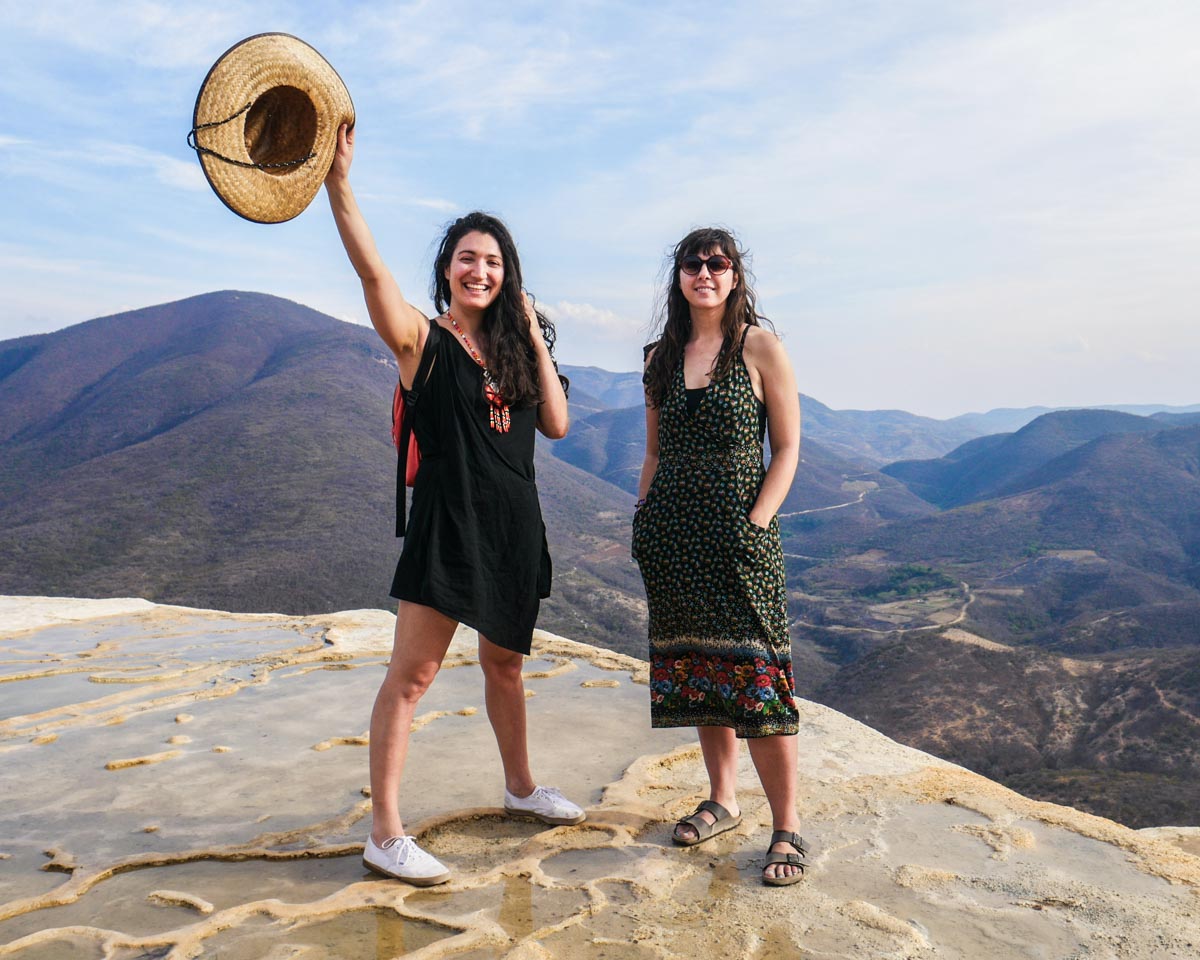 The collaborative nature of the Relovate itinerary planner is one of the most unique features. You can invite all of your travel companions to share your trip itinerary. This means you can all search for and share the same options and information, complete with notes in real time.
I have traveled with friends before when we have a mess of tools we are all trying to use and share. We often have multiple Google docs and sheets, monster email threads, Airbnb lists, text message threads, etc.. It makes it hard to keep track of all the info, and where you left off on a decision.
With this trip planning tool - you can all search the same options, share your thoughts through the personalized notes, see the same options together that you are all "considering", see what is already booked, and keep track of your budget together.
I think this would be a super powerful itinerary planner feature for large groups or destination events, but can also be great for a couple who might be searching on different computers or from their workplaces at times.
Trusted Tech Platform: Relovate Itinerary Planner
As mentioned before, Relovate uses one of the biggest travel agent global distribution systems, so it is secure, trusted, and your info goes directly to the hotels, airlines or tour operators you book with.
You also have the ability to collect points as usually on airlines/hotels. Since I am a huge travel hacking/points nerd - this is great to know!
Inspiration + Planning Future Bucket-List Trips: Relovate Itinerary Planner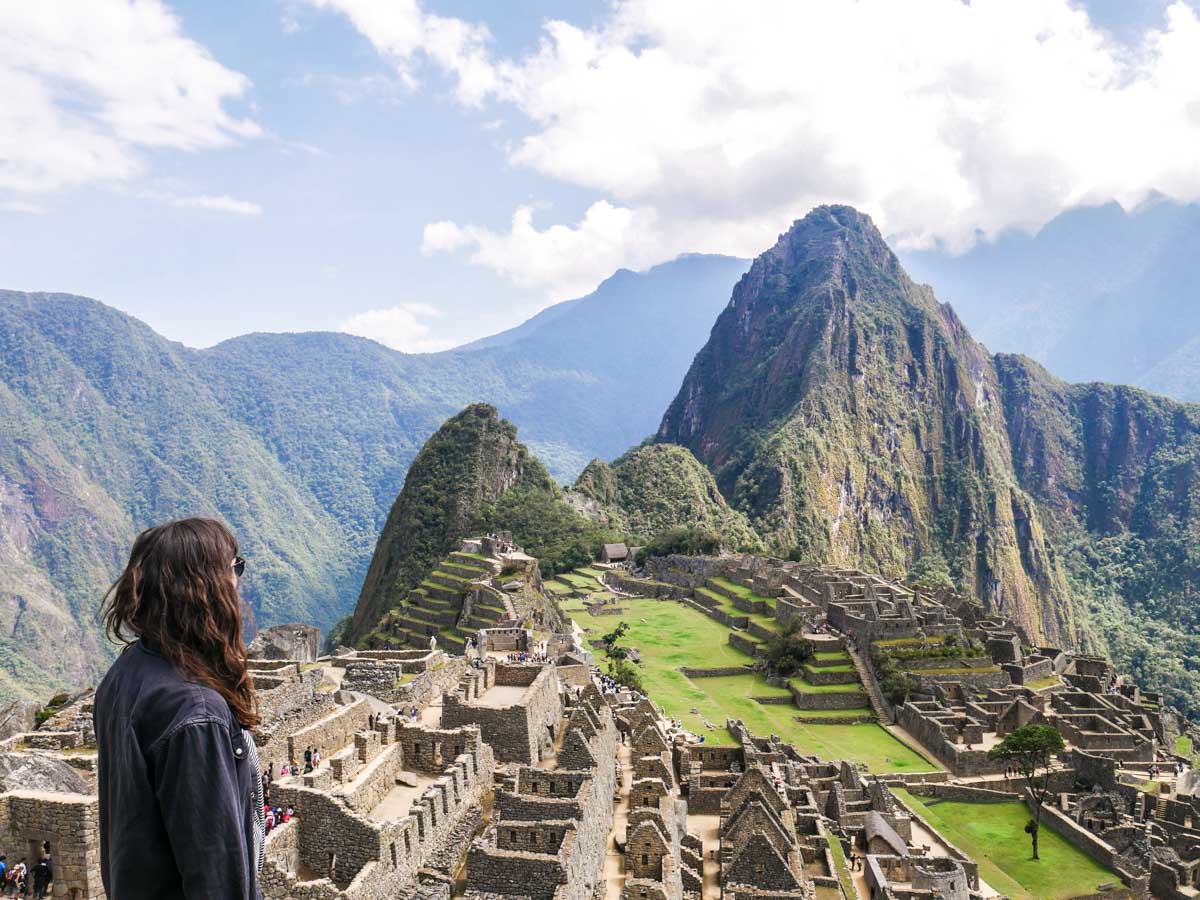 I like that the Relovate trip planning tool can also be used for inspiration and dreaming about bucket list locations. It's can be fun to browse Pinterest for that far off dream of hiking Patagonia, but it can be even more fun to get a realistic idea of what flights cost, what hotels are available, how much guided tours cost, etc.. And you can put it all together in a itinerary planner and see what the possible costs and timelines are. It's inspiration and planning mixed together - which is right up my alley.
This is great for setting realistic savings goals for future trips.
Great for Group Events Like Weddings, Reunions, Etc.: Relovate Itinerary Planner
If you are planning a destination wedding, a family reunion, etc - this seems like a great way to give your guests a few options of the best hotels, ideas for recommended tours, or to set up scheduled customized events for the guests to plan around. All this can be shared with just a link.
Final Thoughts: Relovate for Inspiration, Trip Planning, Booking + Budget Planning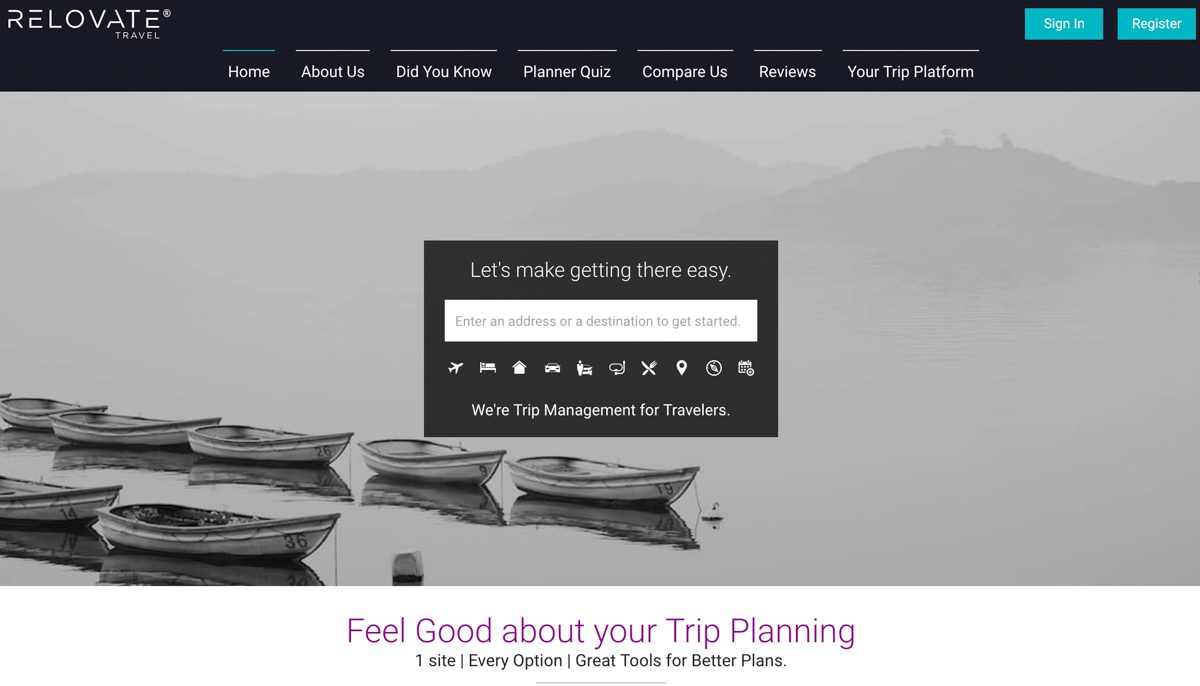 I really like this trip planning tool for the clean user interface, the super organized dashboard, the budget planning features, the collaborative abilities, and being able to do virtually all trip planning in one place. For someone who loves planning, but also wants it to be mess-free and easy - this is a great itinerary planner. I plan to keep using this for future trips and for bucket list-dreaming (cause I want to actually make those bucket list trips a reality!).
I may still check some other sites here and there for certain things at times, but I think Relovate is one of the best all-in-one tools I've found for making an organized, pretty, collaborative and inspiring itinerary.
Disclaimer: This post was written in partnership with Relovate. As always, every word and opinion I share is my own! I used the platform to plan my next two upcoming trips.
Pin it for Later!