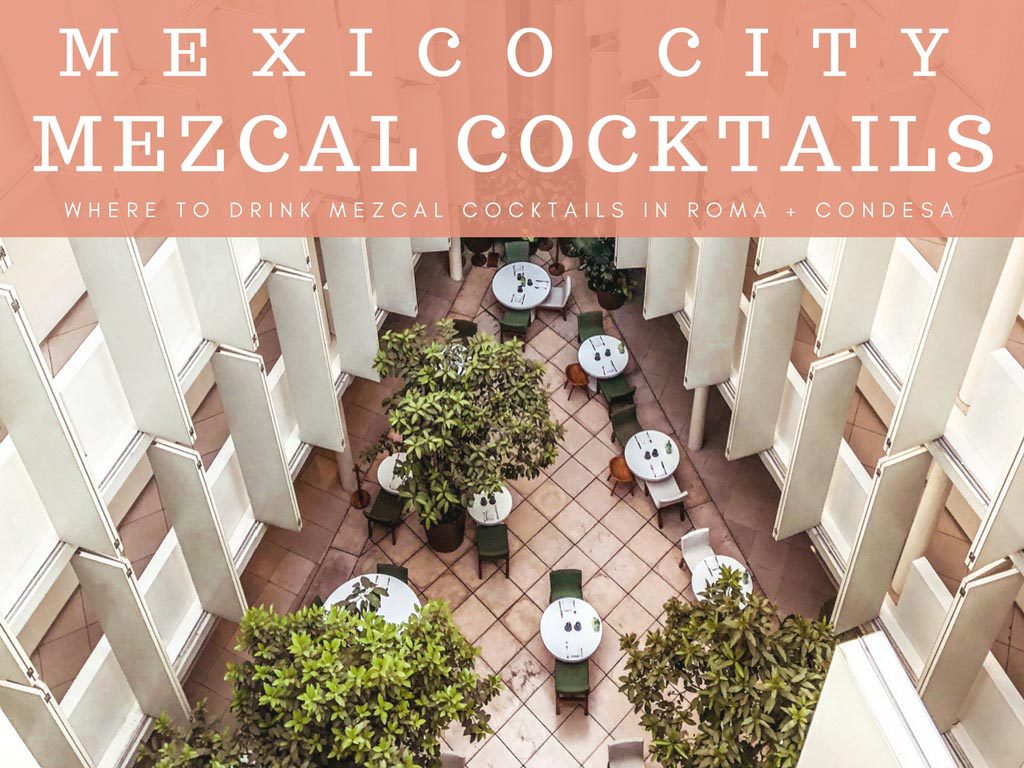 Mezcal is one of my favorite things, this is not news to anyone who knows me. I usually prefer to drink it straight - the way it's meant to be sipped. But sometimes, it's nice to have a refreshing cocktail, and Mexico City mezcal cocktails are among the best!
In my many collective months spent in Mexico City, I've done the hard work of researching Mexico City mezcal cocktail bars. 🙂 The below 6 are my favorites - with complex and balanced mezcal cocktails, great atmosphere, cute decor, and great service.

They're also all in the lovely, safe, and pretty neighborhoods of Roma and Condesa which are great for shopping, strolling, eating, and photo-taking. If you're looking for other pretty spots to explore and take Mexico City Instagram worthy photos, I have plenty of suggestions, including a couple in Roma and Condesa.
If you're looking to buy some tasty mezcal online, outside of Mexico, check out my post of the best mezcal brands in the USA and beyond below. 
Mexico City Mezcal Cocktails:
1. La Chicha: Mexico City Mezcal Cocktails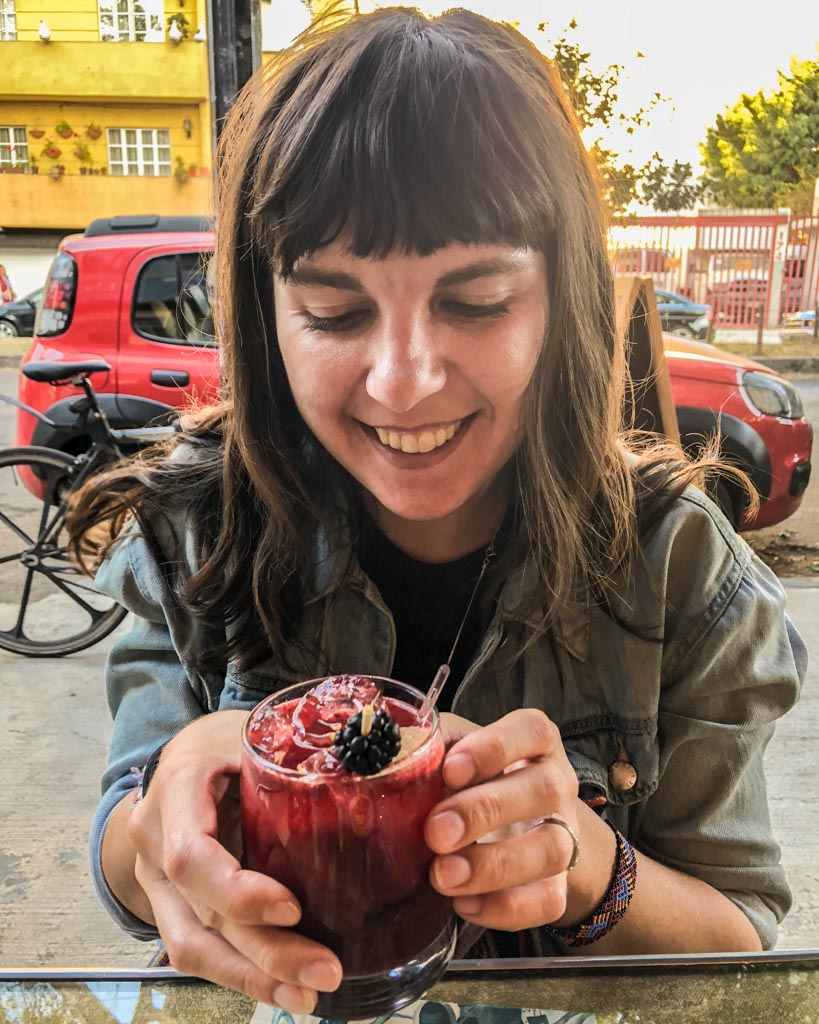 La Chicha is a cute, hip bar on a busy strip in Roma. This is one of the first bars I ever visited in CDMX, and it's still one of my favorites for Mexico City mezcal cocktails.
Sit at one of the tables outside if you can snatch it, and enjoy one of their mezcal cocktails while you do some people watching.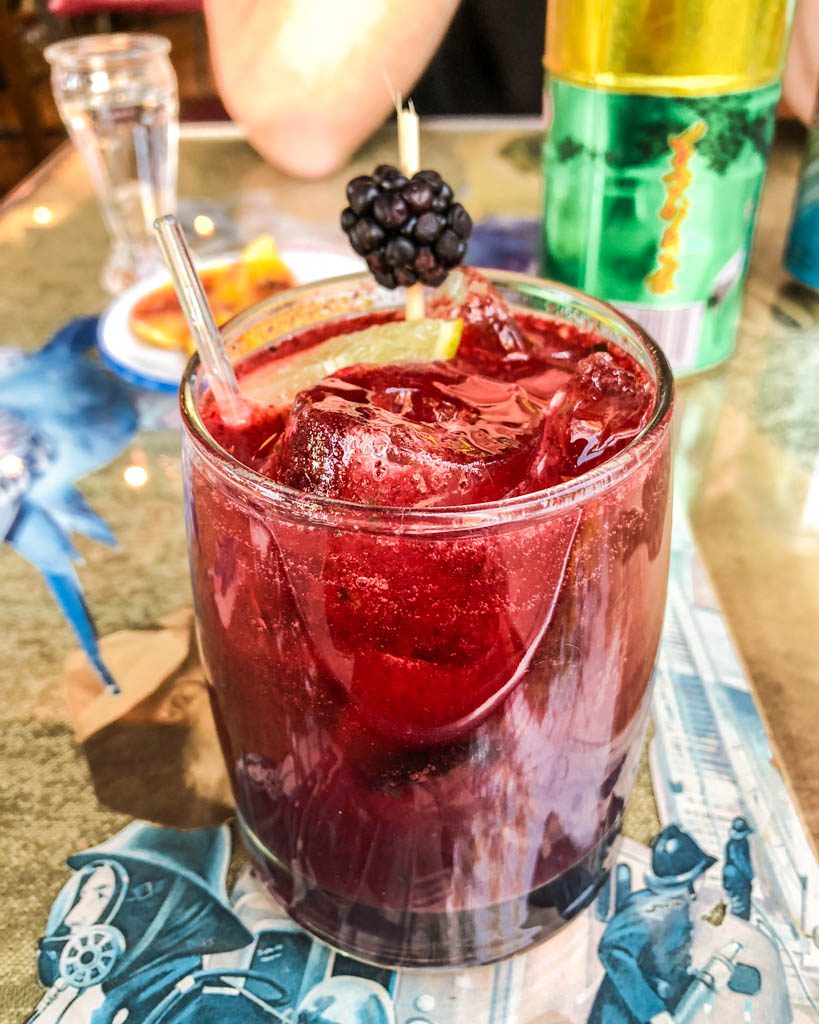 2. Cine Tonala: : Mexico City Mezcal Cocktails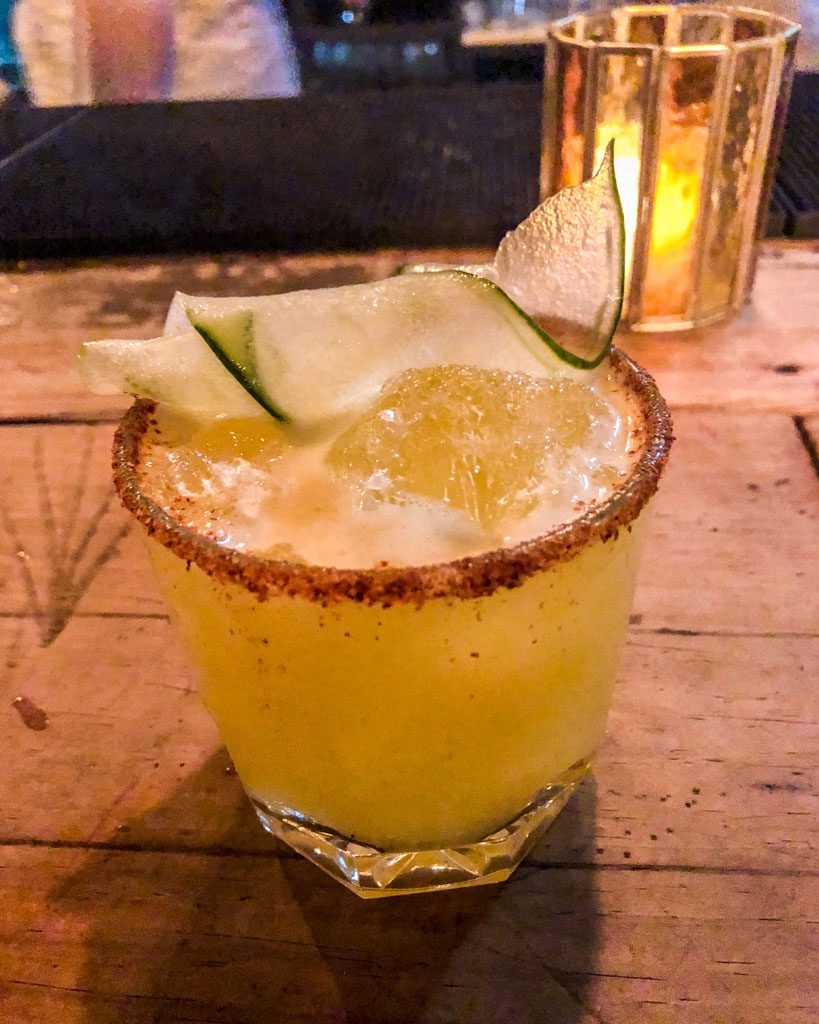 Cine Tonala is a really interesting place - it's part movie theater, performance space, restaurant, and bar.
Because of this, Cine Tonala has a great creative energy that makes it a fun place to hang out. It's also really stylishly decorated, with a slightly industrial vibe, but somehow still really cozy.
They have a nice variety of mezcals to sip and a good list of Mexico City mezcal cocktails as well. And if you're feeling adventurous, try out the Pox - a traditional liquor from Chiapas that is starting to become popular in the city.
3. Condesa DF: Mexico City Mezcal Cocktails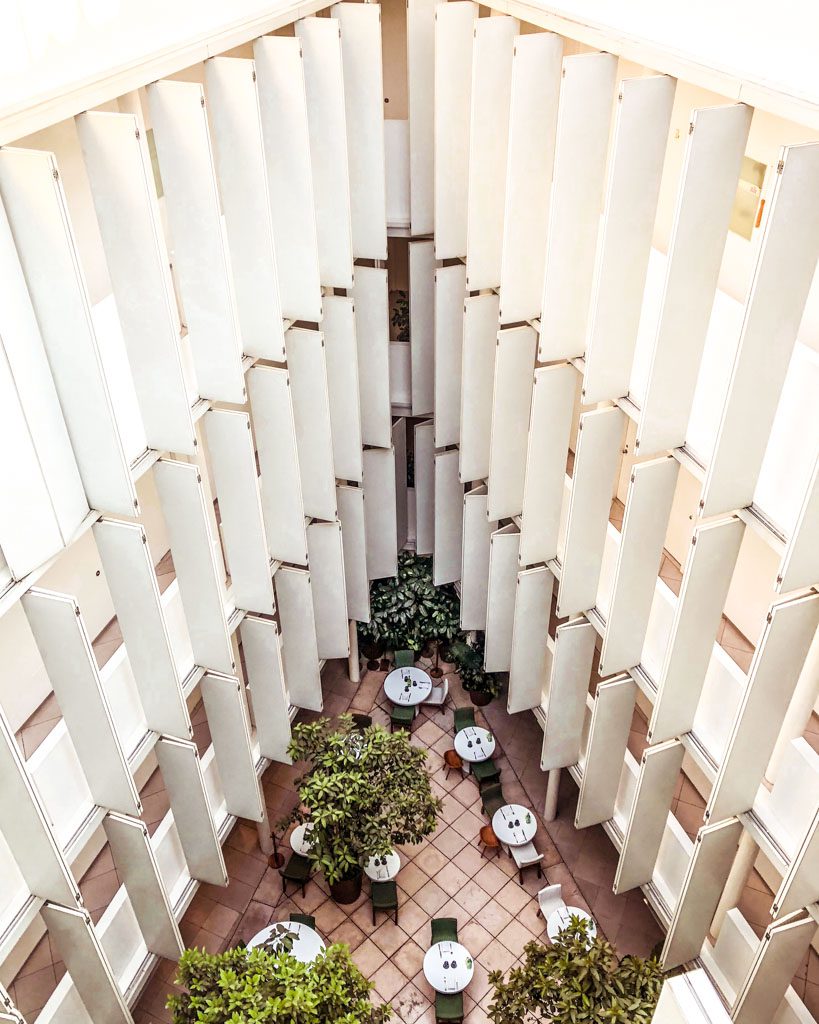 Condesa DF is a gorgeous hotel with a rooftop terrace, so it's perfect for a sunny afternoon, sipping a Mexico City mezcal cocktail.
Arrive mid-afternoon on a weekend for some people watching, grab one of the cozy couches, and gaze out at the view over the city.
Condesa DF isn't just a trendy spot, their cocktails are also delicious and balanced. All the mezcal varieties are great, and their margaritas are tasty too if you feel like switching to tequila.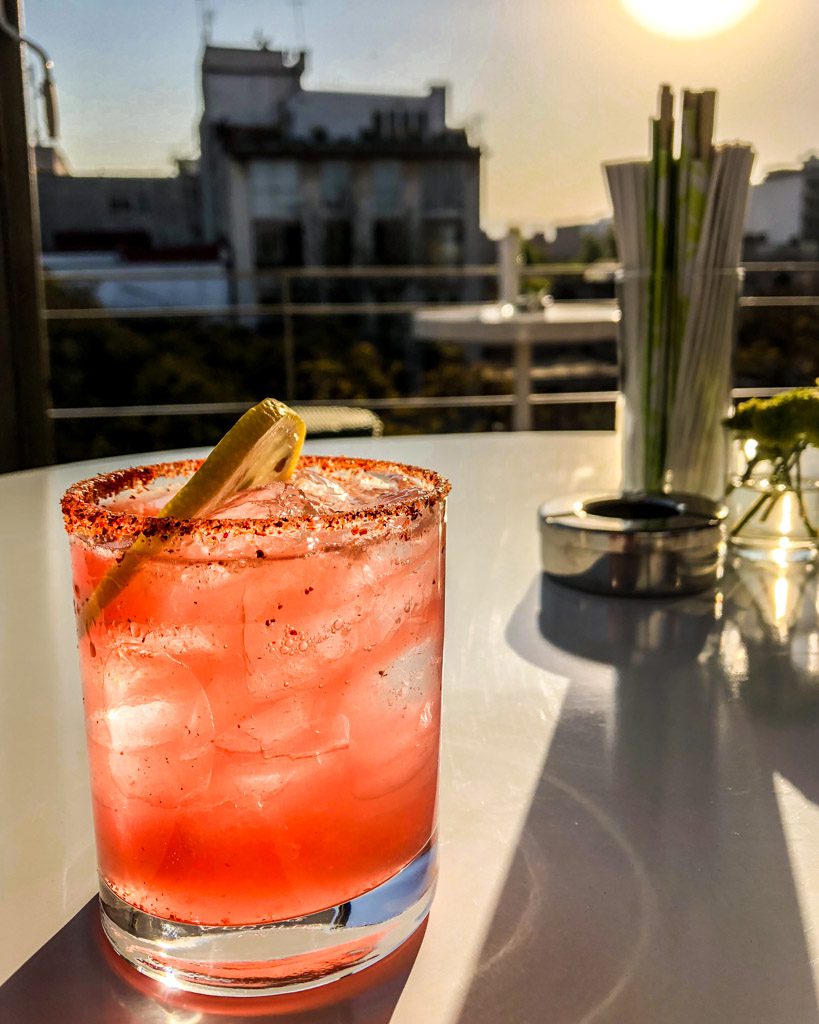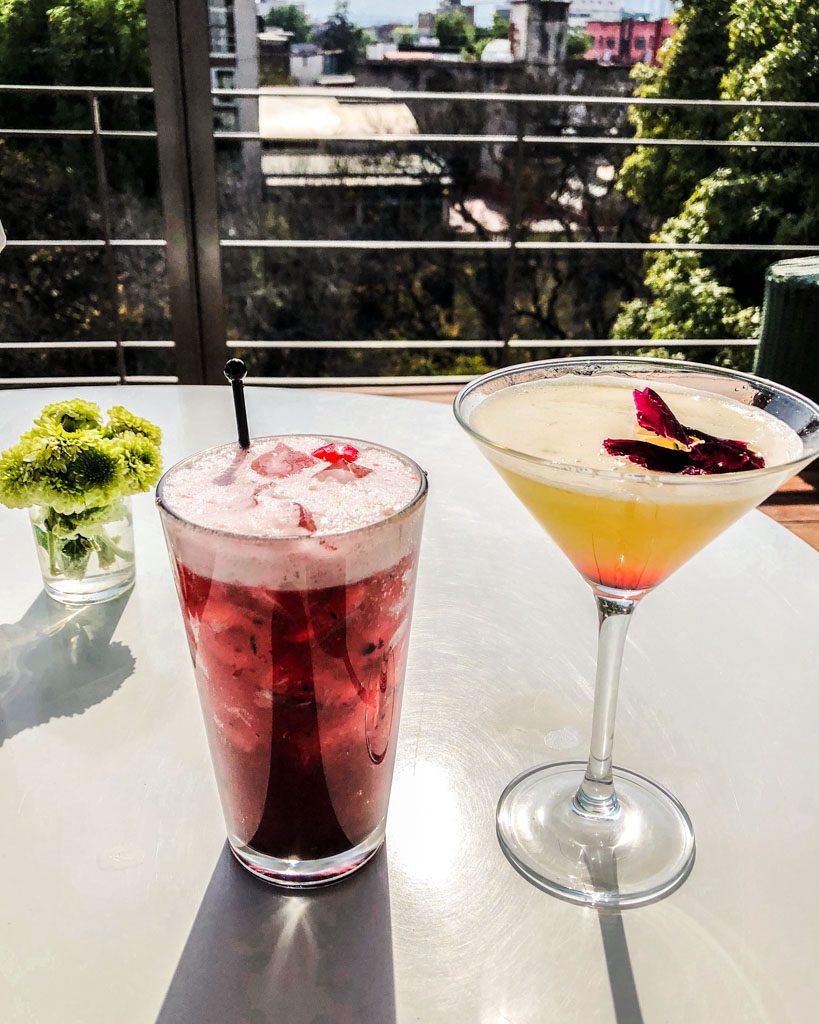 4. Traspatio: Mexico City Mezcal Cocktails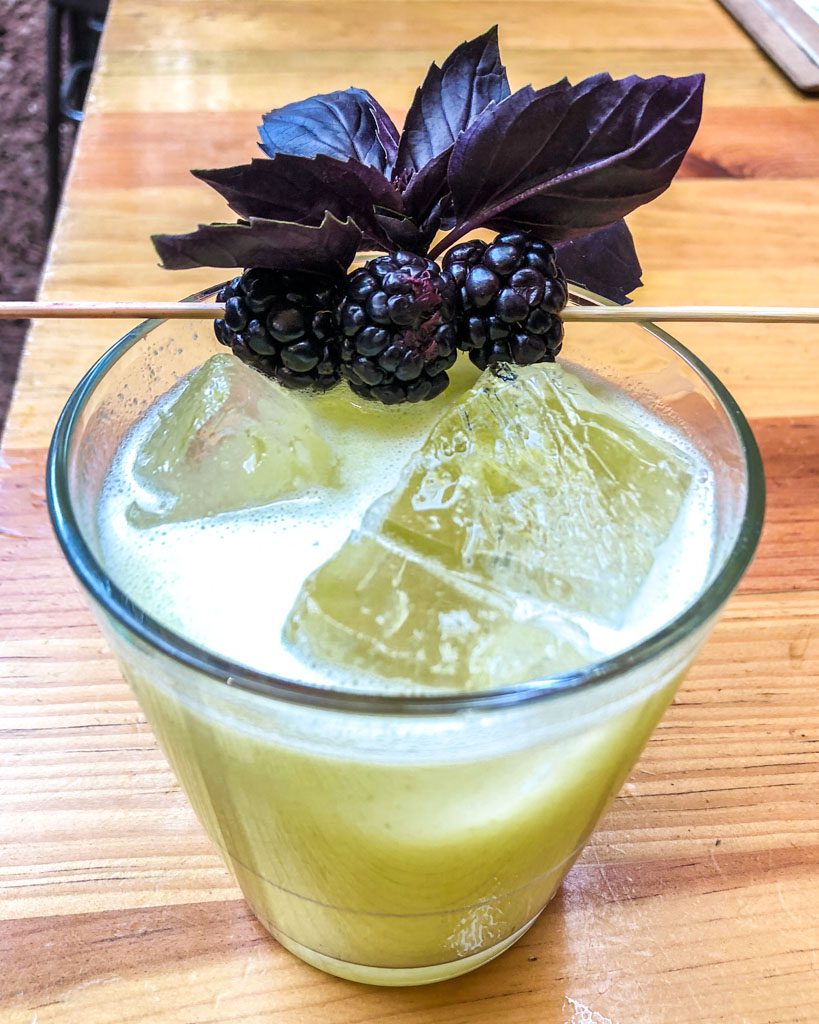 I had been wanting to try out Traspatio for awhile now and finally made it there last week. I wish I would have gone earlier because it's become one of my favorite spots for Mexico City mezcal cocktails!
The atmosphere is lovely - you enter through a non-descript grey door, and are welcomed into a lush patio with cute tables and decor.
The service was great, and the cocktails were delicious. I got the "Aguacate" which quite literally is made with avocado. I was so intrigued I had to try it and it was delicious. They topped it off with basil and blackberries which balanced it out perfectly.
Traspatio would be a great place for an afternoon Mexico City mezcal cocktail while enjoying the temperate weather, or in the evening when the lights are twinkling.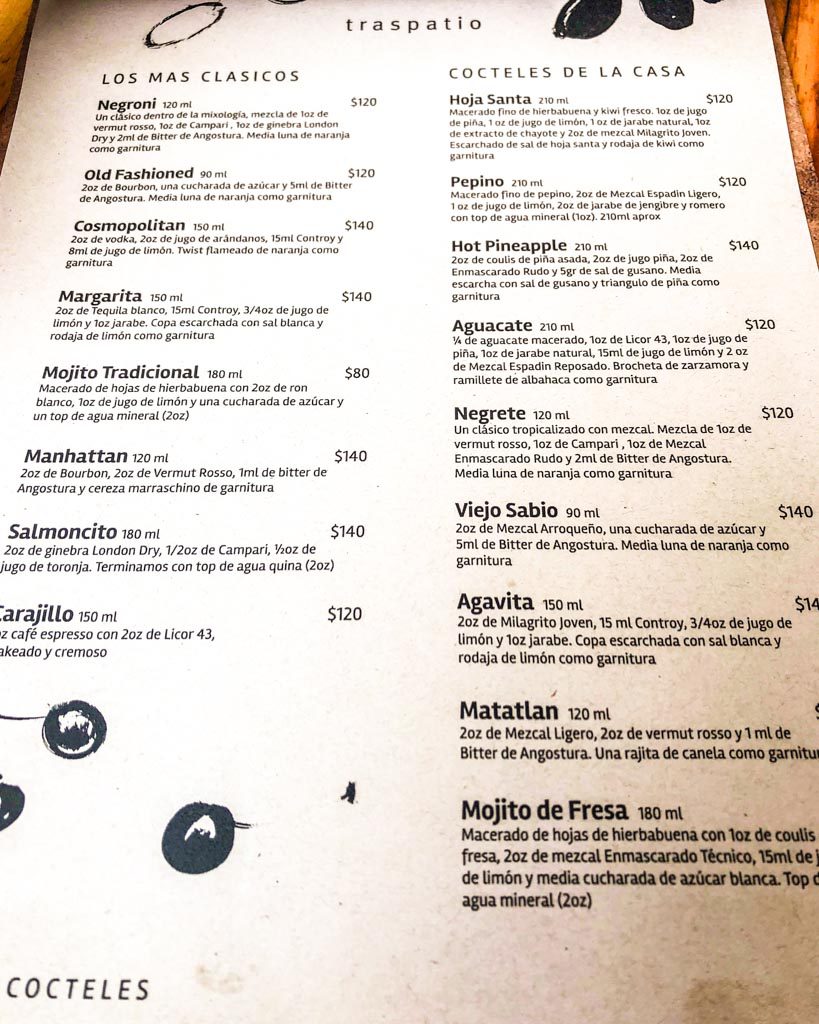 5. Felix: Mexico City Mezcal Cocktails
Felix is another bar that I had the pleasure of discovering recently and it's absolutely lovely. I had actually walked into Licoreria Limantour down the street, but we were turned off by the clubby vibe, so we went to Felix instead.
Felix was the perfect vibe for us - stylish, not too loud but playing great music, and had an interesting mezcal cocktail menu. I found their mezcal cocktails to be really light and refreshing - nothing too heavy or sweet.
I will definitely be returning to Felix for more Mexico City mezcal cocktails and conversation.
6. Paramo: Mexico City Mezcal Cocktails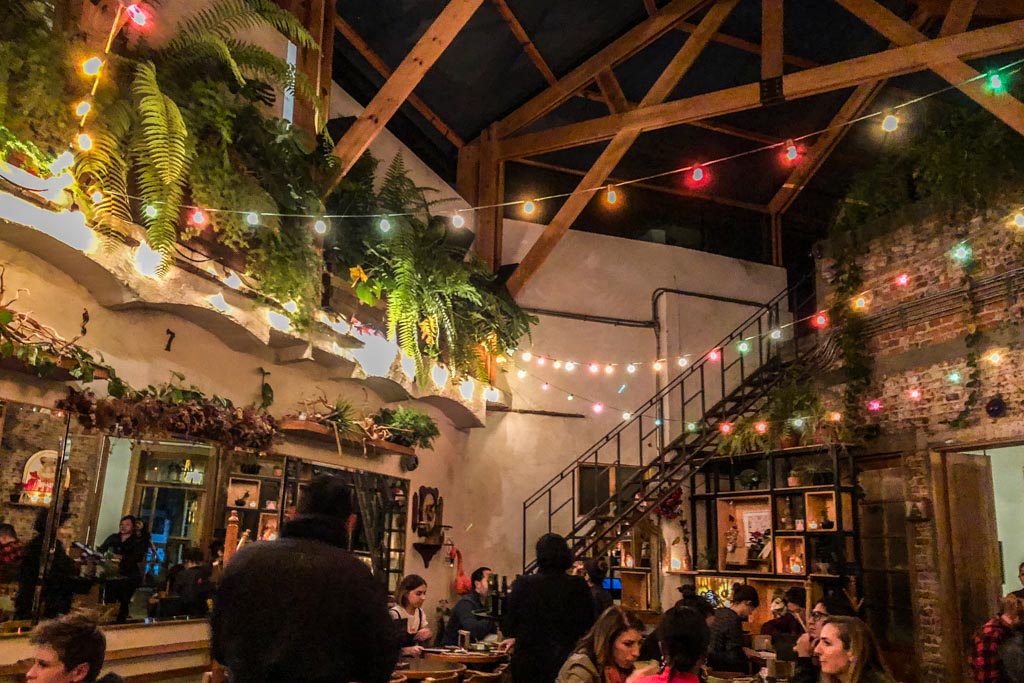 Paramo is the nighttime version of the great restaurant below, El Parnita. Paramo has great rustic and hip decor, with pretty lights that make for a perfect atmosphere for a romantic date or just an intimate night with friends.
Their cocktails are awesome - every one we've tried is delicious. The food is also great. It can be extremely busy on weekends, so try to make a reservation beforehand, and bring your patience.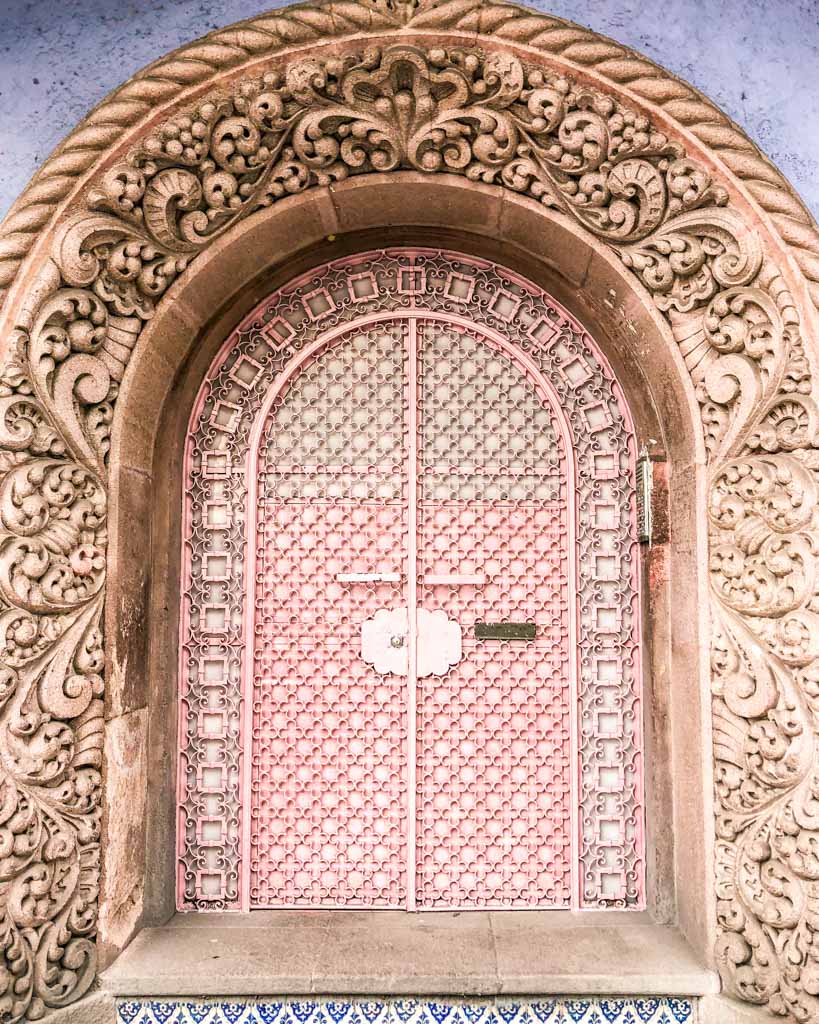 ---
And that's it - the best places to drink Mexico City mezcal cocktails. There are countless bars and mezcalerias all over the city, but these 6 have some of the best mezcal cocktails I've tried and are well-located in great areas of Roma and Condesa.