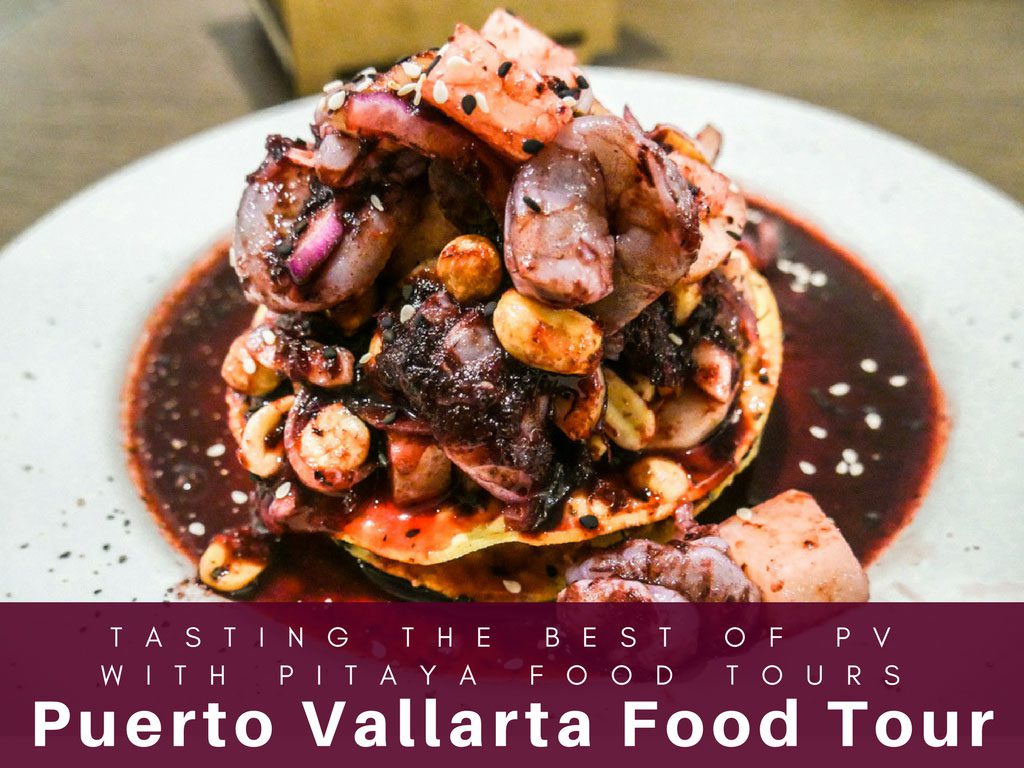 I don't know why it didn't occur to me until recently, but food tours are my new favorite way to get to know a city and a culture. So when I was planning my trip to Pacific coast of Mexico, I contacted Pitaya Food Tours to set up a Puerto Vallarta Food Tour asap.
The afternoon of the tour was full of my favorite things - eating Mexican food and learning about Mexican culture. I had talked with Paul, the owner, before the tour, letting him know that I love traditional Mexican food, and he designed a tour around my preferences.
Our Puerto Vallarta food tour made 6 stops, covering food and drink, savory and sweet, humble and contemporary. And along the way, we saw important landmarks in town, learned the history of the region, and asked tons of questions about Mexican food culture and history.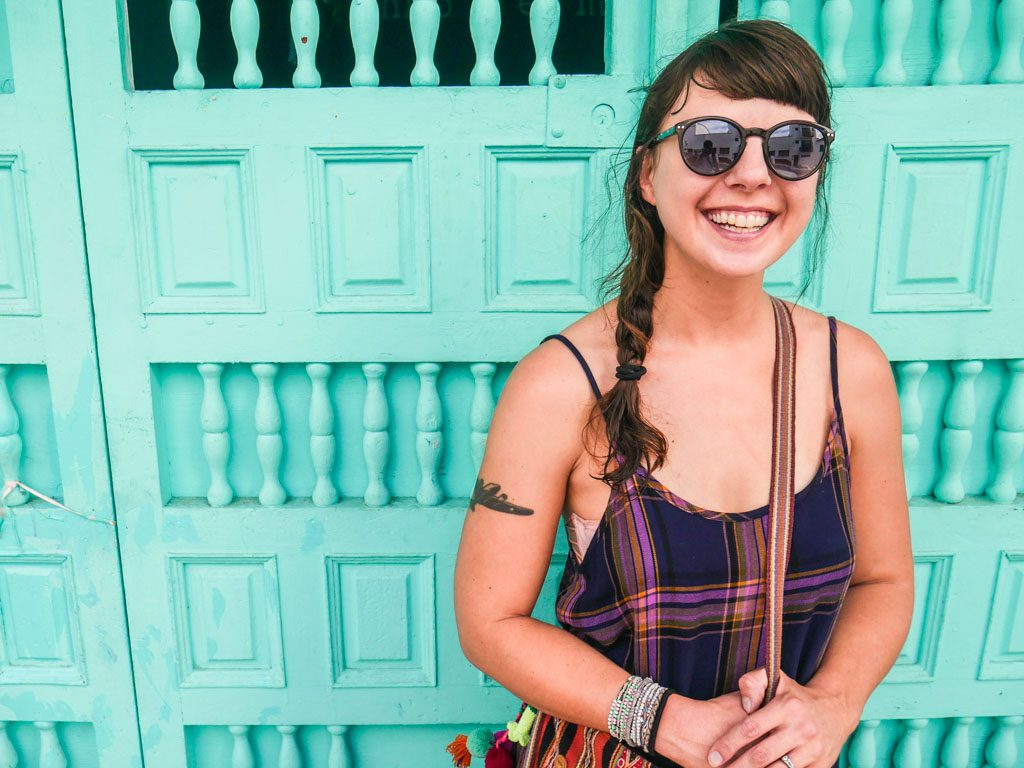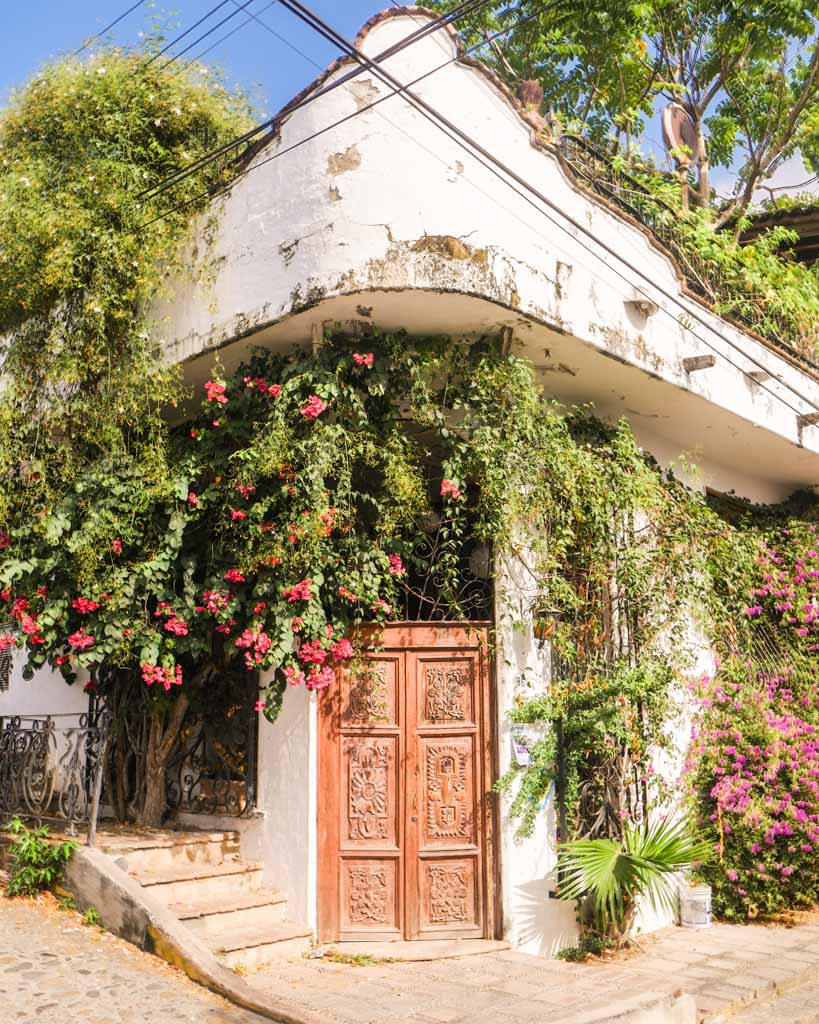 Starting the Puerto Vallarta Food Tour: Walking the Centro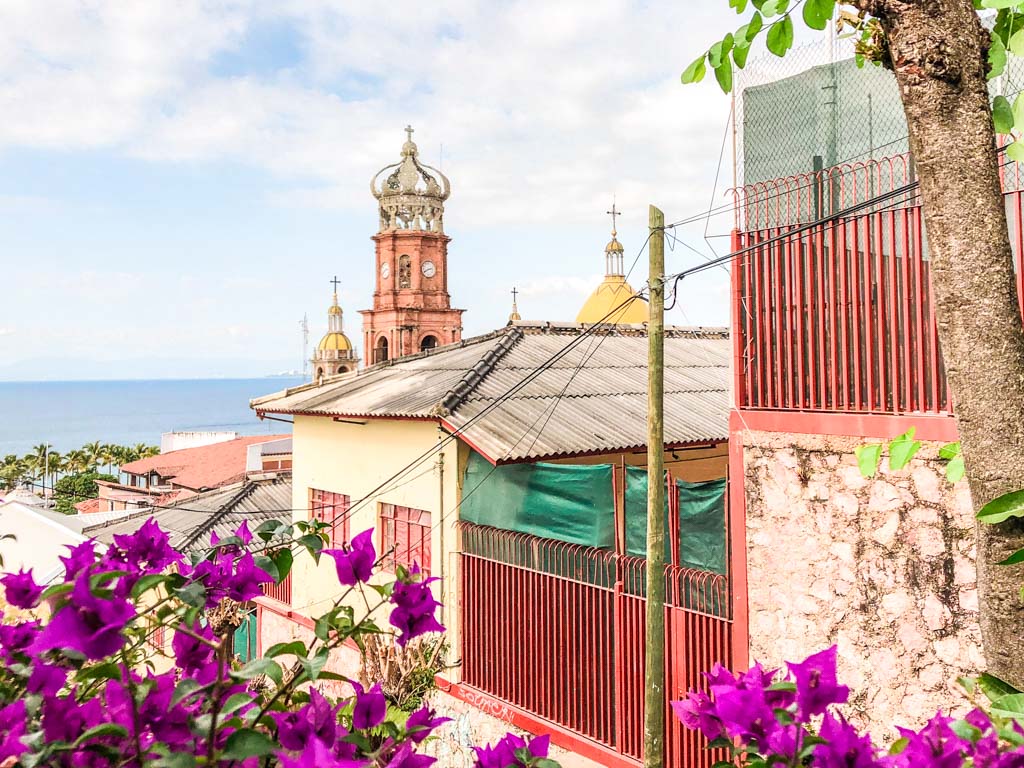 Paul, the owner of Pitaya Food tours contacted us before the tour to ask us some questions. He made sure to find out if we had food restrictions or other preferences. If you are vegetarian, gluten free, etc., Paul can design a food tour that works for you.
We started our Puerto Vallarta food tour by meeting at the recreation center on Isla Cuale. This little island is situated between the Centro and Old Town in the middle of the River Cuale. It feels like a jungley quiet escape in between the bustling streets of both neighborhoods. We then walked over the bridge and up into the Centro, passing by Elizabeth Taylor and Richard Burton's home that is now a boutique hotel, and winding through the charming old streets.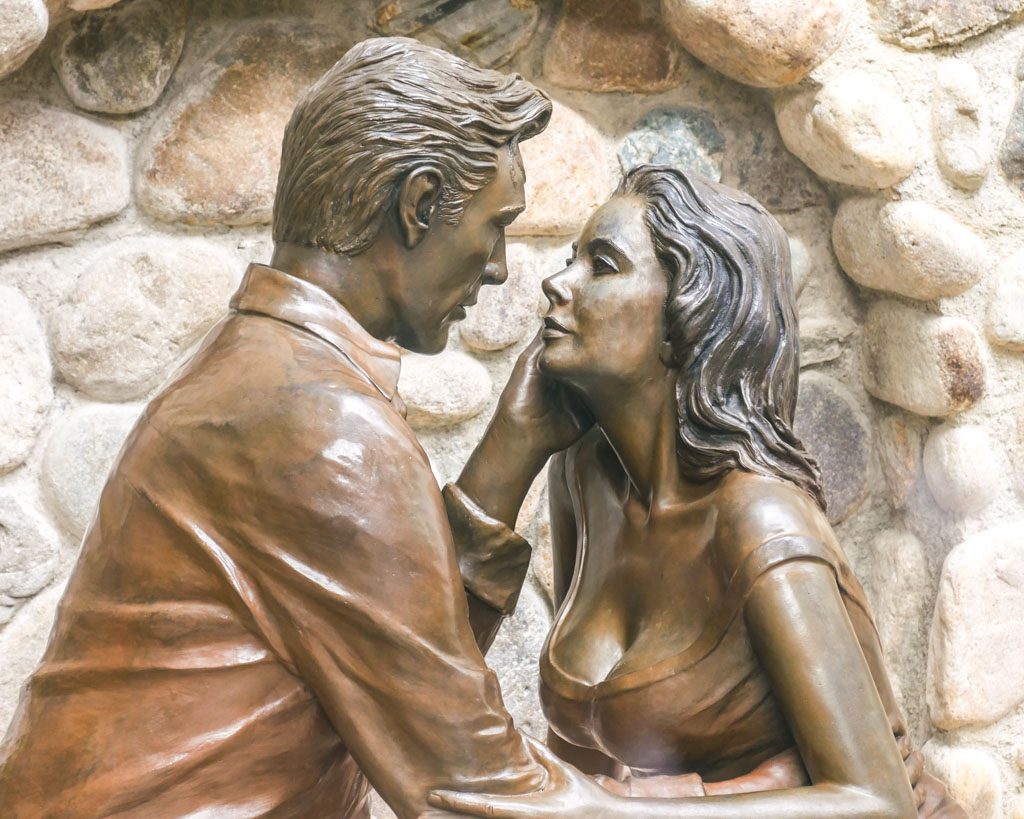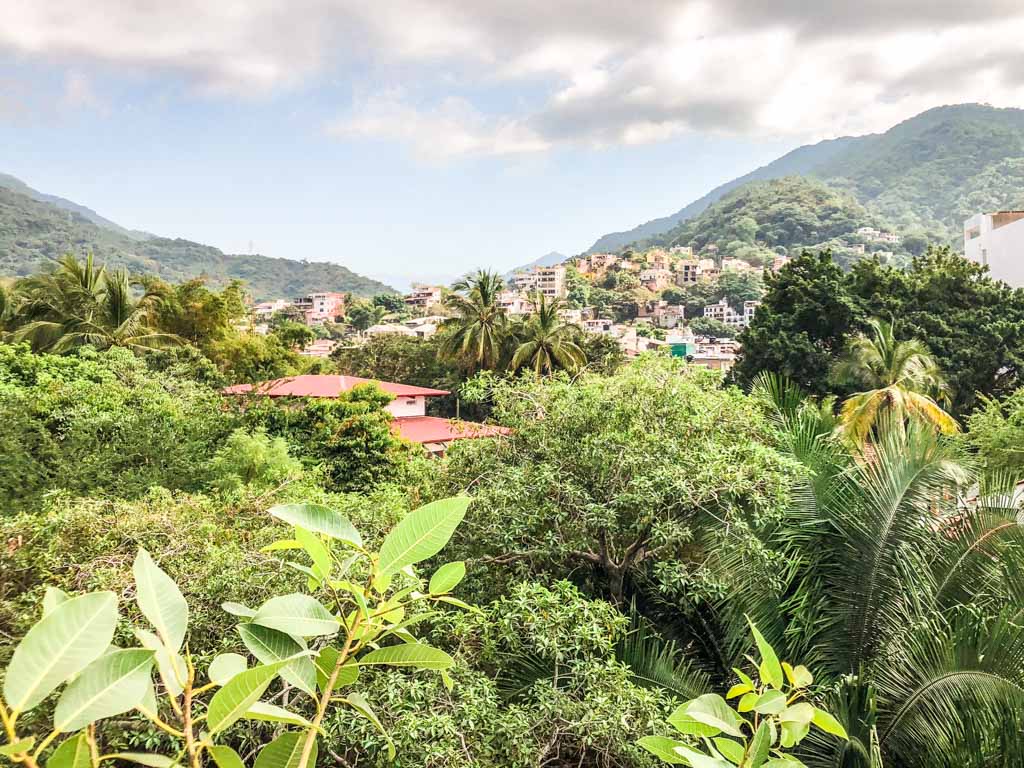 Paul gave us a brief history lesson about the city. We learned that it's a pretty young city (99 years old) and was actually founded by an American mining company that worked in the area. It was a modest sized town until the movie, The Night of the Iguana, filmed nearby, making the beautiful area known to international tourists.
Puerto Vallarta Food Tour Stop #1 - Loncheria Don Jorge for Sopes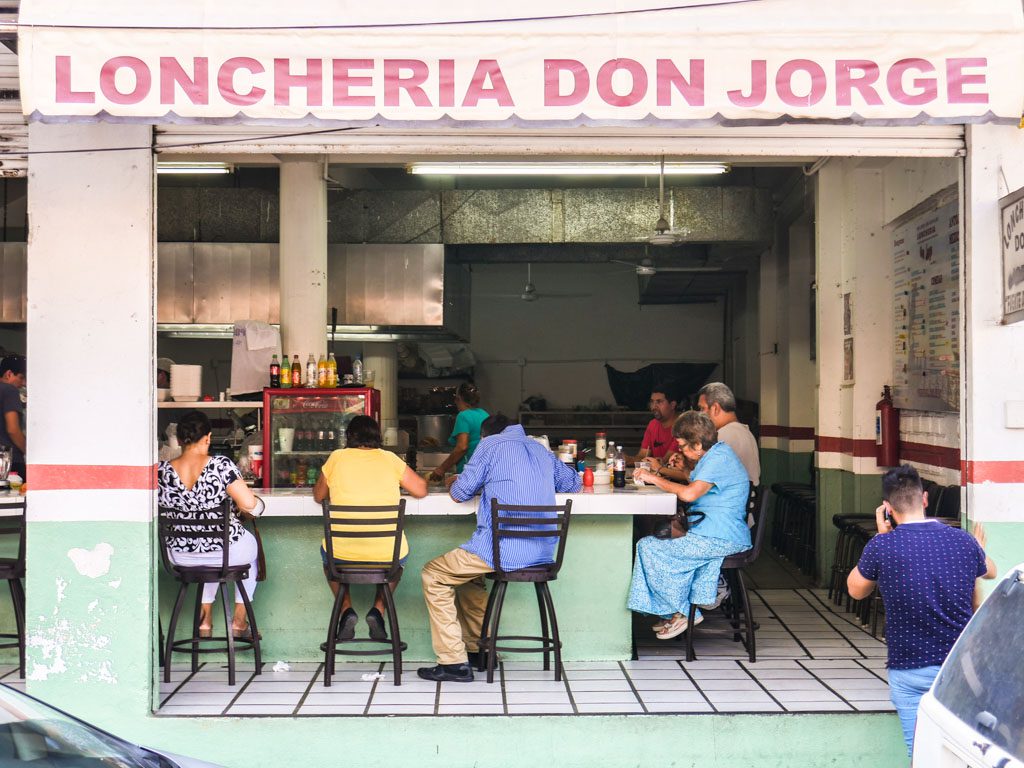 Our first food stop on the Puerto Vallarta food tour was at the traditional lunch spot - Loncheria Don Jorge. We settled in at the bustling food counter and ordered two types of sopes - chicken and pork.
Sopes are a dish that is heavily influenced by Indigenous recipes. The thick corn tortilla is lightly friend to be crispy on the outside and a little soft on the inside. It's then topped with shredded meat, lettuce, tomato, and salty cheese.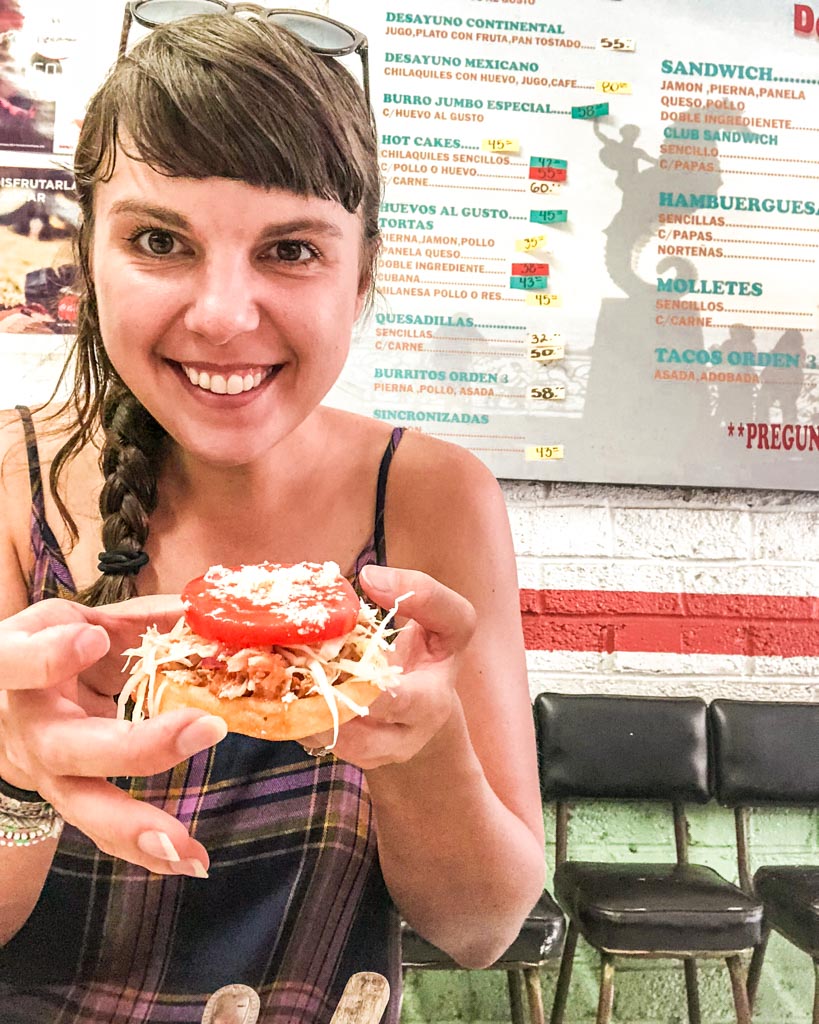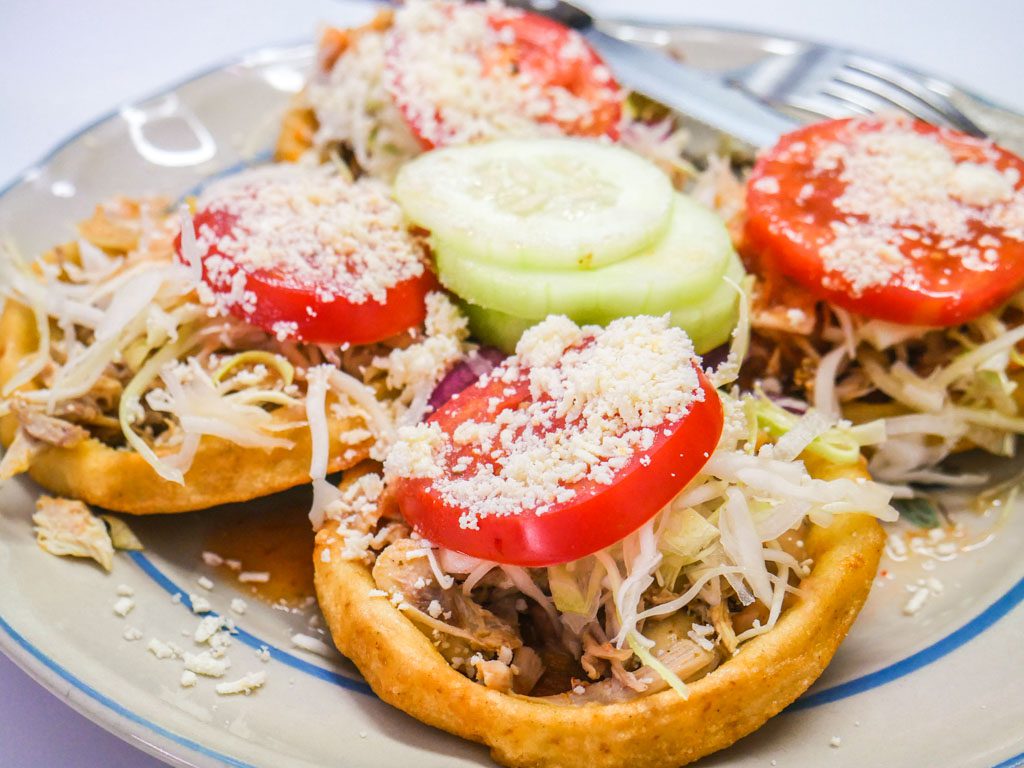 I have only had sopes once or twice before and apparently never had a great one. These tasty ones from Loncheria Don Jorge make me want to scout them out more often!
Stop #2 - Metate Chocolate & Cafe for Enmoladas + Coffee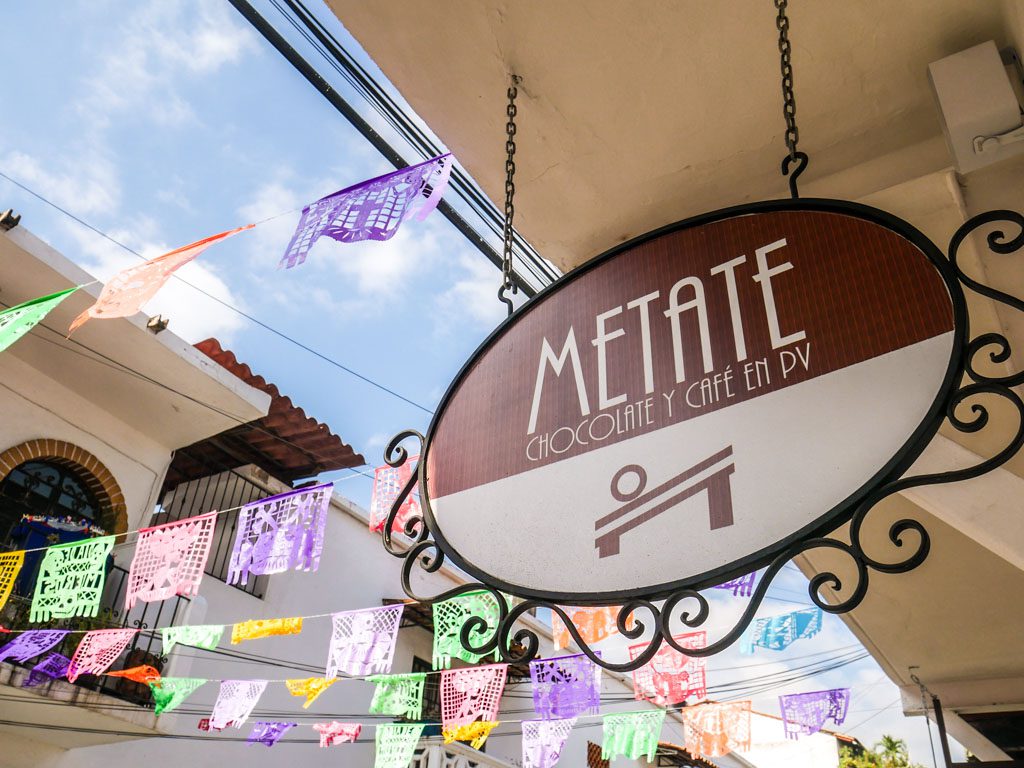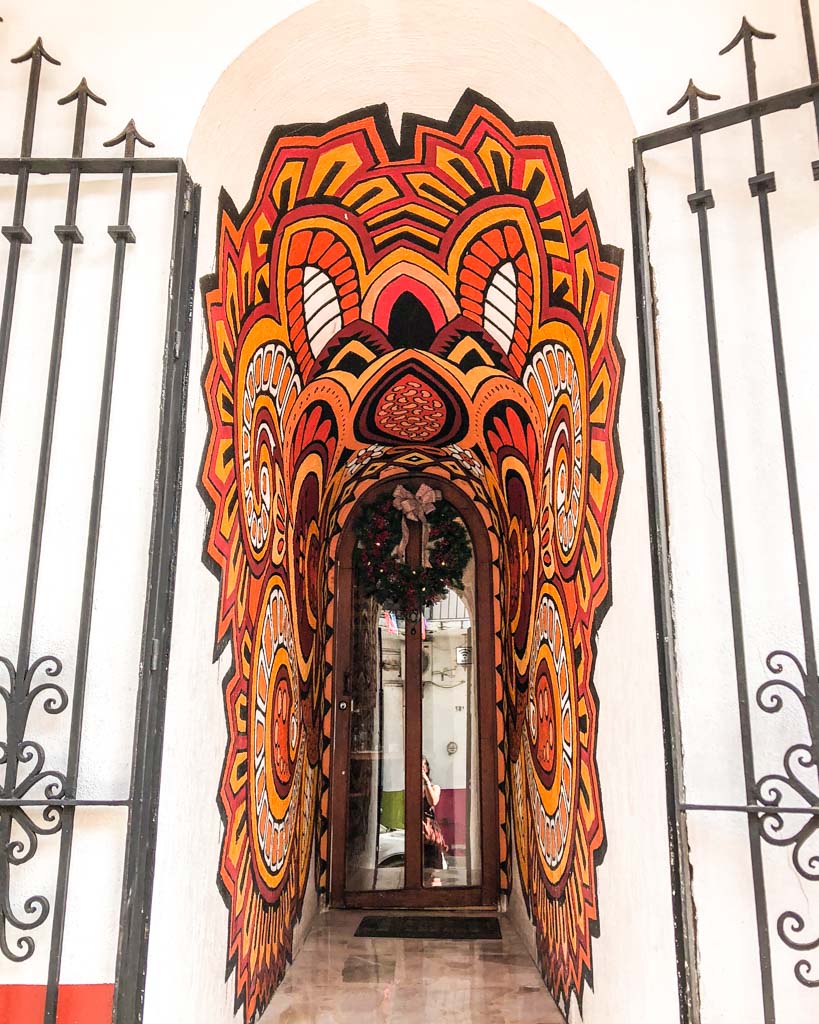 Next we walked over to a cute little cafe that specializes in chocolate. We ordered an espresso and a moka which we enjoyed as they prepared our meal.
The star here is the enmoladas - a dish that is similar to enchiladas, but the sauce is made of mole instead of the typical salsa. Mole is a complex sauce that is made from many chiles, nuts, dried fruits, etc. It often has dozens of ingredients and can take days to prepare. The mole sauce at Metate is a black mole with added chocolate. The result was a rich and tasty dish that I couldn't help but eat every bite of (even though I knew there was a lot more to come!).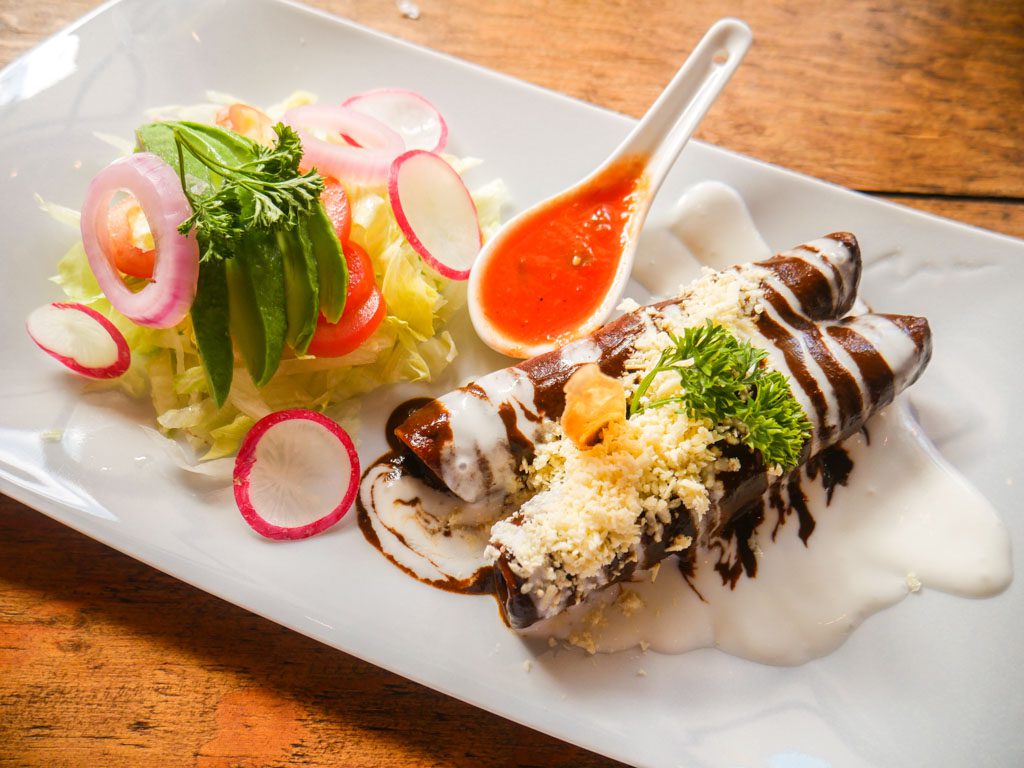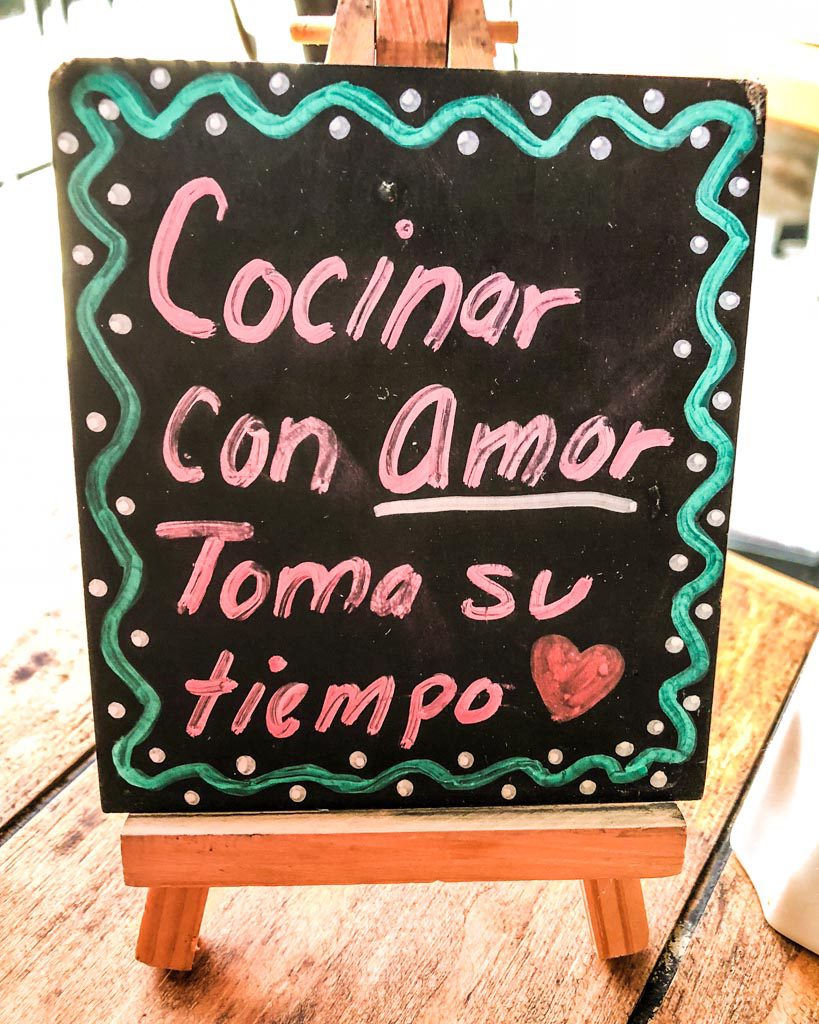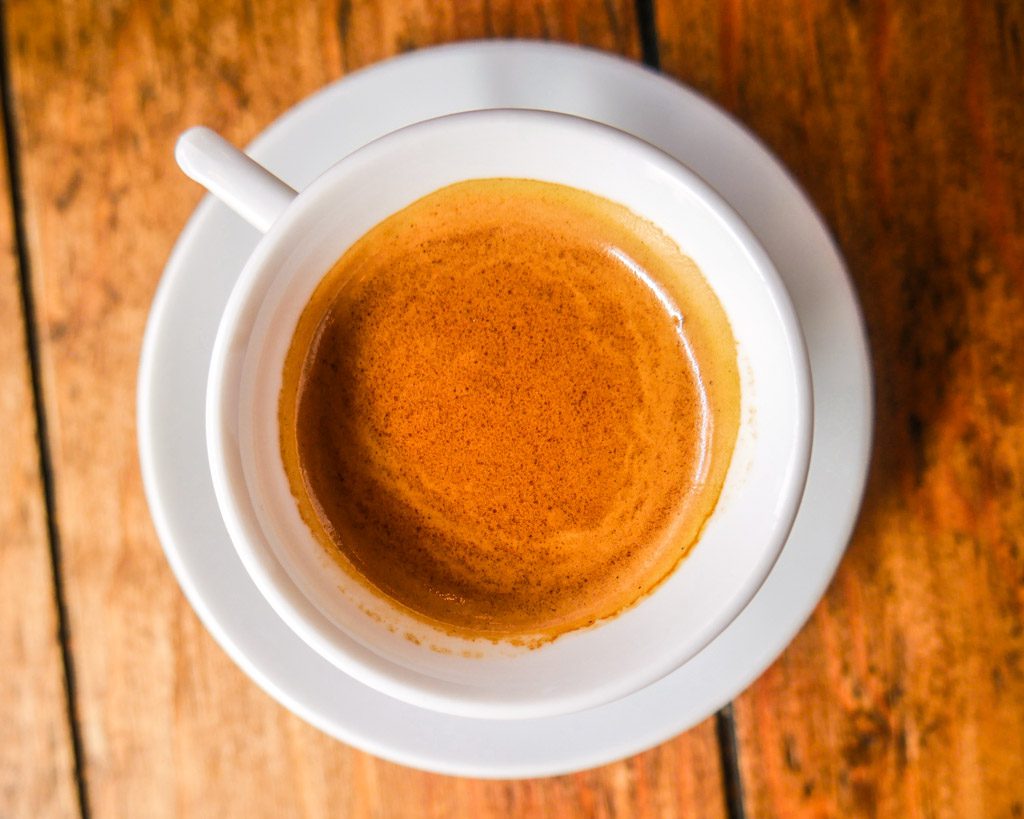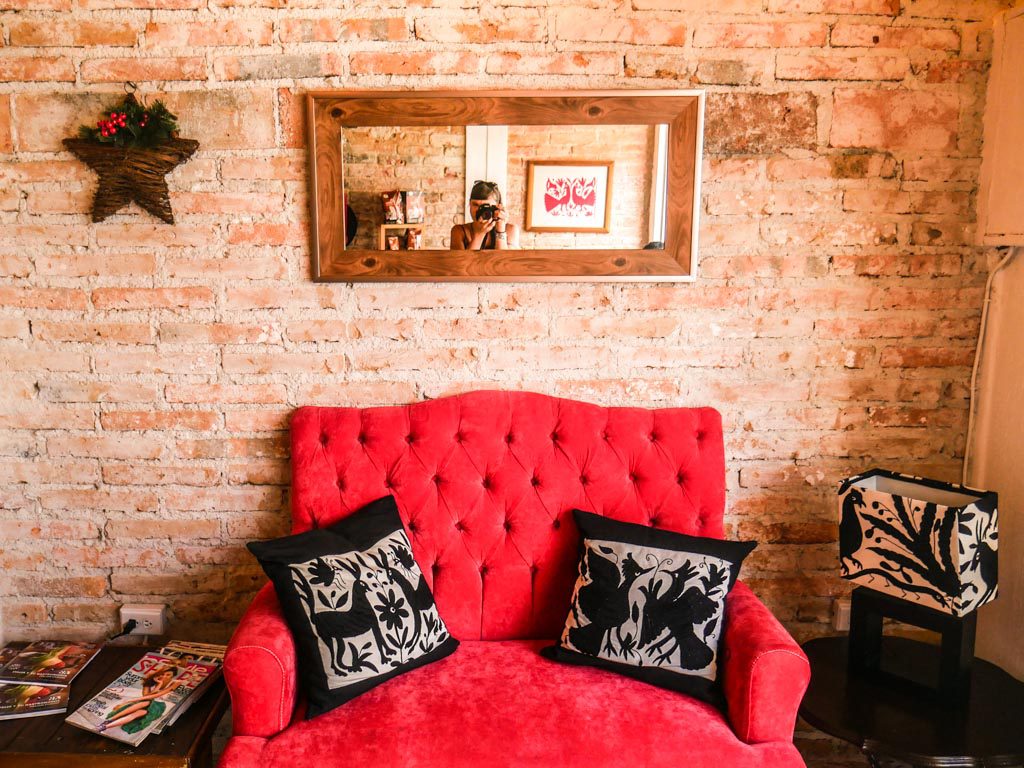 Stop #3 - Zapata for Cocktails + Tortilla Soup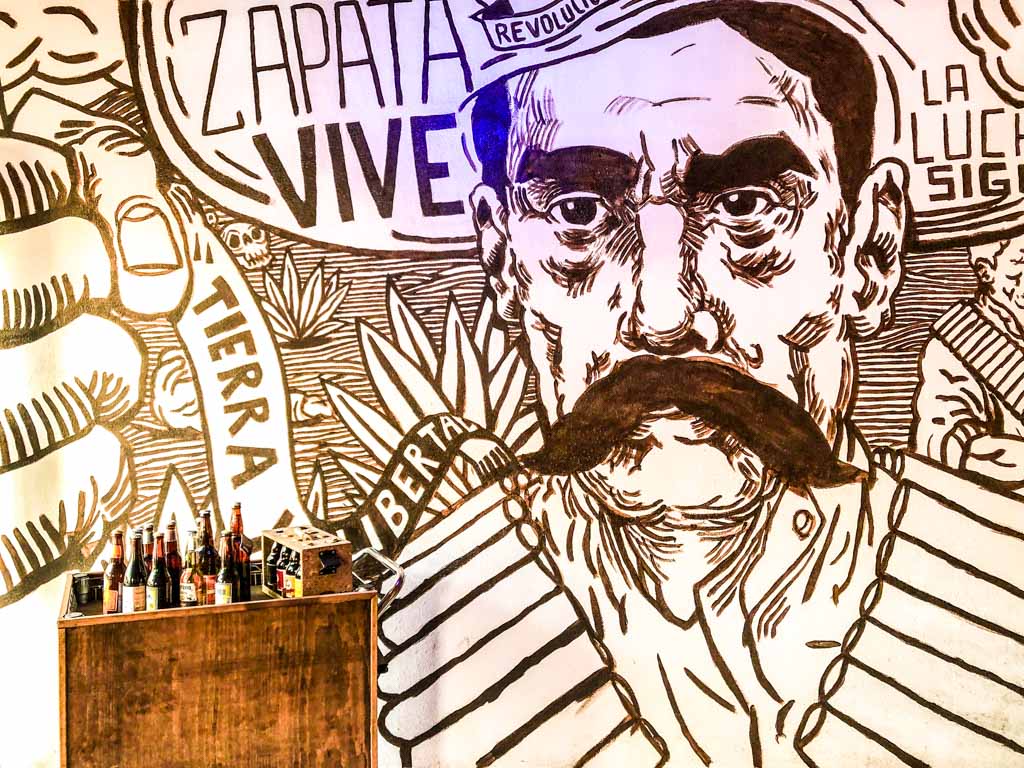 Next on our Puerto Vallarta food tour, we walked back over the island and entered in the Old Town or Romantic Zone, ending up at the bar/restaurant, Zapata. This place specializes in local artisanal beer and cocktails.
We all ordered one cocktail a piece and a tortilla soup. Many of the cocktails are focused on tequila or mezcal bases - which are my favorite kind of cocktails. They were a little sweet for my taste, but I often prefer my cocktails less sweet than the average person.
The tortilla soup was absolutely delicious. It was a balanced, tasty tomato base with crispy fresh tortilla strips, dried chiles, freshly sliced avocado, and creamy crema to balance out the spice. It was so delicious that Justin and I returned a few days later to order it again!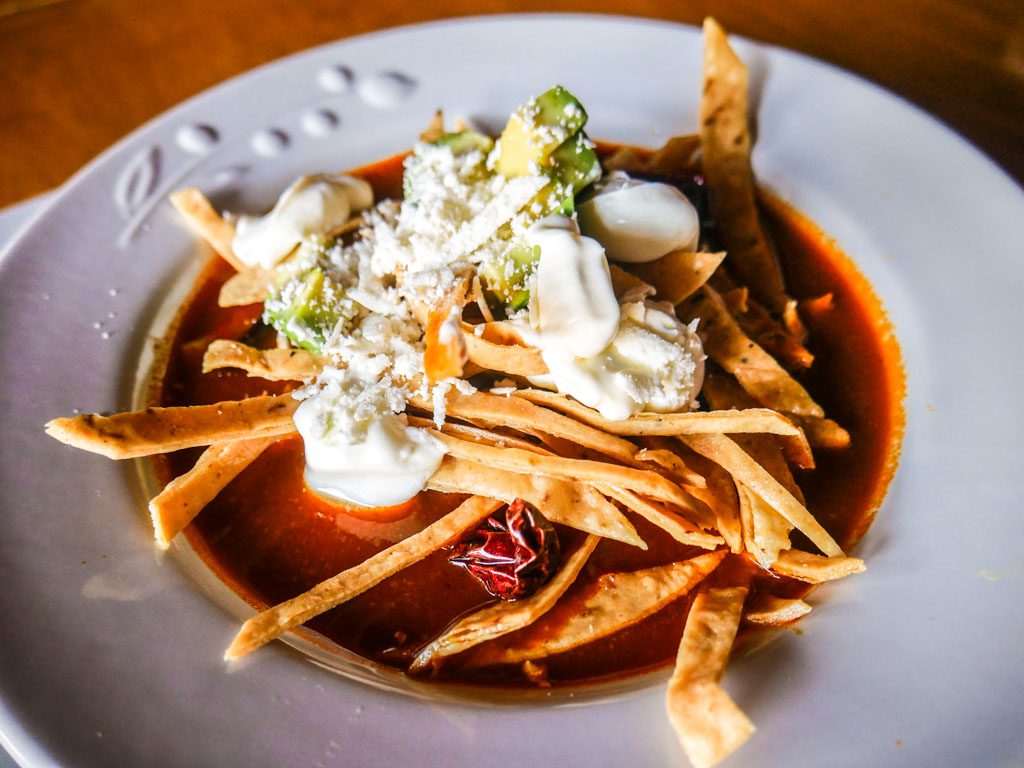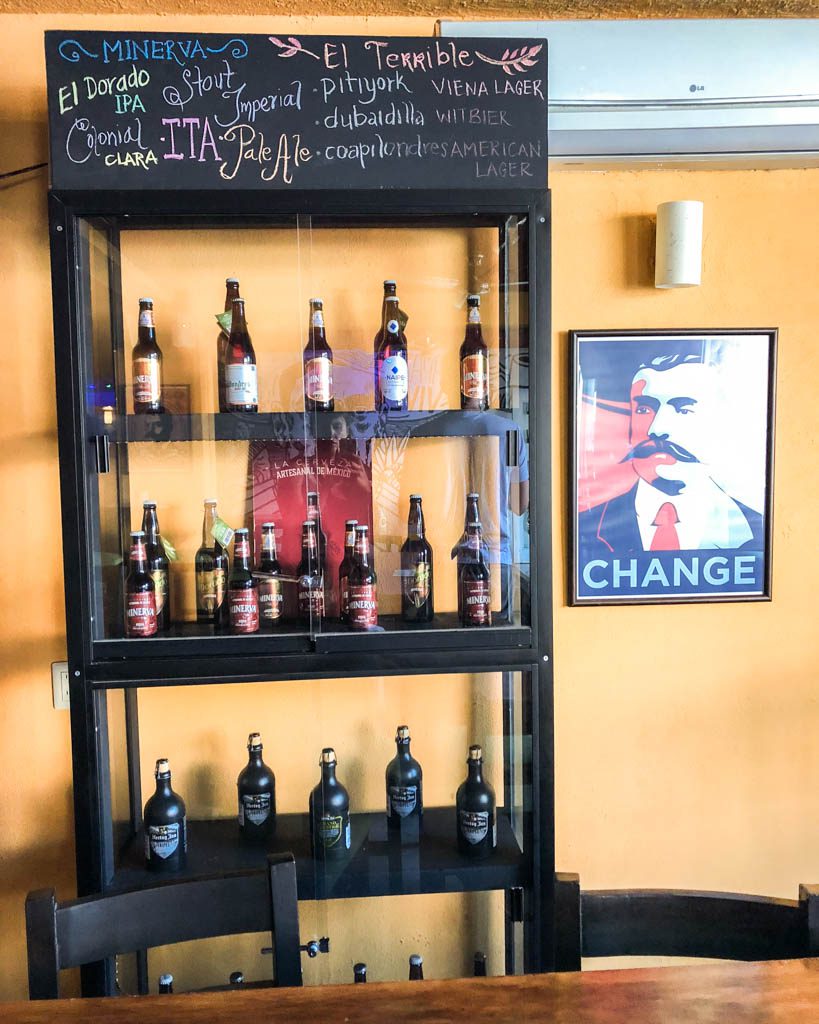 Improvised Stop - Tasting Mamey Fruit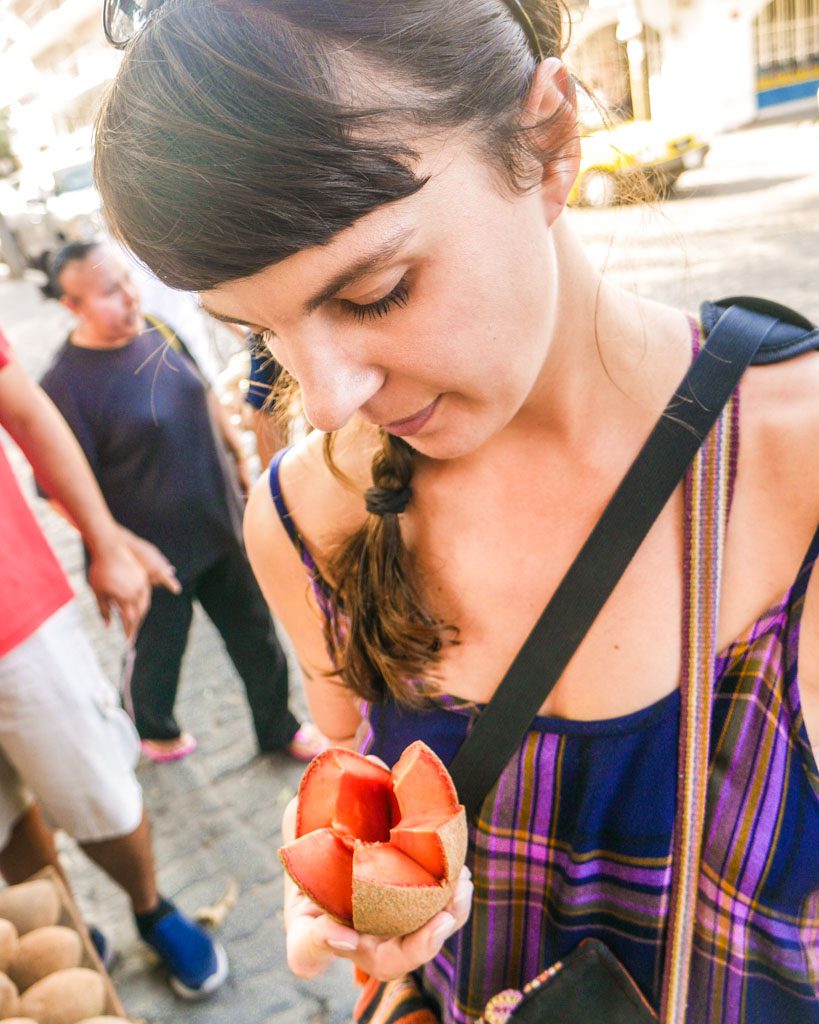 Good tours know how to do 1 thing - improvise based on their audience's interests and needs. As we passed a fruit cart on the corner, I asked what the fruit was - I remembered tasting it a couple years ago but couldn't remember the name.
So Paul doubled back, explained what the fruit was - and asked the proprietor if we could taste some of the fresh mamey fruit. It was delicious, of course, so I purchased one to bring home. I appreciated that Pitaya's Puerto Vallarta food tour could add personalized touches like this during our day.
Stop #4 - Merida Grill for Yucatecan Snacks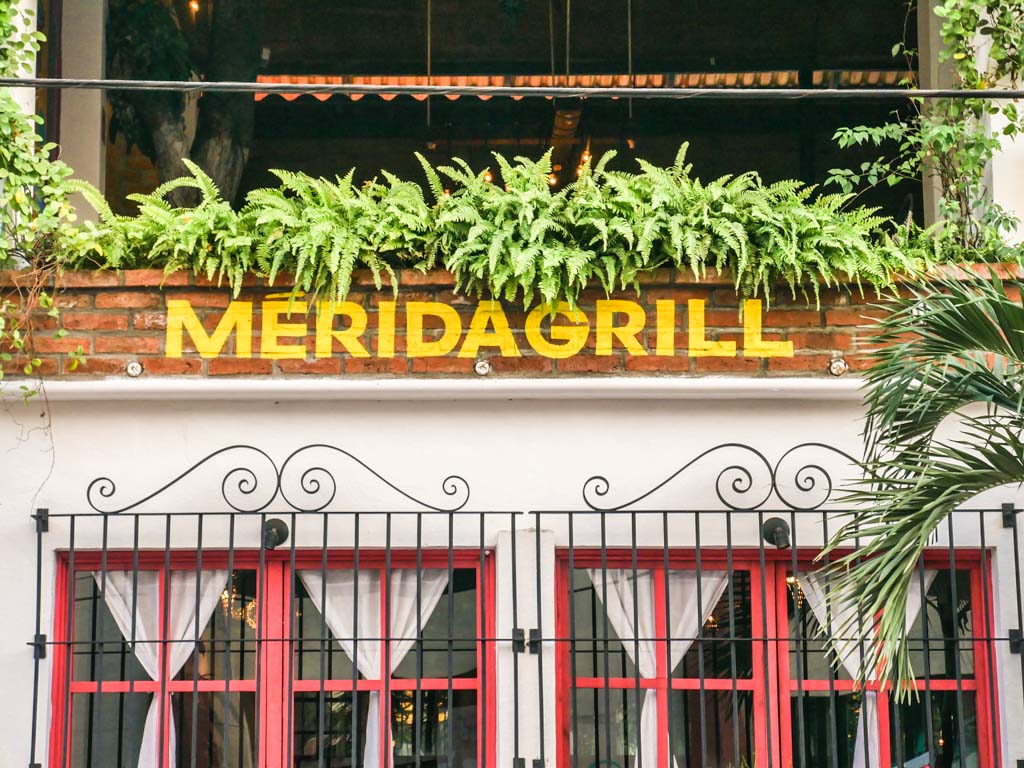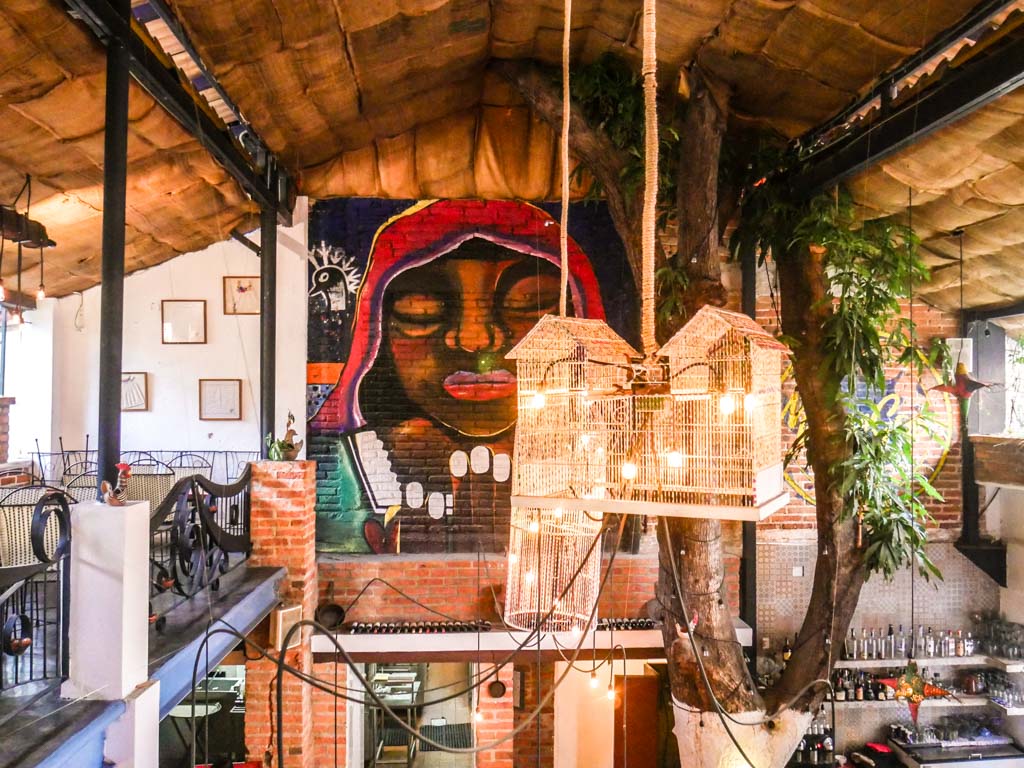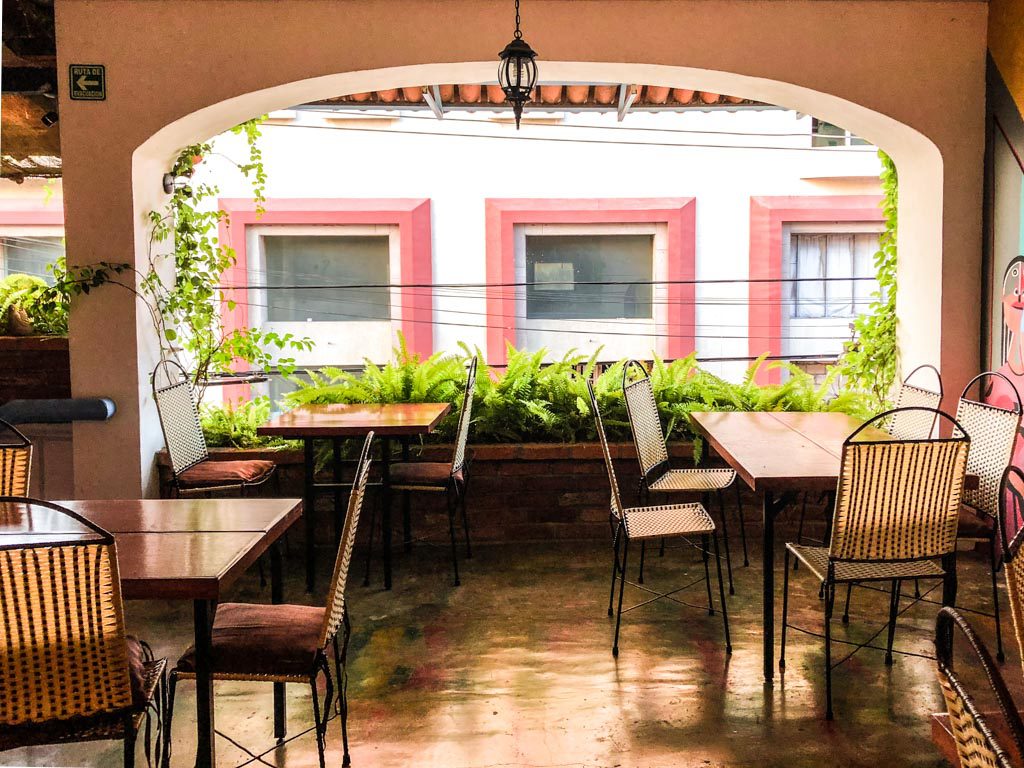 The next stop was at a more upscale restaurant in the Old Town - Merida Grill.
We entered, were treated to tall glasses of cold water and a damp towel to clean our hands.
At this stop of the Puerto Vallarta food tour, we tried some Yucatecan specialites - salbutes and panuchos.
Panuchos and Salbutes are similar - both are crispy fried tortillas topped with shredded chicken or pork, lettuce or cabbage, tomato, pickled onions, and avocado. The difference between the two is that panuchos have refried beans inside the tortilla.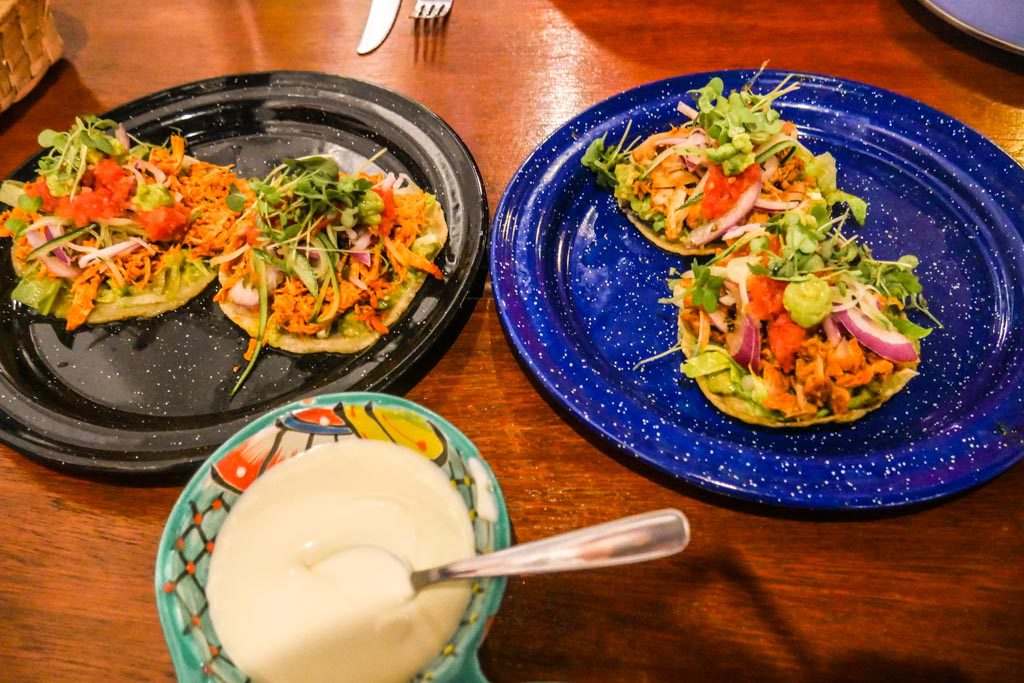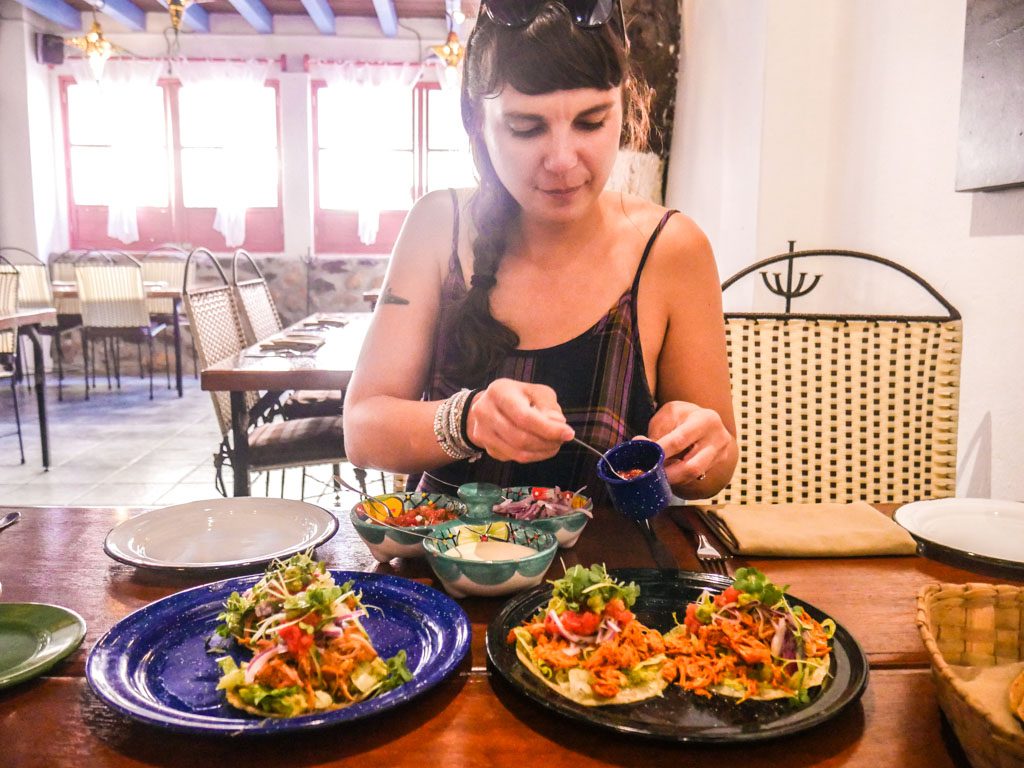 We got a platter of both - some with chicken and some with pork. They were all delicious - the marinated shredded meat super tasty, and the crunch of the tortilla was satisfying.
The restaurant also makes a fresh salsa tableside so you can see the process. They even ask how spicy you would like it so they can make it to your taste.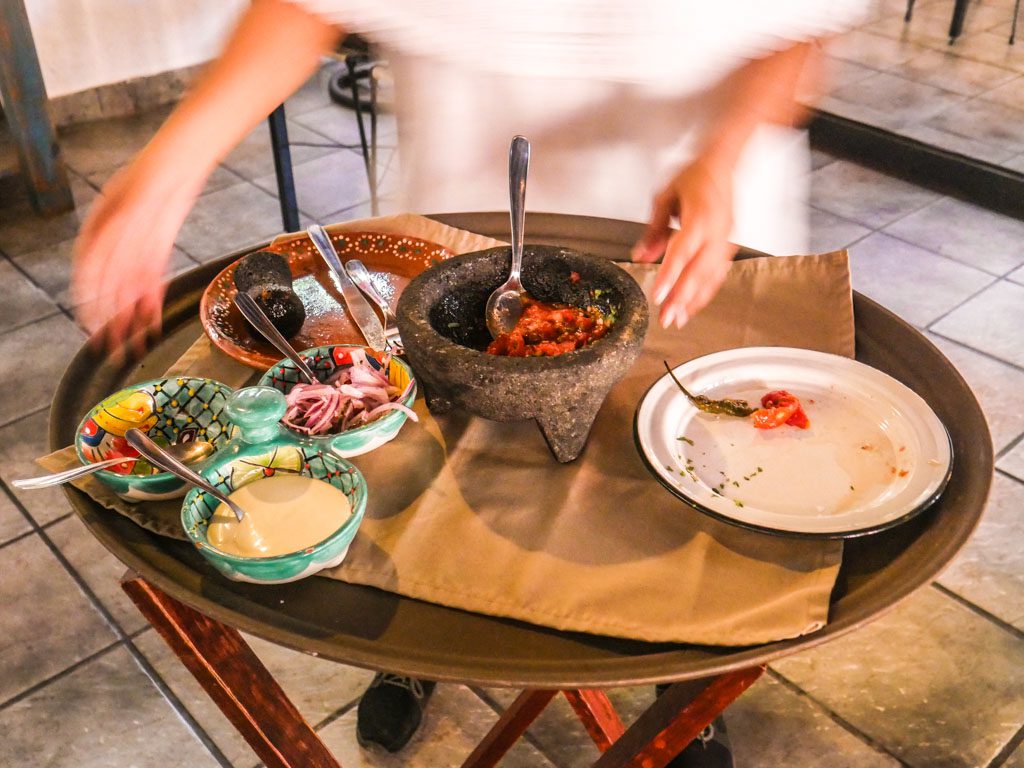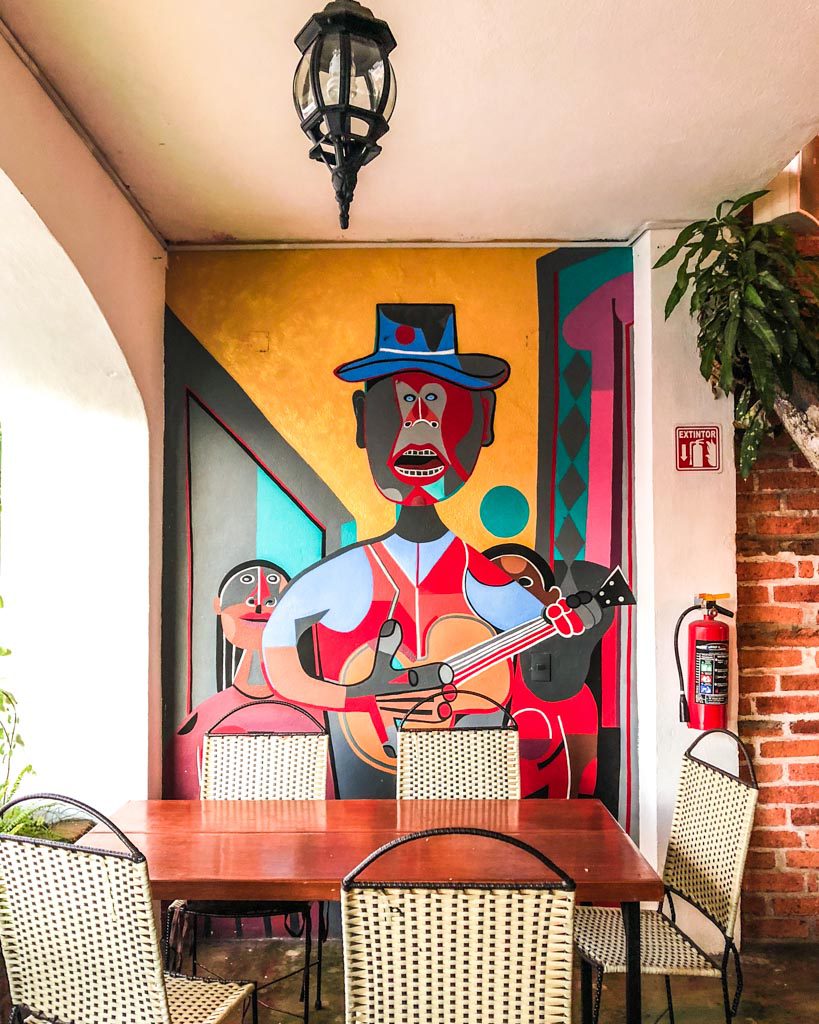 Stop #5 - Lamara for Ceviche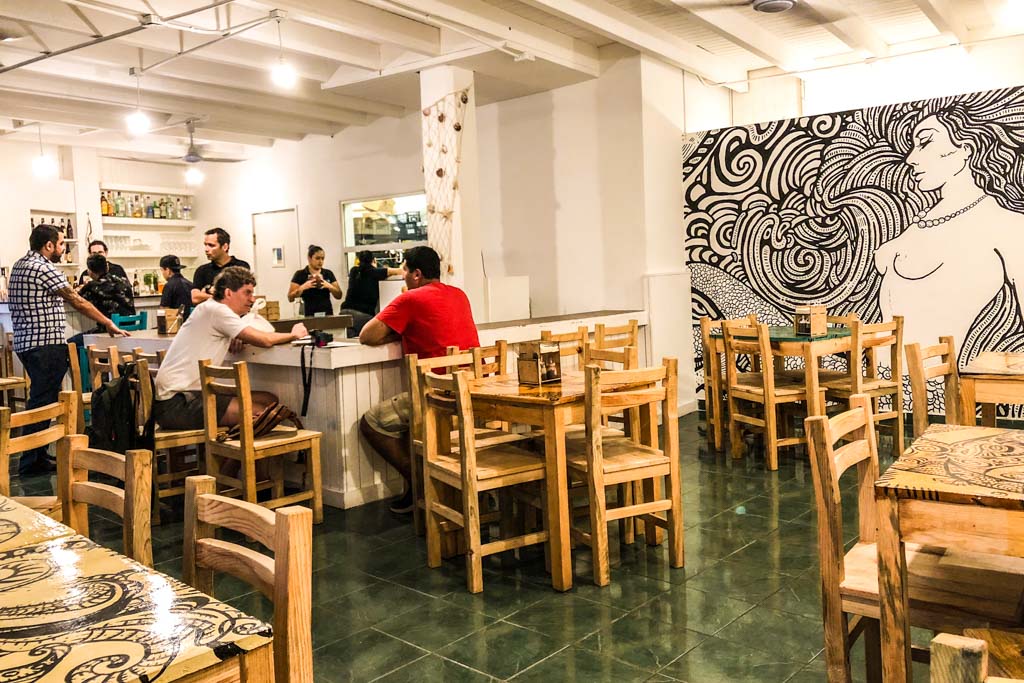 For the next stop on our Puerto Vallarta food tour, we hopped in an Uber with Paul and headed up to the ceviche restaurant - Lamara.
We could tell this was a restaurant that is frequented by the young and hip crowd. The decor is minimalistic but artistic. There is a giant mural against one white wall, and the tables all have their own artistic design.
We all ordered their agua fresca (flavored water) of the day - jamaica or iced hibiscus tea. It was delicious - a modern take on the typical jamaica you will find at a street stand.
We then each ordered a tostada with ceviche or aguachile. Aguachile is basically the same thing as ceviche, but includes chiles so is spicy.
I ordered the jamaica aguachile and it was deeeelicious. It included jicama, shrimp, cucumber, onion, peanuts, and a spicy sauce that included jamaica (or hibiscus) flavoring. The shrimp and the rest of the ingredients were incredibly fresh, the peanuts added an interesting crunch and nuttiness, and everything worked together to create a really balanced and flavorful combo.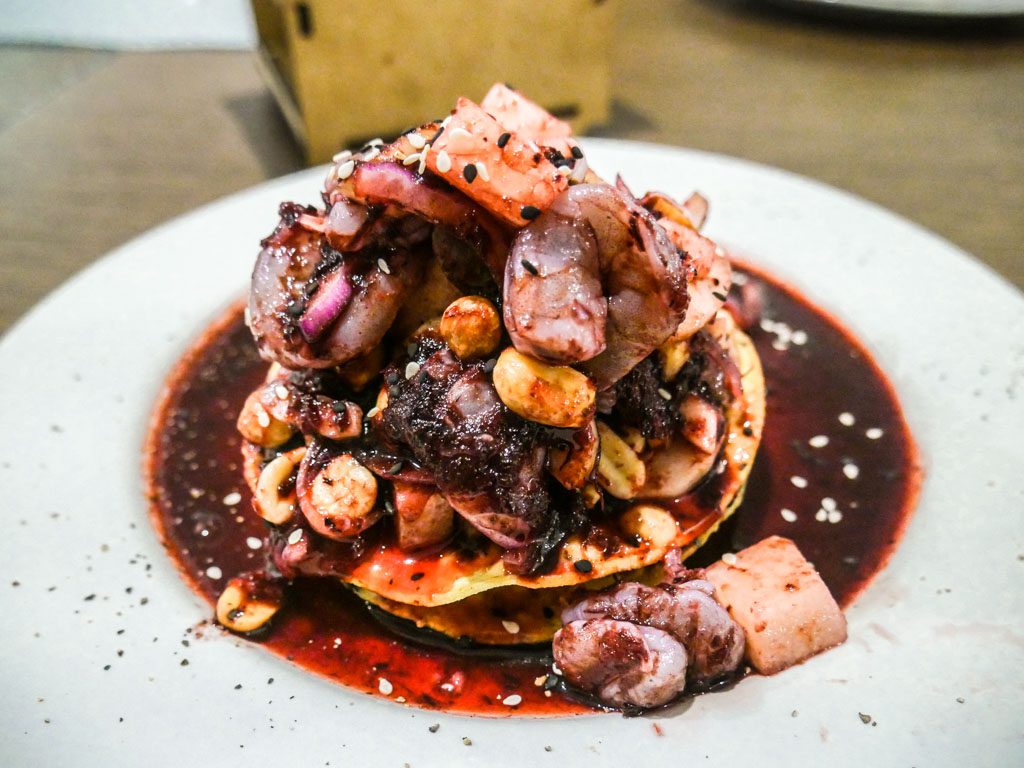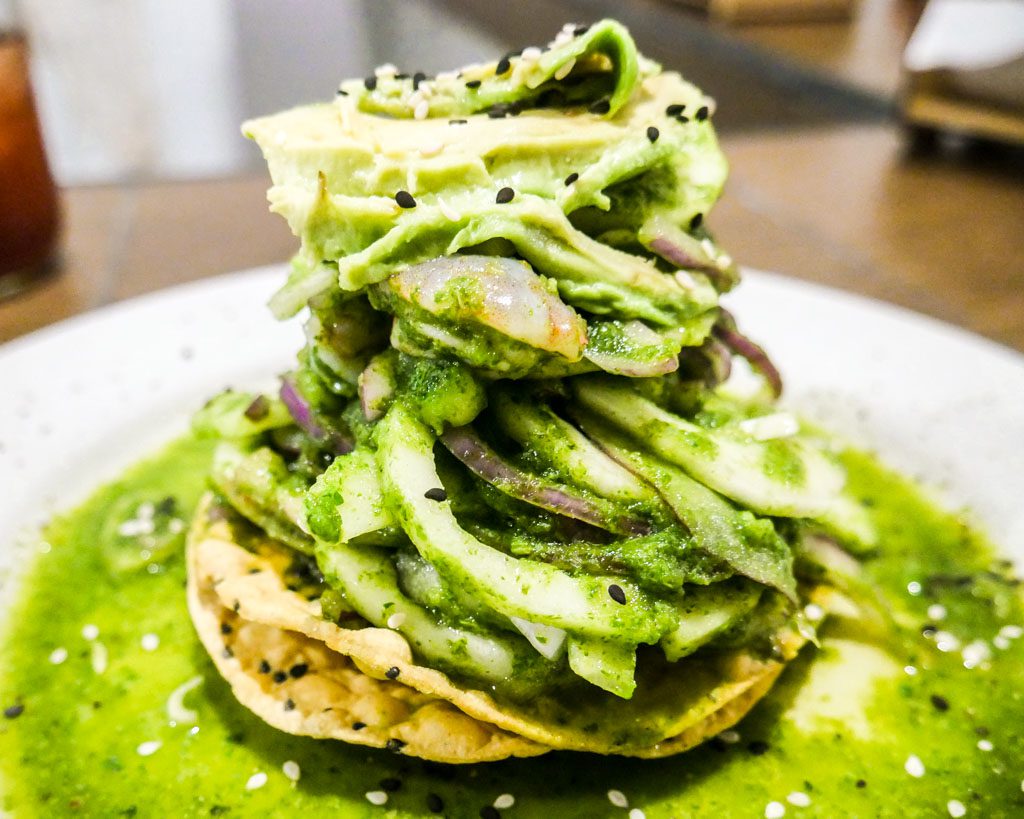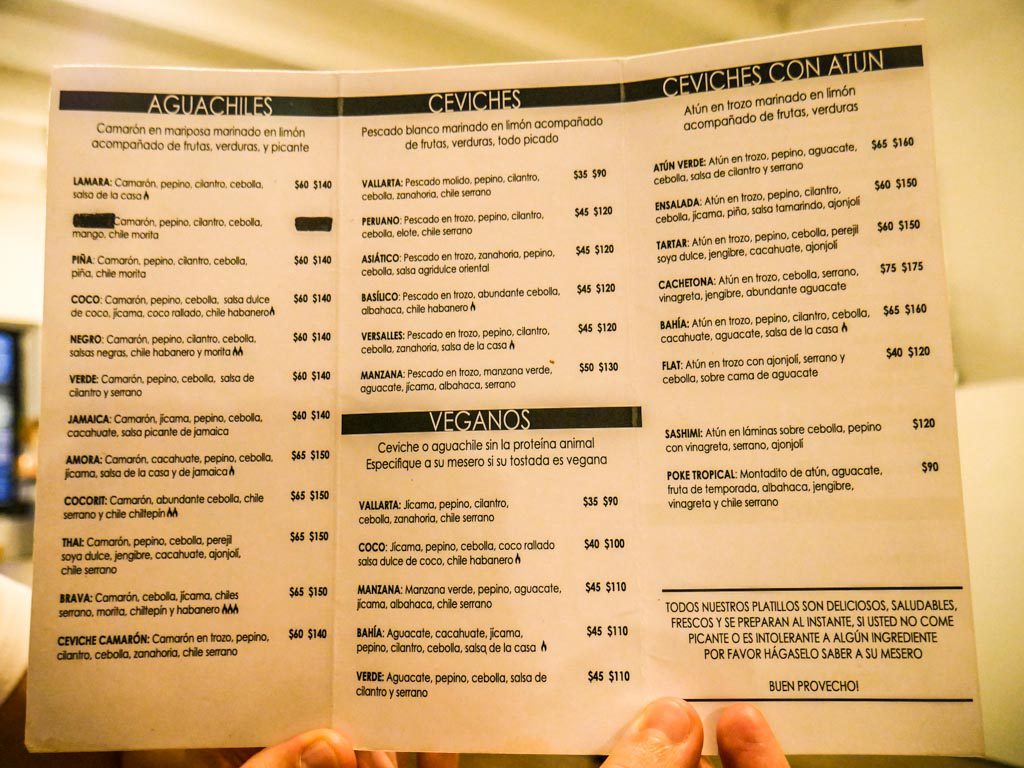 Stop #6 - Choco Museum for Chocolate + a Tour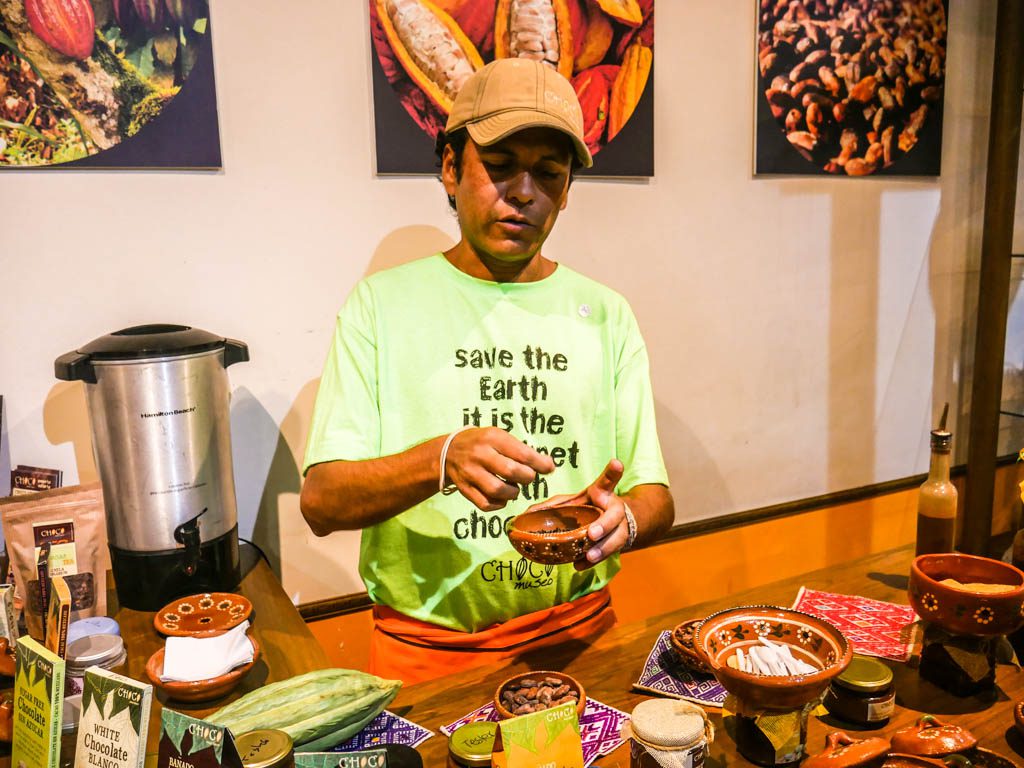 Our last stop on the Puerto Vallarta food tour was at the Choco Museum on the malecon (boardwalk). The museum is 3 floors - the first floor is a store and tasting room, the 2nd floor is the museum and the 3rd is a cafe.
We were greeted with a small cup of chocolate tea - a really flavorful hot drink.
We then went up to the second floor where Paul gave us some history behind chocolate, it's farming and production, and how it's made. We learned several interesting things such as that chocolate beans were used as currency during the Aztec period. Fun Fact: You would need 100 cacao beans to trade for a chicken.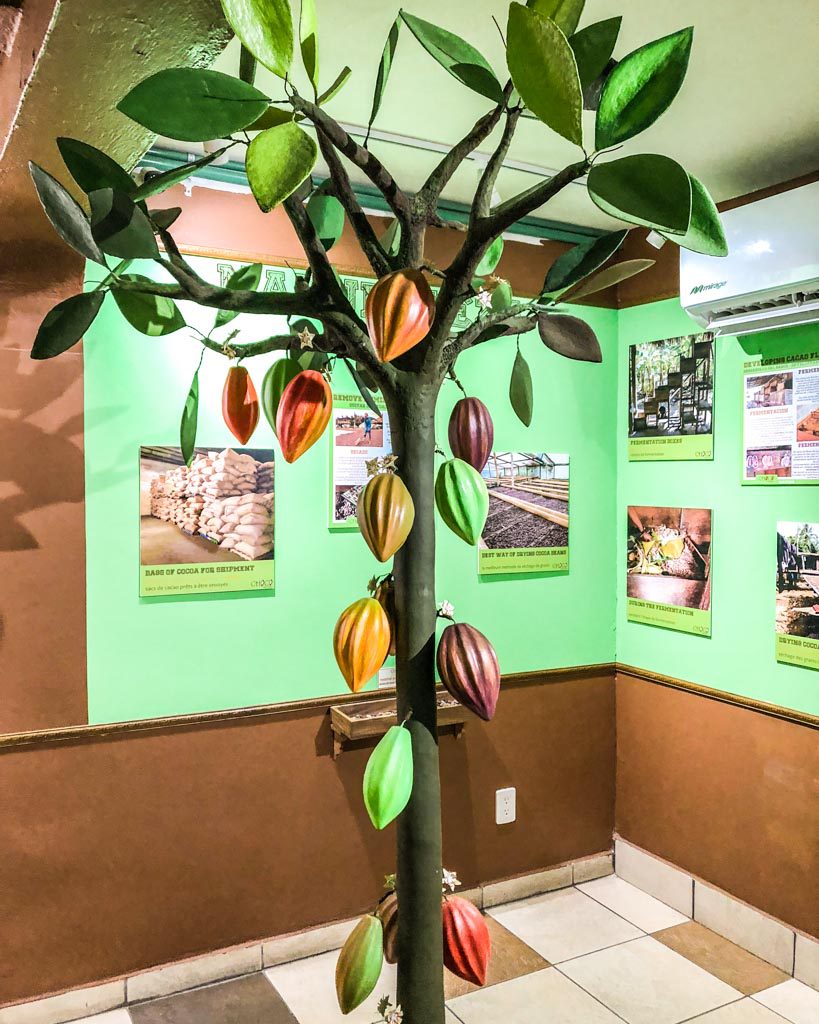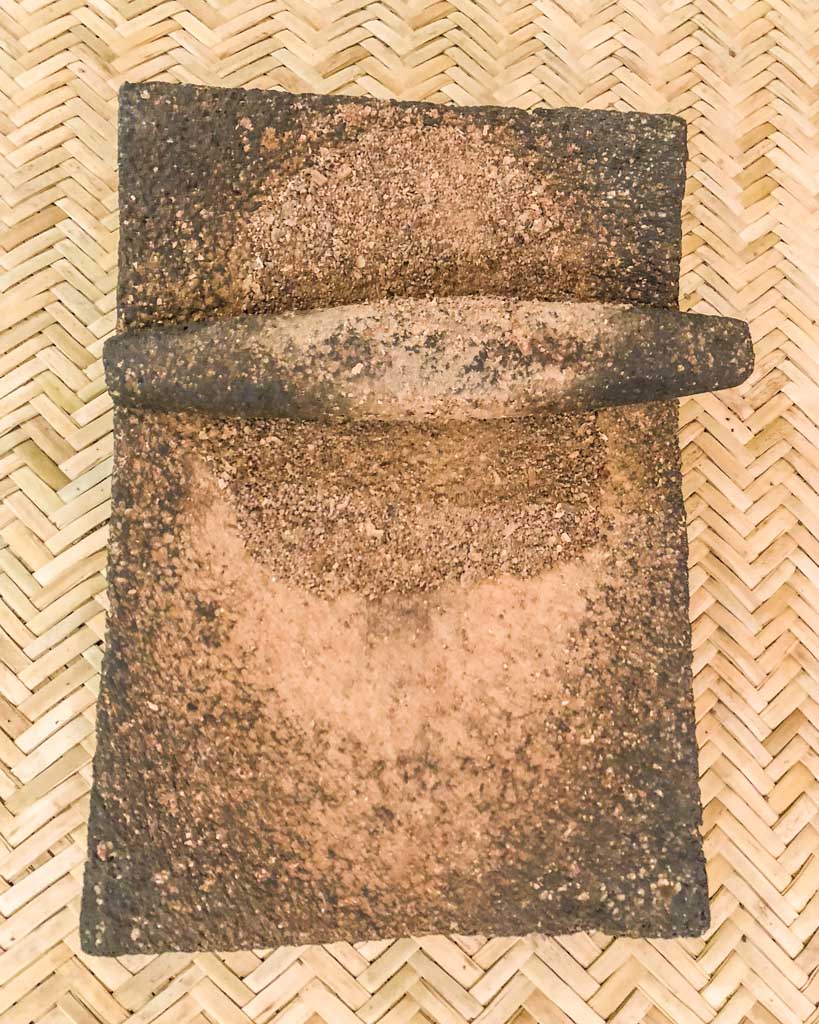 We also learned about what regions grow the most cacao and which consume the most. Unsurprisingly, Latin America and Africa grow the most, but Europe/USA/Canada/Australia consume the most. We were a bit shocked to learn that the Swiss eat an average of 119 chocolate bars per person each year!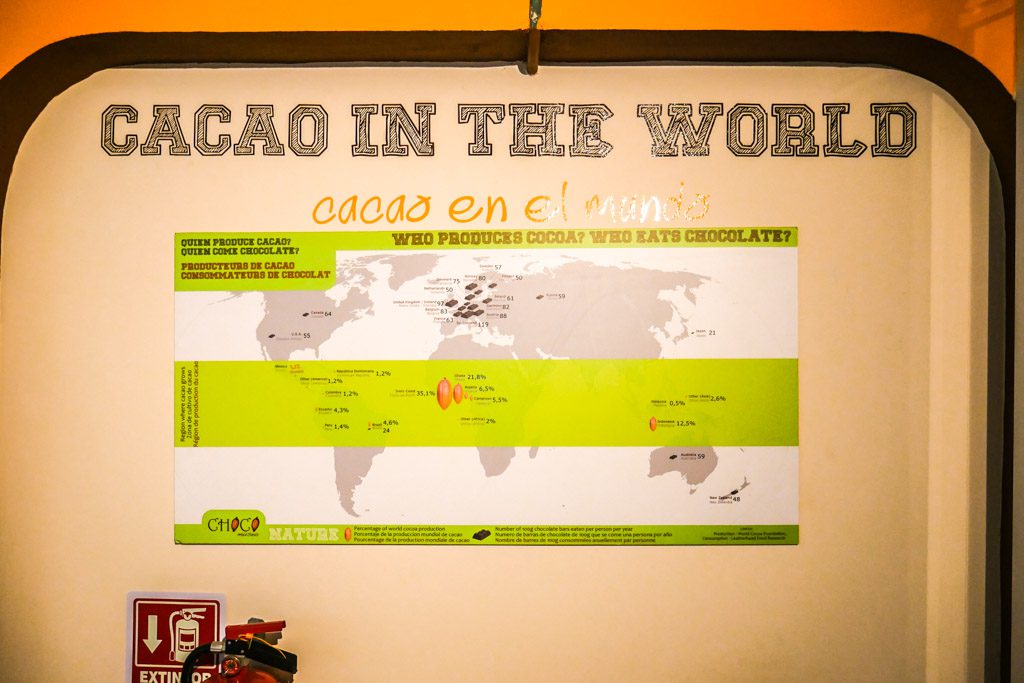 We also saw an interesting graphic that shows the percentage of chocolate to fat and sugar in milk, dark, or white chocolate. That really put into perspective how little chocolate is in non-dark chocolate bars!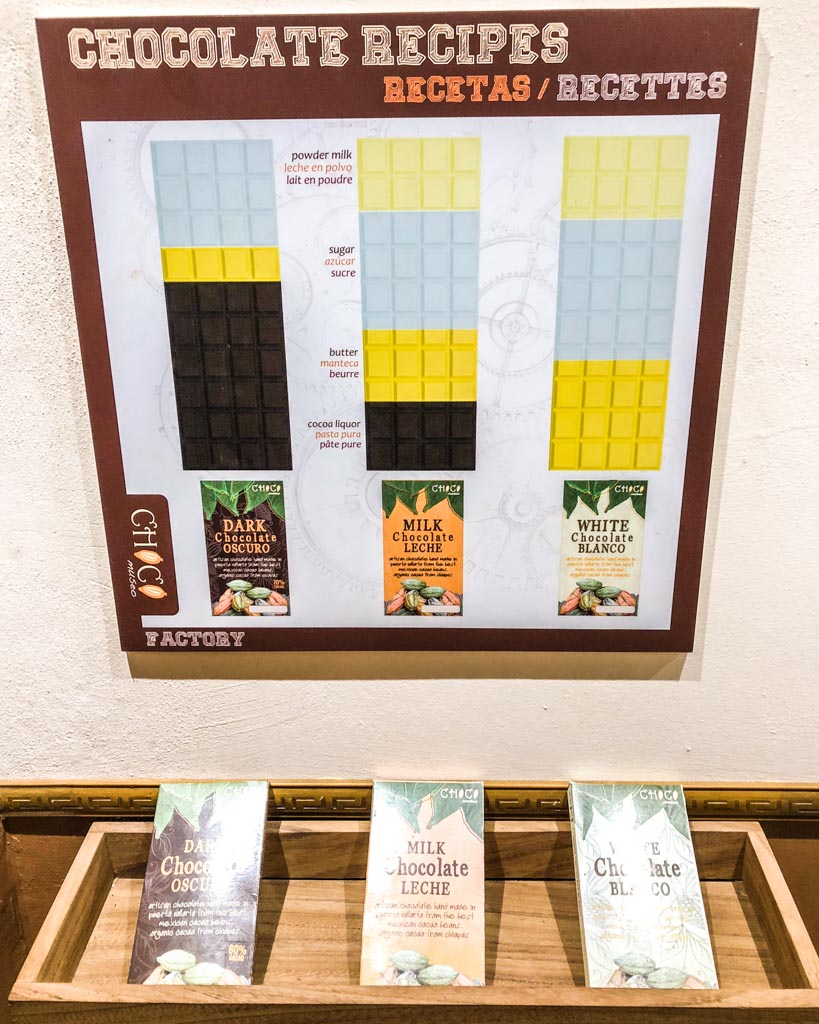 After we learned all of this, we went back downstairs to taste the different chocolate they make here. They have little samples set out of their milk, dark, white chocolate and other varieties. They also make some chocolate jams, chocolate liqueur, and other chocolate products. We were then allowed to pick a chocolate bar each to take home with us.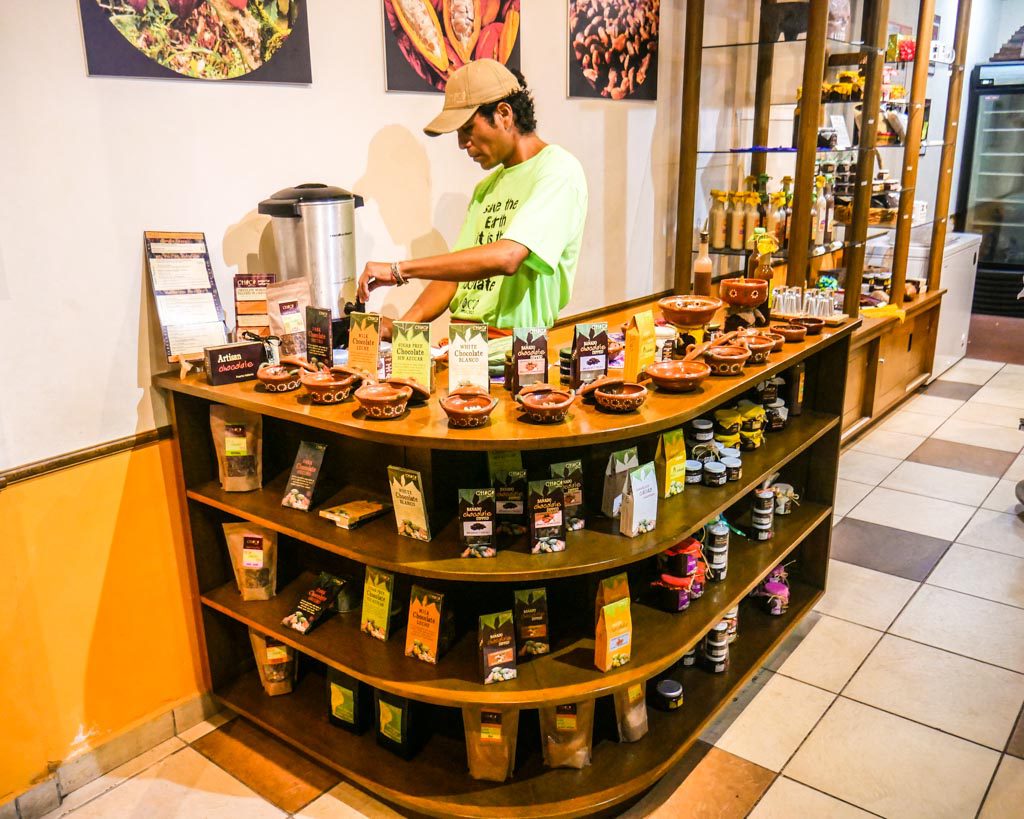 This wasn't my favorite stop on the tour. The museum feels a bit touristy. However, it was interesting to learn a lot of facts that we didn't already know and to taste the chocolate tea and bars. This might be a good stop for someone with children or someone really interested in chocolate.
Final Thoughts: Puerto Vallarta Food Tour with Pitaya Food Tours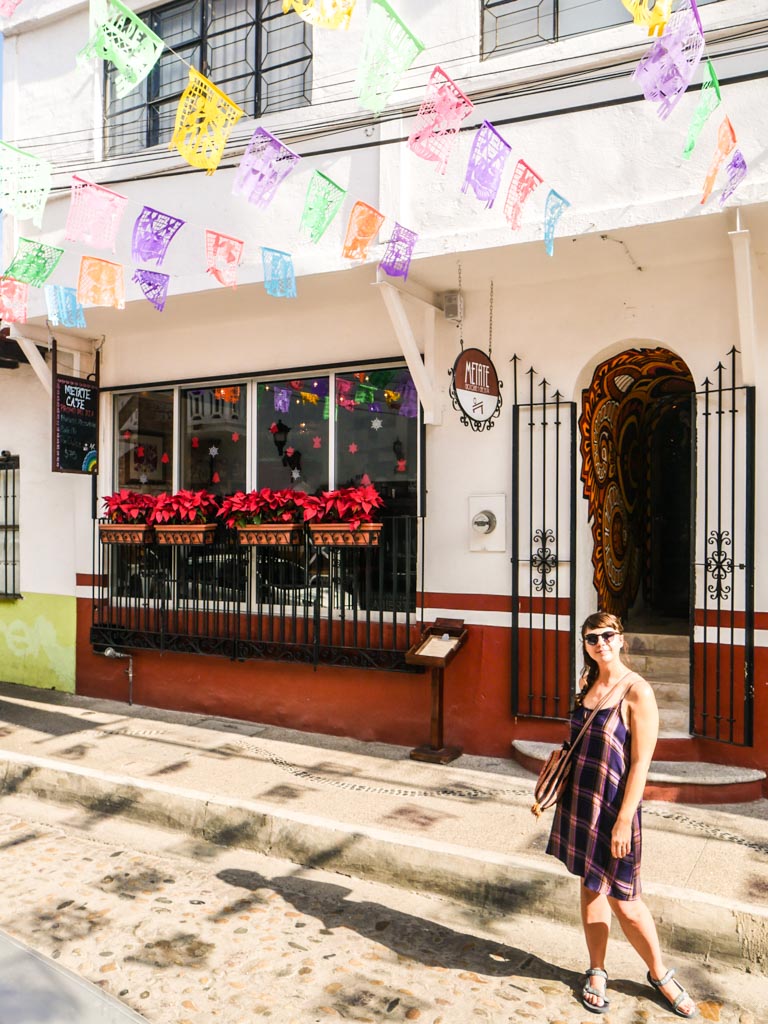 We had an amazing afternoon with Paul from Pitaya - tasting delicious things all over the city of Puerto Vallarta.
Paul is incredibly knowledgeable and passionate about Mexico's food, history, and culture. We asked tons of random questions throughout the day and he had an in-depth answer to everything.
We also loved his perspective on the country and the food. Paul is from Guadalajara originally, but lived in the southwest of the USA for most of his life. He only moved back to Mexico a few years ago. It seemed to me that he was passionate about reconnecting with his background - devouring history and culture, quickly becoming more of an expert than many who have lived in the country their whole lives. We learned so much about Mexico in that single afternoon, and really enjoyed our discussions with Paul throughout the day.
A good tour guide can make or break a tour and Paul is definitely an incredible guide.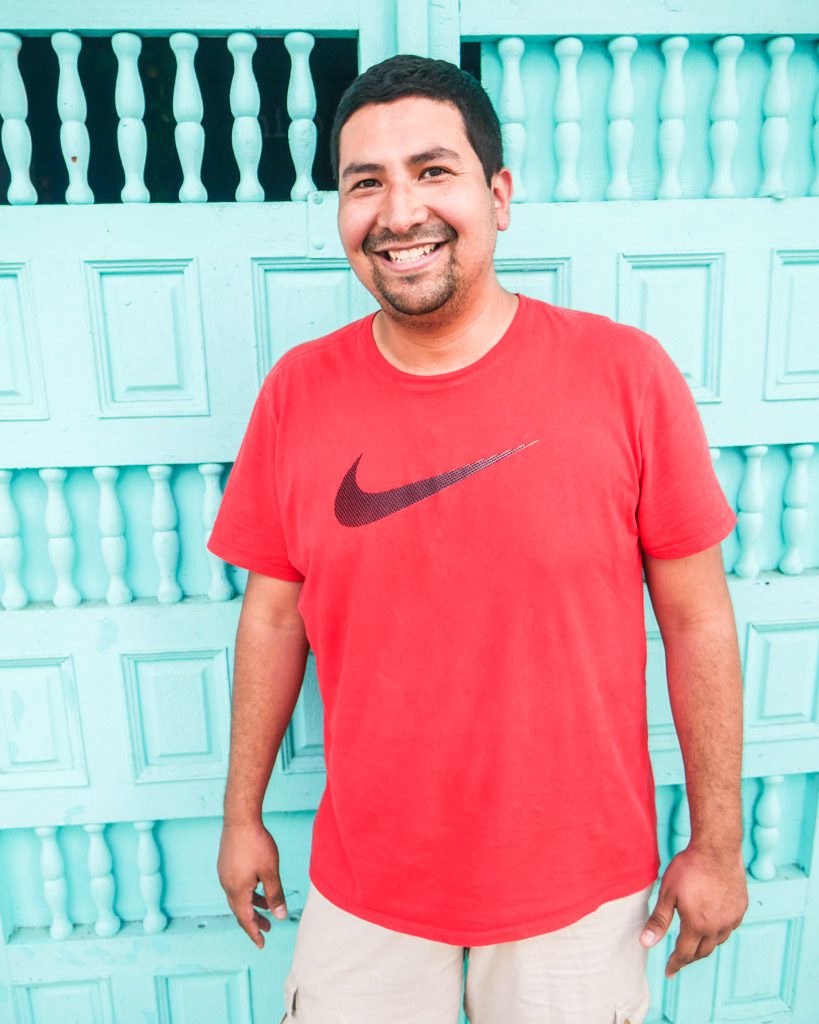 The food was also consistently amazing. We tried so many different types of foods - drinks, snacks, meals, seafood, meat, soups, fruit, dessert - everything was represented. And the food was all well made, fresh, and delicious.
In the beginning of the tour, Paul explained to us his process for finding what businesses he will introduce his guests to on the Puerto Vallarta food tour. He spends a great deal of time learning about each business - understanding where they obtain their ingredients, how their dishes are made from start to finish. He is careful about making sure every business uses strict levels of cleanliness, and also that they are making great food in a traditional way.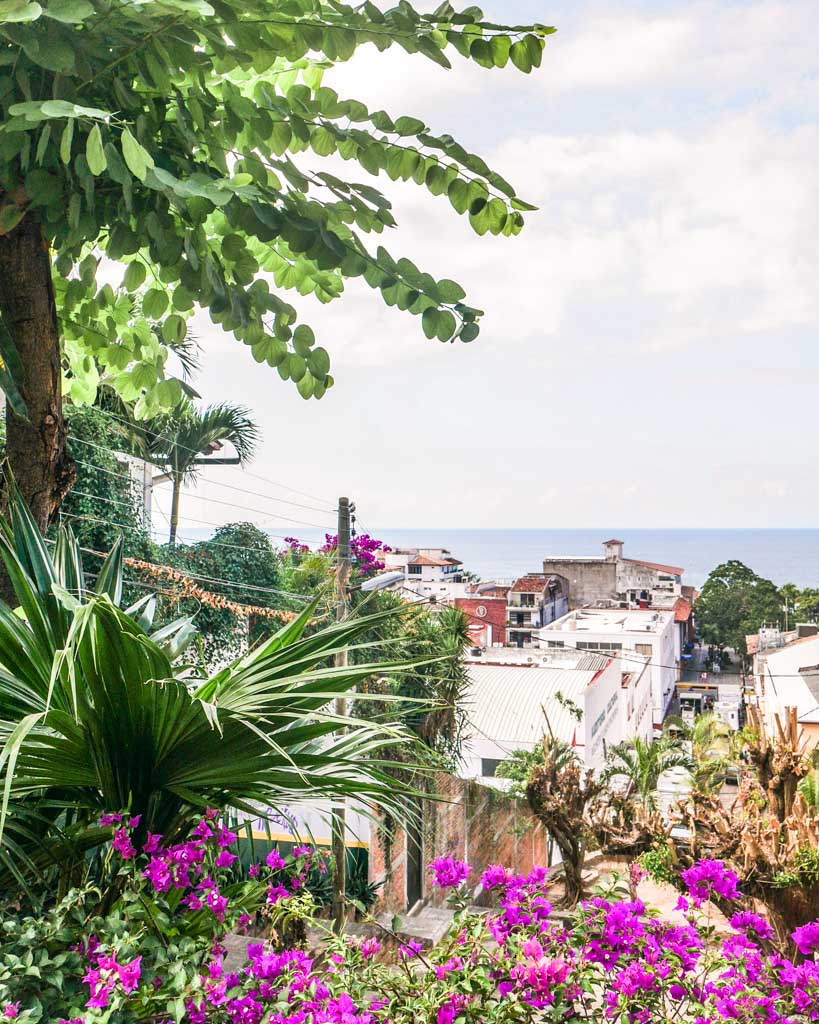 Pitaya Food Tours are also committed to supporting local businesses wherever they do tours.
Pitaya has been expanding fast: they now offer tours in Guadalajara, Mexico CIty, Puerto Vallarta, Guanajuato, and Monterrey. I'm excited to check them out again when I visit one of those cities!
I would definitely recommend using Pitaya Food Tours - they are ethically run, passionate about traditional food and history, and only take tour guests to the best, most delicious establishments.
---
Tour Company: Pitaya Food Tours
Social Media: Facebook, Instagram, Twitter
Price: $55 per person for the Downtown or Foodie Tours - includes all food and drink
Contact: [email protected]
Reservations: Use discount code BTROPICALI for 15% off your tour!
For Puerto Vallarta food tours: http://pitayafoodtours.com/puerto-vallarta/
For other food tours in Mexico: http://pitayafoodtours.com/
---
Disclosure: this post is written in partnership with Pitaya Food Tours. All views and opinions are my own, and I wouldn't recommend anything I didn't love!
And if you're looking for other awesome food tours, check out Spain Food Sherpas awesome Granada food tour in Spain.
Pin it for Later!