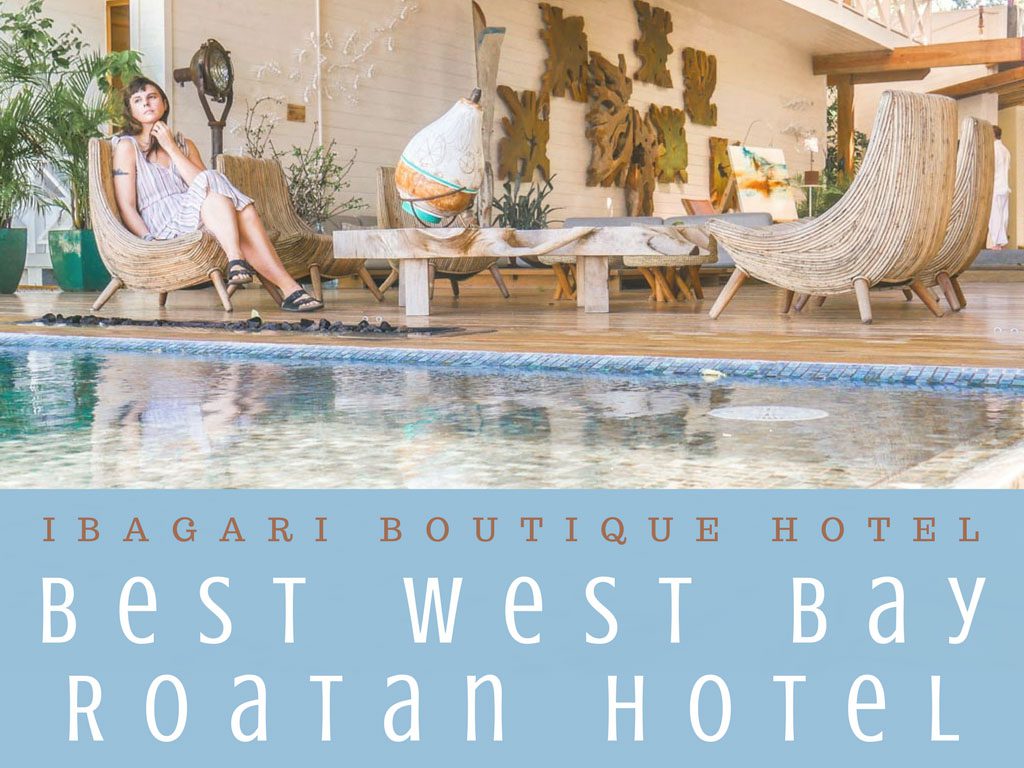 If you are looking for a boutique hotel near Roatan's most beautiful beach, West Bay Beach, Ibagari Boutique Hotel is a gem. This West Bay Roatan hotel is beyond gorgeous, in a perfect location, and is both luxurious and relaxing.
After spending 10 days on the island of Roatan in Honduras, I am so excited about sharing this gorgeous and off-the-beaten path destination with others. It took me years to finally visit Honduras, even as an avid traveler in Latin America. I was very curious, but it kept going on the backburner.
I had such a great time during my 10 day trip, that I can't wait to return and learn more about the country. Roatan and the rest of the Bay Islands (the small island chain Roatan belongs to) are a world unto themselves. They sit right in the second biggest barrier reef in the world, in a well protected area that is just teeming with gorgeous marine life. This is why the islands are known for their diving and snorkeling.
But beyond that, Roatan is an island of lush, rolling jungle, interesting local culture, and beautiful beaches.
Now that I've hopefully convinced you to consider Roatan for your next vacation 🙂 , you'll need to decide where to stay. If you like unique and beautifully designed hotels, this West Bay Roatan hotel will be right up your alley. Ibagari Boutique Hotel is a luxurious and super comfy hotel right on the shores of the Caribbean.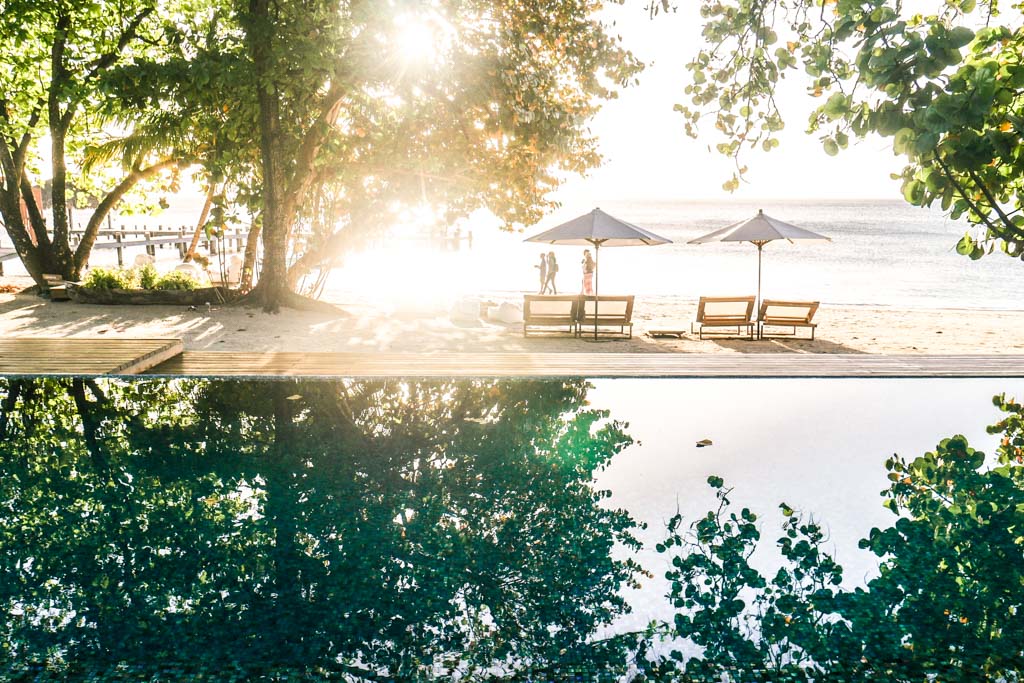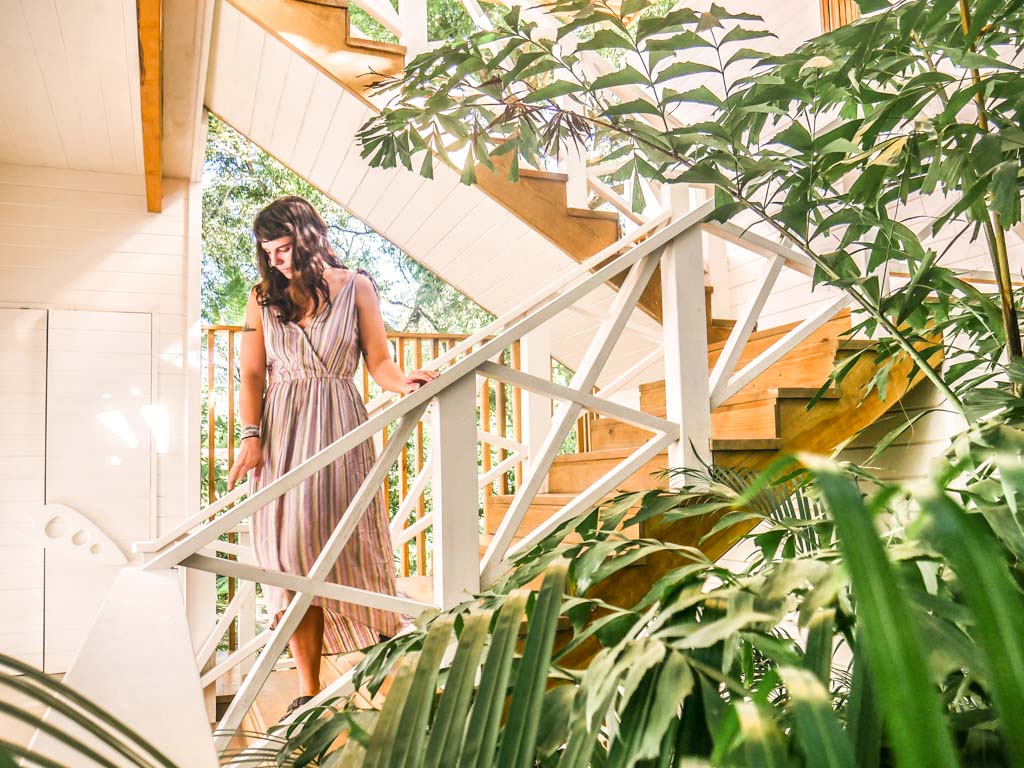 Find Roatan Travel Flight Deals:


Full review of Ibagari Boutique Hotel and all its amenities below!
Disclosure: this post is written in partnership with Ibagari Boutique Hotel. All views and opinions are my own, and I wouldn't recommend anything I don't love!
The Artistic Details + Spaces: The Best West Bay Roatan Hotel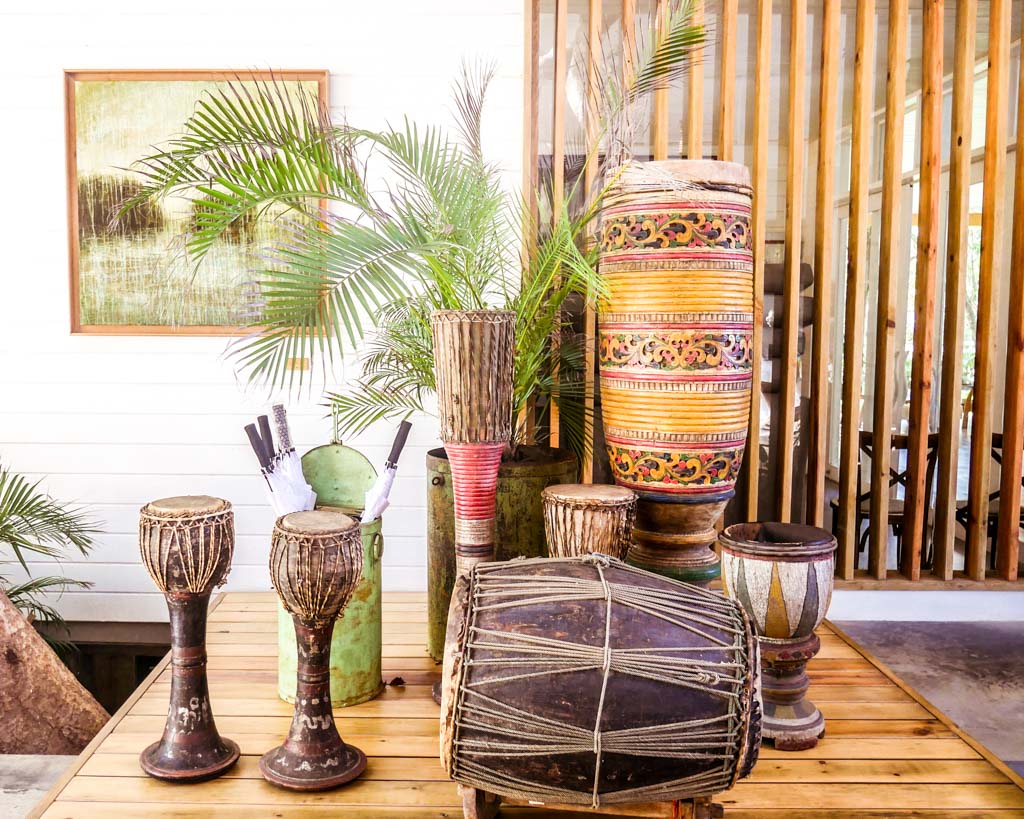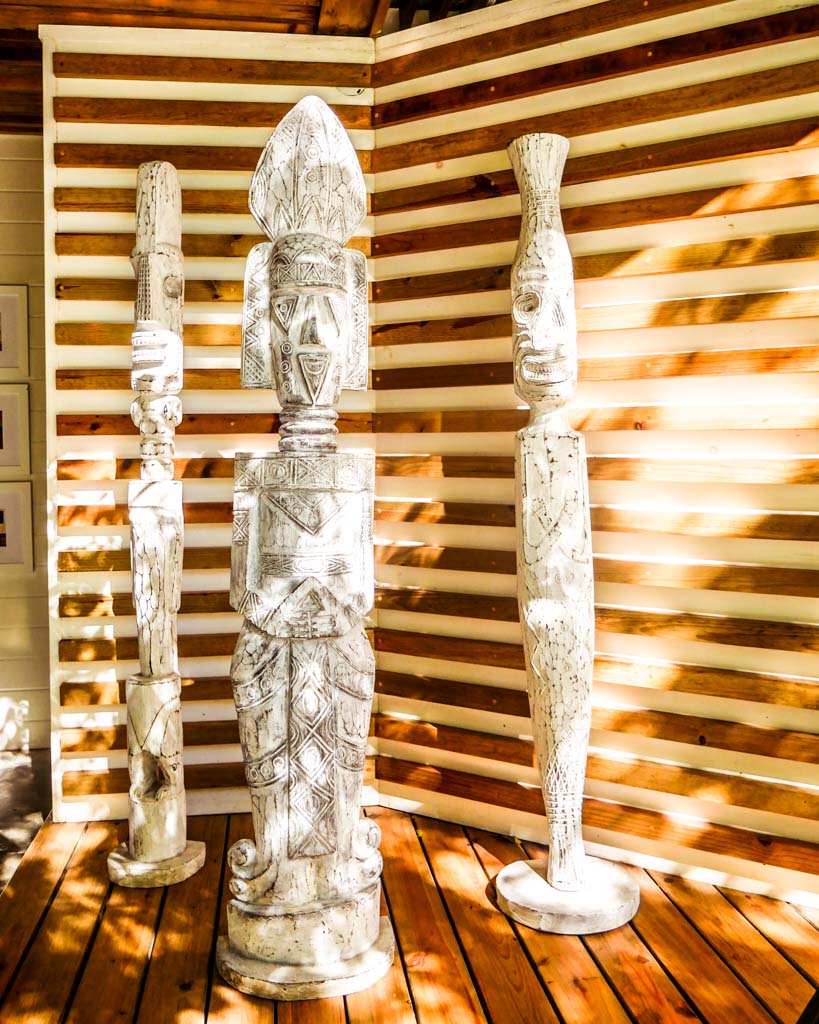 By far, the most striking things about Ibagari Boutique Hotel are the incredibly well curated and beautiful details and spaces.
The building itself is gorgeous, with beautiful wood floors, wide open floor plans, and an incredible vaulted wood ceiling.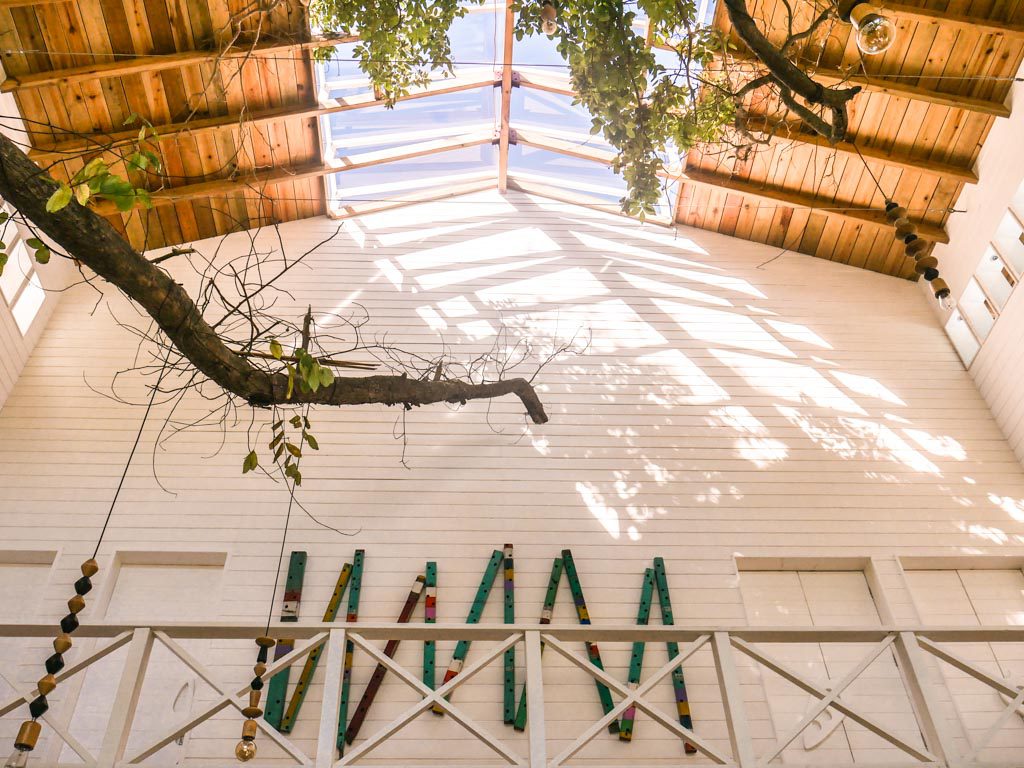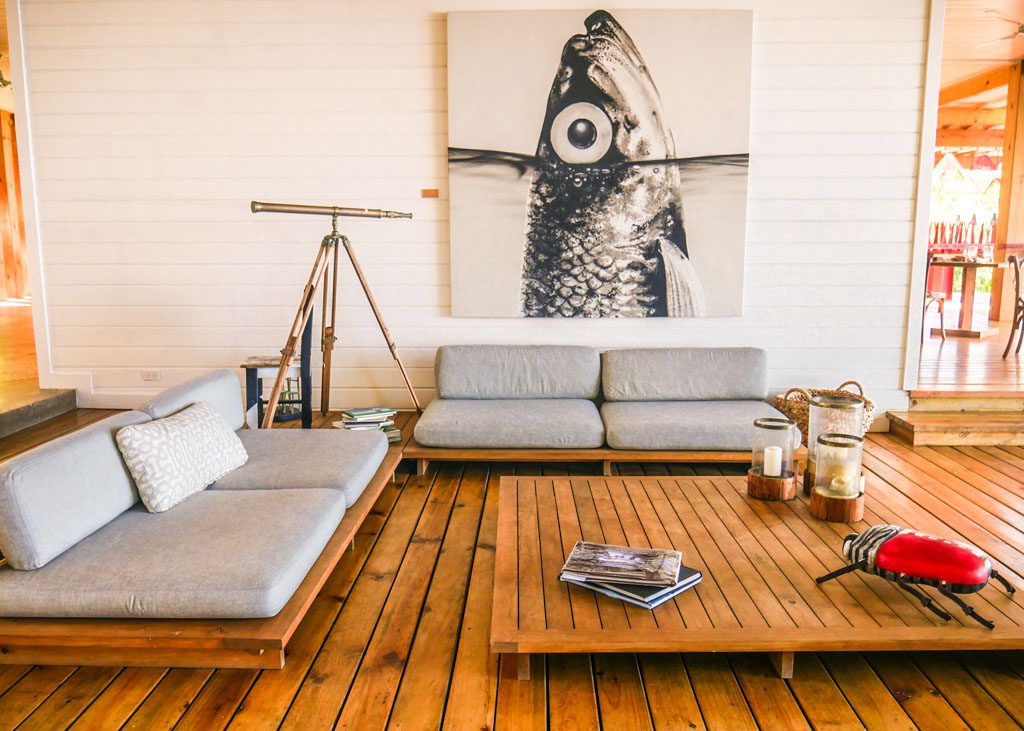 Beyond that, every corner and every piece is well thought out and beautifully designed. The furniture, the art on the walls, even the homemade toiletries were beautifully bottled and labeled in the bathroom.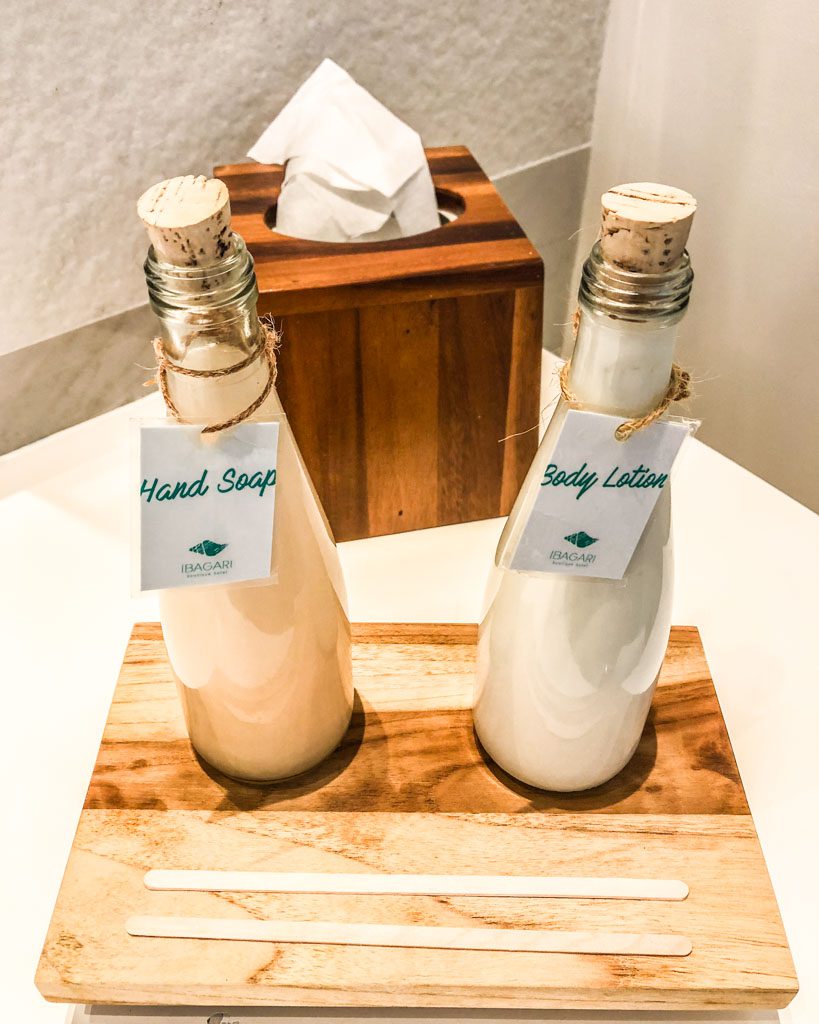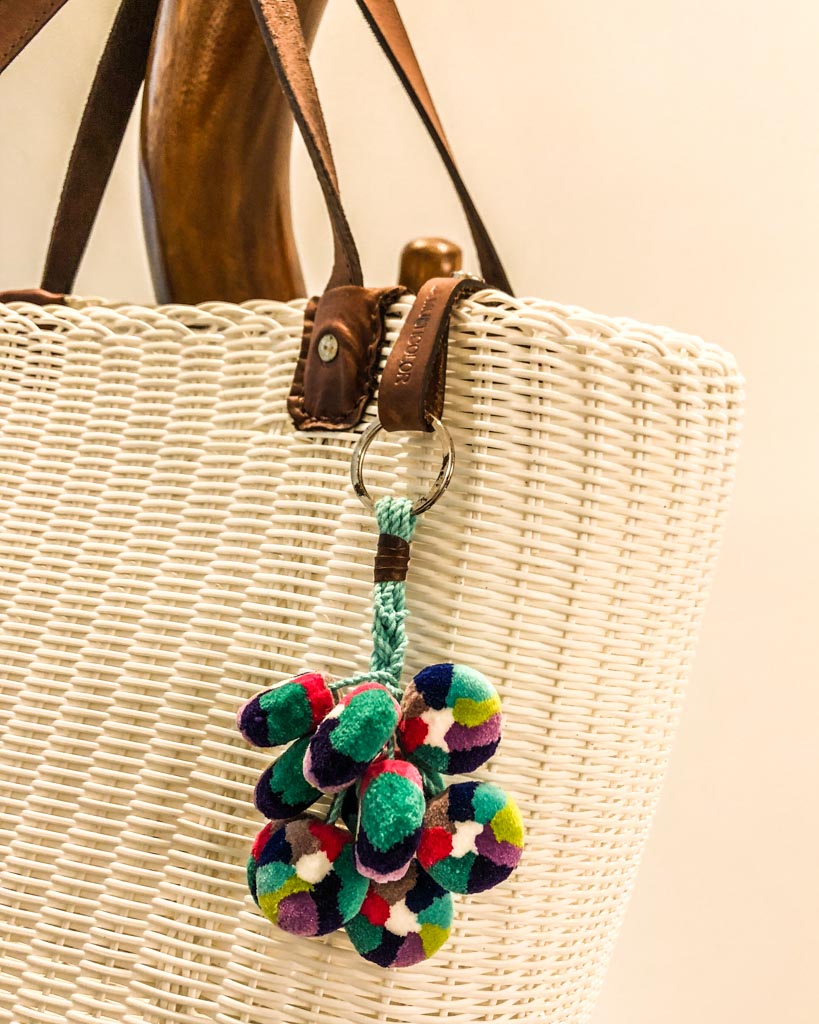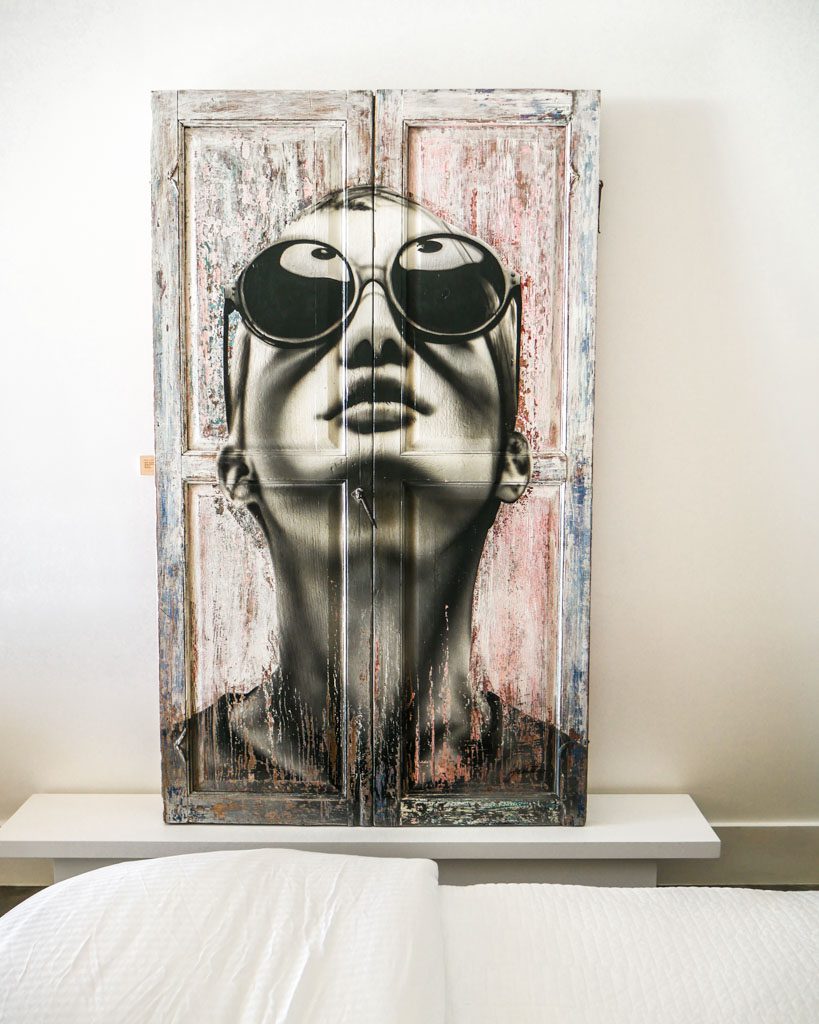 If you are looking for a visually stunning West Bay Roatan hotel, you can't do better than Ibagari Boutique Hotel.
The Level of Service: The Best West Bay Roatan Hotel
The staff at Ibagari is wonderful and go above and beyond to take care of their guests. From the moment I arrived at the airport, the Ibagari driver welcomed me and made my transition to the hotel a smooth one. He didn't even mind that my flight was an hour late.

I was then warmly welcomed by the manager and staff, provided a fresh and delicious welcome drink, and given a quick tour/rundown of my room.
Throughout my stay, the Ibagari team helped me with anything I needed with a smile.
The Best Restaurant on Roatan: Luna Muna at Ibagari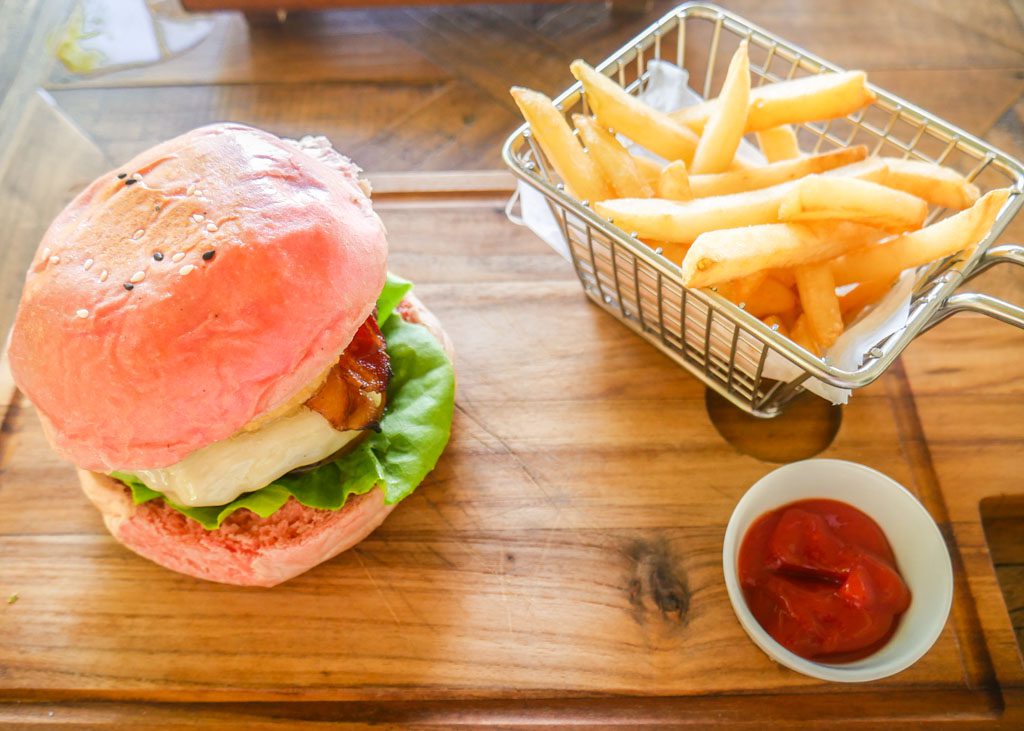 I spent 10 days on the island, traveling from the West Bay to the East End and back to West End. I ate every meal out, so I really got to know the restaurant options on the island. I can confidently say that Luna Muna at Ibagari is one of the best restaurants in Roatan.


Luna Muna at Ibagari blew me away. Every meal I had at this West Bay Roatan hotel - breakfast, lunch, and dinner - was perfectly prepared, made with fresh delicious ingredients, and was packed with flavor. The fresh juices in the morning were refreshing and the coffee was tasty.
Check out my other favorite restaurants in Roatan and everything else you should do on this tropical island in my Roatan travel guide.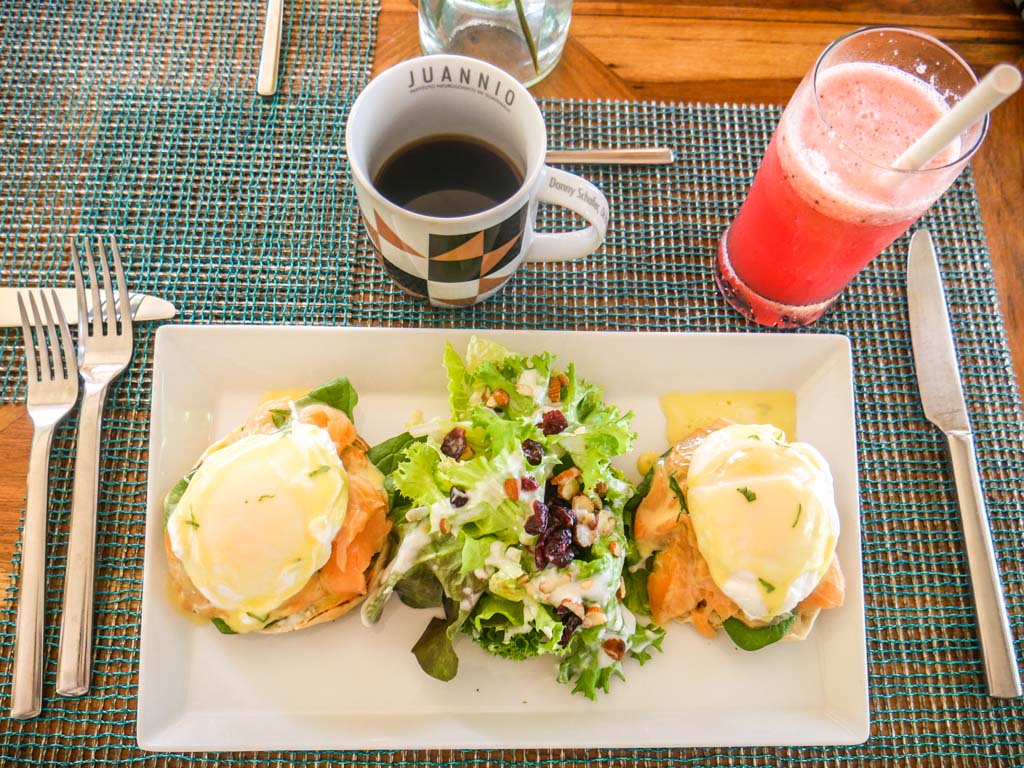 The price point was also on par with most other restaurants on the island, while the quality and flavor were superior.
Be sure to make reservations if you plan to visit Luna Muna for dinner. The restaurant's hours are 7am-9pm.
(504) 9546-2909
The Private and Secluded Beach + Short Walk to West Bay Beach: The Best West Bay Roatan Hotel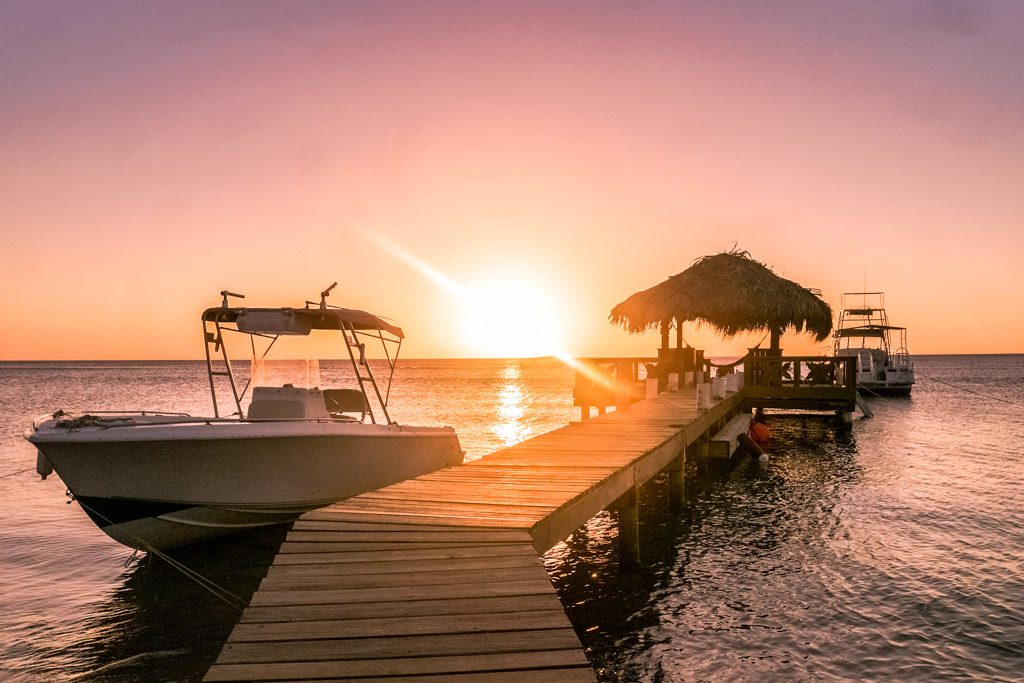 The location of Ibagari Boutique Hotel was perfect. It's located just a 10 minute leisurely walk from the beautiful but bustling West Bay Beach. I definitely recommend visiting this beach a couple of times, but it can be quite crowded with tourists at times, so I much preferred to stay in the secluded and quiet area immediately around Ibagari.
Find out the best times to visit West Bay beach and all my other Roatan travel tips about what to do and what to eat on the island in my Roatan travel guide.
Ibagari is located on a stretch of beach that is mostly empty, with only the occasional person strolling by. Noise is at a minimum to non-existent. You will most likely just hear the sound of the water lapping on the shore along with the pleasant music at Ibagari. To me, this West Bay Roatan hotel gave me the best of both worlds: a relaxing and secluded atmosphere, with quick access to the best tourist beach on the island.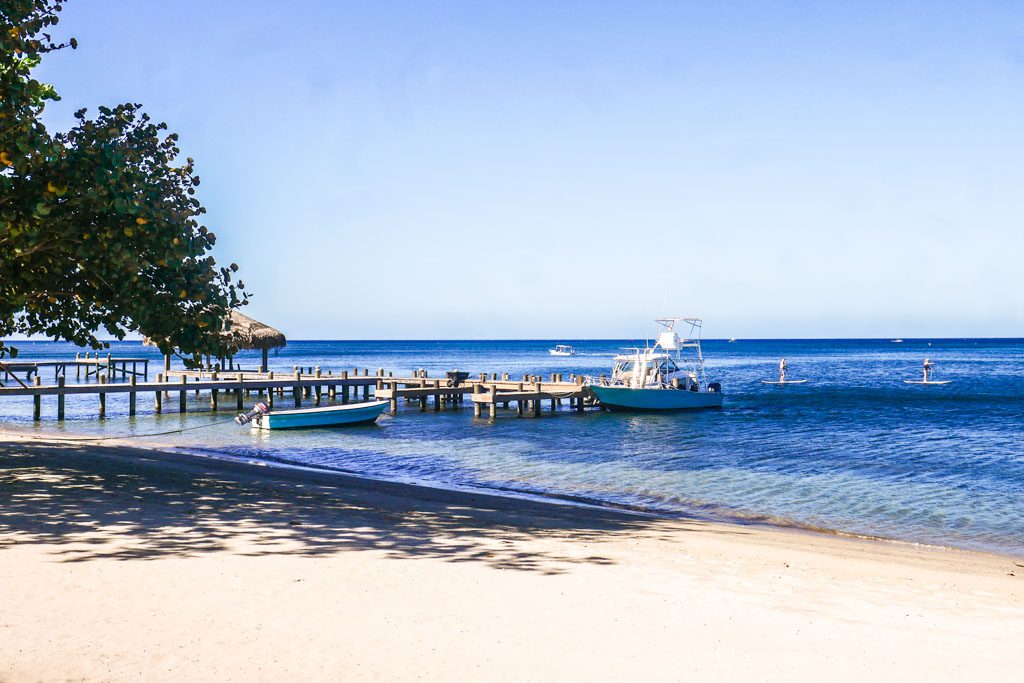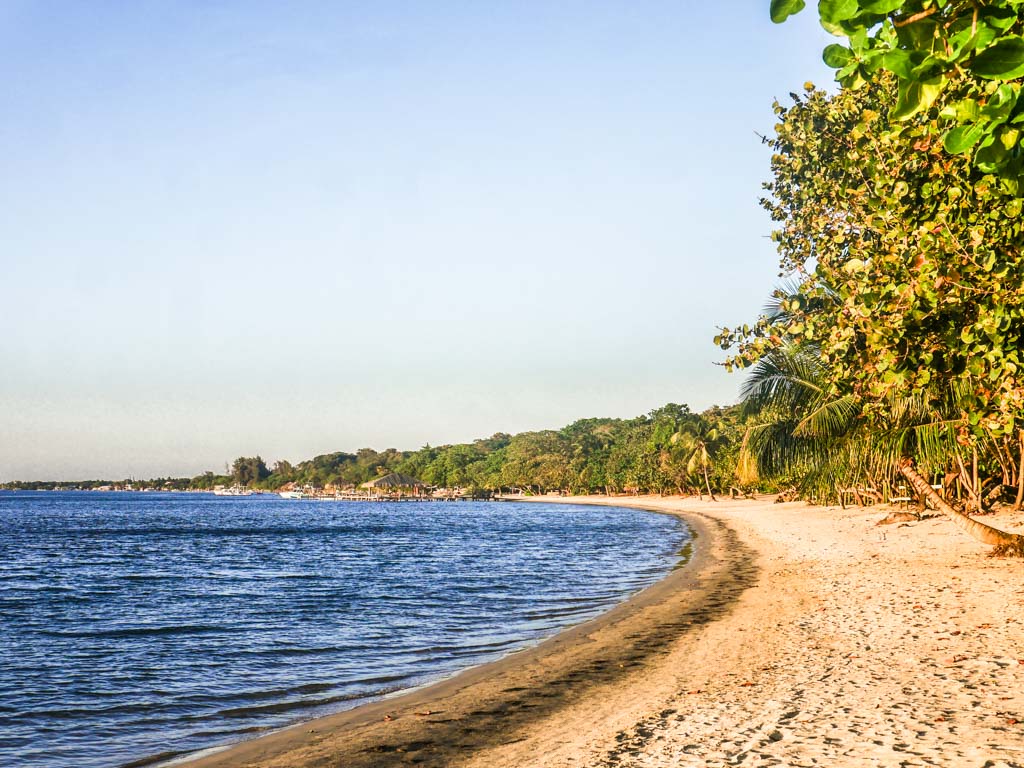 Ibagari also operates a free water taxi during the day to West End, the main tourist town on the island. So you can easily visit that area as well for lunch or to do some snorkeling/diving.
Spacious and Comfy Suites: The Best West Bay Roatan Hotel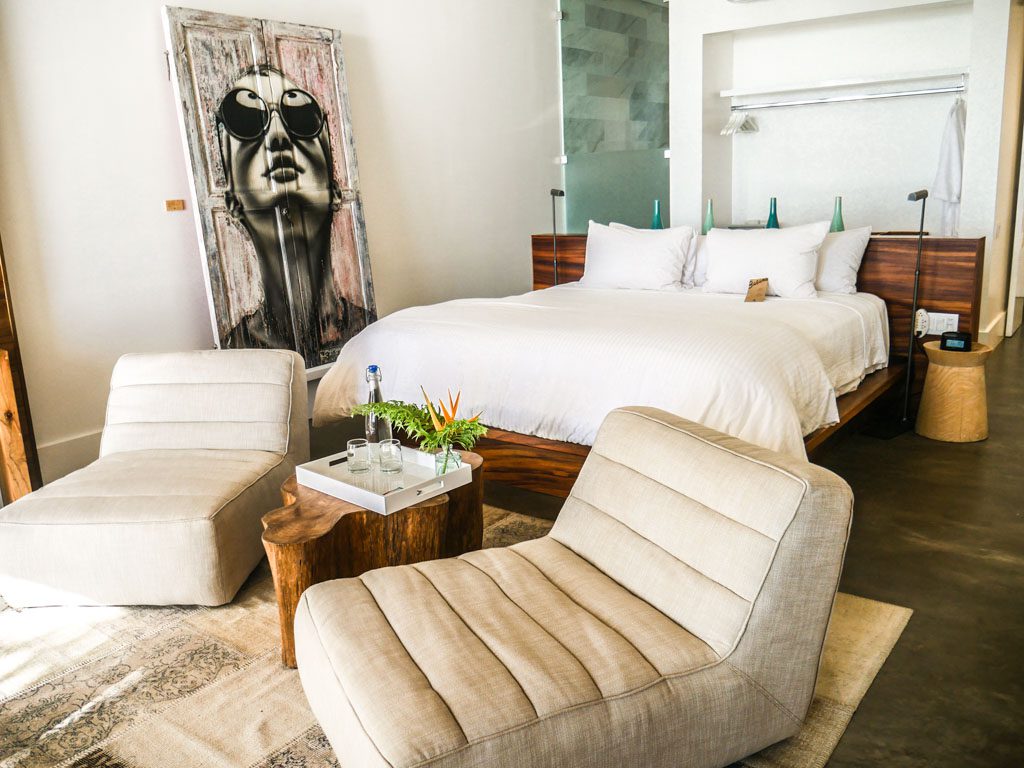 The suites at Ibagari are huge. My standard suite had more than enough room to feel comfortable. The room itself is large, and then the high ceilings and full wall of windows make the space feel even more open. Each room has a private balcony/terrace to enjoy your ocean view and relax.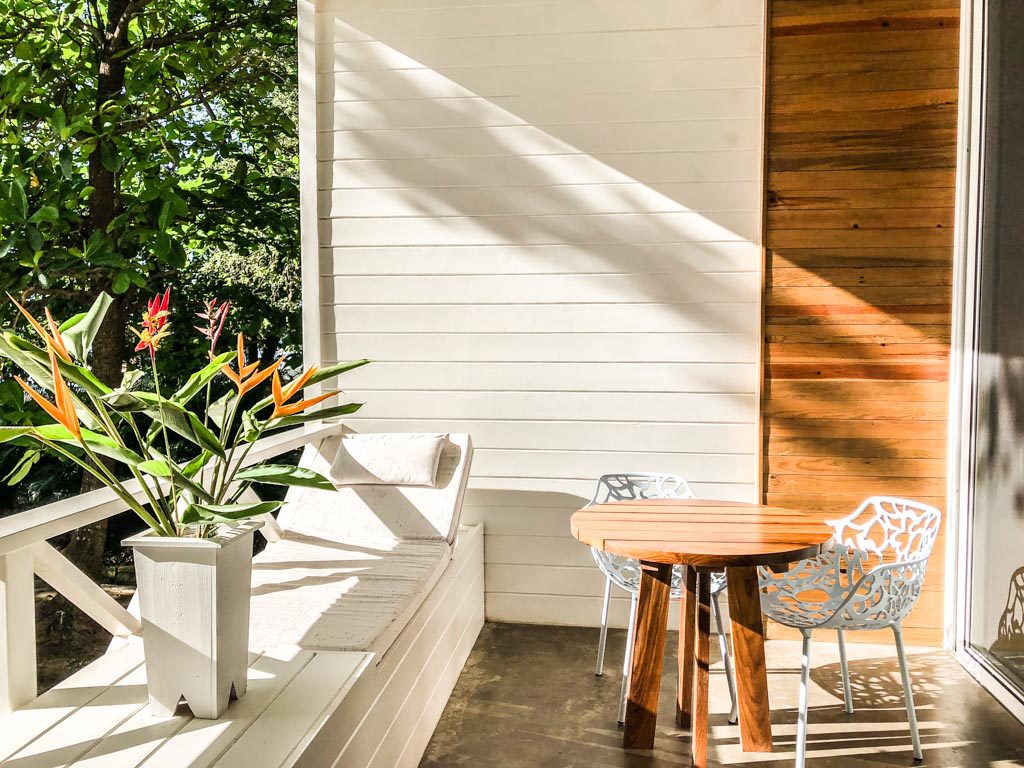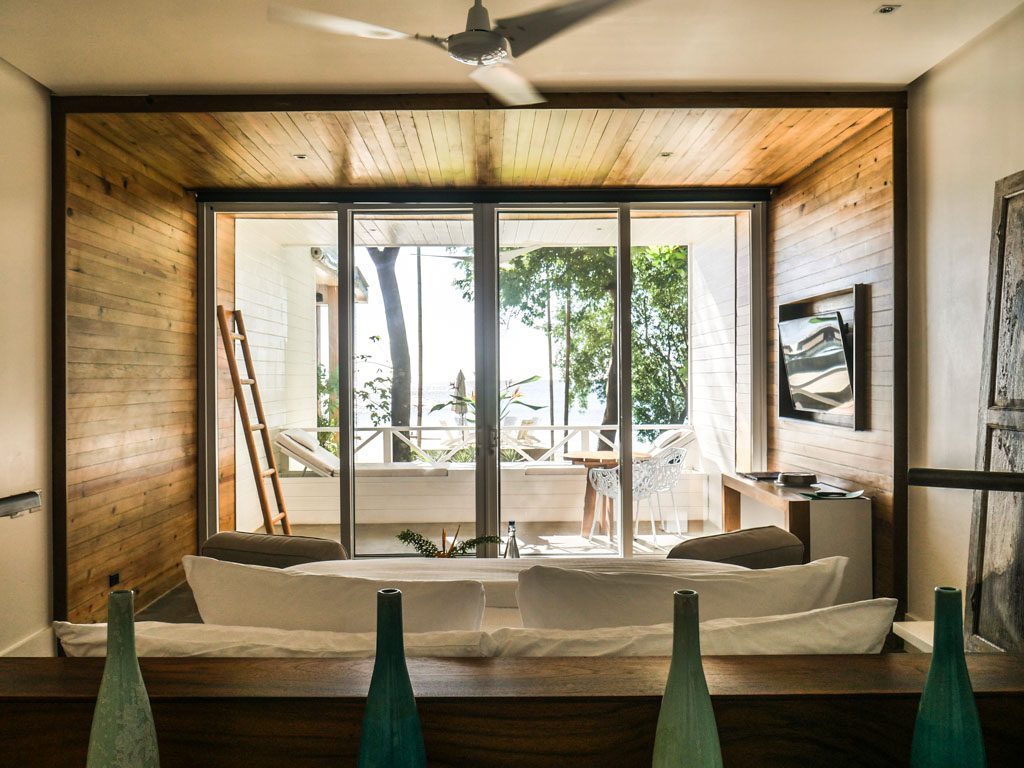 The bathroom was also super spacious. The sink area was large with lots of room to spread out my toiletries. There is a long bench and coat rack to organize my things and to make getting dressed more comfortable. And the shower was roomy as well.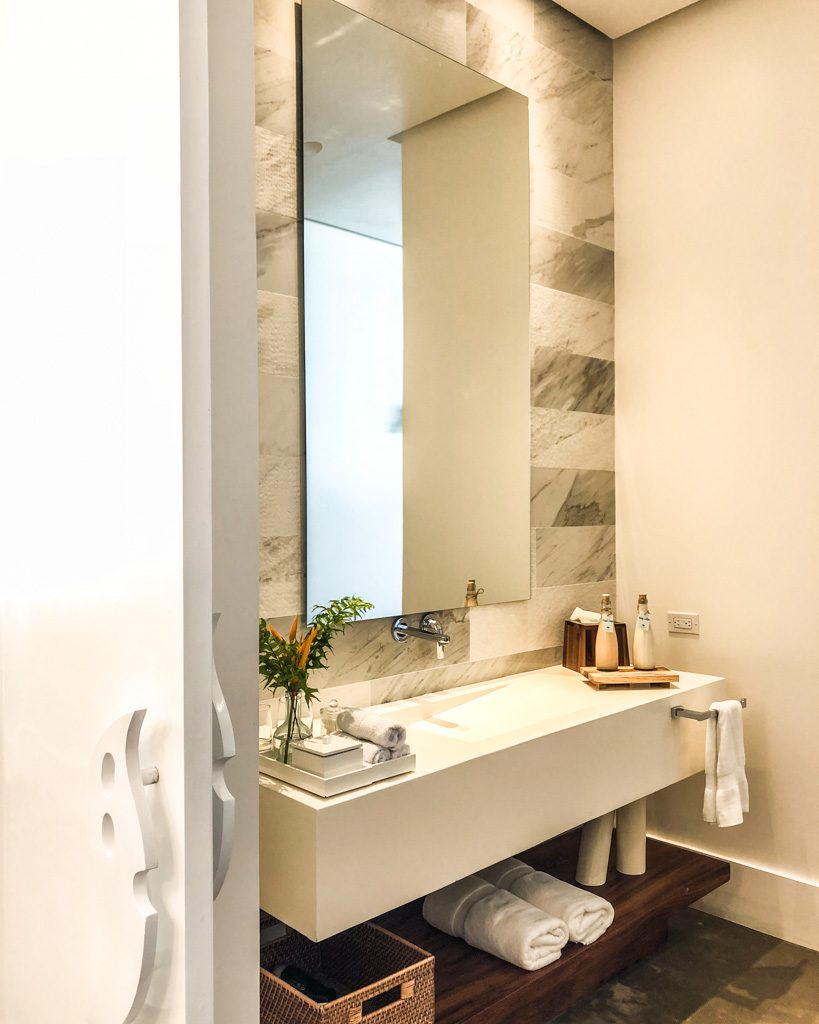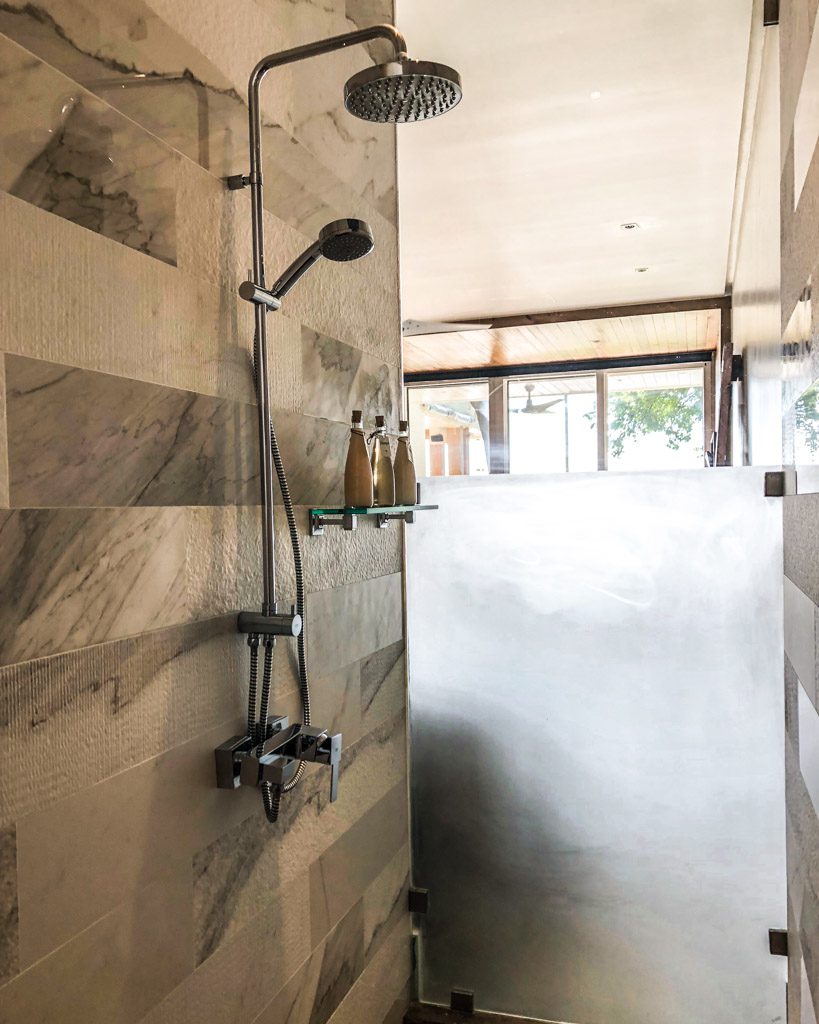 Other nice amenities included an in room seating area, a large screen tv, a desk, and a mini refrigerator.
Dreamy Pool + Pretty Common Spaces: The Best West Bay Roatan Hotel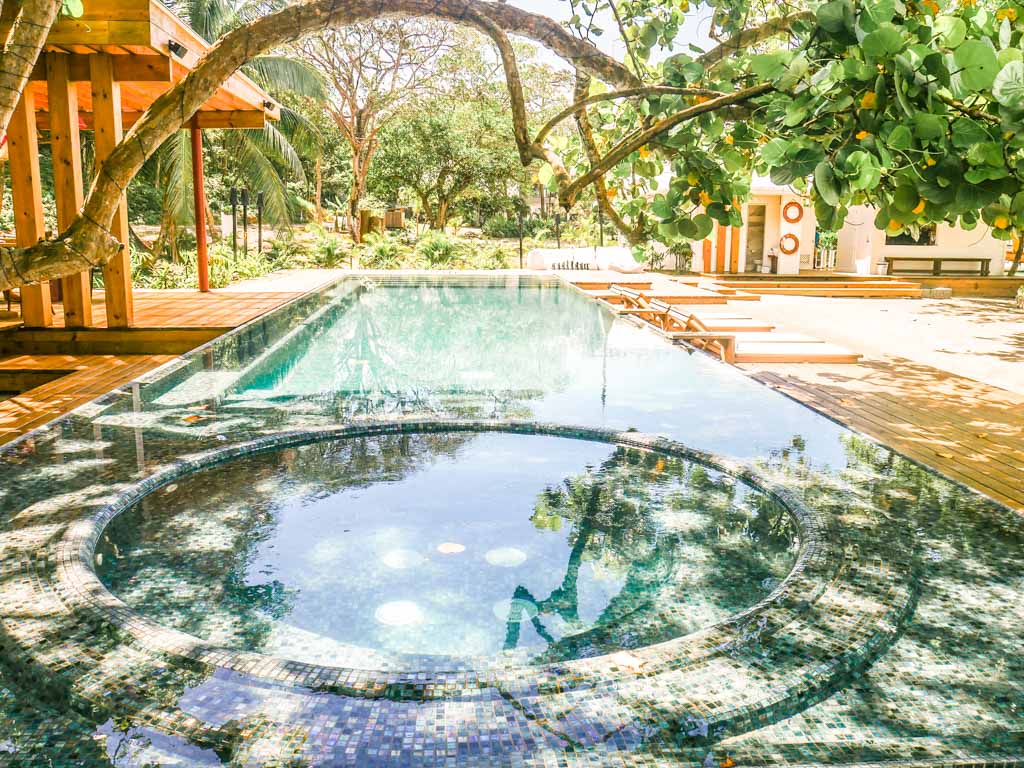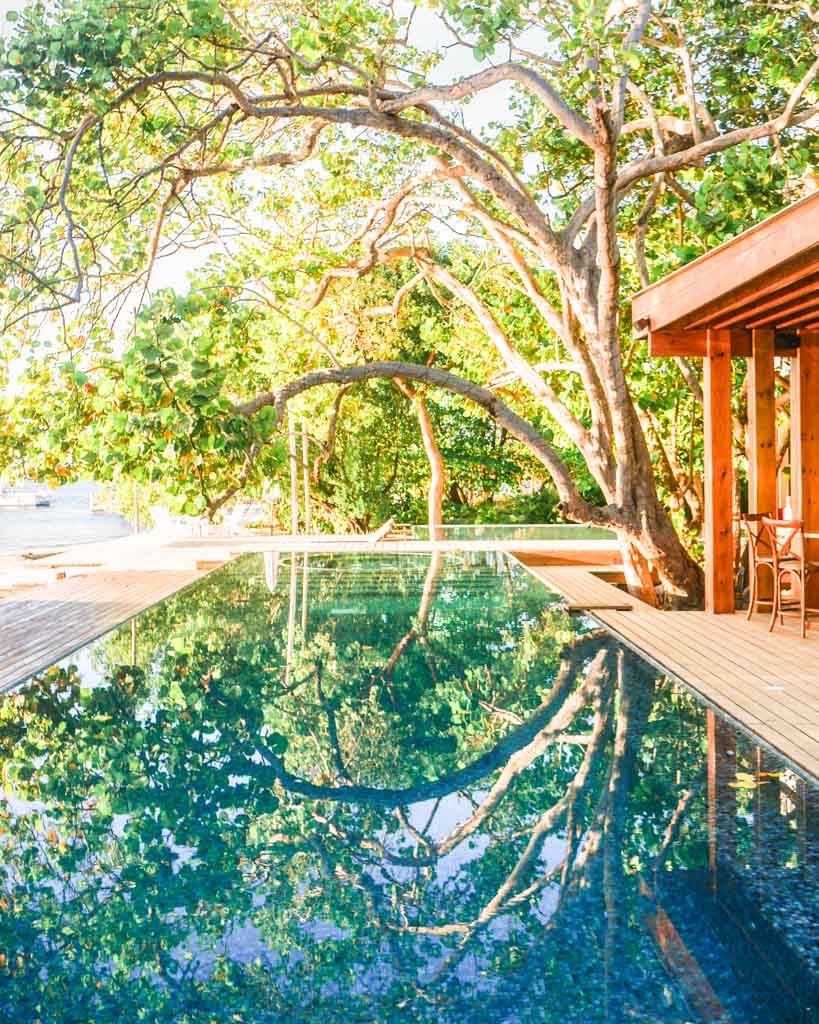 The pool at this West Bay Roatan hotel is gorgeous. The tiles, the design, and the view are just spectacular. And I love how Ibagari allows the natural beauty to intertwine with the hotel - a beautiful tropical tree bends artfully over the already pretty pool.
I could have just spent all my time lounging in this pool and been totally happy with my vacation.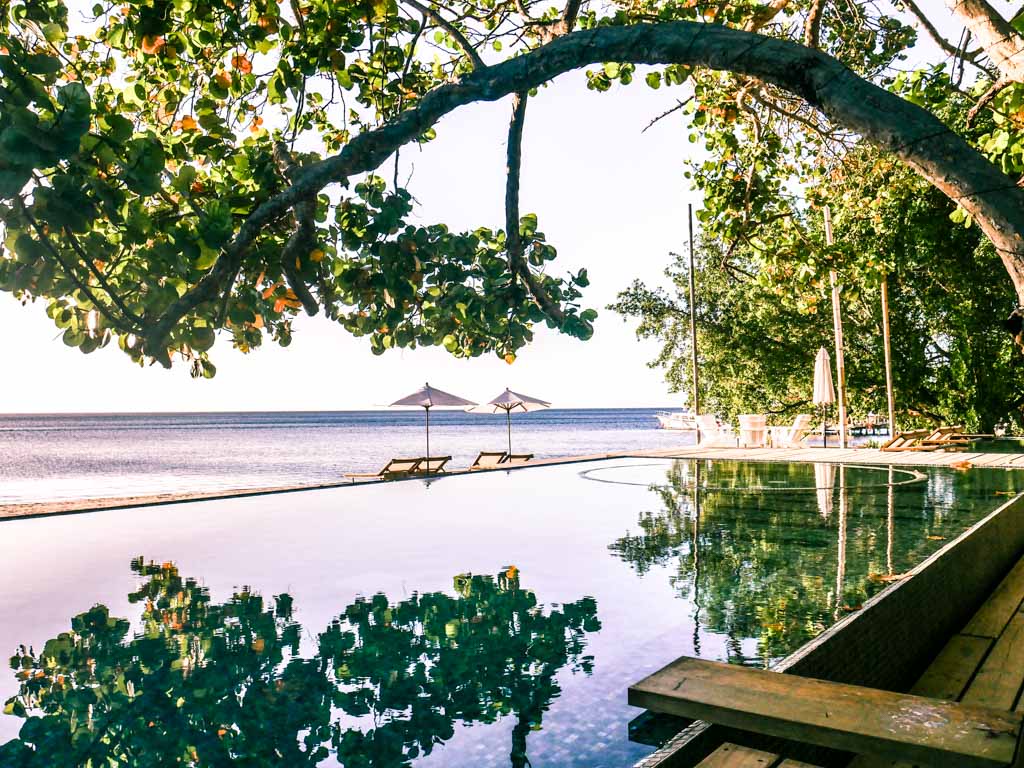 The common spaces were equally beautiful - lots of comfy and stylish couches and chairs to lounge on as you gaze at the ocean. And at night, the spaces get super romantic with pretty lighting and tiki torches.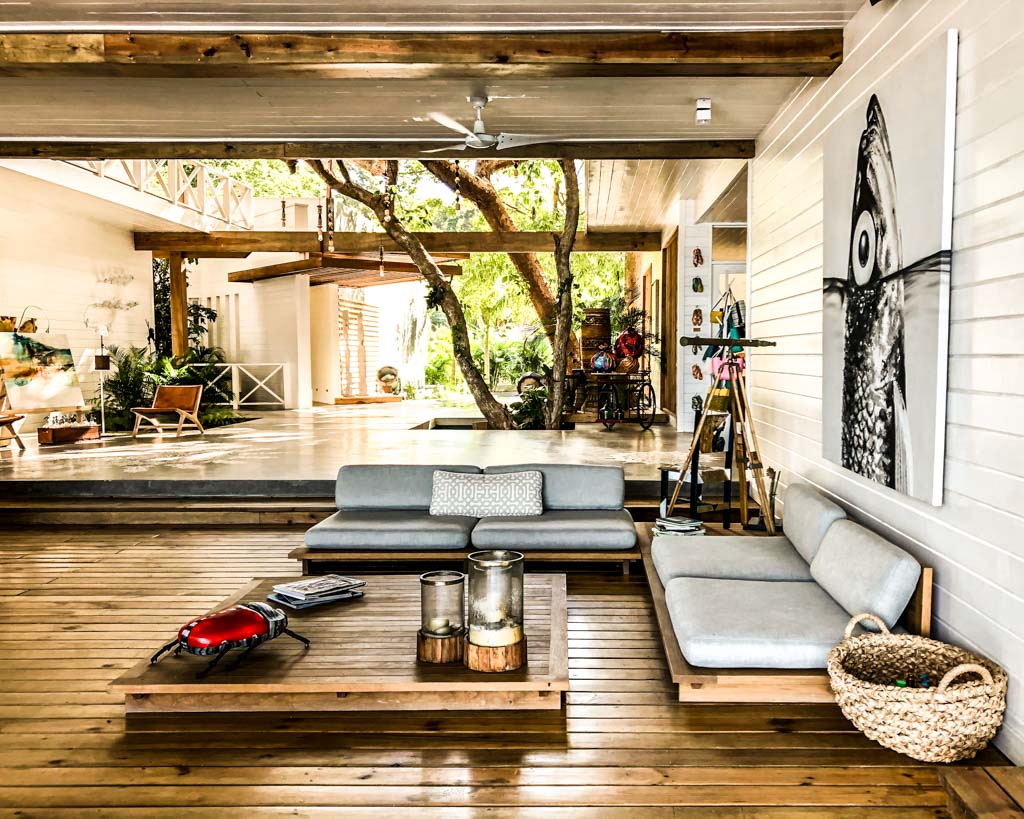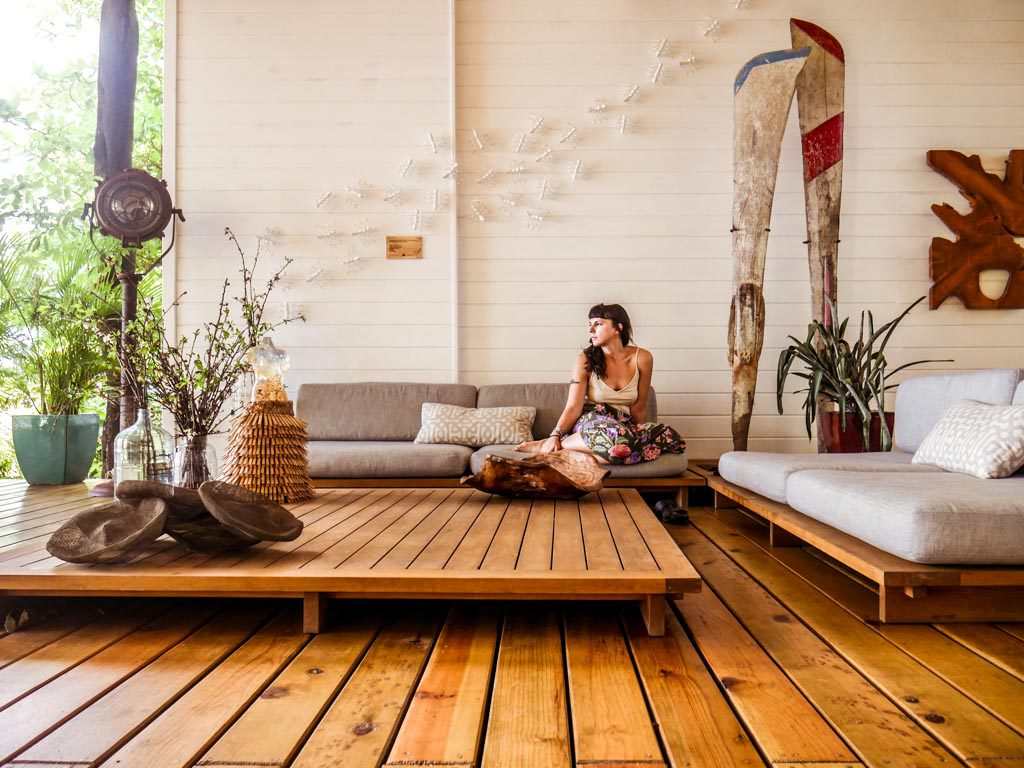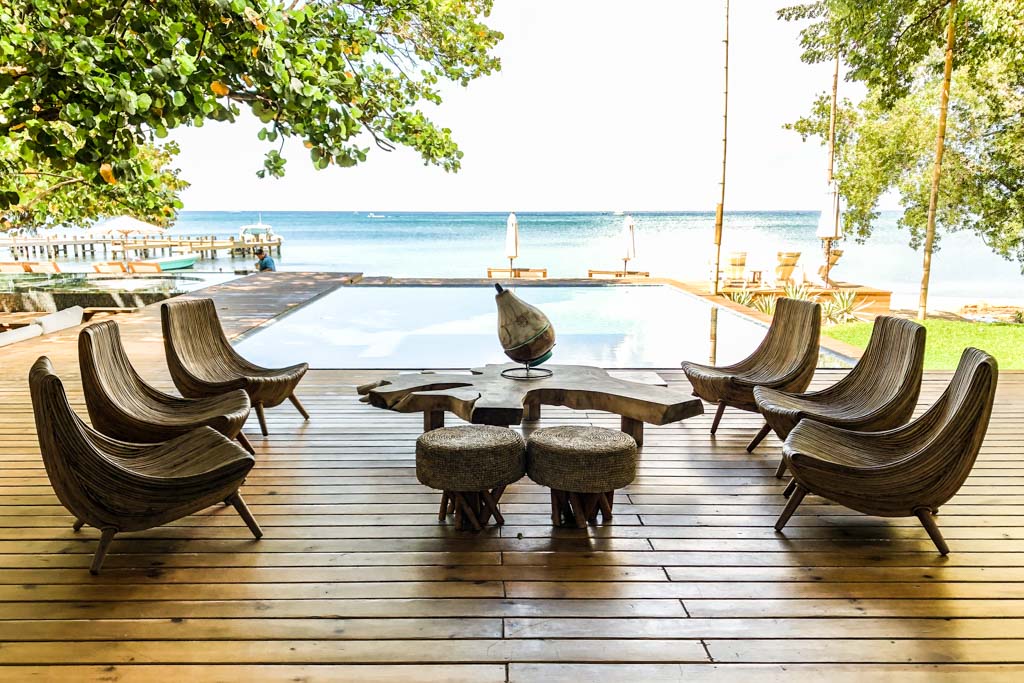 Find Roatan Travel Flight Deals:


The Best Wifi in Roatan: The Best West Bay Roatan Hotel
I work online, so wifi is always a concern for me. I was a bit nervous about what I would find since Roatan is a somewhat isolated Caribbean island, but I was pleasantly surprised by the reliable wifi at Ibagari.
I tested the wifi around 8-9mpbs, and was able to do video calls with my client during my stay. After staying at this West Bay Roatan hotel, I traveled to several other parts of the island and never found wifi quite this strong or reliable.
A Way-Too-Comfortable Bed: The Best West Bay Roatan Hotel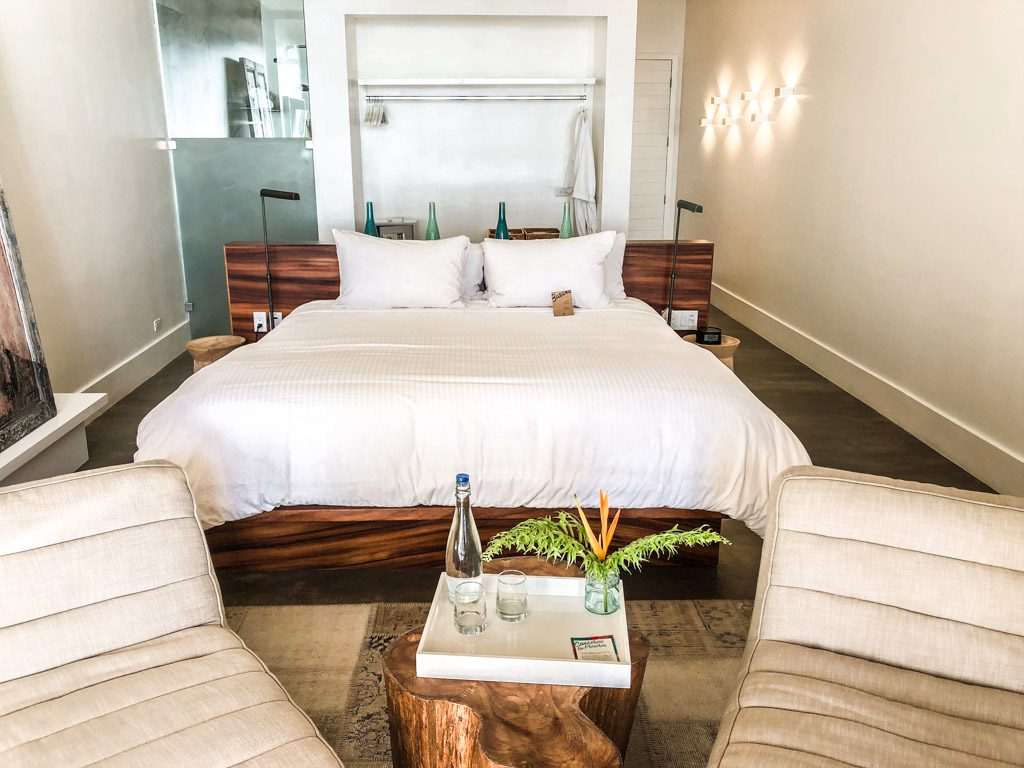 I did NOT want to get out of bed each morning. The huge bed was ultra-comfy - from the mattress to the luxe sheets, pillows, and comforter. I'd say this was a good problem to have. 🙂
Strong A/C and Fans: The Best West Bay Roatan Hotel
The air conditioner in my big open suite cooled off the room super quickly, and the fans located throughout the room and bathroom kept the air flow comfortable. I was never too hot.
Final Words about Ibagari Boutique Hotel: The Best West Bay Roatan Hotel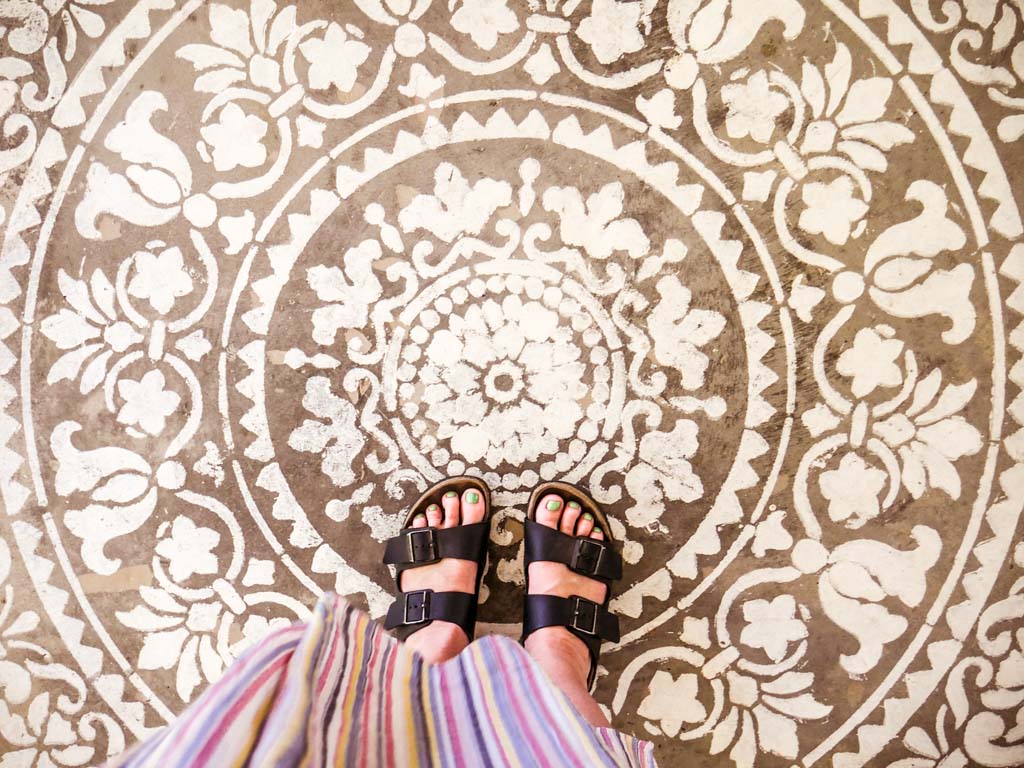 I absolutely loved my time at Ibagari. I spent two days enjoying the luxurious and gorgeous spaces. The people, the design, the food, and the nature all made my stay at this West Bay Roatan hotel one that I won't forget. I only wish that I had been able to stay for longer!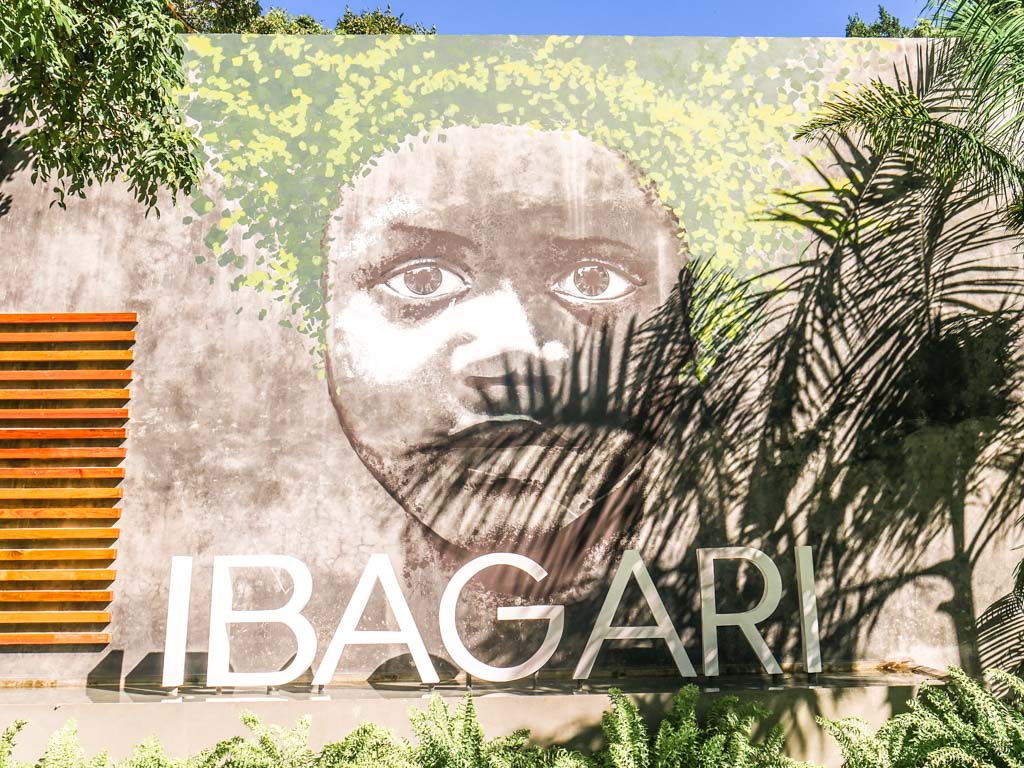 ---
Hotel: Ibagari Boutique Hotel
Social Media: Facebook, Instagram
Price: Varies depending on room & season. Check booking link below for more details.
Includes: Air conditioning, wifi, ocean view, pool.
Location: Tamarind Drive, West Bay Roatan
Contact: reservations@ibagarihotel.com
Reservations: Book here
If Ibagari isn't the right fit for you, find your Roatan Airbnb or hotel Below.