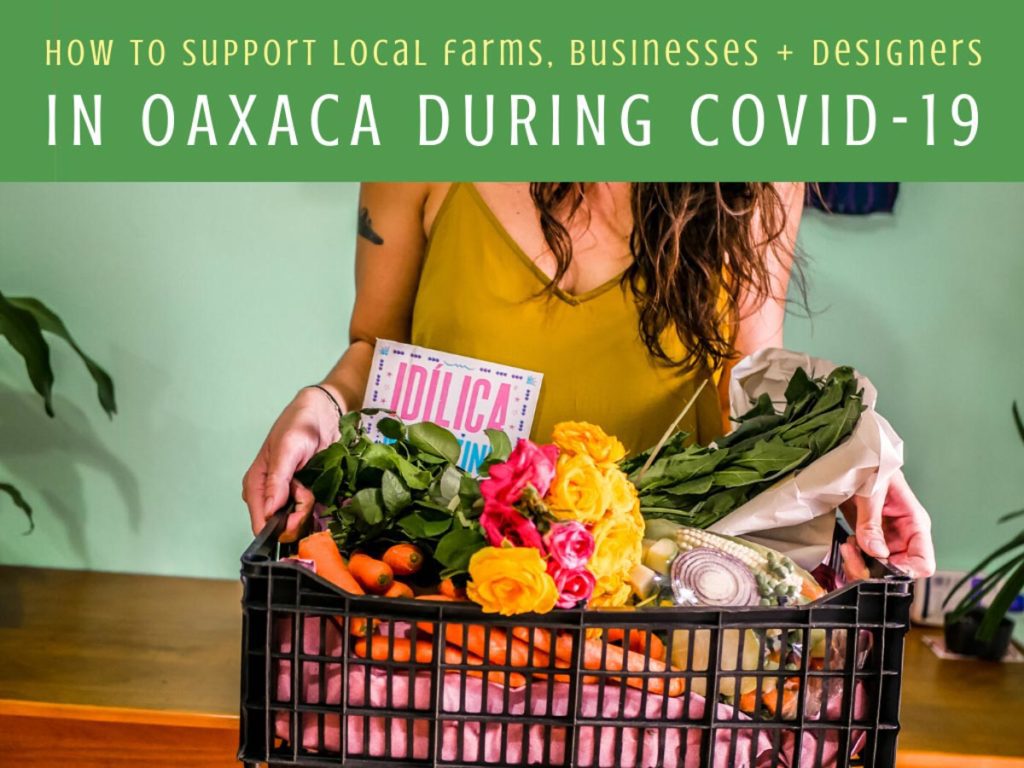 The goal of this post is to compile a bunch of options I've found to support local farms, small businesses and local designers during this time of COVID-19 in Oaxaca. I know some others have already made some great lists about restaurants offering delivery, so will link to those, but wanted to try to compile a lot of different types of resources in one place, in case it's helpful. I will also have a section about ways you can donate or help from abroad, if you have left your heart in Oaxaca and feel moved to support the community here. You can scroll to the bottom for that info.
I wish I could have gotten this post out earlier but life happens. It's been a tricky month and a half for many reasons. But I still think this is important information to share. However long quarantine lasts, we can still continue making decisions to support local businesses, farms and designers in an on-going way. I always have this as a goal, but I've noticed that I've become even more focused and determined to do this in every aspect possible lately. I hope to continue this forever, and maybe this conscious time inside will help us be more conscious of all decisions moving forward.
This list is not meant to be exhaustive, but better to get it out asap and update/adjust as I receive new info. Feel free to drop more resources in the comments at the end of the post.
Huacales + Food Delivery For the Week
A list of organizations offering huacales, or baskets full of fresh produce (think CSA boxes, or similar), or food delivery with the aim to order a variety of a week or more worth of food at once.
Oaxacking started this initiative in the style of those offered by Tierra Adentro in CDMX, offering weekly huacales, or produce boxes. These boxes contain enough fresh produce to feed a family of four. I ordered a box and found it to be a bit more than 2 people needed, but with some planning and creativity, you can make sure to use all and not waste.
The produce from these boxes comes from local vendors from the Central de Abastos (main wholesale market). You can find lots of vegetables, fruit, and fresh flowers. Delivery or pick up happens every Saturday, orders must be placed and payed for by Friday at 5pm. You can pay by bank transfer, in person at Tendajon Agaveria, or Paypal with additional fee. $300 for the huacal, $350 with delivery.
This is also my go-to pick for donations. You can choose to Paypal the amount for a huacal and they'll donate one of these food baskets to families in need in Oaxaca. See below for more details or click through to donate now.
La Rambla is a restaurant inside the Pochote market. During this time, they are offering deliveries of organic produce, meat, cheese, yogurt, and more. They also deliver prepared meals that I have heard great things about. Click through to their Facebook and send them a Whatsapp for their daily menu and offerings.
La Miscelanea is an organic food store that is offering delivery certain days during this time. Their offerings vary but they have cured meats, kombucha, spices, sweets, eggs, natural health products, and more. Send them a Whatsapp at 951.251.7515 or contact them via Facebook or IG to inquire.
La Pitaya is one of my go-to organic stores. They have a great selection of products in a small space, and are offering delivery right now. Whatsapp them at 951.408.2818
Fresh Produce, Meats and More
Many market vendors and other businesses are offering delivery of food in more specific categories. (Ex: produce vendors in the market will deliver their produce, carnicerias will deliver their meat, etc..)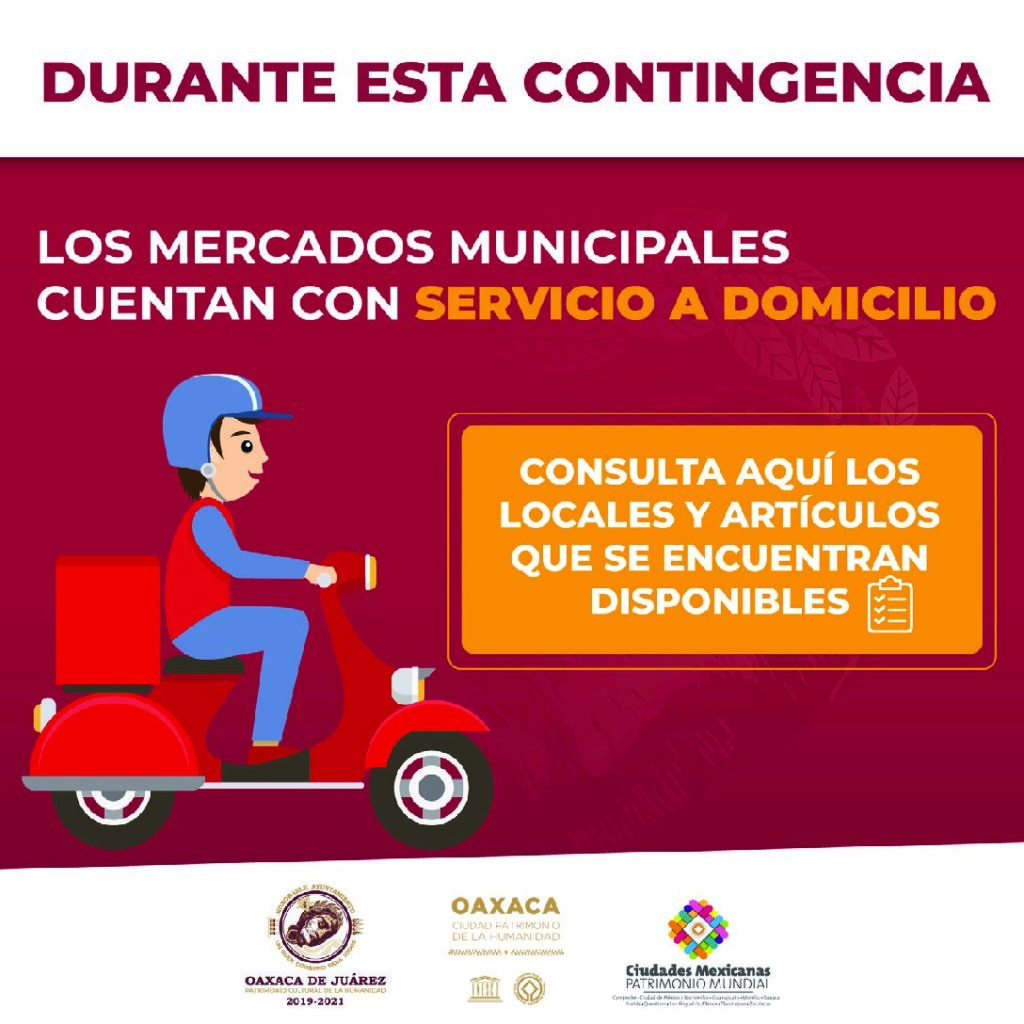 This handy PDF has a list of all the main markets in Oaxaca and which vendors are offering delivery, plus contact info. This is a great way to support local small businesses.
Hidroponicum delivers organic lettuce, greens and vegetables.
A local carniceria offering delivery.
Another carniceria offering delivery. Whatsapp at 844.159.1585
Order delicious Oaxacan chocolate or the best chocolate ice cream ever, to your door.
Order artisanal cheese from all over Mexico. 951.651.8439
Baked Goods
Pan Con Madre delivers piping hot bread straight from the oven to your door the same day. This is one of my favorite bakeries anyway. They offer loaves of bread, baguettes, sweets, cookies, and sandwiches. Whatsapp them, 951.228.1154.
Boulenc offers pick up and delivery through Ya Va. They make delicious bread, great pastries, sandwiches, and tasty pizza.
Pan Am is another great bakery in town that is offering delivery service only. Contact them through Whatsapp 951.259.5355
Coffee
Coffee by the Bean + Cold Brew
Contact Chelo for bags of his Nomada coffee or cold brew in collaboration with Nois.
This cafe has some of the best beans in town. They're offering delivery service right now.
Cafe Brujula is a great coffee shop in town, offering delivery. They also have special lines of coffee beans that are made by women's cooperatives in towns in the mountains of Oaxaca. Some of these are micro-lots and very small batch offerings. They support the women making them. They also offer shipping to the US and Canada.
Another coffee shop offering to-go service
Cold brew from the people behind Cactus Cafe.
Mezcal + Liquor
My favorite mezcal you can get from the centro is from Candiza, a stand in Benito Juarez run by a family who knows what's up with mezcal. They have decided to quarantine at home, but are still doing deliveries. Contact Marco via IG.
One of my favorite cafes in town is also selling mezcal. Message them for details. Also order lunch from them for delivery or pick up. They also make their own delicious cold brew.
Sabina Sabe is offering premixed cocktails plus their delicious menu. One of my favorite spots in town.
Prissa is a liquor store that is a small chain in Puebla, Chiapas, Veracruz, Tabasco and Oaxaca. You usually receive a delivery of your order the following day.
Convivio is a local bar, coworking and event space. They are offering cocktails to go ("Alcoholic Remedies") and a weekend to-go dinner menu. Check their Facebook for current offerings.
Rambling Spirits is offering delivery of mezcal and rum from local small producers.
La Mezcalerita is offering delivery of their list of artisanal beers, mezcals, and a menu of the day. Check their Facebook for offerings.
Consejo Cervecero, one of the best breweries in town, offers delivery of their craft beer and food.
Restaurant Delivery
There are already a few lengthy great lists of restaurants offering delivery and to-go service out there, so I don't feel like I should try to recreate my own. Check these links below. Also, I highly recommend calling/messaging your favorite restaurants to see if they are offering to-go service. Many might not be advertising, but are still offering limited services.
Que Pasa Oaxaca has a great album on Facebook that includes lots of restaurants offering delivery and to go options, with menus, contact info and more.
La Agenda Oaxaca put together a list in their Stories of many different types of businesses offering alternative services during this time.
UberEats, vs calling/messaging directly.
UberEats, obviously has lots of options, but they do have many local businesses if you are at a loss. I would just suggest, if there is a location you are interested in – call or send a whatsapp first to see if you can order directly. You'll help the business by not making them pay a fee to UberEats, and you'll also save some money on their fee.
Local Designers
You can support local designers and artisans by continuing to buy their art and products during this time. Here are a few ideas.
Arturo makes tote bags, cactus wall hooks, cutting boards (regular sleek shapes + in the shape of monsteras), mezcal keychains and more. Check his IG above or personal account to see what he's currently offering, or send him a message.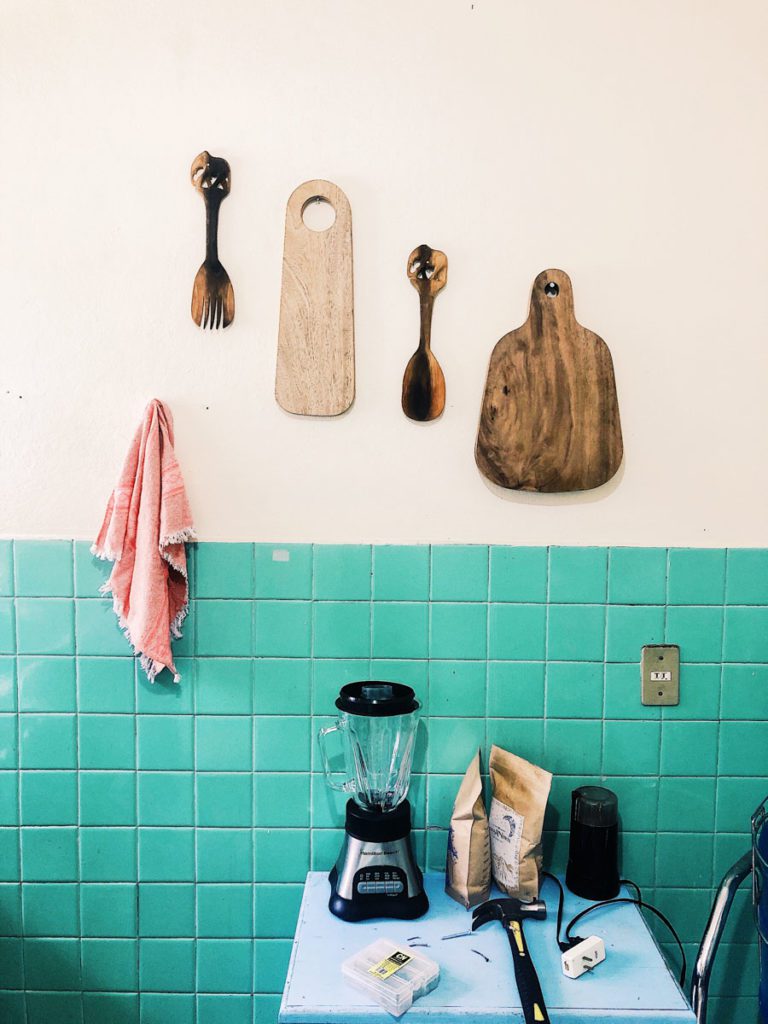 Support a local artist who is offering portraits of you, your friend, or a pet for $25 USD. Check the IG for examples and to contact.
This is one of my favorite boutiques in Oaxaca. They have super stylish clothing and accessories from Mexican and international designers. You can order via their IG or website.
Another of my favorite boutiques in Oaxaca. They have great jewelry, ceramics, accessories and more.
This designer makes beautiful macrame pieces at very reasonable prices, plus ships internationally.
These famous alebrije artisans have started an online store. You can purchase their products, or kits to paint your own alebrijes at home.
Various
FaceMasks
I ordered facemasks from a local woman who is sewing them while she is out of work. They are great quality, double sided, comfortable and cute. Delivery can be arranged. Call Dave for English 307-267-7140, or Rocio para Espanol 951-590-7523.
Donations
As I mentioned earlier, I love the initiative of weekly food baskets for families in need started by Oaxacking. I've received these huacales and know they contain fresh food that can feed a family for the week. And Oaxacking continually posts IG Stories of the process each week so you can see behind the scenes. Donating by Paypal is easy – click through for more details.
This is a list put together of several organizations that are working to provide food and other services to communities in need. I don't have personal experience with these organizations, but you can click through to learn more, research, and donate.
I will keep this list updated as I hear of new services. Please feel free to drop any additional resources below.
Pin it